Plan sponsors have a plethora of administrative duties and deadlines to juggle each year, 2022 being no exception. To start out the year, you'll want to ensure your 401(k) plan complies with any new rules and regulations, as well as ensure you are on track to comply with any upcoming deadlines on  the ERISA and IRS calendars. Beyond the broader considerations for plan sponsors, including inflation, challenging traditional thoughts on asset allocations, and the heightened emphasis of risk selection, compliance with these aforementioned deadlines is essential to active plan maintenance and for continued tax qualification.
At Wilmington Trust, we understand that in order for you to focus on these broader objectives and goals, you need to have these deadlines at your fingertips.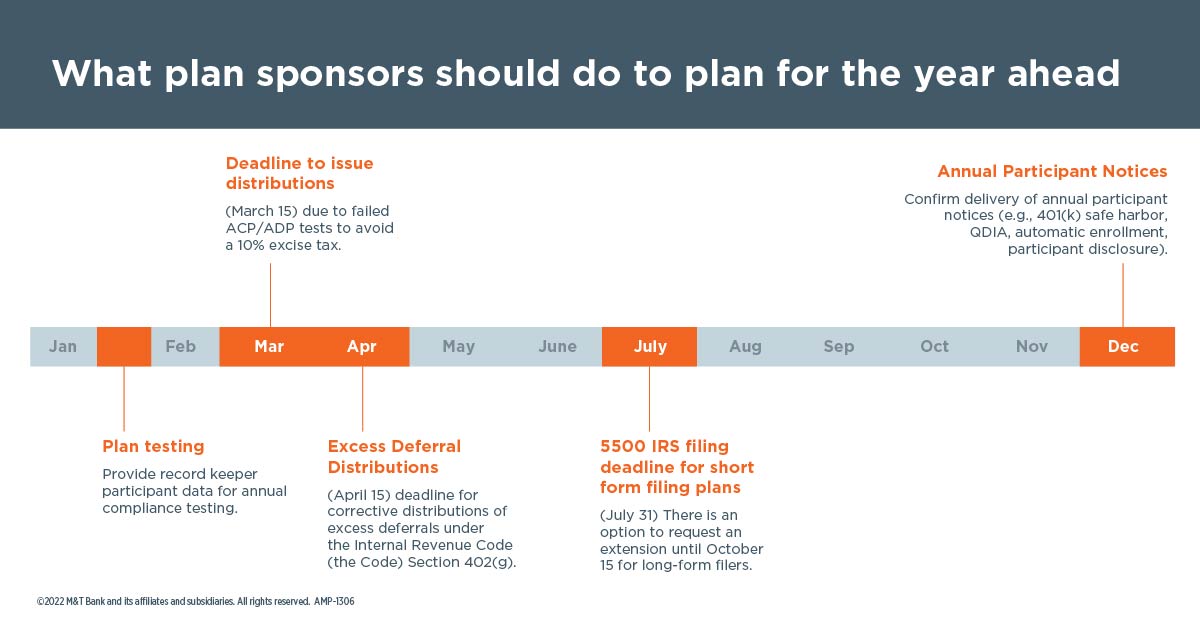 January/February
It is important to make sure that your plan is being run according to your plan terms and is operating within all legal limits. That way when the time comes for plan testing, you don't have the additional burden of having to make distributions in March and April.  An annual plan design evaluation is essential to identify strategies that could help keep your plan in compliance.
March and April
If you find that your plan has failed the ACP/ADP test or participants have made excess deferrals, IRS requirements may mean that you need to make some distributions.  There are ways to improve your nondiscrimination test outcomes such as auto enrollment for employees, auto escalation, and offering a Safe Harbor option.
July
Most calendar year plans file the IRS Form 5500 in July, however there is an option to request an extension until October 15. 
December
If you intend on making changes to your 12/31 calendar year plan's design, those discussions should take place before December 1 so that you are ready for implementation the following year. Whether or not you decide to alter the plan, it is advantageous to benchmark its performance, and evaluate your providers.
Listen to a replay of our webinar here: a 401(k) Plan Sponsor's Guide to 2022.
Plan sponsors have a lot to manage when it comes to administering a sound plan.  Our Wilmington Trust 401(k) Advisory Services professionals have the experience and industry knowledge to help. To experience the value a retirement plan advisor can add as well as a complimentary 401(k) retirement plan consultation, connect with the Wilmington Trust team today.
*The provided general timeline and associated deadlines does not identify all obligations nor due dates; rather, this list provides a broad overview of the most pertinent information.
This article is intended to provide general information only and is not intended to provide specific investment, legal, tax, or accounting advice for any individual. Before acting on any information included in this article, you should consult with your professional adviser or attorney. Facts and views presented in this report have not been reviewed by, and may not reflect information known to, or the opinions of professionals in other business areas of Wilmington Trust or M&T Bank.  M&T Bank and Wilmington Trust have established information barriers between their various business groups.