March 16, 2018 – There is a growing number of values-based, sustainable, and impact strategies available to U.S. investors. The Forum for Sustainable and Responsible Investment (USSIF) estimates that such strategies already account for over $8 trillion in assets under management, up 33% from 2014.  In Wilmington Trust's Manager Research Group, we have selected several such strategies for our approved list and are researching additional candidates.
Values-based strategies aim for a competitive return while addressing particular ethical or religious views. A less precise term for values-based investing is "socially responsible investing," often referred to as SRI. Values-based strategies screen out stocks that some groups of investors find objectionable or controversial. For example, the U.S. Conference of Catholic Bishops prohibits investing in the stock of companies that are involved in abortion, contraceptives, stem cell research, and human cloning.2 It is also common for stocks involved in alcohol, tobacco, weapons, gambling, and nuclear power to avoided.    
Sustainable strategies use environmental, social, and corporate governance criteria (ESG), to exclude or reduce exposure to stocks that face significant legal, regulatory, and reputational risks. For that reason, some sustainable strategies also brand themselves as "ESG" strategies. The  management of companies whose stocks score poorly on ESG criteria often fail to consider the interests of all company stakeholders. This means not only shareholders but also employees, suppliers, customers, and communities. For example, mistreatment of employees or pollution of local ecosystems can lead to lawsuits, fines, and negative public relations. Stocks facing such risks can produce deteriorating returns. This can adversely impact the performance of an investment portfolio.
Impact strategies seek to generate measurable social or environmental benefits while also producing investment returns. Often, such strategies pursue specific themes such as renewable energy, clean water, affordable housing, or gender equality. Investors in such strategies generally require portfolio managers to demonstrate measurable progress. Examples include metric tons of carbon emissions reduced or the number of affordable housing units supported.
Shareholder engagement and activism are key attributes of many strategies across all three categories.      In some cases, portfolio managers may buy positions with the intention of collaborating with other shareholders to have greater positive influence on a corporation.
Performance expectations
Our view is that values-based and sustainable strategies face no significant barriers to competitive performance, while impact strategies are often better evaluated against custom benchmarks or non-investment criteria:
Portfolio managers of values-based strategies aim to deliver performance equivalent to that of otherwise-identical strategies with no ethical or religious screens. They often replace excluded stocks with others that present similar financial risk-and-return characteristics.
Portfolio managers of sustainable strategies typically assert that they can perform just as well, if not better, than other strategies. They generally believe that applying ESG criteria improves stock selection. In fact, there are many strategies that use ESG criteria, in whole or in part, but do not brand themselves as sustainable or "ESG."
A recent publication from Morningstar reviewed the findings of academic research on the relative performance of sustainable strategies, and found that such strategies perform no differently than conventional strategies on average.3
The chart below compares the performance of a U.S. broad market index to that of a sub-set of stocks offering high sustainability and excluding controversial industries. The chart shows that a strategy drawing from the sub-index would have the same opportunity to outperform as one drawing from the broader index. The broader index is the MSCI Investable Market Index (IMI), which is designed to measure the performance of the large-, mid- and small-cap segments of the U.S. market. With 2,411 constituents, the index covers approximately 99% of the free float-adjusted market capitalization in the U.S. The MSCI KLD 400 is a sub-set of the broader index, covering 400 securities providing exposure to companies with outstanding ESG ratings and excluding stocks involving alcohol, firearms, gambling, nuclear power, or military weapons. Both indexes are capitalization-weighted. 
Regarding impact strategies, comparing their returns to those of broad market benchmarks is often problematic. In addition, there are frequently no relevant peer groups. Many investors in impact strategies are expecting a satisfactory investment return rather than outperformance of any particular benchmark or set of peers. Furthermore, some investors may accept sub-market returns as a trade-off for producing greater impact.
Growth of a $10,000 investment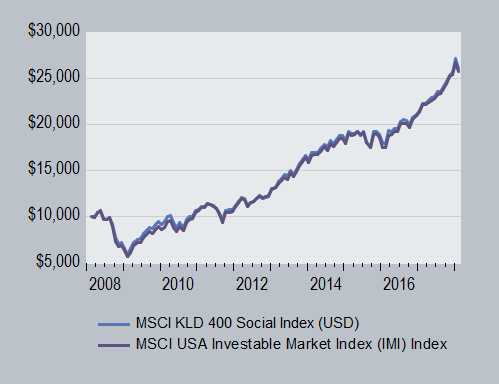 Source: MSCI; WTIA
Data as of February 28, 2018 
Use within an asset class framework
Sustainable strategy fulfillments are plentiful in major asset classes, namely U.S. equities. However, they remain sparse in others; for example, high-yield bonds. Values-based strategies are more limited in their availability, even for major asset classes, and may require use of narrowly tailored strategies or customized strategies. A client seeking a uniformly high-quality portfolio fully reflecting the tactical asset allocation advice of Wilmington Trust's Investment Committee will need to utilize additional fulfillments from the approved list. As for impact investing, strategies are thematic in nature and often cross asset class boundaries. For example, a strategy that invests in renewable energy will undoubtedly invest globally, including both U.S. and international stocks, and possibly even include a fixed income component. Nevertheless, it may still be possible to slot impact investing into the asset classes in which it best fits.
Sources:
1 https://www.morganstanley.com/pub/content/dam/msdotcom/ideas/sustainable-signals/pdf/Sustainable_Signals_Whitepaper.pdf
2 http://www.usccb.org/about/financial-reporting/socially-responsible-investment-guidelines.cfm
3 Hale, John, 2016. Sustainable Investing Research Suggests No Performance Penalty. Morningstar, Chicago. pgs. 3-5.
Disclosures
Wilmington Trust is a registered service mark. Wilmington Trust Corporation is a wholly owned subsidiary of M&T Bank Corporation. Wilmington Trust Company, operating in Delaware only, Wilmington Trust, N.A.,  M&T Bank and certain other affiliates, provide various fiduciary and non-fiduciary services, including trustee, custodial, agency, investment management and other services. International corporate and institutional services are offered through Wilmington Trust Corporation's international affiliates. Loans, credit cards, retail and business deposits, and other business and personal banking services and products are offered by M&T Bank, member FDIC. Wilmington Trust Investment Advisors, Inc. is an SEC-registered investment adviser providing investment management services to Wilmington Trust and M&T Bank affiliates and clients.
These materials are based on public information. Facts and views presented in this report have not been reviewed by, and may not reflect information known to, professionals in other business areas of Wilmington Trust or M&T Bank who may provide or seek to provide financial services to entities referred to in this report. M&T Bank and Wilmington Trust have established information barriers between their various business groups. As a result, M&T Bank and Wilmington Trust do not disclose certain client relationships with, or compensation received from, such entities in their reports.
The information on Wilmington Wire has been obtained from sources believed to be reliable, but its accuracy and completeness are not guaranteed. The opinions, estimates, and projections constitute the judgment of Wilmington Trust and are subject to change without notice. This commentary is for information purposes only and is not intended as an offer or solicitation for the sale of any financial product or service or a recommendation or determination that any investment strategy is suitable for a specific investor. Investors should seek financial advice regarding the suitability of any investment strategy based on the investor's objectives, financial situation, and particular needs. Diversification does not ensure a profit or guarantee against a loss. There is no assurance that any investment strategy will succeed.
Any investment products discussed in this commentary are not insured by the FDIC or any other governmental agency, are not deposits of or other obligations of or guaranteed by M&T Bank, Wilmington Trust, or any other bank or entity, and are subject to risks, including a possible loss of the principal amount invested. Some investment products may be available only to certain "qualified investors"—that is, investors who meet certain income and/or investable assets thresholds. Past performance is no guarantee of future results. Investing involves risk and you may incur a profit or a loss.
Any positioning information provided does not include all positions that were taken in client accounts and may not be representative of current positioning. It should not be assumed that the positions described are or will be profitable or that positions taken in the future will be profitable or will equal the performance of those described. Positions described are illustrative and not intended as a recommendation outside of a managed account.
Indices are not available for direct investment. Investment in a security or strategy designed to replicate the performance of an index will incur expenses, such as management fees and transaction costs that would reduce returns.
Third-party trademarks and brands are the property of their respective owners.
Download Article