Survey findings about the pandemic and concerns for the future.
As world events rapidly unfold, shifting the health and economic landscapes, we wanted to understand how people's responses to the new stresses of COVID-19 have varied by age and geography. Our parent company, M&T Bank, recently sponsored a survey that began gathering information on March 24, 2020. (Participants were unaware of the sponsor's identity.) As of April 6, 2020, the findings reveal insights into the experiences and concerns of:
200 participants daily in the general, nationwide population
200 participants weekly in the areas served by M&T who are not M&T customers
50 to 100 M&T customers weekly
Three age groups: 18 to 35, 36 to 54, and 55 to 69
Results show that those living in certain parts of the U.S., as well as survey participants ages 18 to 35, were significantly more likely to report having a friend, coworker, or extended family member with the virus.
That same age group was also much more likely to have been required or requested to work from home, and indicated making a greater reduction in trips to places of worship, health care providers, and pharmacies.
Economic threats and financial risk are top concerns
While most respondents believe the health risks will affect people outside of their own families, they perceive the financial risk is hitting close to home. More than 80% consider the pandemic a serious or extreme threat to the U.S. economy, as well as the global economy.
Investment performance looms large
Additionally, a higher proportion sees a greater threat to their long-term financial situation—including investment performance and savings—than to short-term concerns such as the ability to pay for health care and cover monthly bills.
A belief in staying the course
Overall, we found a small number of respondents made changes to their investments as a result of the pandemic—just 21%—and that this number was concentrated in the 18 to 54 age group. Slightly more than half of the respondents report they have not made any changes to their investments. Another 48% do not foresee making changes as a result of the current situation.
In summary, while survey respondents' issues vary, we are all affected by COVID-19. The vast majority share economic concerns for the country and the world, particularly over the long term, as well as concerns about financial risk for themselves. We interpret the reported commitment to staying the course with investments as a way for respondents to address those concerns.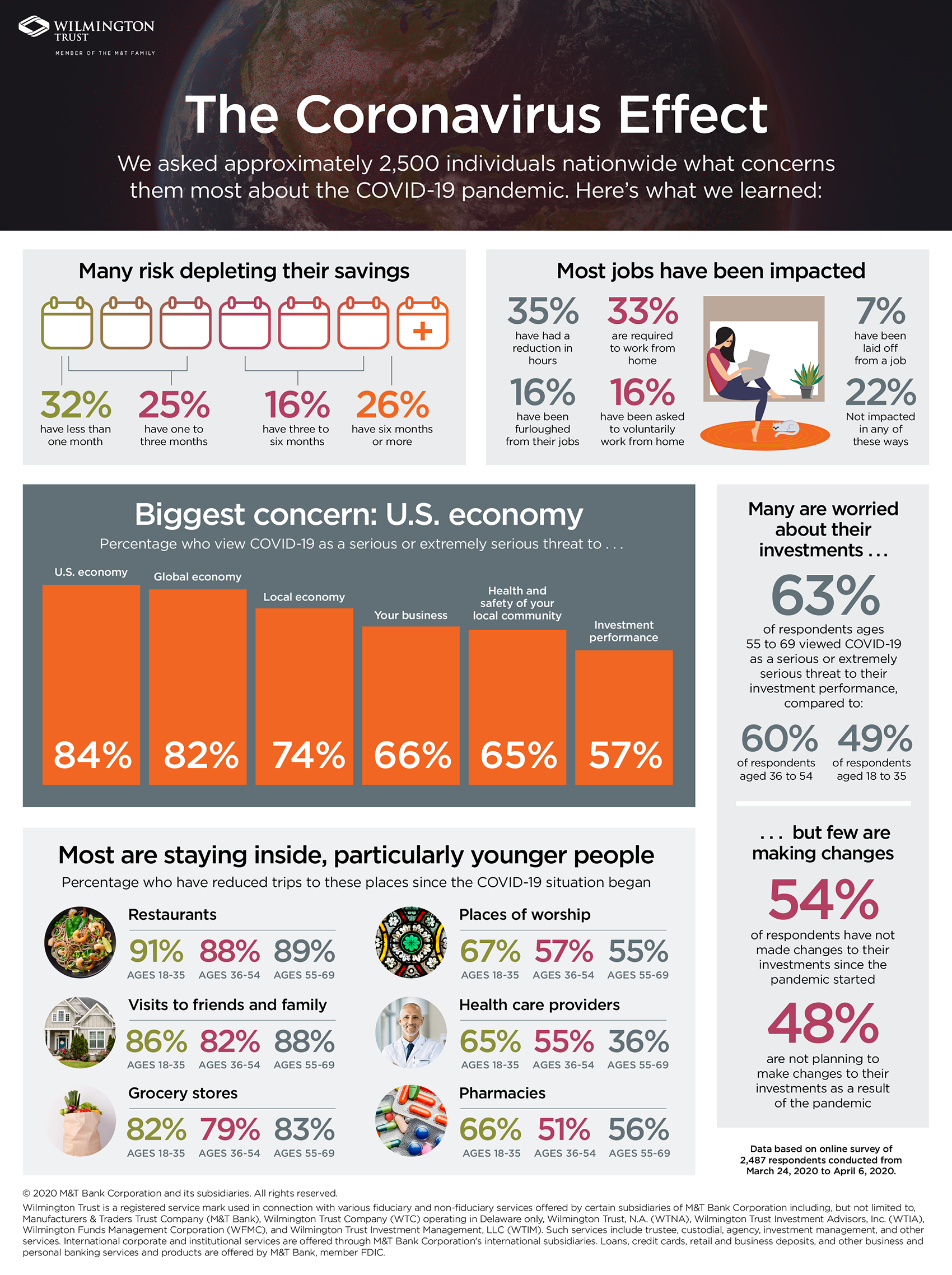 This article is for informational purposes only and is not intended as an offer or solicitation for the sale of any financial product or service or as a determination that any investment strategy is suitable for a specific investor. Investors should seek financial advice regarding the suitability of any investment strategy based on their objectives, financial situations, and particular needs. This article is not designed or intended to provide financial, tax, legal, accounting, or other professional advice since such advice always requires consideration of individual circumstances. If professional advice is needed, the services of a professional advisor should be sought. There is no assurance the any investment, financial or estate planning strategy will be successful. Investing involves risks and you may incur a profit or a loss.