A picture perfect jobs report
March 10, 2017— The February jobs report was ideal in terms of an indication of ongoing labor market strength, stronger economic growth, and bolstering the case for rate hikes from the Federal Reserve. Headline job growth of 235,000 was a bit above market expectations and essentially the same as January's upwardly revised 238,000. The unemployment rate ticked down one-tenth to 4.7% indicating increasing labor market tightness. This occurred despite strong labor force growth for the month. Importantly for the Fed, wage growth bounced back, hitting 2.8% in this report and confirming our assessment that last month's dip to 2.5% was a statistical blip and not indicative of a true weakening of wage pressure.
As shown in the first chart below, job growth continues to be stronger in year-over-year terms than labor force growth. That high demand for increasingly hard to find workers is pushing the unemployment rate down and driving up wages (as shown in the second chart). Unless there is a meaningful boost to labor force participation, we expect the labor market to continue to tighten and put upward pressure on wages. Wage growth is not excessively strong yet, but it is pushing in the right direction after years of hovering around 2%. This is giving workers their first increases in real wage growth (i.e. net of inflation) of this economic recovery. This tightening labor market and wage growth are exactly what the Fed needed to see on the employment side of their mandate to be confident about rate hikes.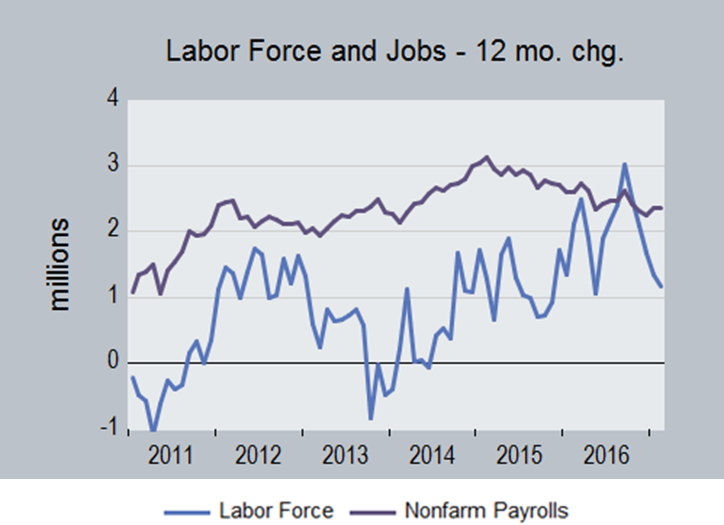 Source: Bureau of Labor Statistics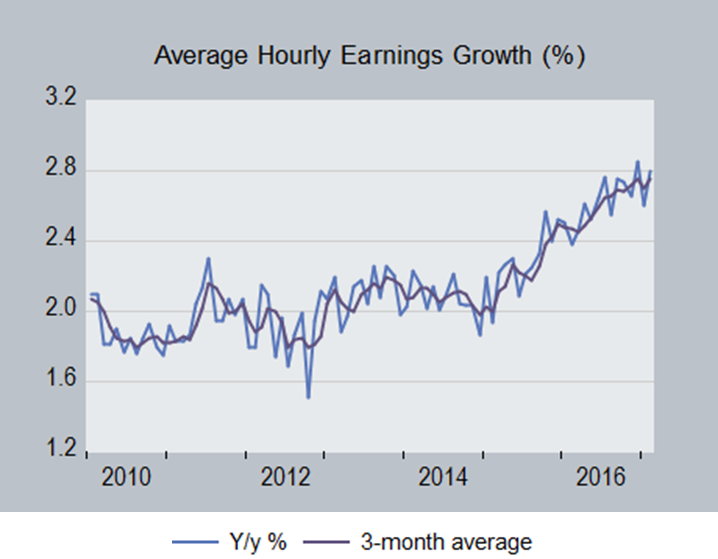 Source: Bureau of Labor Statistics, WTIA
Other positive signs in the labor market that we note are:
There were 28,000 manufacturing jobs added, marking the third straight month of gains following a mostly downward trend in 2016. This is consistent with other positive indications for the sector including an upswing in both new orders for manufactured goods and the ISM manufacturing index.
The number of people reporting working "part-time for economic reasons" (meaning they'd rather have full-time work) continues to trend downward. That metric is down by 315,000 from a year ago, which stood at 6 million people.
The number of people who are long-term unemployed, more than 15 weeks, moved down for the month and is down by nearly 500,000 from the 3 million people it stood at a year ago.
Core narrative
The employment report is very supportive of our core narrative of a strengthening domestic economy and expectations of rate hikes. We expect job growth to slow a bit in coming months as the weather impact from a mild February gives back a bit in future reports and because in our view there is not enough labor force growth to maintain growth above 200,000. This is likely to lead to stronger wage pressure and multiple rate hikes from the Federal Reserve this year. The strengthening economy and prospect of higher interest rates is supportive of our portfolio positioning of an overweight to risk assets and underweight to core fixed income.
Disclosures
Wilmington Trust is a registered service mark. Wilmington Trust Corporation is a wholly owned subsidiary of M&T Bank Corporation. Wilmington Trust Company, operating in Delaware only, Wilmington Trust, N.A., M&T Bank and certain other affiliates, provide various fiduciary and non-fiduciary services, including trustee, custodial, agency, investment management and other services. International corporate and institutional services are offered through Wilmington Trust Corporation's international affiliates. Loans, credit cards, retail and business deposits, and other business and personal banking services and products are offered by M&T Bank, member FDIC.
These materials are based on public information. Facts and views presented in this report have not been reviewed by, and may not reflect information known to, professionals in other business areas of Wilmington Trust or M&T Bank who may provide or seek to provide financial services to entities referred to in this report. M&T Bank and Wilmington Trust have established information barriers between their various business groups. As a result, M&T Bank and Wilmington Trust do not disclose certain client relationships with, or compensation received from, such entities in their reports.
The information on Wilmington Wire has been obtained from sources believed to be reliable, but its accuracy and completeness are not guaranteed. The opinions, estimates, and projections constitute the judgment of Wilmington Trust and are subject to change without notice. This commentary is for information purposes only and is not intended as an offer or solicitation for the sale of any financial product or service or a recommendation or determination that any investment strategy is suitable for a specific investor. Investors should seek financial advice regarding the suitability of any investment strategy based on the investor's objectives, financial situation, and particular needs. Diversification does not ensure a profit or guarantee against a loss. There is no assurance that any investment strategy will succeed.
Any investment products discussed in this commentary are not insured by the FDIC or any other governmental agency, are not deposits of or other obligations of or guaranteed by M&T Bank, Wilmington Trust, or any other bank or entity, and are subject to risks, including a possible loss of the principal amount invested. Some investment products may be available only to certain "qualified investors"—that is, investors who meet certain income and/or investable assets thresholds. Past performance is no guarantee of future results. Investing involves risk and you may incur a profit or a loss.
Any positioning information provided does not include all positions that were taken in client accounts and may not be representative of current positioning. It should not be assumed that the positions described are or will be profitable or that positions taken in the future will be profitable or will equal the performance of those described. Positions described are illustrative and not intended as a recommendation outside of a managed account.
Indices are not available for direct investment. Investment in a security or strategy designed to replicate the performance of an index will incur expenses, such as management fees and transaction costs that would reduce returns.
Third party trademarks and brands are the property of their respective owners.
Contact an Expert