October 6, 2017— The employment report for September reflected continued underlying strength in the U.S. labor market, but also a significant impact from the multiple hurricanes that month. On balance, we are encouraged by the continued strength, and especially by the return of stronger wage growth that is supportive of our positioning. Next month, we expect to see a reversal of some of these storm impacts.
Headline job losses of 33,000 were a result of the storms in our view. There was a slowdown across many goods and service sectors which still managed to add jobs, but the biggest impact was a massive loss of 111,000 jobs in the leisure and hospitality sector, which includes restaurant workers, hotels and the like. The overall month-over-month decline in jobs ended an 83-month streak of job gains that started in October of 2010, but does not change our view of the underlying strength of the labor market. Hurricane Harvey decimated much of Houston, and Irma did the same in many parts of Florida. The methodology of the jobs report does not actually reflect whether someone has "lost" their job; it reflects whether someone was paid during the so-called reference week, which falls in the middle of each month. The job losses in this month's report mostly reflect people who were unable to report for work in storm-affected areas or employers who were unable to operate. This explanation is consistent with the sharp spike in people filing for unemployment claims following the storms. We expect job growth will bounce back significantly in the next report.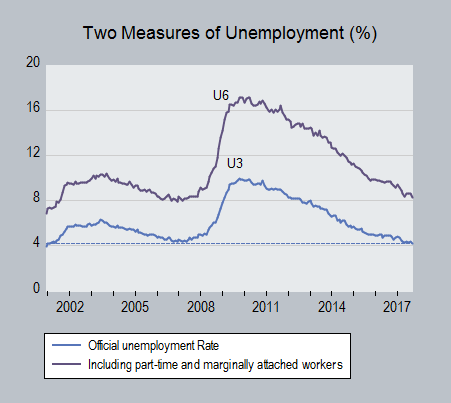 Source: Bureau of Labor Statistics, data as of September 30, 2017
An encouraging signal in the report was the decline in the unemployment rate to just 4.2%. That is slightly lower than was ever registered in the previous cycle, and the lowest since 2001 as pictured above. The higher "U6" measure of unemployment which accounts for people who are only able to find part-time work or have stopped looking, also fell to a multiyear low, hitting 8.3% for the first time during this recovery.
The most important signal in the report was the return of stronger wage growth, in the chart below. After accelerating throughout 2015-2016, wage growth was decelerating for much of this year until the last few months. In this most recent report, the year-over-year gain in average hourly earnings hit 2.9%, a post-recession high. We have been expecting the reacceleration of wage growth based on the very low unemployment rate, so this is a welcome sign. We should caution, though, that some of the outsized gain in the September report is due to the hurricane impacts. This is because the sharp job losses described above in leisure and hospitality were in the lowest paid sector of the economy. Removing lower paid workers would push up the average, on the margin. This is not to say that the acceleration in wages is entirely due to this math, but we would not be surprised if wage growth is tempered a bit next month as those restaurant workers are put back in.
Overall, the market impact is as would be expected. A lower unemployment rate and higher wages are pushing up inflation expectations in the market, which had already been moving up since a recent low in June. This should continue to push up on longer-term bond yields as well as expectations of Fed rate hikes and the dollar.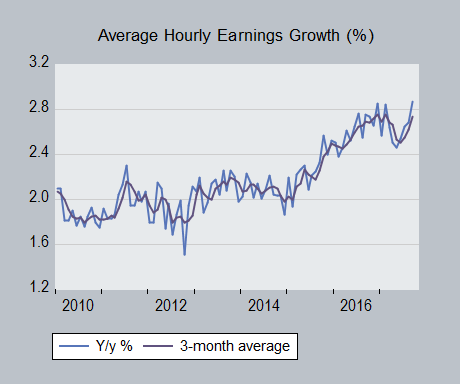 Source: Bureau of Labor Statistics, data as of September 30, 2017
Core narrative
The jobs report is supportive of our expectation of continued growth in the domestic economy. The labor market remains strong but job gains were hampered by the hurricanes last month. Most important is the recovery of wage growth, which we believe will play into stronger inflation going forward leading to more interest rate hikes from the Fed and higher interest rates across the yield curve. All of this is supportive of our underweight to core fixed income.
Disclosures
Wilmington Trust is a registered service mark. Wilmington Trust Corporation is a wholly owned subsidiary of M&T Bank Corporation. Wilmington Trust Company, operating in Delaware only, Wilmington Trust, N.A., M&T Bank and certain other affiliates, provide various fiduciary and non-fiduciary services, including trustee, custodial, agency, investment management and other services. International corporate and institutional services are offered through Wilmington Trust Corporation's international affiliates. Loans, credit cards, retail and business deposits, and other business and personal banking services and products are offered by M&T Bank, member FDIC.
These materials are based on public information. Facts and views presented in this report have not been reviewed by, and may not reflect information known to, professionals in other business areas of Wilmington Trust or M&T Bank who may provide or seek to provide financial services to entities referred to in this report. M&T Bank and Wilmington Trust have established information barriers between their various business groups. As a result, M&T Bank and Wilmington Trust do not disclose certain client relationships with, or compensation received from, such entities in their reports.
The information on Wilmington Wire has been obtained from sources believed to be reliable, but its accuracy and completeness are not guaranteed. The opinions, estimates, and projections constitute the judgment of Wilmington Trust and are subject to change without notice. This commentary is for information purposes only and is not intended as an offer or solicitation for the sale of any financial product or service or a recommendation or determination that any investment strategy is suitable for a specific investor. Investors should seek financial advice regarding the suitability of any investment strategy based on the investor's objectives, financial situation, and particular needs. Diversification does not ensure a profit or guarantee against a loss. There is no assurance that any investment strategy will succeed.
Any investment products discussed in this commentary are not insured by the FDIC or any other governmental agency, are not deposits of or other obligations of or guaranteed by M&T Bank, Wilmington Trust, or any other bank or entity, and are subject to risks, including a possible loss of the principal amount invested. Some investment products may be available only to certain "qualified investors"—that is, investors who meet certain income and/or investable assets thresholds. Past performance is no guarantee of future results. Investing involves risk and you may incur a profit or a loss.
Any positioning information provided does not include all positions that were taken in client accounts and may not be representative of current positioning. It should not be assumed that the positions described are or will be profitable or that positions taken in the future will be profitable or will equal the performance of those described. Positions described are illustrative and not intended as a recommendation outside of a managed account.
Indices are not available for direct investment. Investment in a security or strategy designed to replicate the performance of an index will incur expenses, such as management fees and transaction costs that would reduce returns.
Third party trademarks and brands are the property of their respective owners.
Contact an Expert