November 21, 2018—We can't help but appreciate the irony of the stock market's recent activity heading into the Thanksgiving holiday. As we sit around the dinner table on Thursday, the stock market may not be on many people's "things-to-be-thankful-for" list, at least based on the past few weeks. As of Tuesday, U.S. equity indices had erased their annual gains, after the S&P 500 was up as much as 10% for the year through September.
We have grown slightly more cautious on the equity market, but we would advise our clients against overreacting to the market volatility. Today is admittedly a challenging investment environment, given competing tensions between solid economic data and slowing future growth, which is compounded to a large degree by the risk of higher tariffs on January 1, 2019. It is especially frustrating to see strong market performance slip away after what was by most accounts a very good third-quarter earnings season in the U.S. Specifically, third quarter earnings are on pace to deliver almost 26% growth on a year-over-year basis, the fastest pace of earnings growth since 2010. An above-average number of companies beat earnings by an above-average amount, and yet those stocks that missed on any combination of earnings, revenue, or even forward-looking guidance were sold aggressively. We see this as indicative of extremely fragile sentiment.
The two biggest culprits of the market's angst would be the Fed and trade tensions between the U.S. and China. Let's assume the Fed is a "self-correcting" issue, in that the Fed is likely to slow their pace of tightening if growth and inflation end up slowing more than expected next year. So that brings us to trade. There were harsh words from Vice President Pence over the weekend, which has some questioning whether we are already in the next Cold War. However, we think the stock market correction is more about rebalancing expectations between the tailwind that was fiscal stimulus with the increasing headwind of tariffs. In 2018, tax cuts and government spending largely provided "cover" for President Trump's trade battle, allowing the economy to withstand the relatively modest tariffs put in place. Now, as we approach the end of the year and the deadline for a ratcheting up of the tariff rate to 25% from 10% on $200 billion of Chinese exports to the U.S. (and possibly tariffs on the rest of U.S. imports from China, most of which are consumer goods), tariffs will likely outweigh any lingering stimulus from tax cuts and government spending (Figure 1). Analysts have increasingly priced in the drag on growth from tariffs into next year, sending cyclical stocks tumbling.
Figure 1: Estimated impact of U.S. fiscal stimulus and tariffs in 2019 ($, billions)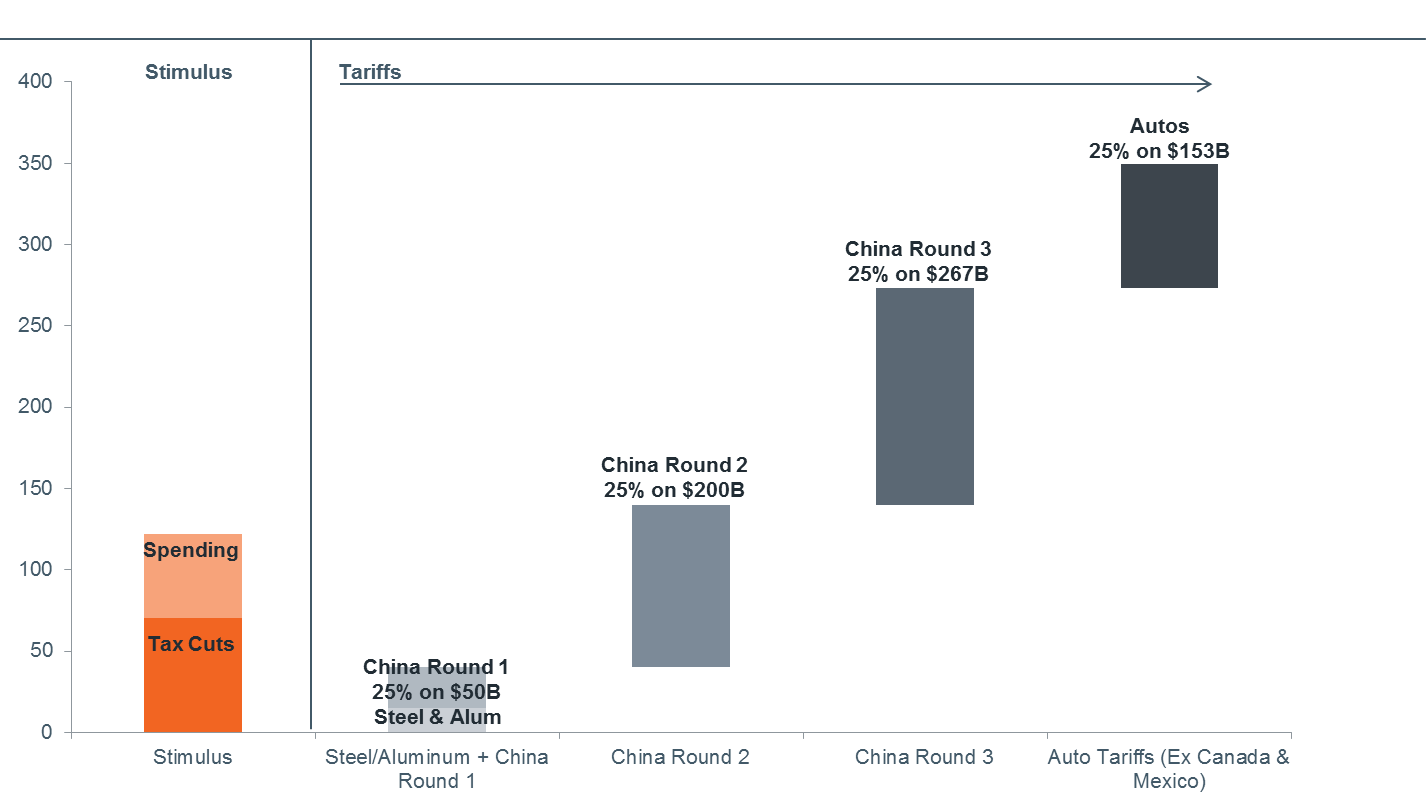 Tariff bars include enacted or proposed tariffs, along with expected retaliation. China Round 3 and auto tariffs are proposed, not yet enacted. Auto tariffs exclude Canada and Mexico, which are exempt to a limit under the U.S. Mexico Canada Agreement.
Data as of October 31, 2018. Source: Strategas Research Partners, LLC.
Looking ahead, the next big catalyst for trade is the G20 summit in Buenos Aires, Argentina on November 30 and December 1. (The "G20" is an international forum representing 19 major countries plus the European Union.) The anticipated side meeting between President Trump and Chinese President Xi will be watched closely by the markets, as there have been reports of representatives re-engaging on trade and China providing a list of trade-related concessions. Any number of outcomes could result from the summit, from a mere handshake to a full framework for a deal. Our expectation would be something in the middle. In our view, it is critical that this meeting go well, but we do not see it as imperative (or realistic) that a full deal will be penned. It could be enough to restore investor confidence if sufficient progress is made between the two leaders such that Trump calls off the escalation of tariffs on January 1, even if the existing tariffs remain in place. The price-to-earnings ratio for the S&P 500 has fallen 3 points this year to around the 10-year average of 15.5x earnings estimates for the next twelve months, in large part because of trade concerns. If Trump and Xi can step away from the brink, equities could react like a coiled spring.
Core narrative
Coming into 2018, we viewed trade as one of the biggest risks for equities. Throughout the year trade tensions have escalated, and we felt the market was probably being too harsh on the stocks of non-U.S. companies yet not pricing in enough risk to U.S., which led us to bring our exposure to U.S. equities to neutral, though we held onto a slight overweight in non-U.S. equities given what has become attractive valuations. Our outlook for global economic growth, and therefore equity returns, hinges on trade. It remains our base case that, if tariffs are raised further on January 1, global growth will slow but there will be a resolution in the first half of the year before the damage to the U.S., China, and the rest of the global economy becomes too great. However, we are watching Buenos Aires carefully, as well as the compendium of economic data we review on a daily basis, to determine if a change to our risk positioning is warranted in our clients' portfolios.
Disclosures
Wilmington Trust is a registered service mark. Wilmington Trust Corporation is a wholly owned subsidiary of M&T Bank Corporation. Wilmington Trust Company, operating in Delaware only, Wilmington Trust, N.A., M&T Bank and certain other affiliates, provide various fiduciary and non-fiduciary services, including trustee, custodial, agency, investment management and other services. International corporate and institutional services are offered through Wilmington Trust Corporation's international affiliates. Loans, credit cards, retail and business deposits, and other business and personal banking services and products are offered by M&T Bank, member FDIC. Wilmington Trust Investment Advisors, Inc. is an SEC-registered investment adviser providing investment management services to Wilmington Trust and M&T Bank affiliates and clients.
These materials are based on public information. Facts and views presented in this report have not been reviewed by, and may not reflect information known to, professionals in other business areas of Wilmington Trust or M&T Bank who may provide or seek to provide financial services to entities referred to in this report. M&T Bank and Wilmington Trust have established information barriers between their various business groups. As a result, M&T Bank and Wilmington Trust do not disclose certain client relationships with, or compensation received from, such entities in their reports.
The information on Wilmington Wire has been obtained from sources believed to be reliable, but its accuracy and completeness are not guaranteed. The opinions, estimates, and projections constitute the judgment of Wilmington Trust and are subject to change without notice. This commentary is for information purposes only and is not intended as an offer or solicitation for the sale of any financial product or service or a recommendation or determination that any investment strategy is suitable for a specific investor. Investors should seek financial advice regarding the suitability of any investment strategy based on the investor's objectives, financial situation, and particular needs. Diversification does not ensure a profit or guarantee against a loss. There is no assurance that any investment strategy will succeed.
Any investment products discussed in this commentary are not insured by the FDIC or any other governmental agency, are not deposits of or other obligations of or guaranteed by M&T Bank, Wilmington Trust, or any other bank or entity, and are subject to risks, including a possible loss of the principal amount invested. Some investment products may be available only to certain "qualified investors"—that is, investors who meet certain income and/or investable assets thresholds. Past performance cannot guarantee future results. Investing involves risk and you may incur a profit or a loss.
Any positioning information provided does not include all positions that were taken in client accounts and may not be representative of current positioning. It should not be assumed that the positions described are or will be profitable or that positions taken in the future will be profitable or will equal the performance of those described. Positions described are illustrative and not intended as a recommendation outside of a managed account. Indices are not available for direct investment. Investment in a security or strategy designed to replicate the performance of an index will incur expenses, such as management fees and transaction costs that would reduce returns.
Third-party trademarks and brands are the property of their respective owners.