December 8, 2017 – The end of the year is a good time for reflection (once the shopping is done and holiday travel plans have been solidified). As we think back on what this year has meant for financial markets, we can't help but think that 2017 will be documented—in our memories but also the record books—for the extraordinary market run and lack of volatility. U.S. large cap stocks are up +20% (total return) through the first week in December, and non-U.S. stocks are up 24% in U.S. dollar terms. But beyond this strong performance, consider the following:
November was the 13th month in a row that the S&P 500 total return index delivered a positive return. This is the longest stretch of positive performance for the index in the 90 years for which we have data[1].
If December ends on a positive note (which 75% of the time it tends to do, thanks to seasonality and "Santa Claus rallies" that often occur into the end of the year), this would be the first calendar year ever in which we have witnessed a positive total return for the S&P 500 in each month.
The average level of the Chicago Board Options Exchange Volatility Index (CBOE VIX Index, measuring volatility that is expected or implied by options contracts in the market) was 11 this year, versus an average since 2000 of 20. It breached 16 only once.
Realized volatility for calendar year 2017 was lower in only one year during the past 60.
Implied volatility of the S&P 500 (VIX)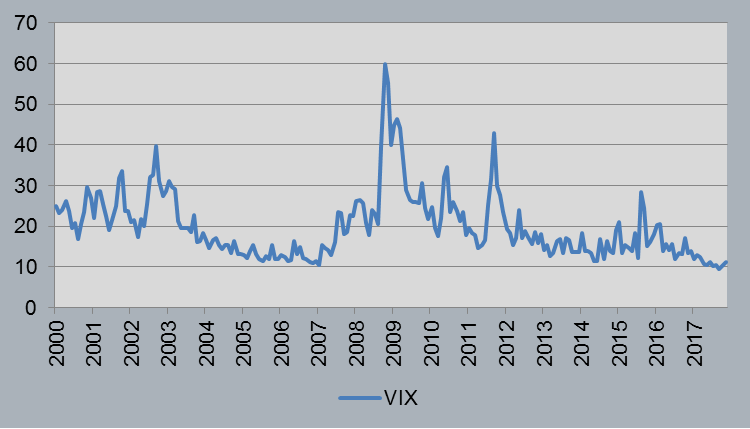 Source: Bloomberg
Data through November 30, 2017
With this context, we observe two conflicting behavioral responses nagging at investors. First is a fear of missing out. After such a strong year, it's tempting to jump all in, particularly for more cautious investors who may have been underweight risk or holding cash on the sidelines waiting for more attractive valuations. At the same time, a perfectly rational investor may look at the statistics above and conclude that a near-term pullback in equity markets is inevitable; thereby suggesting one should consider reducing risk in anticipation of a correction.
Who is right? Both. And neither. Allow us to explain. The market has shown incredible momentum, which we view as a result of solid earnings growth, robust economic fundamentals, and global central banks that remain accommodative; anticipation of fiscal stimulus and higher corporate profitability are also contributing factors. All of this suggests the equity market strength can continue despite the current run, and investors could end up sitting out equity returns in excess of what may end up being a modest correction.
At the same time, this year was exceptional for its lack of volatility and "straight up" trajectory. We firmly believe this will not continue, especially given higher-than-average equity valuations. Typically, equity markets experience at least one 5-10% pullback during the year. This year the S&P 500 index has seen a maximum drawdown (the biggest drop from peak to trough for the year) of just -2.6%. The only year since 1980 with a similar lack of negative return was 1995. Market corrections are a normal and even healthy part of investing. We would expect some sort of correction over the next 12 months, but this does not scare us and is not motivating us to reduce our equity overweight. History shows us that, more often than not, it is wise to ride out any minor bumps in the road. After all, the average pullback in years where the S&P 500 ended in positive territory was -11%. For investors with the proper mix of risky and defensive assets for their personal situation and a long-term time horizon, sitting on cash or reacting to a pullback by selling into weakness is the worst thing that can be done for long-term growth of a portfolio. This is particularly true if data suggests the economy will continue growing over the next six to twelve months, as we believe is the case today.
Core narrative
Our asset allocation framework is centered on economic fundamentals and analysis of market signals from both a historical and forward-looking basis. This tested and repeatable process gives us confidence to position client portfolios for outperformance over a multi-year market cycle. Despite the risk of a short-term market pullback, we continue to recommend an overweight allocation to equities and underweight to high-quality fixed income, versus our strategic benchmark. In the face of ever-present market uncertainty, we monitor an array of data to anticipate and position ahead of a more sustained equity drawdown—one that is usually accompanied by an economic contraction.
Disclosures
Wilmington Trust is a registered service mark. Wilmington Trust Corporation is a wholly owned subsidiary of M&T Bank Corporation. Wilmington Trust Company, operating in Delaware only, Wilmington Trust, N.A., M&T Bank and certain other affiliates, provide various fiduciary and non-fiduciary services, including trustee, custodial, agency, investment management and other services. International corporate and institutional services are offered through Wilmington Trust Corporation's international affiliates. Loans, credit cards, retail and business deposits, and other business and personal banking services and products are offered by M&T Bank, member FDIC.
These materials are based on public information. Facts and views presented in this report have not been reviewed by, and may not reflect information known to, professionals in other business areas of Wilmington Trust or M&T Bank who may provide or seek to provide financial services to entities referred to in this report. M&T Bank and Wilmington Trust have established information barriers between their various business groups. As a result, M&T Bank and Wilmington Trust do not disclose certain client relationships with, or compensation received from, such entities in their reports.
The information on Wilmington Wire has been obtained from sources believed to be reliable, but its accuracy and completeness are not guaranteed. The opinions, estimates, and projections constitute the judgment of Wilmington Trust and are subject to change without notice. This commentary is for information purposes only and is not intended as an offer or solicitation for the sale of any financial product or service or a recommendation or determination that any investment strategy is suitable for a specific investor. Investors should seek financial advice regarding the suitability of any investment strategy based on the investor's objectives, financial situation, and particular needs. Diversification does not ensure a profit or guarantee against a loss. There is no assurance that any investment strategy will succeed.
Any investment products discussed in this commentary are not insured by the FDIC or any other governmental agency, are not deposits of or other obligations of or guaranteed by M&T Bank, Wilmington Trust, or any other bank or entity, and are subject to risks, including a possible loss of the principal amount invested. Some investment products may be available only to certain "qualified investors"—that is, investors who meet certain income and/or investable assets thresholds. Past performance is no guarantee of future results. Investing involves risk and you may incur a profit or a loss.
Any positioning information provided does not include all positions that were taken in client accounts and may not be representative of current positioning. It should not be assumed that the positions described are or will be profitable or that positions taken in the future will be profitable or will equal the performance of those described. Positions described are illustrative and not intended as a recommendation outside of a managed account.
Indices are not available for direct investment. Investment in a security or strategy designed to replicate the performance of an index will incur expenses, such as management fees and transaction costs that would reduce returns.
Third-party trademarks and brands are the property of their respective owners.
---
[1] According to Deutsche Bank.