November 30, 2017— The U.S. holiday shopping season was off to a solid start this past Thanksgiving weekend, with U.S. consumers feeling jollier than they have in recent years. While deals on Thanksgiving, Black Friday, Small Business Saturday, and Cyber Monday are watched closely by shoppers, sales data over this five-day period are scrutinized by analysts and economists for messages about what the holiday shopping season may bring for retailers. Historically, as much of 30% of annual retail sales have occurred between Black Friday and Christmas.
This year's results were very positive. While in-store foot traffic over the weekend was flat to slightly down versus 2016, the "conversion rate" of browser to purchaser was higher, resulting in better sales results for brick-and-mortar stores (keeping in mind that reported earnings will be a function of the discounts offered to secure those sales). Online sales were particularly strong, with e-commerce sales on Thanksgiving and Black Friday showing an increase of 18%. Cyber Monday sales increased a similar amount, hitting a record $6.6 billion for the day and signaling success for retailers with seamless online capabilities, according to Adobe Insights. Perhaps not surprisingly, purchases are increasingly being made "on the go," with roughly 40% of online sales reflecting purchases from a smart phone—a notable increase versus the 29% reported for the prior year. Because of this trend, companies and analysts are increasingly expending resources to track social media presence and digital engagement with brands, in an effort to anticipate consumer behavior.
What does all of this mean for the U.S. economy? It could mean there are simply more of us on the "nice list" this year, but it more likely reflects continued momentum from the consumer and, by extension, corporate earnings. Third-quarter earnings saw over 70% of companies in the S&P 500 beating estimates, with year-over-year earnings growth of more than 6.5%, though consumer discretionary stocks were generally weaker. The U.S. consumer is without a doubt benefiting from a strong labor market, low inflation, and increasing net worth (the latter of which is thanks in part to a continued bull market for stocks). All of this is contributing to consumer confidence at cycle highs (with a notable increase in confidence for middle-income households) and increased private consumption, good signs for the overall economy. Also helping consumers' balance sheets are low interest rates. Though the low-rate environment poses a challenge for retirees and income-focused-investors, it, along with post-recession deleveraging, has left the U.S. consumer with very manageable total debt obligations (measured by the consumer debt service ratio; see Figure 1). We are encouraged by the health of the U.S. consumer, but we note that some of this euphoria is coming at the expense of higher levels of outstanding credit card debt and lower savings rates (Figure 2), both of which reduce the consumer's cushion in the event of a reversal in labor market or economic growth.
Figure 1
Consumer debt service ratio (%)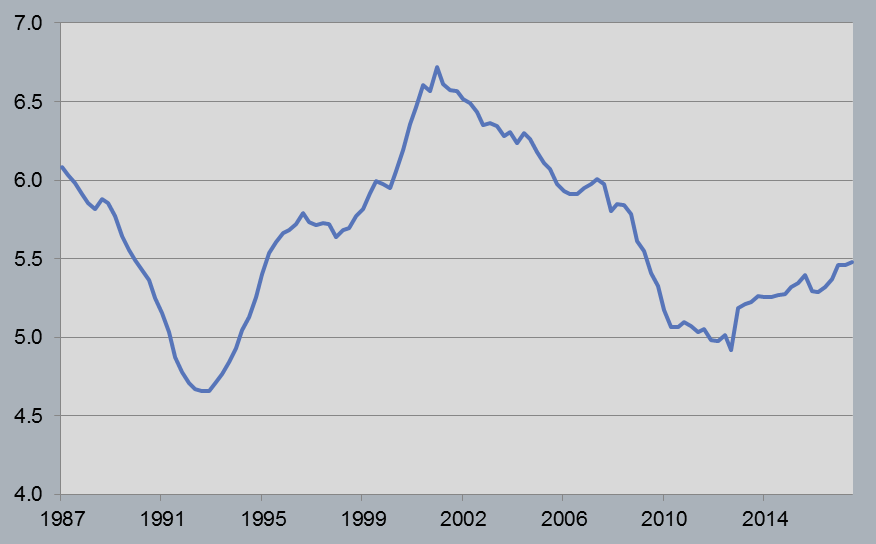 As of September 30, 2017. Represents the ratio of consumer debt payments (including interest) to disposable personal income.
Source: Bloomberg, Bureau of Economic Analysis
Figure 2
Credit card debt outstanding (% y/y) Personal savings rate (%)

As of September 30, 2017. Personal savings rate is as a percent of disposable income.
Source: Bloomberg, Bureau of Economic Analysis, New York Fed Consumer Credit Panel/Equifax
This year's Thanksgiving weekend sales were the most positive they have been in years. To be fair, the Thanksgiving weekend is not a perfect means of projecting total spending for the holiday season. In fact, prior years have seen strong Black Friday weekend sales, only to realize that demand was merely being pulled forward, leading to an early-December lull in retail activity. It is also difficult to compare this short period's sales from year to year, as retailers are evolving to include more sales channels such as mobile devices. In our view, multi-channel distribution (people going to stores and also buying things online) is contributing to structurally lower inflation. On top of that, the start of the promotional season is a moving target, as some retailers have gone back and forth on opening Thanksgiving Day, while others have tried to front-run Black Friday by offering more deals earlier in the month. These factors make an apples-to-apples comparison challenging.
Core narrative
In sum, this past weekend's strong showing reaffirms our core narrative, which is centered on expectations for solid global economic growth over the next year and is reflected in an overweight to equities. We have confidence in the health of the U.S. economy and, the global outlook. The U.S. consumer is in good shape, and we are monitoring some areas of weakness around the periphery, including debt levels. We continue to recommend a neutral weight to U.S. equities versus our strategic benchmark and an overweight to non-U.S., where relative valuations and economic fundamentals are more compelling.
Disclosures
Wilmington Trust is a registered service mark. Wilmington Trust Corporation is a wholly owned subsidiary of M&T Bank Corporation. Wilmington Trust Company, operating in Delaware only, Wilmington Trust, N.A., M&T Bank and certain other affiliates, provide various fiduciary and non-fiduciary services, including trustee, custodial, agency, investment management and other services. International corporate and institutional services are offered through Wilmington Trust Corporation's international affiliates. Loans, credit cards, retail and business deposits, and other business and personal banking services and products are offered by M&T Bank, member FDIC.
These materials are based on public information. Facts and views presented in this report have not been reviewed by, and may not reflect information known to, professionals in other business areas of Wilmington Trust or M&T Bank who may provide or seek to provide financial services to entities referred to in this report. M&T Bank and Wilmington Trust have established information barriers between their various business groups. As a result, M&T Bank and Wilmington Trust do not disclose certain client relationships with, or compensation received from, such entities in their reports.
The information on Wilmington Wire has been obtained from sources believed to be reliable, but its accuracy and completeness are not guaranteed. The opinions, estimates, and projections constitute the judgment of Wilmington Trust and are subject to change without notice. This commentary is for information purposes only and is not intended as an offer or solicitation for the sale of any financial product or service or a recommendation or determination that any investment strategy is suitable for a specific investor. Investors should seek financial advice regarding the suitability of any investment strategy based on the investor's objectives, financial situation, and particular needs. Diversification does not ensure a profit or guarantee against a loss. There is no assurance that any investment strategy will succeed.
Any investment products discussed in this commentary are not insured by the FDIC or any other governmental agency, are not deposits of or other obligations of or guaranteed by M&T Bank, Wilmington Trust, or any other bank or entity, and are subject to risks, including a possible loss of the principal amount invested. Some investment products may be available only to certain "qualified investors"—that is, investors who meet certain income and/or investable assets thresholds. Past performance is no guarantee of future results. Investing involves risk and you may incur a profit or a loss.
Any positioning information provided does not include all positions that were taken in client accounts and may not be representative of current positioning. It should not be assumed that the positions described are or will be profitable or that positions taken in the future will be profitable or will equal the performance of those described. Positions described are illustrative and not intended as a recommendation outside of a managed account.
Indices are not available for direct investment. Investment in a security or strategy designed to replicate the performance of an index will incur expenses, such as management fees and transaction costs that would reduce returns.
Third-party trademarks and brands are the property of their respective owners.
Contact an Expert