September 19, 2018— The past few months have been dominated by news flow on trade, but the U.S./China trade spat has stolen the most headlines and dominated market sentiment. Emerging market equities and the U.S. dollar have fluctuated in concert with U.S./China trade developments. (Harsher headlines have been accompanied by safe-haven flows to the U.S. dollar, which have put extra downward pressure on EM equities and currencies.) In our view, while the world is focused on China, we believe at this juncture Canada is actually more pivotal to the next step for U.S. trade relations.
Despite fits and starts for about a year and still no formal deal yet to speak of, NAFTA negotiations have flown a bit more under the market's radar of late. We attribute this to the de-escalation of tensions amongst North American trade partners and progress toward a U.S. deal with Mexico at the exact same time that the U.S. ramped up pressure on China. This is no coincidence. The U.S. refined its trade strategy over the summer with the goal of making headway on trade negotiations with Canada, Mexico, and the EU (Figure 1). We believe this was done with the intention of garnering support on the side of the U.S. to apply broader pressure to China from a more unified Western front. While there is some disagreement on the gravity of trade-related discretions by Canada, Mexico, and the EU, there is far more consensus on China's unfair trade practices. In Congress, complaints about Chinese intellectual property theft, oversupply of certain commodity markets, and government support for China's state-owned enterprises have become bipartisan issues (which says a lot, given the polarity in Washington today). On Tuesday, the EU Chamber of Commerce presented a 394-page position paper in Beijing detailing the "reform deficit" of China's marketplace. Representatives from Canada and the EU have also been working to garner support for a working group to reform the World Trade Organization, an effort that will almost certainly involve taking aim at some of China's unfair trade practices.
Figure 1: Canadian and Mexican currencies have strengthened with improved prospects for a NAFTA deal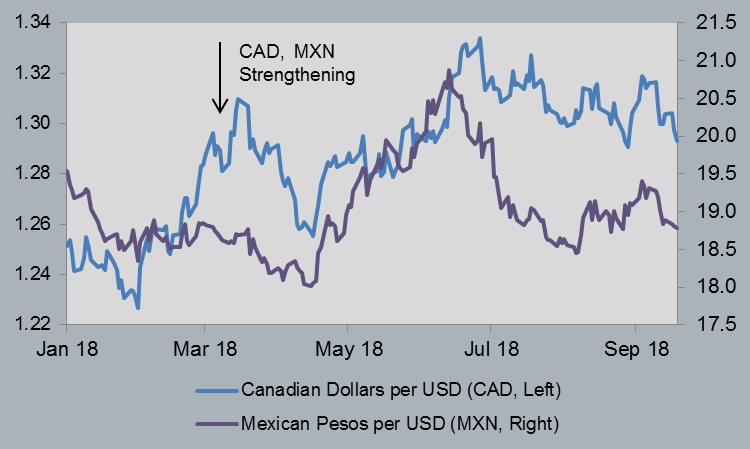 As of September 19, 2018.
Source: Bloomberg
Completing a NAFTA deal and making progress on EU trade negotiations helps the U.S.'s image as a more reasonable negotiator than China, despite the U.S. always taking the first tariff shot. We would go as far as to say that a deal on NAFTA is a necessary first step before material progress can be made with China. And since the U.S. has already come to terms with Mexico, the focus is on Canada.
We believe a trilateral NAFTA deal will get done, but it is not a foregone conclusion, and there are reasons to be cautious. For one, the dairy industry has been a sticking point for Canada. In the current NAFTA deal, access to Canada's dairy market was excluded. As a result, tariffs on Canadian dairy product imports in excess of strict quotas receive tariffs ranging from 200%-300%. Canada has been unwilling to budge on this issue so far, and Canadian politicians are digging in their heels ahead of municipal elections next month, but some are speculating that Canadian Prime Minister Trudeau may be signaling a willingness to negotiate.
There is also the timeline to consider. After blowing through a series of soft deadlines, the end of September has been targeted for a final agreement between all parties, giving enough time for Mexico's Congress to ratify the deal before President-elect Andrés Manuel López Obrador takes office on December 1, replacing current President Peña Nieto. The agreement also needs to be passed through U.S. Congress. If this cannot be done before the new congress is sworn in, it risks being stalled, should control of one or both chambers of Congress flip to the Democrats, which is looking likely. Garnering Democratic support for a key Trump administration goal becomes more of a risk should partisan tensions heighten around the midterm elections or Supreme Court nomination process. While this timeline is a bit ambiguous given legal uncertainties (particularly whether the U.S. is actually legally permitted to move forward without Canada), there is significant pressure for Canada to join the deal in coming weeks. If this does not occur, it will not bode well for Chinese trade talks and the broader trade dynamic.
Core narrative
Despite all of the focus on China, we believe the more important catalyst to monitor is the progression of NAFTA trade talks, particularly as it relates to Canada. A NAFTA deal is increasingly looking like a necessary first step, along with progression of US/EU discussions still in their infancy, in order for any resolution between the U.S. and China. Unfortunately, this means that a trade resolution with China could be prolonged, and EM equities could be stalled in the meantime. While there is a possibility that a timeline on China negotiations may be pushed out until after the midterm elections or even 2019, President Trump has taught us that policy direction can change abruptly, and we would expect markets to react sharply if there are signs of a more immediate resolution. It remains our base case that a deal with China will be reached and tariffs will not be a permanent fixture. Emerging economies are certainly facing some country-specific troubles, but we expect growth to improve from solid levels over the next 6-9 months and EM equities to recover from recent lows.
Disclosures
Wilmington Trust is a registered service mark. Wilmington Trust Corporation is a wholly owned subsidiary of M&T Bank Corporation. Wilmington Trust Company, operating in Delaware only, Wilmington Trust, N.A., M&T Bank and certain other affiliates, provide various fiduciary and non-fiduciary services, including trustee, custodial, agency, investment management and other services. International corporate and institutional services are offered through Wilmington Trust Corporation's international affiliates. Loans, credit cards, retail and business deposits, and other business and personal banking services and products are offered by M&T Bank, member FDIC. Wilmington Trust Investment Advisors, Inc. is an SEC-registered investment adviser providing investment management services to Wilmington Trust and M&T Bank affiliates and clients.
These materials are based on public information. Facts and views presented in this report have not been reviewed by, and may not reflect information known to, professionals in other business areas of Wilmington Trust or M&T Bank who may provide or seek to provide financial services to entities referred to in this report. M&T Bank and Wilmington Trust have established information barriers between their various business groups. As a result, M&T Bank and Wilmington Trust do not disclose certain client relationships with, or compensation received from, such entities in their reports.
The information on Wilmington Wire has been obtained from sources believed to be reliable, but its accuracy and completeness are not guaranteed. The opinions, estimates, and projections constitute the judgment of Wilmington Trust and are subject to change without notice. This commentary is for information purposes only and is not intended as an offer or solicitation for the sale of any financial product or service or a recommendation or determination that any investment strategy is suitable for a specific investor. Investors should seek financial advice regarding the suitability of any investment strategy based on the investor's objectives, financial situation, and particular needs. Diversification does not ensure a profit or guarantee against a loss. There is no assurance that any investment strategy will succeed.
Any investment products discussed in this commentary are not insured by the FDIC or any other governmental agency, are not deposits of or other obligations of or guaranteed by M&T Bank, Wilmington Trust, or any other bank or entity, and are subject to risks, including a possible loss of the principal amount invested. Some investment products may be available only to certain "qualified investors"—that is, investors who meet certain income and/or investable assets thresholds. Past performance is no guarantee of future results. Investing involves risk and you may incur a profit or a loss.
Any positioning information provided does not include all positions that were taken in client accounts and may not be representative of current positioning. It should not be assumed that the positions described are or will be profitable or that positions taken in the future will be profitable or will equal the performance of those described. Positions described are illustrative and not intended as a recommendation outside of a managed account.
Indices are not available for direct investment. Investment in a security or strategy designed to replicate the performance of an index will incur expenses, such as management fees and transaction costs that would reduce returns.
Third-party trademarks and brands are the property of their respective owners.