July 28, 2017— The initial estimate of GDP growth for 2Q 2017 was solid at 2.6%—not as strong as we and others expected, but certainly strong enough to confirm the weak first quarter was not indicative of a weakening economy. As we discussed at the time, 1Q was an odd combination of very weak consumer spending coming from low heating bills in a warm winter, some slowdown in auto sales, and a massive surge in business investment. This 2Q was much more even, with a solid bounce in consumer spending that would be expected in an environment of low unemployment, sturdy job gains, some wage growth, and low debt levels. Also in the second quarter, business capex slowed from the torrid pace in 1Q to a solid, encouraging, more sustainable pace.
Going forward, we expect the economy to continue improving and see some acceleration in the second half of the year based on continued consumer spending and acceleration in business capex. The strong global environment should also help with exports. Stepping back to the broader story, the economy is still bouncing back from the very weak year in 2016, shown in the figure below. In-between GDP releases, we continue to watch and be encouraged by the Institute for Supply Management's (ISM) surveys of businesses, which track well with the overall economy and have been very encouraging of late, returning to readings last seen in 2015 when GDP growth was also higher.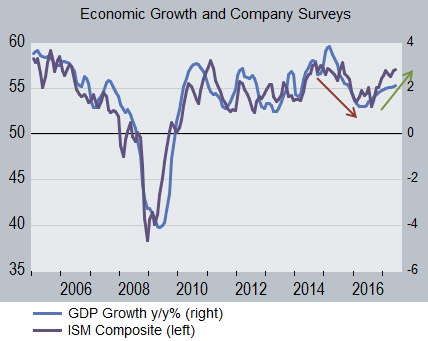 Source: Bureau of Economic Analysis, Institute for Supply Management, Bloomberg
Turning our attention to the Federal Reserve and the plans for rate hikes, this morning's GDP report falls right in line with what they had been expecting. In the second half of this year, the central bank will likely need to see sequential improvements in the various inflation metrics to proceed with the expected December rate hike and multiple rate hikes in 2018. There is certainly enough time for that to transpire, but if inflation disappoints to the downside, the Fed will be forced to reevaluate. In the meantime, one important measure of expected inflation has arrested its recent decline. The 10-year breakeven on Treasury inflation-protected securities (TIPS) is essentially the bond market's forecast for inflation over the next decade, and is an important indicator for the Fed as it contemplates monetary policy. Shown in the figure below, long-term inflation expectations had been falling since a recent peak in late-2016 and early-2017, as the bond market soured on growth and inflation. They hit a 2017 low in mid-June and have picked up since, as economic data have improved and oil prices turned back up. Importantly, the 10-year breakeven remains above the average level in 2015 and well above the levels seen in 2016 when the Fed started this rate hike cycle. If expectations trend upward along with continued improvements in growth and the labor market, the Fed is very likely to continue along its projected path.
Core narrative
Today's GDP growth figure was weaker than we had anticipated, but encouraging as it supports our view that the economic expansion still has some room to run. We expect further acceleration in growth in the second half of 2017 and some improvement in the inflation figures as well. This should be supportive of the Fed's plans to continue raising rates at a gradual pace. We expect equity market returns to continue based on domestic and international growth, and core fixed income returns to be challenged in the rising rate environment. We remain overweight risk assets overall in our flagship portfolio with a preference for international over domestic.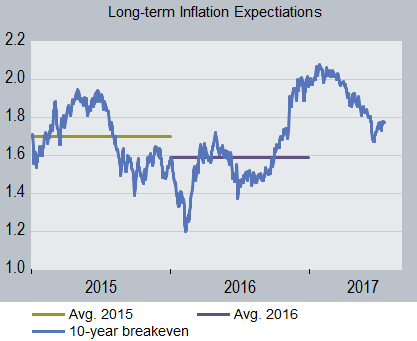 Source: Bloomberg
Disclosures
Wilmington Trust is a registered service mark. Wilmington Trust Corporation is a wholly owned subsidiary of M&T Bank Corporation. Wilmington Trust Company, operating in Delaware only, Wilmington Trust, N.A., M&T Bank and certain other affiliates, provide various fiduciary and non-fiduciary services, including trustee, custodial, agency, investment management and other services. International corporate and institutional services are offered through Wilmington Trust Corporation's international affiliates. Loans, credit cards, retail and business deposits, and other business and personal banking services and products are offered by M&T Bank, member FDIC.
These materials are based on public information. Facts and views presented in this report have not been reviewed by, and may not reflect information known to, professionals in other business areas of Wilmington Trust or M&T Bank who may provide or seek to provide financial services to entities referred to in this report. M&T Bank and Wilmington Trust have established information barriers between their various business groups. As a result, M&T Bank and Wilmington Trust do not disclose certain client relationships with, or compensation received from, such entities in their reports.
The information on Wilmington Wire has been obtained from sources believed to be reliable, but its accuracy and completeness are not guaranteed. The opinions, estimates, and projections constitute the judgment of Wilmington Trust and are subject to change without notice. This commentary is for information purposes only and is not intended as an offer or solicitation for the sale of any financial product or service or a recommendation or determination that any investment strategy is suitable for a specific investor. Investors should seek financial advice regarding the suitability of any investment strategy based on the investor's objectives, financial situation, and particular needs. Diversification does not ensure a profit or guarantee against a loss. There is no assurance that any investment strategy will succeed.
Any investment products discussed in this commentary are not insured by the FDIC or any other governmental agency, are not deposits of or other obligations of or guaranteed by M&T Bank, Wilmington Trust, or any other bank or entity, and are subject to risks, including a possible loss of the principal amount invested. Some investment products may be available only to certain "qualified investors"—that is, investors who meet certain income and/or investable assets thresholds. Past performance is no guarantee of future results. Investing involves risk and you may incur a profit or a loss.
Any positioning information provided does not include all positions that were taken in client accounts and may not be representative of current positioning. It should not be assumed that the positions described are or will be profitable or that positions taken in the future will be profitable or will equal the performance of those described. Positions described are illustrative and not intended as a recommendation outside of a managed account.
Indices are not available for direct investment. Investment in a security or strategy designed to replicate the performance of an index will incur expenses, such as management fees and transaction costs that would reduce returns.
Third party trademarks and brands are the property of their respective owners.
Contact an Expert