August 1, 2019—Just when we think we have a fairly good read on the prospects for policy—namely monetary policy and trade policy—we get thrown another curve ball of the trade variety.
On Thursday, President Trump announced via Twitter that tariffs would be increased by 10% on the remaining roughly $300 billion of U.S. imports from China beginning September 1. This comes on the heels of the first in-person trade talks between the U.S. and China since discussions broke down in mid-May and seems to be linked to a failure on China's part to follow through on commitments to increase purchases of agricultural goods, curb the sale of opioid Fentanyl to the U.S., and return to the pre-May negotiating framework.
The threat of this next round of tariffs is precisely why we reduced risk in portfolios in mid-May, taking our equity exposure to neutral from overweight for the first time in more than four years and adding to high-quality fixed income. To put it simply, we believe this next escalation of tariffs could potentially be the straw that breaks the U.S. economic cycle's back and is the largest swing factor for the economy. We are particularly concerned about the following:
Deepening of the global manufacturing recession. We would expect higher tariffs on Chinese goods and retaliation from China on U.S. companies to further dampen Chinese demand and, by extension, manufacturing activity in export-sensitive economies like Japan and Germany. Tariffs elevate spillover risks of weakness from manufacturing to services in these already-fragile regions. The euro area, for example, posted GDP growth of just 0.2% q/q seasonally adjusted annual rate (saar) in the second quarter—a rounding error, by most standards, around the recessionary threshold.
Heightened risk of U.S. recession. A U.S. recession is not yet in our base case over the next 12 months, but an escalation of tariff and non-tariff trade tensions between the U.S. and China threatens our outlook for 1.5%–2% GDP growth in the U.S over the coming year and certainly increases the risk of the U.S. tipping into recession. The deepening of the yield curve inversion between the 10-year and 3-month Treasury to -0.20% following the tariff announcement suggests the bond market agrees with us.
There are two important transmission mechanisms from this latest round of tariffs: capex and consumer spending. During 2019 we have seen trade uncertainty weigh on corporate sentiment and capex intentions, and we would expect this recent escalation to further deter investments in technology and supply chains, dragging on U.S. economic growth. On the consumer side of the equation, this latest round of tariffs could be much more damaging to consumers and consumer-related companies, as the list of affected items is more heavily skewed toward consumer goods—about 68.5% of goods to be tariffed are consumer related compared to 38% in the last round of tariffs (Figure 1). While tariffs thus far have weighed on many manufacturing or industrial companies, this would be the first time we would expect to see consumers more broadly feel the pain of the trade war.
Figure 1
Successive rounds of tariffs fall more heavily on U.S. consumers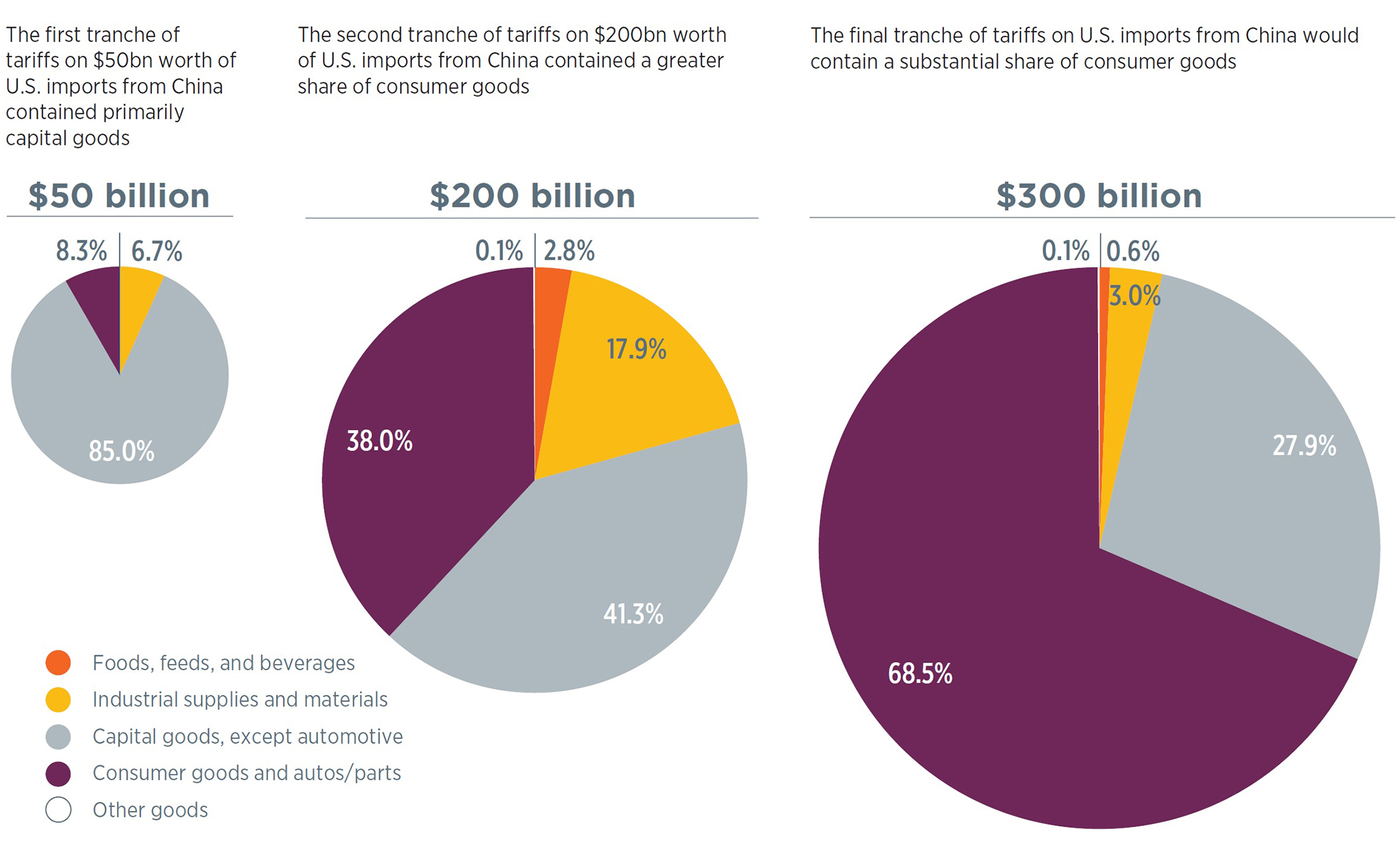 Data as of May 21, 2019. Sources: Morgan Stanley Research, USTR, Census Bureau.
We have heard some speculate as to whether the Federal Reserve's rate cut on Wednesday emboldened President Trump to take this next step on trade, but this is largely irrelevant to our investment decisions. What is important is that we expect an escalation of trade tensions that weighs further on U.S. manufacturing, inflation expectations, and overall economic growth to be met with additional rate cuts from the Fed. In fact, this could be seen as a silver lining of the president's latest tariff salvo – at least from the perspective of equity investors. The problem is that it is unclear whether lower borrowing costs would really do much to offset the damaging effects of tariffs and trade uncertainty, particularly as interest rates do not seem to be an inhibiting factor for company investment decisions. Put another way, Powell has cited that "an ounce of prevention is worth a pound of cure," but we question whether the Fed has the correct medicine at its disposal to treat the trade-induced ails of the U.S. economy.
We generally try to stay out of the political fray, but it is important to understand how political dynamics may affect future policy decisions, especially as we get closer to the 2020 U.S. presidential election. Along those lines, if an escalation of tariffs did sufficiently depress growth and push the U.S. closer to a recession, we would expect it to have a damaging effect on President Trump's reelection prospects. Based on history, a weak economy and rising unemployment rate do not bode well for the incumbent. To the degree the market prices in a higher probability of President Trump being unseated by a candidate more inclined to raise taxes or increase regulation, we would expect downward pressure on risky assets.
Core Narrative
In May we reduced our equity exposure to neutral versus our long-term strategic benchmark allocation and increased exposure to high-quality fixed income (though we remain slightly underweight fixed income). Our rationale was that we expected the increased tariffs on $250 billion of Chinese goods (middle pie in Figure 1, which saw tariffs increased in May) to weigh further on global economic activity and increase the probability of another even more damaging round of tariffs (right pie in Figure 1). The market climbed higher between mid-May and end-July, but we neglected to chase those returns, and we would expect equities to now begin to more fully price in some of our downside concerns. Investors often seek instant gratification, and it can be frustrating to see the market continue to climb higher after a decision to reduce risk in portfolios, but we remain focused on the long-term. We are confident in our current neutral positioning to equities and patient approach to asset allocation. A recession is not yet in our base case outlook over the next 12 months, but we are on heightened alert and stand ready to adjust portfolios in response to the economic outlook.
Disclosures
Wilmington Trust is a registered service mark. Wilmington Trust Corporation is a wholly owned subsidiary of M&T Bank Corporation. Wilmington Trust Company, operating in Delaware only, Wilmington Trust, N.A.,  M&T Bank and certain other affiliates, provide various fiduciary and non-fiduciary services, including trustee, custodial, agency, investment management and other services. International corporate and institutional services are offered through Wilmington Trust Corporation's international affiliates. Loans, credit cards, retail and business deposits, and other business and personal banking services and products are offered by M&T Bank, member FDIC. Wilmington Trust Investment Advisors, Inc. is an SEC-registered investment adviser providing investment management services to Wilmington Trust and M&T Bank affiliates and clients.
These materials are based on public information. Facts and views presented in this report have not been reviewed by, and may not reflect information known to, professionals in other business areas of Wilmington Trust or M&T Bank who may provide or seek to provide financial services to entities referred to in this report. M&T Bank and Wilmington Trust have established information barriers between their various business groups. As a result, M&T Bank and Wilmington Trust do not disclose certain client relationships with, or compensation received from, such entities in their reports.
The information on Wilmington Wire has been obtained from sources believed to be reliable, but its accuracy and completeness are not guaranteed. The opinions, estimates, and projections constitute the judgment of Wilmington Trust and are subject to change without notice. This commentary is for information purposes only and is not intended as an offer or solicitation for the sale of any financial product or service or a recommendation or determination that any investment strategy is suitable for a specific investor. Investors should seek financial advice regarding the suitability of any investment strategy based on the investor's objectives, financial situation, and particular needs. Diversification does not ensure a profit or guarantee against a loss. There is no assurance that any investment strategy will succeed.
Any investment products discussed in this commentary are not insured by the FDIC or any other governmental agency, are not deposits of or other obligations of or guaranteed by M&T Bank, Wilmington Trust, or any other bank or entity, and are subject to risks, including a possible loss of the principal amount invested. Some investment products may be available only to certain "qualified investors"—that is, investors who meet certain income and/or investable assets thresholds. Past performance cannot guarantee future results. Investing involves risk and you may incur a profit or a loss.
Any positioning information provided does not include all positions that were taken in client accounts and may not be representative of current positioning. It should not be assumed that the positions described are or will be profitable or that positions taken in the future will be profitable or will equal the performance of those described. Positions described are illustrative and not intended as a recommendation outside of a managed account. Indices are not available for direct investment. Investment in a security or strategy designed to replicate the performance of an index will incur expenses, such as management fees and transaction costs that would reduce returns.
Third-party trademarks and brands are the property of their respective owners.