September 18, 2018—On Monday night the latest shots were taken from both sides in the growing U.S./China trade war, and global equities on Tuesday are…up? Not only that, but S&P 500 sectors thought to be most exposed to trade, including industrials and materials, are also in the green at the time of writing. A possible explanation for this is investor complacency when it comes to tariffs. Perhaps fund managers and traders are just numb to trade threats, and tensions between the two largest economies are increasingly becoming the norm?
We do not believe markets are overly complacent about the latest trade threats. For one thing, those areas of the market with the most obvious negative repercussions from U.S./China tariffs have already seen significant pain so far this year. This is most acutely visible in emerging markets, and last month our Chief Investment Officer, Tony Roth, argued in his Capital Perspectives letter that much of the anticipated negative impacts from trade are pretty well priced into EM equities and currencies. The MSCI Emerging Market Index is already down 10.5% year to date, and though the index did weaken a bit further immediately following the latest tariff announcement, the more modest reaction in EM markets could indicate that some of this announcement was already priced in. (In fact, the 10% tariff rate on $200 billion of Chinese goods was lower than some recent threats for a 25% rate, though the higher tariff rate is scheduled to kick in come January, should progress not be made on U.S./China trade-related negotiations.) At this point, the dispersion in both performance and valuation between U.S. and EM equities is reaching an extreme, and growth is likely to pick up in China as a response to Chinese stimulus enacted earlier this year (see Wilmington Wire post, China Takes Steps to Counter Trade Risks).
One underappreciated effect of the latest and potentially forthcoming rounds of tariffs, pointed out by Chief Economist Luke Tilley, The New Proposed China Tariffs Are a Big Deal, is that they could start to become evident to the U.S. consumer. There is really no way of avoiding tariffs on consumer goods when the list is broadened to $200 billion (or eventually more) of Chinese goods, since almost two-thirds of our goods deficit with China comes from computers, electronics, apparel, and furniture. The actual pass-through to inflation is difficult to anticipate, given the complexity of consumer and corporate responses to higher prices (e.g., consumers may have the ability to make substitutions, while corporate margins give companies some room to absorb higher input costs). However, consumer and small business confidence levels do not seem to reflect these obvious risks and the latter hit a new all-time high last week. However, we are observing an interesting bifurcation between consumer and investor sentiment. Despite the S&P 500 approaching a new all-time high, investor sentiment is more muted. First, the price-to-earnings ratio on the S&P 500 is over 1.5 points below where valuations started the year. Second, the number of investors identifying themselves as "bullish" is on par with those claiming to be "bearish." Third, the Chicago Board Options Exchange (CBOE) Skew index, a measure of what investors are willing to pay for protection (a higher number indicates a higher value for puts, or bets against the direction of the U.S. stock market), is very elevated (Figure 1). In other words, despite strength in U.S. equities, investors are building up more protection for a swing in the other direction, suggesting the bull market is less at risk than in times of more extreme investor optimism.
Figure 1: Investors Paying More for Protection
CBOE Skew Index
(6-month moving average of daily levels)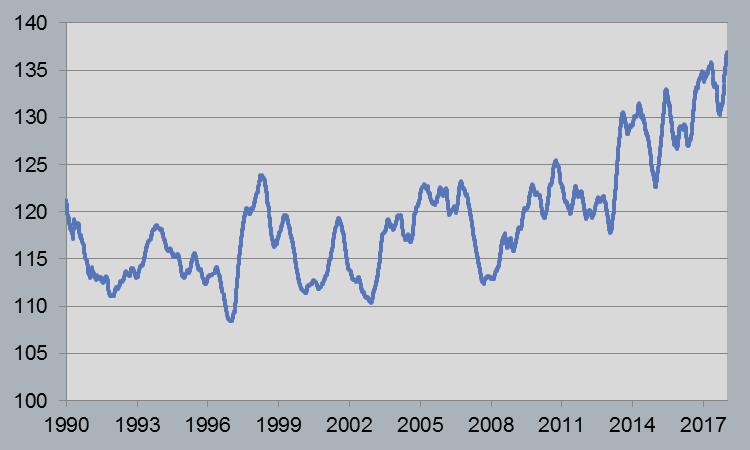 As of September 18, 2018.
Source: Bloomberg, CBOE
Core narrative
Escalating trade tensions are a meaningful risk to global economic growth and equities, perhaps more in the U.S. than in areas like EM where risks have been more aggressively priced in. However, despite U.S. consumer and business confidence reaching new highs for the expansion, U.S. equity investors are taking steps to prevent being overly exposed. This aligns with our neutral exposure to U.S. equities and modest overweight to international markets.
Disclosures
Wilmington Trust is a registered service mark. Wilmington Trust Corporation is a wholly owned subsidiary of M&T Bank Corporation. Wilmington Trust Company, operating in Delaware only, Wilmington Trust, N.A., M&T Bank and certain other affiliates, provide various fiduciary and non-fiduciary services, including trustee, custodial, agency, investment management and other services. International corporate and institutional services are offered through Wilmington Trust Corporation's international affiliates. Loans, credit cards, retail and business deposits, and other business and personal banking services and products are offered by M&T Bank, member FDIC. Wilmington Trust Investment Advisors, Inc. is an SEC-registered investment adviser providing investment management services to Wilmington Trust and M&T Bank affiliates and clients.
These materials are based on public information. Facts and views presented in this report have not been reviewed by, and may not reflect information known to, professionals in other business areas of Wilmington Trust or M&T Bank who may provide or seek to provide financial services to entities referred to in this report. M&T Bank and Wilmington Trust have established information barriers between their various business groups. As a result, M&T Bank and Wilmington Trust do not disclose certain client relationships with, or compensation received from, such entities in their reports.
The information on Wilmington Wire has been obtained from sources believed to be reliable, but its accuracy and completeness are not guaranteed. The opinions, estimates, and projections constitute the judgment of Wilmington Trust and are subject to change without notice. This commentary is for information purposes only and is not intended as an offer or solicitation for the sale of any financial product or service or a recommendation or determination that any investment strategy is suitable for a specific investor. Investors should seek financial advice regarding the suitability of any investment strategy based on the investor's objectives, financial situation, and particular needs. Diversification does not ensure a profit or guarantee against a loss. There is no assurance that any investment strategy will succeed.
Any investment products discussed in this commentary are not insured by the FDIC or any other governmental agency, are not deposits of or other obligations of or guaranteed by M&T Bank, Wilmington Trust, or any other bank or entity, and are subject to risks, including a possible loss of the principal amount invested. Some investment products may be available only to certain "qualified investors"—that is, investors who meet certain income and/or investable assets thresholds. Past performance is no guarantee of future results. Investing involves risk and you may incur a profit or a loss.
Any positioning information provided does not include all positions that were taken in client accounts and may not be representative of current positioning. It should not be assumed that the positions described are or will be profitable or that positions taken in the future will be profitable or will equal the performance of those described. Positions described are illustrative and not intended as a recommendation outside of a managed account.
Indices are not available for direct investment. Investment in a security or strategy designed to replicate the performance of an index will incur expenses, such as management fees and transaction costs that would reduce returns.
Third-party trademarks and brands are the property of their respective owners.