September 22, 2017— We are occasionally asked if we view the bank loan (also leveraged loan) space as attractive. While we are not addressing complete market credit conditions here, we can comment on some unique aspects of the bank loan market that impact our view.
This asset class is composed of loans traditionally made to high-yield, or non-investment-grade borrowers. Bank loans are frequently higher in the capital structure than traditional fixed-rate high-yield bonds and are usually secured. Bank loans are also floating rate instruments that pay interest above a benchmark yield/rate, such as 3-month Treasuries or LIBOR. However, unlike the fixed-rate high-yield bond market, bank loans can typically be pre-paid at virtually any time with the payment of a small premium, usually starting within a few months of issuance.
In situations where the issuer has an improved credit profile and/or the market perceived risk of the issuer is lower, this should result in appreciation of the loan above par, indicating a lower cost of borrowing. If this occurs, issuers will frequently pre-pay a current issue and refinance with a new bank loan issuance at a lower interest rate spread above the benchmark rate (very similar to homeowners refinancing a mortgage). Fixed-rate high-yield bonds typically cannot be pre-paid for five years from issuance or may require payment of a meaningful premium to refinance. Within the bank loan market, this prepayment capability should effectively cap the upside price of individual securities near par. This is very different from a fixed-rate high-yield bond that may not be pre-paid for a number of years, as its price could move meaningfully above par.
One metric we review on a consistent basis is the portion of the bank loan market that trades above par. We follow this metric as we believe it is a good indicator of investor demand for yield and can lead to situations where investors have immediate risk of principal if they purchase loans above par that can be immediately refinanced with new issues. Figure 1 shows the 3-month moving average percent of the Credit Suisse Leverage Loan index trading above par. As one can see, in robust credit markets (e.g., 2005–2007, 2013, and today), a large portion of the market will trade above par, indicating a combination of healthy underlying corporate fundamentals and a reach for yield. Further, it should come as no surprise that during the 2008 credit crisis, virtually none of the index was above par. Recent data indicate that this is the third-most pronounced period of investor demand, as roughly 55% of the index is trading above par.
Figure 1
Percent of Credit Suisse Leveraged Loan Index trading above par
(3-month moving average)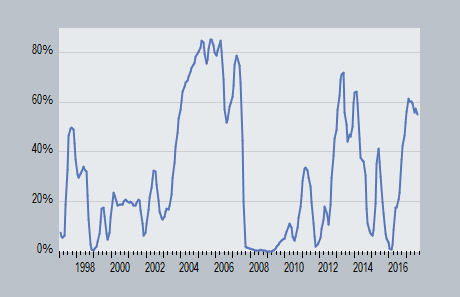 Source: Credit Suisse and Deutsche Bank
The second technical aspect of the bank loan market is the covenants that are embedded within the loan documents. These covenants provide protections for investors by requiring a borrower to maintain certain financial ratios. While newly issued bank loans do maintain other covenants, we highlight the fact that a key type of covenant is missing. Loans without these protections are called "covenant lite." As can be seen in Figure 2, the portion of the index that does not contain these protections has grown substantially over the past few years.
Figure 2
Percent of Credit Suisse Leveraged Loan Index that is "covenant lite"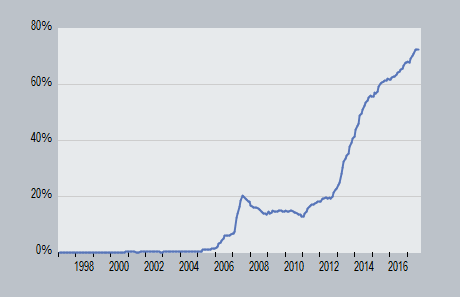 Source: Credit Suisse and Deutsche Bank
Core narrative:
Given the combination of premium pricing and reduced investor protections, we have a zero weight to the asset class in our tactical asset allocation. We would reconsider the asset class when conditions are much more favorable to the investor.
Disclosures
Wilmington Trust is a registered service mark. Wilmington Trust Corporation is a wholly owned subsidiary of M&T Bank Corporation. Wilmington Trust Company, operating in Delaware only, Wilmington Trust, N.A., M&T Bank and certain other affiliates, provide various fiduciary and non-fiduciary services, including trustee, custodial, agency, investment management and other services. International corporate and institutional services are offered through Wilmington Trust Corporation's international affiliates. Loans, credit cards, retail and business deposits, and other business and personal banking services and products are offered by M&T Bank, member FDIC.
These materials are based on public information. Facts and views presented in this report have not been reviewed by, and may not reflect information known to, professionals in other business areas of Wilmington Trust or M&T Bank who may provide or seek to provide financial services to entities referred to in this report. M&T Bank and Wilmington Trust have established information barriers between their various business groups. As a result, M&T Bank and Wilmington Trust do not disclose certain client relationships with, or compensation received from, such entities in their reports.
The information on Wilmington Wire has been obtained from sources believed to be reliable, but its accuracy and completeness are not guaranteed. The opinions, estimates, and projections constitute the judgment of Wilmington Trust and are subject to change without notice. This commentary is for information purposes only and is not intended as an offer or solicitation for the sale of any financial product or service or a recommendation or determination that any investment strategy is suitable for a specific investor. Investors should seek financial advice regarding the suitability of any investment strategy based on the investor's objectives, financial situation, and particular needs. Diversification does not ensure a profit or guarantee against a loss. There is no assurance that any investment strategy will succeed.
Any investment products discussed in this commentary are not insured by the FDIC or any other governmental agency, are not deposits of or other obligations of or guaranteed by M&T Bank, Wilmington Trust, or any other bank or entity, and are subject to risks, including a possible loss of the principal amount invested. Some investment products may be available only to certain "qualified investors"—that is, investors who meet certain income and/or investable assets thresholds. Past performance is no guarantee of future results. Investing involves risk and you may incur a profit or a loss.
Any positioning information provided does not include all positions that were taken in client accounts and may not be representative of current positioning. It should not be assumed that the positions described are or will be profitable or that positions taken in the future will be profitable or will equal the performance of those described. Positions described are illustrative and not intended as a recommendation outside of a managed account.
Indices are not available for direct investment. Investment in a security or strategy designed to replicate the performance of an index will incur expenses, such as management fees and transaction costs that would reduce returns.
Third party trademarks and brands are the property of their respective owners.