May 26, 2021
Bitcoin's steep ascent since the pandemic has been set back in recent weeks, with challenges coming from increased regulation in China and the U.S., and rising concerns about its environmental impact.
Some of the regulatory scrutiny may also be paving the path for increased competition from central bank digital currencies, with China being one of the furthest along, and the U.S. announcing last week that it plans a formal exploration.
We continue to see these risks, among others, as likely to contribute to ongoing elevated volatility in bitcoin's price in the near term, and we are currently not recommending bitcoin in client portfolios.
In the longer term, increased regulation could lead to more stability in bitcoin's price, while heightened focus on its environmental impact could nudge bitcoin energy consumption toward cleaner sources, leaving potential for it to become a more palatable investment choice in the future. We will continue to monitor bitcoin's progress going forward.
Bitcoin's wild roller coaster-like price action in recent weeks may be a reminder to investors that amusement park rides can evoke feelings not just of exhilaration, but also nausea. After running up by over 1,100% from its pandemic lows to an all-time high on April 13, 2021, bitcoin proceeded to lose 45% of its value as of May 23, 2021. Volatile price action is not a stranger to the cryptocurrency world. As we describe in more detail in the note below, the latest bout was driven in part by the emergence of a number of key risks that we have noted in the past: regulation, competition from central bank digital currencies (CBDCs), and environmental concerns. We continue to expect that cryptocurrencies will become a permanent fixture in the payments landscape, and we acknowledge that bitcoin has made progress toward becoming a more mature asset. However, recent developments and resulting volatility highlight why we do not currently recommend holding bitcoin in client portfolios.
Figure 1: Bitcoin remains volatile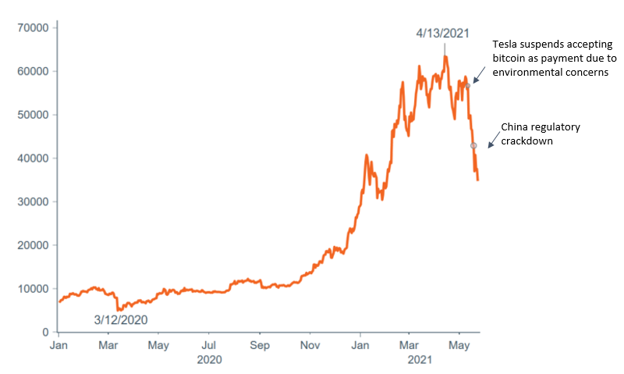 Data as of May 23, 2021. Source: Macrobond.
Crypto regulatory crackdown—not new but likely to be an ongoing source of volatility
Last week, Chinese regulators issued a number of restrictions on cryptocurrency activity. Regulatory crackdowns on crypto after sharp price increases are not new. Similar episodes occurred in 2013/14 and 2017/18, and dented bitcoin momentum for roughly a year afterward (with declines of ~80% from the prior peak in prices after each crackdown), before resuming its uptrend. A ban on financial institutions providing services related to cryptocurrency transactions had in theory been in place since 2013, after which regulation became lax, and the ban was reinforced again in 2017. The latest restrictions reiterated the 2017 ban on financial institutions' involvement in cryptocurrency transactions, and specifically mentioned a prohibition on accepting crypto as a form of payment or for settlement (in addition to other clarifications). Additional regulations were placed directly on cryptocurrency mining and trading. Chinese authorities view cryptocurrencies as highly speculative and a potential threat to the tight capital controls associated with its pegged exchange rate, suggesting that cryptocurrencies will likely remain in the crosshairs of regulators going forward.
Regulatory activity has picked up in the U.S. as well. On May 19, the new head of the Office of the Comptroller of the Currency, Michael Hsu, announced the review of cryptocurrency guidance issued by the previous acting head under the Trump administration, Brian Brooks.[i] Much of the guidance was friendly to the cryptocurrency industry, and was among a number of supports for bitcoin's rise in the wake of the pandemic (as we noted in our November 2020 Wilmington Wire post). On May 20, the Treasury Department also announced stricter cryptocurrency regulation, by requiring transfers of $10,000 or more to be reported to the IRS.[ii] Treasury Secretary Janet Yellen has acknowledged the lack of an adequate cryptocurrency framework in the U.S.[iii] We would expect the Biden administration to move toward further regulation of the industry, particularly from the SEC. Gary Gensler, the newly appointed SEC head, has extensive experience in both regulatory and cryptocurrency spheres.[iv] While regulation may be a source of volatility in the near term, in the long run, a clear framework should be supportive of digital currencies by providing investors with clear rules and by reducing concerns about security and fraudulent activity.
Central bank digital currencies: stepping up the competition
Another potential motivation behind China's recent regulatory actions may be a desire to support the People's Bank of China's own digital currency relative to other cryptocurrencies. China is one of the most advanced among major economies in its roll out of a digital currency. Major Chinese companies, including JD.com, Ant Group, and Tencent, are involved in the trial roll out of the central bank's digital currency as well.
As we've noted in the past, this trend toward central bank digital currency creation is likely to become more widespread and is likely to persist. A 2021 survey from the Bank of International Settlements reported that 86% of central banks are actively researching the potential for one. And importantly, the U.S. Federal Reserve is joining the party too. Chair Powell noted in a statement last week that the Fed is officially exploring a digital currency, with plans to publish a discussion paper this summer on the topic.[v]
Figure 2: Central banks highly involved in exploration of central bank digital currencies (CBDCs)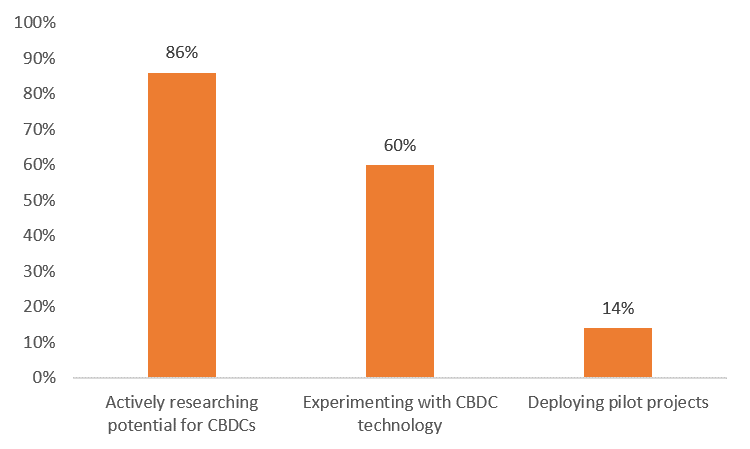 Data as of 2021. Source: Bank of International Settlements.
Bitcoin is not finding it easy to be green
Bitcoin received a big boost in early February after Tesla purchased bitcoin and planned to accept it as payment for its vehicles. However, Elon Musk dealt the cryptocurrency a blow when he did an about face and suspended bitcoin payments due to environmental concerns in mid-May. Why the sudden focus on the issue? Bitcoin mining, the process of verifying bitcoin transactions that keeps the system running, involves intensive computing power, and therefore heavy electricity consumption. [vi] Bitcoin's electricity consumption increased by nearly 50% since the start of this year as of early May, as the recent uptrend in prices has incentivized more mining (those who perform the task of mining to verify transactions and keep the system running are rewarded with bitcoin for their work, so as its price rises, mining tends to increase).
The bitcoin system consumes as much energy as a medium-size country. From an environmental perspective, this is significant, but energy consumption on its own is not the only problem. Amplifying the issue is the mix of energy sources utilized and their respective CO2 emissions. Precise measures of bitcoin's carbon emissions vary given difficulties with data availability, but estimates suggest that roughly 70% of bitcoin's electricity consumption is powered by nonrenewable energy sources.[vii] For example, total energy consumption of bitcoin is similar to that of Argentina, but the mix of that energy is quite different with coal powering just over 50% of bitcoin's electricity consumption, compared to just 1% for Argentina.[viii]
Figure 3: Share of renewables in bitcoin mining energy sources (%)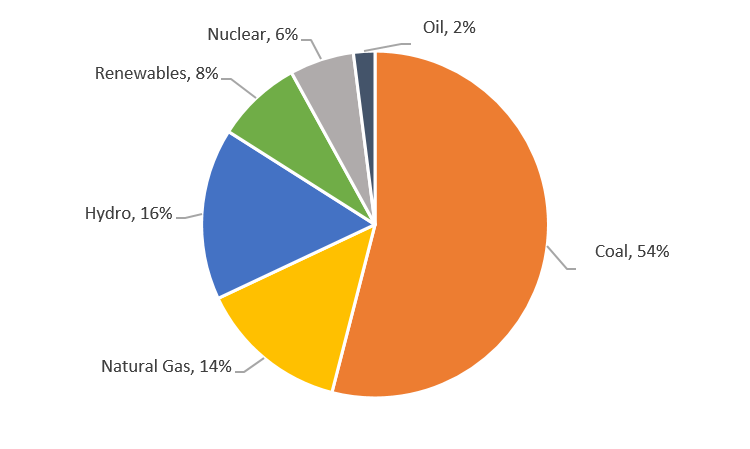 Data as of September 2020. Sources: Cambridge Center for Alternative Finance, Citi Research.
Recent regulation in China is an example of how environmental concerns can weigh on crypto activity. Roughly 65% of global bitcoin mining takes place in China where coal is a significant source of energy. But this is down from 74% as of 4Q 2020. In March of this year, Chinese authorities started imposing curbs on bitcoin mining in Inner Mongolia, which has particularly heavy coal usage. Carbon emissions from the process are in conflict with the country's recently adopted climate goals to reach peak CO2 emissions by 2030, and carbon neutrality by 2060.
From a market perspective, CO2 emissions associated with bitcoin mining fly in the face of the ESG movement and remain a downside risk for bitcoin in the near term. However, more widespread scrutiny of the energy mix powering bitcoin may help foster a transition to cleaner energy sources going forward. One encouraging factor on this front is that bitcoin mining can take place anywhere. As a result, mining facilities have the potential to tap renewable energy sources in remote and rural areas, such as hydro power, that may be otherwise wasted because of difficulties in storing and transporting it to urban areas where such power could be more readily used. Some in the mining community have started working toward a "greener" bitcoin. The Crypto Climate Accord is a private sector led initiative formed in April 2021 to support the industry's transition to net zero greenhouse gas emissions by 2040, with an interim goal of achieving net-zero emissions from electricity consumption for signatories by 2030. In addition, Square, a payments company that has been one of a number of corporations that has invested in bitcoin, launched the Bitcoin Clean Energy Investment Initiative in December 2020 to support companies that drive adoption and efficiency of renewables within the bitcoin ecosystem.
Core narrative
In our view, recent volatility sparked by increased regulation in the cryptocurrency space, potential for increased competition from central bank digital currencies, and heightened environmental concerns are likely to remain risks for bitcoin in the near term. Combined with other ongoing challenges, we do not currently recommend holding bitcoin in client portfolios, despite some progress having been made in the past year on its path to legitimacy. We remain constructive on risk assets, with modest overweight positions in each major equity asset class, as well as high-yield municipal bonds. We also have a modest overweight in commodities, which we expect to benefit in the current environment of rebounding global growth and rising inflation.
Disclosures
Wilmington Trust is a registered service mark used in connection with various fiduciary and non-fiduciary services offered by certain subsidiaries of M&T Bank Corporation including, but not limited to, Manufacturers & Traders Trust Company (M&T Bank), Wilmington Trust Company (WTC) operating in Delaware only, Wilmington Trust, N.A. (WTNA), Wilmington Trust Investment Advisors, Inc. (WTIA), Wilmington Funds Management Corporation (WFMC), and Wilmington Trust Investment Management, LLC (WTIM). Such services include trustee, custodial, agency, investment management, and other services. International corporate and institutional services are offered through M&T Bank Corporation's international subsidiaries. Loans, credit cards, retail and business deposits, and other business and personal banking services and products are offered by M&T Bank, member FDIC.
Facts and views presented in this report have not been reviewed by, and may not reflect information known to, professionals in other business areas of Wilmington Trust or M&T Bank who may provide or seek to provide financial services to entities referred to in this report. M&T Bank and Wilmington Trust have established information barriers between their various business groups. As a result, M&T Bank and Wilmington Trust do not disclose certain client relationships with, or compensation received from, such entities in their reports.
The information on Wilmington Wire has been obtained from sources believed to be reliable, but its accuracy and completeness are not guaranteed. The opinions, estimates, and projections constitute the judgment of Wilmington Trust and are subject to change without notice. This commentary is for informational purposes only and is not intended as an offer or solicitation for the sale of any financial product or service or a recommendation or determination that any investment strategy is suitable for a specific investor. Investors should seek financial advice regarding the suitability of any investment strategy based on the investor's objectives, financial situation, and particular needs. Diversification does not ensure a profit or guarantee against a loss. There is no assurance that any investment strategy will succeed.
Past performance cannot guarantee future results. Investing involves risk and you may incur a profit or a loss.
Indexes are not available for direct investment.
Reference to the company names mentioned in this blog is merely for explaining the market view and should not be construed as investment advice or investment recommendations of those companies. Third party trademarks and brands are the property of their respective owners.
©2021 M&T Bank
---