October 16, 2017— On Thursday, the European Union (EU) and UK concluded their fifth round of Brexit negotiations. At this point—sixteen months since the Brexit referendum vote—six months since the invocation of Article 50 (to formally start the two-year clock for Brexit negotiations)—and several rounds deep into negotiations—one would think the two sides would have made more progress on key issues. However, most questions remain unanswered, and the official separation date of March 2019 gets closer and closer. Despite the great deal of uncertainty that remains, our view is that the more dire economic and market predictions for the UK and EU will not be realized, and we continue to favor non-U.S. developed market equities in client portfolios.
Ironing out the details
At this juncture, there are three main issues pertaining to the EU/UK "separation" that must be answered before the two groups can move on to the second phase of negotiations: deciding upon the transition, and future relationship between EU countries and the UK.
1) The bill – All EU members must pay toward membership, covering things like support for weaker economies and pension liabilities for EU civil servants. Upon leaving the EU, the UK is being asked to pay a financial settlement, with estimates ranging from between €30 billion and €100 billion (1 Euro = 1.17908 U.S. Dollars). The UK is negotiating to pay as little as possible, and the EU is refusing to move on to other discussion topics until an amount is agreed upon.
2) Citizens' rights – There are currently millions of EU and UK citizens living and travelling freely between mainland Europe and the UK. Much of the Brexit campaign centered on immigration and a desire for tighter borders, so securing travel and worker rights for UK and EU citizens can be contentious.
3) The Northern Ireland border – Brexit will result in the UK leaving the EU, but Northern Ireland will remain part of the trade bloc, resulting in a shared physical border between the UK and EU. Prime Minister May has insisted there will be no physical infrastructure at the Irish border, but how exactly to monitor the flow of goods and people across this border is part of preliminary discussions.
Unfortunately, until the EU reports that sufficient progress has been made on these initial issues, talks on the future relationship (one of the most important of which is trade) are unlikely to move forward in earnest. The situation is further complicated by the tenuous nature of British politics. Prime Minister Theresa May's position has weakened over the course of the year, particularly since her Conservative party lost their parliamentary majority in the June snap election. It is unclear whether May will remain Prime Minister, and if she does not, who would replace her. A leadership change prior to coming to terms with the EU on material negotiating topics would leave room for a considerable shift in Brexit strategy—a scenario that would likely be met by investor risk aversion.
Market impact
Thus far, Brexit-related uncertainties have been felt most by increased volatility in currency markets. The pound has strengthened so far this year but remains about 10% weaker compared to before the June 2016 referendum. Recent pound strength is likely due to stable UK economic data (better confidence and capital expenditure data than most expected this year) and pass-through inflationary effects of the weaker pound. UK inflation is approaching 3% year-over-year, as of August, increasing speculation that the UK Monetary Policy Committee will hike interest rates at their next meeting in November. UK equities have held up well so far this year, despite political uncertainty, up over 13% after accounting for the strength in the pound versus the U.S. dollar. In our view, a fair amount of uncertainty is already priced into UK equity and currency markets, limiting downside from additional political risk.
Weaker Pound ushers in higher inflation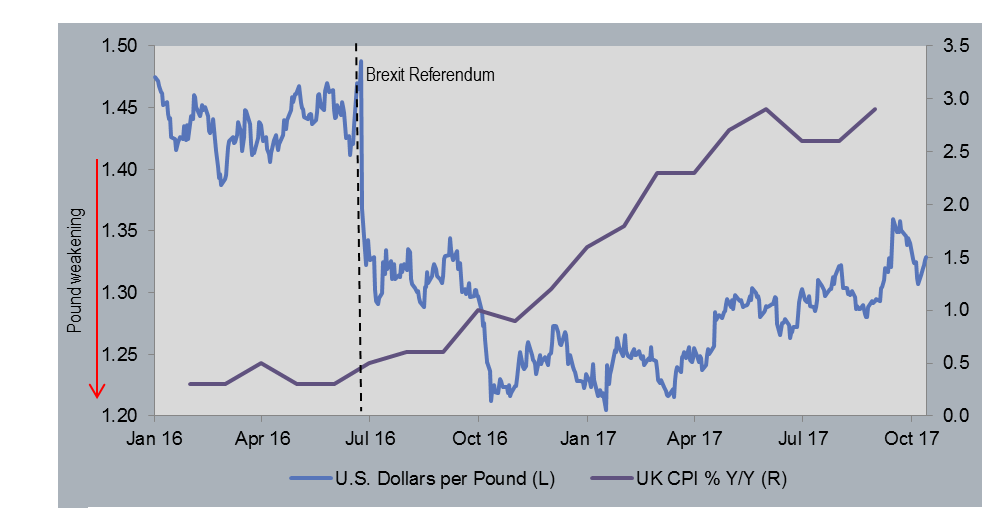 Source: Bloomberg
What's next?
Going forward, there are a variety of potential scenarios that could play out, from a leadership shake-up in the UK resulting in a shift to a "hard Brexit" (i.e., UK foregoing access to the EU's single market without a new trade deal in place and limiting free movement of people across borders) to a parliamentary vote to suspend Article 50 (unlikely, in our view). Many studies predict a hit to UK GDP for years to come from higher inflation crimping spending power, inhibited trade, and reduced capital investment. The IMF has repeatedly revised downward their expectations for UK growth in coming years, most recently to 1.7% GDP long-term growth. In the IMF's estimation, Brexit has resulted in the UK dropping from one of the fastest-growing economies in the Group of Seven ("G7") rich nations to one of the slowest.
Importantly, we view any fallout as unlikely to spill over into the EU or broader global economy. Roughly half of UK trade is with the EU (around 44% of exports and 53% of imports in 2016). However, only about 8% of EU exports go to the UK (this number rises to 18% if you exclude intra-EU trade). The Eurozone (different from the EU in that it includes only the seventeen countries sharing the common currency) has shown robust economic growth this year, with GDP growth of 2.3% year-over-year through the second quarter and a positive trend in lending to consumers and non-financial corporations. We believe the Eurozone has enough positive momentum to withstand a slowdown from the UK, should that materialize.
Core narrative
We continue to see evidence that Europe is still in the early stages of the economic cycle. Despite risks associated with Brexit, positive momentum of European confidence, economic activity, and lending, we are left with a constructive view of the region and an overweight position to non-U.S. developed equities.
Disclosures
Wilmington Trust is a registered service mark. Wilmington Trust Corporation is a wholly owned subsidiary of M&T Bank Corporation. Wilmington Trust Company, operating in Delaware only, Wilmington Trust, N.A., M&T Bank and certain other affiliates, provide various fiduciary and non-fiduciary services, including trustee, custodial, agency, investment management and other services. International corporate and institutional services are offered through Wilmington Trust Corporation's international affiliates. Loans, credit cards, retail and business deposits, and other business and personal banking services and products are offered by M&T Bank, member FDIC.
These materials are based on public information. Facts and views presented in this report have not been reviewed by, and may not reflect information known to, professionals in other business areas of Wilmington Trust or M&T Bank who may provide or seek to provide financial services to entities referred to in this report. M&T Bank and Wilmington Trust have established information barriers between their various business groups. As a result, M&T Bank and Wilmington Trust do not disclose certain client relationships with, or compensation received from, such entities in their reports.
The information on Wilmington Wire has been obtained from sources believed to be reliable, but its accuracy and completeness are not guaranteed. The opinions, estimates, and projections constitute the judgment of Wilmington Trust and are subject to change without notice. This commentary is for information purposes only and is not intended as an offer or solicitation for the sale of any financial product or service or a recommendation or determination that any investment strategy is suitable for a specific investor. Investors should seek financial advice regarding the suitability of any investment strategy based on the investor's objectives, financial situation, and particular needs. Diversification does not ensure a profit or guarantee against a loss. There is no assurance that any investment strategy will succeed.
Any investment products discussed in this commentary are not insured by the FDIC or any other governmental agency, are not deposits of or other obligations of or guaranteed by M&T Bank, Wilmington Trust, or any other bank or entity, and are subject to risks, including a possible loss of the principal amount invested. Some investment products may be available only to certain "qualified investors"—that is, investors who meet certain income and/or investable assets thresholds. Past performance is no guarantee of future results. Investing involves risk and you may incur a profit or a loss.
Any positioning information provided does not include all positions that were taken in client accounts and may not be representative of current positioning. It should not be assumed that the positions described are or will be profitable or that positions taken in the future will be profitable or will equal the performance of those described. Positions described are illustrative and not intended as a recommendation outside of a managed account.
Indices are not available for direct investment. Investment in a security or strategy designed to replicate the performance of an index will incur expenses, such as management fees and transaction costs that would reduce returns.
Third party trademarks and brands are the property of their respective owners.