December 21, 2018 – The UK is scheduled to exit the EU on March 29, 2019.  During the two years since the original UK withdrawal notification, businesses have been preparing for two scenarios: either a negotiated transition to a future free trade agreement or a disorderly departure.  Until mid-November, given the troublesome issue of the land border between Northern Ireland and Ireland, it was unclear whether the UK and EU would actually be able to conclude such a Withdrawal Agreement.  Now that they have reached one, concern has turned to whether the UK Parliament will ratify it.  In recent days, the answer to that question has become murky.  The range of possible outcomes has widened to include a second referendum, a renegotiation of the Withdrawal Agreement, an early general election, or an abandonment of Brexit altogether.  We expect greater volatility in UK equities, not just in the period leading up to March 29, but likely beyond, as well. This has contributed to our recent decision to trim our modest overweight to non-U.S. developed equities to neutral and reallocate the proceeds to U.S. large cap.
Withdrawal Agreement
The ultimate aim of the UK-EU Withdrawal Agreement is to transition the UK from the Single Market to a free trade agreement (Figure 1).
Figure 1: Brexit Transition Process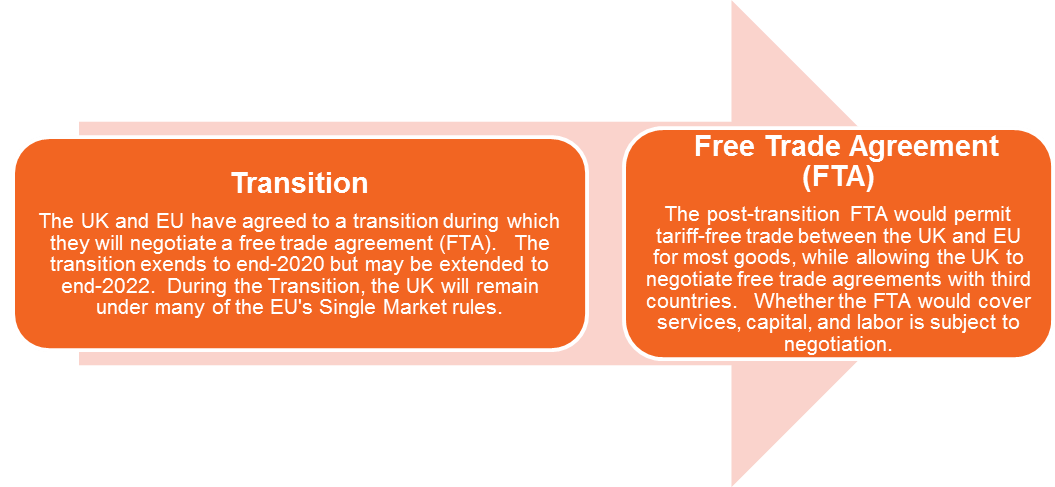 Source: WTIA
One of the most complex and contentious issues relates to the border between the UK and Ireland. The Withdrawal Agreement also includes a "backstop" protocol, sometimes called the "Irish Backstop," that is intended to ensure an uninterrupted open land border between Republic of Ireland and the UK's Northern Ireland province (Figure 2).
Figure 2: The Backstop Protocol (also known as the "Irish Backstop")

Source: WTIA
Conservative "Leavers" and Democratic Unionists Oppose Backstop Protocol
Conservative "Leaver" Members of Parliament (MPs) object to the "backstop."  They fear that it could lock the UK into an EU customs union indefinitely, if an FTA takes many years to finalize.  Furthermore, Northern Ireland's Democratic Unionists, who "supply" ten MPs to support a Conservative majority, object to the retention of certain province-specific regulation.  As a result of their objections, the Prime Minister (PM) currently has insufficient support from within her own governing coalition to overcome political opposition from the Labor Party, the Scottish National Party, and other parties.  On the eve of the originally scheduled December 11 vote on the Agreement, she decided to defer submission until the week of January 14, just before a January 21 statutory deadline for submitting the agreement.
Theresa May Survives Conservative Party Leadership Challenge
Seizing on the PM's delay in submitting the Agreement, a group of "Leavers" within the Conservative Party, including several rivals such as Boris Johnson, called for a vote against her continuing in her role as party leader.  The PM survived the confidence vote, 200-117, after she promised a transition out of party leadership before the July 2022 general election.  She is now immune from a further party leadership challenge for at least a year.  In the interest of party unity, many "Leavers" will thus now likely feel compelled to support the PM, given that her leadership has been confirmed.
European Court of Justice Rules that UK may Revoke Withdrawal Notice
In an important "plot twist," the European Court of Justice (ECJ) ruled on December 10 that the UK can unilaterally revoke its original EU withdrawal notice at any time before the March 29, 2019 departure date.    The UK could decide, by itself, and at the last minute, to remain in the EU.  Ironically, it's easier for the UK to revoke Brexit than to delay the departure date, which would require the unanimous approval of EU governments.  An ability to revoke the withdrawal notice also arguably strengthens the PM's hand vis-à-vis the Leavers, since there is an implied fallback that she could abandon Brexit altogether.
POTENTIAL OUTCOMES
The following are now the six potential outcomes (given in no particular order of likelihood):
#1 – Approval of the Withdrawal Agreement
The PM expects to submit the Withdrawal Agreement for a Parliamentary vote during the week of January 14.  Now that the PM's leadership has been confirmed, and the ECJ has ruled that the UK may unilaterally cancel Brexit, many Leavers (though certainly not all) are now likely to support the agreement.  Additionally, some Labor MPs from "pro-Remain" districts might vote for the Agreement, fearing that otherwise the PM might allow for a "no-deal" departure.  Additionally, fear of a disorderly departure might convince the EU to provide assurances regarding their desire to conclude an FTA quickly, thereby avoiding the Backstop.  Clearly, to get the Agreement approved, the PM has to keep MPs of all parties, plus the EU, guessing until late-January as to what she might do if the Agreement was defeated.
#2 – "No-Deal" Departure
By stepping up last-minute preparations for a no-deal departure, the PM is certainly implying, if not signaling, that this would be her fall-back course of action should the Withdrawal Agreement not be concluded.  A "no-deal" departure would, of course, present the possibility of significant trade and broader economic disruptions.  While many UK-listed firms consider themselves adequately prepared for this outcome, and have so informed their shareholders, there are some whose exposure would be unavoidably adverse.  Moreover, nobody quite knows whether a "no-deal" departure would be sufficiently damaging that it would produce a UK recession or rather just minor business disruptions.  The PM knows that a large majority of MPs (including a large majority of Conservative MPs) detest such uncertainty and find a "no-deal" departure undesirable or unthinkable.  With other "Plan B" options at least theoretically available, she might well pursue one of those.
#3 – A Second Referendum
Many MPs are discussing the idea of holding a second referendum.  So far, at least publicly, the PM has opposed a second referendum on the grounds that the "people have already spoken" in favor of Brexit—but of course, she could change her position if it looks like the vote on the Withdrawal Agreement would fail.  Nevertheless, holding a referendum would be neither easy nor a panacea.  First, a majority of Parliament would need to approve holding the referendum.  Second, there will likely be a dispute over the options presented in the referendum, especially whether the Withdrawal Agreement would be presented as an option.  Third, it would likely take several months to organize the referendum, so the PM would either have to request the EU to provide an extension of the departure date or revoke the original withdrawal notice.  Fourth, even if a referendum goes forward, it would likely sharpen divisions within the UK, as there is no guarantee that the losing side would concede graciously.
#4 – Renegotiation of the Withdrawal Agreement
If there is insufficient Parliamentary support either for the Withdrawal Agreement or a second referendum, the PM might attempt to renegotiate the Withdrawal Agreement to eliminate or amend the "Backstop." The EU has indicated its willingness to provide non-binding reassurances, but is firmly opposed to renegotiating the deal.  It remains possible but unlikely that the EU could back off its position as March 29 approaches.  If the EU was to agree to renegotiate, then it would need to provide an extension to the departure date, or the UK would have to revoke the original withdrawal notice.
#5 – Early General Elections
The next UK general election is scheduled for July 2022.  Labor leader Jeremy Corbyn is angling to leverage MPs' Brexit angst and confusion to convince a majority of them to trigger early elections. A Labor government led by Jeremy Corbyn, a Democratic Socialist, would be a worst-case scenario for the UK on economic grounds, worse even than a no-deal exit from the EU.  Fortunately, the likelihood of early elections is low. First, even if Corbyn was to convince all MPs, other than Conservatives and Democratic Unionists, to vote against the Conservative government, he would still not have the required majority.  While the Democratic Unionists are not too happy about the "backstop," they are socially ultra-conservative and thus are also unlikely to take any actions that might lead to Corbyn becoming PM.  Further, it is highly unlikely that a group of "Leavers" would break so dramatically from the majority of Conservatives that they would trigger a general election that the Conservatives might lose to Labor.  The angst and confusion in Parliament would have to get a lot worse before Corbyn could potentially trigger early elections.
#6 – Brexit Never Happens
The ECJ ruling allows the UK to revoke its original withdrawal notification.  Many "Remainers" among the Conservatives, in Labor, and in the Scottish National Party, might welcome such an outcome.  However, most responsible UK politicians would find this outcome anti-democratic, as it would contradict the results of a popular referendum.  Revocation is likely only to happen in the context of facilitating a second referendum or general election, not as an outcome itself.
Core narrative
UK equities represent about 28% of European market capitalization and about 17% of developed-market (EAFE) market capitalization.  In other words, Brexit has significant implications not only for the UK's financial markets, but the broader non-U.S. developed equities asset class, as well. The widening range of potential Brexit outcomes as we near the March 29, 2019 date of Brexit is part of the reason for our recent decision to reduce developed-market equities to a neutral position vis-à-vis our long-term Strategic Asset Allocation (SAA).
Disclosures
Wilmington Trust is a registered service mark. Wilmington Trust Corporation is a wholly owned subsidiary of M&T Bank Corporation. Wilmington Trust Company, operating in Delaware only, Wilmington Trust, N.A.,  M&T Bank and certain other affiliates, provide various fiduciary and non-fiduciary services, including trustee, custodial, agency, investment management and other services. International corporate and institutional services are offered through Wilmington Trust Corporation's international affiliates. Loans, credit cards, retail and business deposits, and other business and personal banking services and products are offered by M&T Bank, member FDIC. Wilmington Trust Investment Advisors, Inc. is an SEC-registered investment adviser providing investment management services to Wilmington Trust and M&T Bank affiliates and clients.
These materials are based on public information. Facts and views presented in this report have not been reviewed by, and may not reflect information known to, professionals in other business areas of Wilmington Trust or M&T Bank who may provide or seek to provide financial services to entities referred to in this report. M&T Bank and Wilmington Trust have established information barriers between their various business groups. As a result, M&T Bank and Wilmington Trust do not disclose certain client relationships with, or compensation received from, such entities in their reports.
The information on Wilmington Wire has been obtained from sources believed to be reliable, but its accuracy and completeness are not guaranteed. The opinions, estimates, and projections constitute the judgment of Wilmington Trust and are subject to change without notice. This commentary is for information purposes only and is not intended as an offer or solicitation for the sale of any financial product or service or a recommendation or determination that any investment strategy is suitable for a specific investor. Investors should seek financial advice regarding the suitability of any investment strategy based on the investor's objectives, financial situation, and particular needs. Diversification does not ensure a profit or guarantee against a loss. There is no assurance that any investment strategy will succeed.
Any investment products discussed in this commentary are not insured by the FDIC or any other governmental agency, are not deposits of or other obligations of or guaranteed by M&T Bank, Wilmington Trust, or any other bank or entity, and are subject to risks, including a possible loss of the principal amount invested. Some investment products may be available only to certain "qualified investors"—that is, investors who meet certain income and/or investable assets thresholds. Past performance cannot guarantee future results. Investing involves risk and you may incur a profit or a loss.
Any positioning information provided does not include all positions that were taken in client accounts and may not be representative of current positioning. It should not be assumed that the positions described are or will be profitable or that positions taken in the future will be profitable or will equal the performance of those described. Positions described are illustrative and not intended as a recommendation outside of a managed account. Indices are not available for direct investment. Investment in a security or strategy designed to replicate the performance of an index will incur expenses, such as management fees and transaction costs that would reduce returns.
Third-party trademarks and brands are the property of their respective owners.