July 13, 2018—The unresolved issue of Brexit—the UK's exit from the European Union (EU)—continues to present ongoing uncertainty for the UK and broader European equities. Markets have already priced in much of this uncertainty. If the UK fails to conclude an agreement with the EU on post-Brexit arrangements, we believe equities will be negatively repriced. If the U.K. and EU reach an agreement, even if it's only a framework for an eventual full agreement, we believe equities will be positively re-priced.
The UK will formally leave the EU on March 29, 2019. Following formal departure, there will be a 21-month transition period, lasting until December 31, 2020. During this period, the UK will continue to follow EU rules and regulations, while details of a new trading relationship, if any, are hammered out. Pragmatists in both the UK and EU want some form of continuing, close trading relationship to take effect once the transition period ends. However, they have so far failed to agree on the nature of such a relationship, much less the nitty-gritty details.
The negotiating distance between the UK and the EU has been due to ideology. Pro-leave ideologies within the UK's ruling Conservative party have demanded that the UK be free from all EU regulation, while EU purists have insisted on the inseparability of the Single Market's "four freedoms," the free movement of goods, capital, services, and labor. Pragmatists seeking constructive compromise solutions have been hemmed in by the ideologues.
Value of pound sterling in U.S. Dollars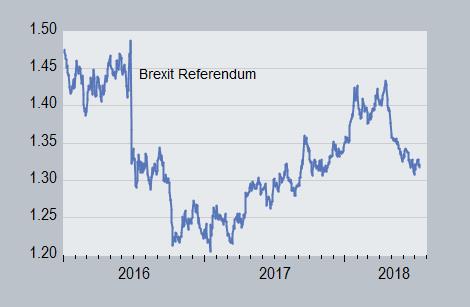 Data as of July 13, 2018.
Source: Bloomberg.
Prime Minister Theresa May sidelines pro-leave ideologues
As Brexit nears, there has been a shift in public opinion within the UK. If a second referendum were to be held, which is highly unlikely, remain would win. Further, parliamentary approval is required for any Brexit deal negotiated with the EU; any such deal would need to reflect a broadly-acceptable compromise. Pro-remain Conservatives understand this reality, and have been seeking a "soft Brexit," or as some might say, a "Brexit-in-name-only," or BINO.
On July 6, UK Prime Minister Theresa May convened a cabinet meeting at the government's country estate. Her aim was to sideline pro-leave ideologues within her cabinet, particularly Foreign Secretary Boris Johnson and Brexit Secretary David Davis, and win cabinet approval for a pragmatic, bespoke, "soft Brexit" plan, even while accelerating contingency plans for a no-agreement Brexit. She demanded that her cabinet members either support the plan or resign. Johnson and Davis promptly resigned and were quickly replaced. Pro-leave back-benchers met to consider the possibility of ousting Theresa May from party leadership, but the idea quickly fizzled when it became clear there would be insufficient support for removing her. The new "soft Brexit" plan will now be reviewed by the European Commission and by EU governments.
May's "Soft Brexit" proposal
The heart of May's proposal is a modified form of customs union. As is currently the case, there would be free trade between the UK and EU in manufactures and agricultural goods, which would be subject to common safety, quality, and other regulatory standards. However, a typical customs union involves common external tariffs applied to imports from third countries. Under May's proposal, the UK and EU would collect each other's tariffs, but the UK could choose to apply tariffs that differ from the EU's. The appropriate tariff would depend on whether the EU or the UK is the final destination of the goods.
The modified customs union solves the thorny problem of the land frontier between Northern Ireland, which is part of the UK, and Ireland, which is an EU member. Neither the UK nor the EU wants to see customs posts established on that border, which is now a completely open, and often invisible, border. The UK's agreement to adhere to common regulatory standards, which is anathema to the sidelined pro-leavers, would be welcomed in Brussels. Potential variance in tariff levels would help to appease some pro-leavers, who hope that the UK might reach its own trade agreements with third countries, but might be a sticking point for the European Commission.
The second key element of the plan is to end the automatic, unlimited right of EU residents to live, study, and work in the UK (and vice-versa). Controlling immigration was the central plank of the pro-leave platform. However, many UK citizens want to preserve their right to live and work elsewhere in the EU. Consequently, the plan offers a compromise: negotiating a "mobility pact" that would provide for a continued high degree of mobility, but with regulation to ensure order and preclude abuses. EU purists, of course, want to preserve "free movement of labor." However, given the migrant crisis gripping much of the EU, there has been a shift in attitudes among EU leaders regarding the concept of complete freedom of movement, which may leave the EU more agreeable to such a pragmatic "mobility pact."
The UK has backed away from its earlier proposal—previously rejected by the EU—that the UK and EU accord mutual recognition to each other's financial services regulation. Instead, the UK has proposed that the two sides negotiate narrow agreements covering specific segments of financial services. Most London-based financial services firms have by now had ample time to prepare for Brexit. Many have capitalized EU operating subsidiaries in order to establish a regulatory nexus guaranteeing the parent's continued access to the EU market.
Will the EU reject the UK's "Soft Brexit" proposal?
We assign a 75% probability to the EU—under the leadership of Chancellor Angela Merkel of Germany—acting in a pragmatic fashion and accepting the UK proposal as a solid basis upon which to pursue further, detailed negotiation. That's not to say that the EU will instantly accept all aspects of the proposal—they won't. We believe that a specific framework could be agreed on well before March 29, 2019, allowing Parliament the opportunity to review and approve the framework before that date. Implementing agreements would then be finalized and executed before the end of the transition period in 2020.
We assign a 25% probability to the EU outright rejecting the current UK proposal. This outcome would only occur if EU "four freedom" purists prevail over pragmatists seeking to avoid the considerable harm to both the EU and UK that would be caused by a no-agreement Brexit. The EU might also reject the proposal if EU leaders come to believe that the UK will back away entirely from Brexit, either through overturning the referendum result or through a second referendum. At best this is a gamble.
A key consideration for the EU and the UK are the broader geo-political interactions involving the United States, Russia, and China. In particular, we believe that current U.S. foreign, defense, and trade policies will likely have the effect not only of encouraging closer collaboration among European governments, not just with respect to deeper EU integration, but also with respect to facilitating a constructive post-Brexit agreement between the EU and UK.
Core narrative
In our tactical allocation, we remain slightly overweight international developed market equities, including European equities. We hold a constructive view toward Prime Minister May's sidelining of pro-leave ideologues and toward her "soft Brexit" plan, which we believe the EU will accept as a basis for further negotiation. We believe the likelihood of the worst-case scenario of a "hard Brexit" is declining, which would help to support UK and European equity valuations.
Disclosures
Wilmington Trust is a registered service mark. Wilmington Trust Corporation is a wholly owned subsidiary of M&T Bank Corporation. Wilmington Trust Company, operating in Delaware only, Wilmington Trust, N.A., M&T Bank and certain other affiliates, provide various fiduciary and non-fiduciary services, including trustee, custodial, agency, investment management and other services. International corporate and institutional services are offered through Wilmington Trust Corporation's international affiliates. Loans, credit cards, retail and business deposits, and other business and personal banking services and products are offered by M&T Bank, member FDIC. Wilmington Trust Investment Advisors, Inc. is an SEC-registered investment adviser providing investment management services to Wilmington Trust and M&T Bank affiliates and clients.
These materials are based on public information. Facts and views presented in this report have not been reviewed by, and may not reflect information known to, professionals in other business areas of Wilmington Trust or M&T Bank who may provide or seek to provide financial services to entities referred to in this report. M&T Bank and Wilmington Trust have established information barriers between their various business groups. As a result, M&T Bank and Wilmington Trust do not disclose certain client relationships with, or compensation received from, such entities in their reports.
The information on Wilmington Wire has been obtained from sources believed to be reliable, but its accuracy and completeness are not guaranteed. The opinions, estimates, and projections constitute the judgment of Wilmington Trust and are subject to change without notice. This commentary is for information purposes only and is not intended as an offer or solicitation for the sale of any financial product or service or a recommendation or determination that any investment strategy is suitable for a specific investor. Investors should seek financial advice regarding the suitability of any investment strategy based on the investor's objectives, financial situation, and particular needs. Diversification does not ensure a profit or guarantee against a loss. There is no assurance that any investment strategy will succeed.
Any investment products discussed in this commentary are not insured by the FDIC or any other governmental agency, are not deposits of or other obligations of or guaranteed by M&T Bank, Wilmington Trust, or any other bank or entity, and are subject to risks, including a possible loss of the principal amount invested. Some investment products may be available only to certain "qualified investors"—that is, investors who meet certain income and/or investable assets thresholds. Past performance is no guarantee of future results. Investing involves risk and you may incur a profit or a loss.
Any positioning information provided does not include all positions that were taken in client accounts and may not be representative of current positioning. It should not be assumed that the positions described are or will be profitable or that positions taken in the future will be profitable or will equal the performance of those described. Positions described are illustrative and not intended as a recommendation outside of a managed account.
Indices are not available for direct investment. Investment in a security or strategy designed to replicate the performance of an index will incur expenses, such as management fees and transaction costs that would reduce returns.
Third-party trademarks and brands are the property of their respective owners.