July 24, 2020—As the global COVID-19 crisis continues into the second half of the year, we have learned quite a bit about the virus, but many questions remain around the path forward for the global economy and financial markets. We have adjusted portfolios over recent months to better position clients for a challenging road ahead. This month we are making two more changes to improve the resilience of portfolios: adding an allocation to gold and rebalancing equities from a substantial overweight back to our tactical asset allocation targets.
Going for gold
In February, it became evident that this was an event of unprecedented economic proportions. Over the course of February, March, and April, we elevated cash levels above our strategic benchmark, preferring to keep a defensive yet flexible stance in portfolios. We are now deploying that extra cash into a 1.5% allocation to gold for our moderate-risk portfolios (this is in addition to a very modest existing precious metals allocation of approximately 0.25% within the real assets category). Gold has certainly had a strong run of late, up 32% over the last year, and we believe gold can continue to outperform cash in the year ahead.
Low yields on safe assets like Treasury bonds and cash has been one of the drivers of fund flows into gold-related assets. Gold, a physical asset, does not offer investors any yield, so there is typically an opportunity cost to owning gold in the form of lost income. In today's environment of exceptionally easy monetary policy for the foreseeable future, that opportunity cost is quite low.
Gold is also appealing because of the dual optionality it presents in today's highly uncertain world. Consider the following two tail risks, both of which would be favorable environments for gold, in our view:
1. Risk off – The economy has bounced sharply off the April lows but still has a massive ditch out of which to climb. Real-time mobility, spending, and hiring data from independent and government sources are all showing a tapering off or even rolling over of activity (Figure 1). If the second derivative of the economic data (the rate of change) does not pick up again in short order—which could be difficult considering the virus continues to run rampant through the U.S.—then we could see renewed weakness in equity markets as investors reassess the time it will take to get back to pre-COVID-19 levels. We would expect this to coincide with a bid for safe-haven assets like gold. Aside from the virus, the U.S. election has the potential to generate volatility over the coming months. With the S&P 500 trading at 22 times estimates for earnings over the next 12 months (the highest since the popping of the tech bubble), and over two thirds of the past year's gains from that index coming from just three stocks, equities are vulnerable to disappointment.
Figure 1: Homebase U.S. business activity (% change from baseline level)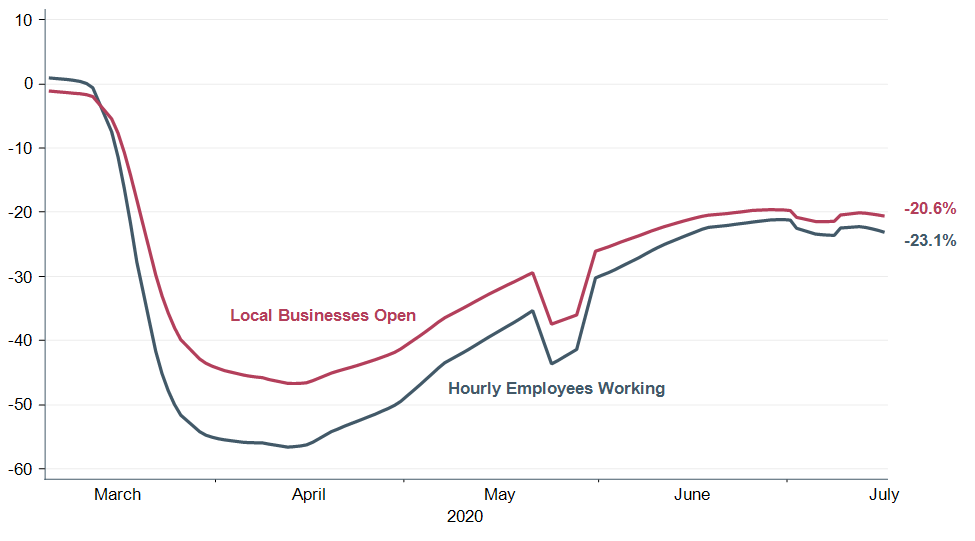 Source: Homebase, Bloomberg. Data as of July 15, 2020.
2. Dollar weakness and inflation – Interestingly, the opposite scenario as the one described above could also be positive for gold. The development of a vaccine or peaking of the virus in the U.S. could permit a faster economic recovery than many are expecting. A global economic recovery would likely usher in a period of dollar weakness (as the U.S. dollar generally behaves as a countercyclical asset, appreciating when growth is weak and depreciating when global growth is accelerating). The dollar's inverse correlation with gold and other commodities could be a tailwind for the precious metal. The liquidity added to markets by the Fed and massive deficit spending by Congress (Figure 2) sets the stage for a possible increase in inflation once demand picks up.
Figure 2: Federal Reserve balance sheet (trillions of dollars)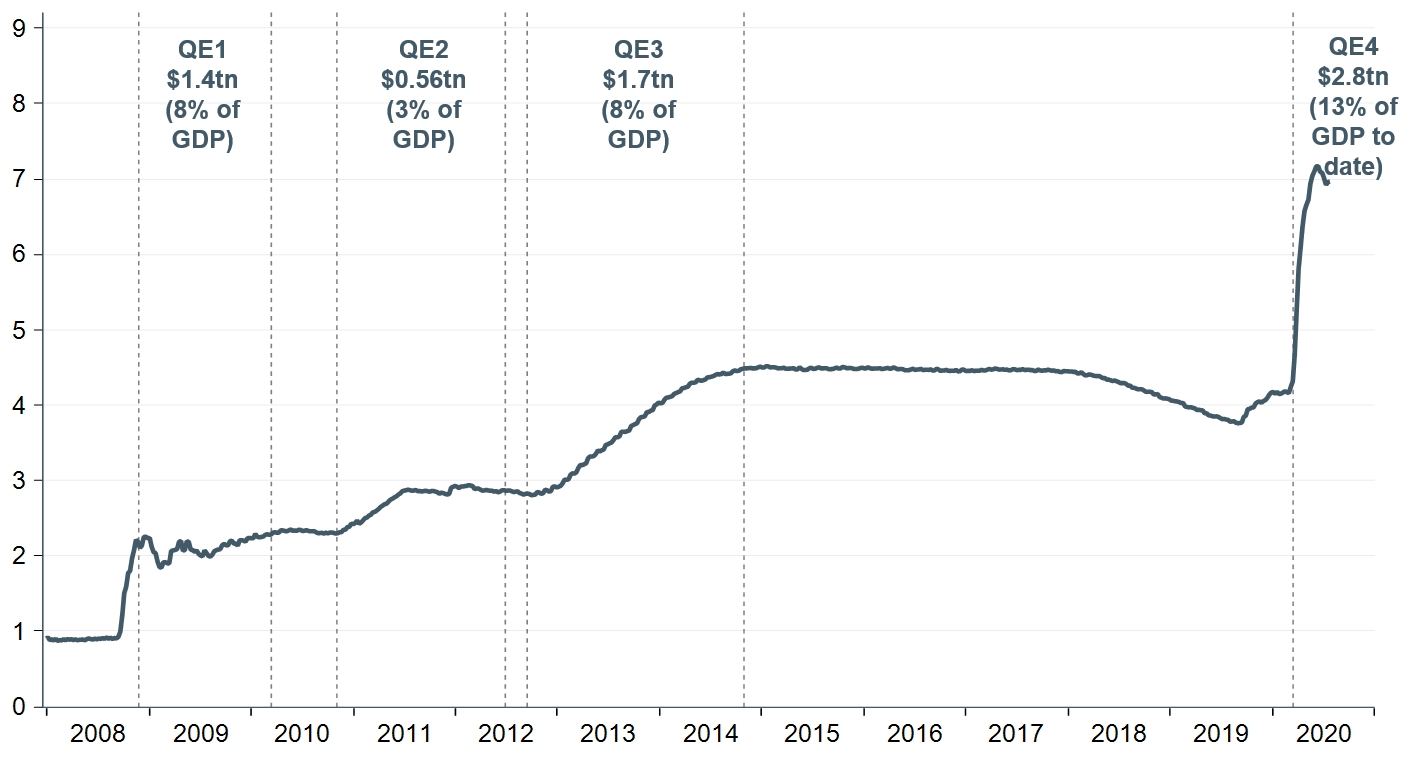 Source: Macrobond. Data as of July 24, 2020.
The return prospects for gold are more appealing than cash at this point, but we still think it's best to be judicious in sizing an allocation to gold. Gold remains a volatile asset, despite its appeal during times of turmoil. Higher long-term inflation resulting from fiscal and monetary stimulus is not certain. Japan, for example, has a debt-to-GDP ratio approaching 250%, and the country's central bank has been buying all sorts of assets including equities for years, yet inflation has not materialized. Many expected rampant inflation after the Fed's first foray into quantitative easing in 2010 and 2011, but that did not happen either, and gold went on to fall 44% over the next four years. Though the stimulus measures from the Fed, U.S. Congress, and policymakers around the globe have been much more significant during the present recession and are likely to only continue for the foreseeable future, we feel a small, initial allocation to gold is most appropriate at this time.
Rebalancing back to targets
In recent weeks we have emphasized the benefits of rebalancing , something that does not get a lot of attention from financial media but we view as being a secret weapon for investors. During periods of normal volatility, we typically recommend rebalancing infrequently. However, we have rebalanced more frequently of late as higher volatility and significant moves in asset prices have resulted in higher-than-normal asset drift in portfolios.
We first rebalanced portfolios in mid-March, after client equity allocations (for those with a moderate-risk profile) had fallen 5–7% below their tactical targets. This benefited client portfolios as that rebalance meant buying equities very close to the bottom of the market. We again rebalanced just one month later, after a significant upward move in the equity market. At that time, equity allocations were 2–3% above the target, so we trimmed equity exposure during a period of market strength. The upward climb in the equity market has continued, and we have permitted equity allocations in client portfolios to drift to approximately 3% above their target allocations. That means, despite recommending a modest underweight to equities in our tactical asset allocation, the average client portfolio has been overweight to equities for most of the past three months, a benefit to performance in a strong upwardly trending market. We are again rebalancing portfolios back to targets, which will result in trimming equity allocations by approximately 3% to bring them in line with our 12-month tactical views, which is a modest underweight versus our strategic benchmark. This more cautious stance is appropriate given elevated equity valuations (which are approaching worrying levels in some areas of the market) and expected weakness in economic data going forward.
Core narrative
Uncertainty abounds, and we remain focused on building resilient portfolios for our clients. We are adding a small allocation to gold in portfolios and trimming equities back to target. We do not believe now is the time to chase equities and take an aggressive stance in portfolios. Nor do we believe is it appropriate to get overly defensive with large amounts of cash on the sidelines. Volatility will be with us for some time. The key is expecting it, preparing for it, and not letting it derail your long-term investment plan.
Disclosures
Wilmington Trust is a registered service mark used in connection with various fiduciary and non-fiduciary services offered by certain subsidiaries of M&T Bank Corporation including, but not limited to, Manufacturers & Traders Trust Company (M&T Bank), Wilmington Trust Company (WTC) operating in Delaware only, Wilmington Trust, N.A. (WTNA), Wilmington Trust Investment Advisors, Inc. (WTIA), Wilmington Funds Management Corporation (WFMC), and Wilmington Trust Investment Management, LLC (WTIM). Such services include trustee, custodial, agency, investment management, and other services. International corporate and institutional services are offered through M&T Bank Corporation's international subsidiaries. Loans, credit cards, retail and business deposits, and other business and personal banking services and products are offered by M&T Bank, member FDIC.
Facts and views presented in this report have not been reviewed by, and may not reflect information known to, professionals in other business areas of Wilmington Trust or M&T Bank who may provide or seek to provide financial services to entities referred to in this report. M&T Bank and Wilmington Trust have established information barriers between their various business groups. As a result, M&T Bank and Wilmington Trust do not disclose certain client relationships with, or compensation received from, such entities in their reports.
The information on Wilmington Wire has been obtained from sources believed to be reliable, but its accuracy and completeness are not guaranteed. The opinions, estimates, and projections constitute the judgment of Wilmington Trust and are subject to change without notice. This commentary is for informational purposes only and is not intended as an offer or solicitation for the sale of any financial product or service or a recommendation or determination that any investment strategy is suitable for a specific investor. Investors should seek financial advice regarding the suitability of any investment strategy based on the investor's objectives, financial situation, and particular needs. Diversification does not ensure a profit or guarantee against a loss. There is no assurance that any investment strategy will succeed.
Past performance cannot guarantee future results. Investing involves risk and you may incur a profit or a loss.
Indexes are not available for direct investment.
©2020 M&T Bank Corporation and its subsidiaries. All rights reserved.