November 17, 2020 — The 2020 election has ushered in a new administration as well as the prospect for a divided government that could reduce the risk of dramatic tax changes. Major tax hikes are less likely to be implemented without Democrats controlling the House and the Senate. Two critical runoff elections in January will determine partisan control in the Senate. If both seats in Georgia go to Democrats, then the Vice President would break the tie in the Senate. If this scenario comes to fruition, investors should consider refocusing on one of the most critical pieces of the tax code, the treatment of capital gains. And unfortunately by the time we know the outcome of the Georgia senate runoffs, the page will have a turned on a new calendar year and if the Democrats pick up both of these Senate seats, it may be too late!
The maximum federal long-term capital gains rate under current law is 20%. For 2020 this applies to incomes over $434,550 for single taxpayers and $488,850 for those married filing jointly. Additionally, the Net Investment Income Tax (NIIT) of 3.8% applies bringing the total maximum rate to 23.8%.
Under Biden's proposed plan for tax filers with income over $1,000,000, the long-term capital gains rate for gains in excess of this amount would be taxed at 39.6%. The NIIT of 3.8% would also still apply, for a total maximum capital gains rate of 43.4%. This is unlikely to occur unless Democrats flip the Senate in January.
As investors it is important to diligently focus on all the things that we can control, namely your asset allocation, investment time horizon, liquidity needs, income needs, and investment costs. Through our economics-led investment process we seek to manage your drawdown risk and mitigate tax liability. We can't control tax law changes that could occur in the near future or even 10 years down the road, but we can attempt to plan for them and make educated decisions in the context of your overall wealth plan to help maximize your after-tax return.
Should I take gains in 2020 to ensure they will be taxed at the current rate?
If 2020 has taught us anything it is to expect the unexpected. It will be January 2021 when we find out the fate of the last two Senate seats, so there is no easy answer to this question. In the following scenario we explore the potential implications of a Democrat controlled Senate. It is important to note that the right decision in your portfolio depends on a number of factors, including your expected return and investment time horizon.
For example, assume you own a stock (XYZ) that was bought decades ago for $25 and is now trading at $150. You assume the stock has a 6% growth rate moving forward. Under Biden's proposed plan you would have greater after-tax proceeds realizing the capital gains today and reinvesting (assuming the same growth rate) if your holding period is fewer than 16 years. If your intended holding period is longer than 16 years you would have greater after-tax proceeds by continuing to hold your current investment and paying the higher tax rate in the future. All else equal, the longer your investment horizon, the more beneficial it is to hold the appreciated security and defer the payment of the higher tax rate to the future.
The expected return of the appreciated security is also an important consideration. Figure 1 shows that for any potential tax rate increase, the decision of whether to realize the tax gain today and reinvest or hold and sell in the future at a higher tax rate is also a function of the expected return of the security. Referring to the previous example, the grey bullet points in Figure 1 represent a 6% growth rate. Assuming a 44% tax rate, the "breakeven" time frame to help influence your decision between realizing capital gains today and reinvesting the after tax proceeds or continuing to hold your position is 16 years. The greater the assumed rate of return, the shorter the time period is to "breakeven" between the two choices. A larger increase in the capital gains rate would require the investor to be willing to hold the security longer to make it worth holding and deferring the capital gains tax payment.
Breakeven analysis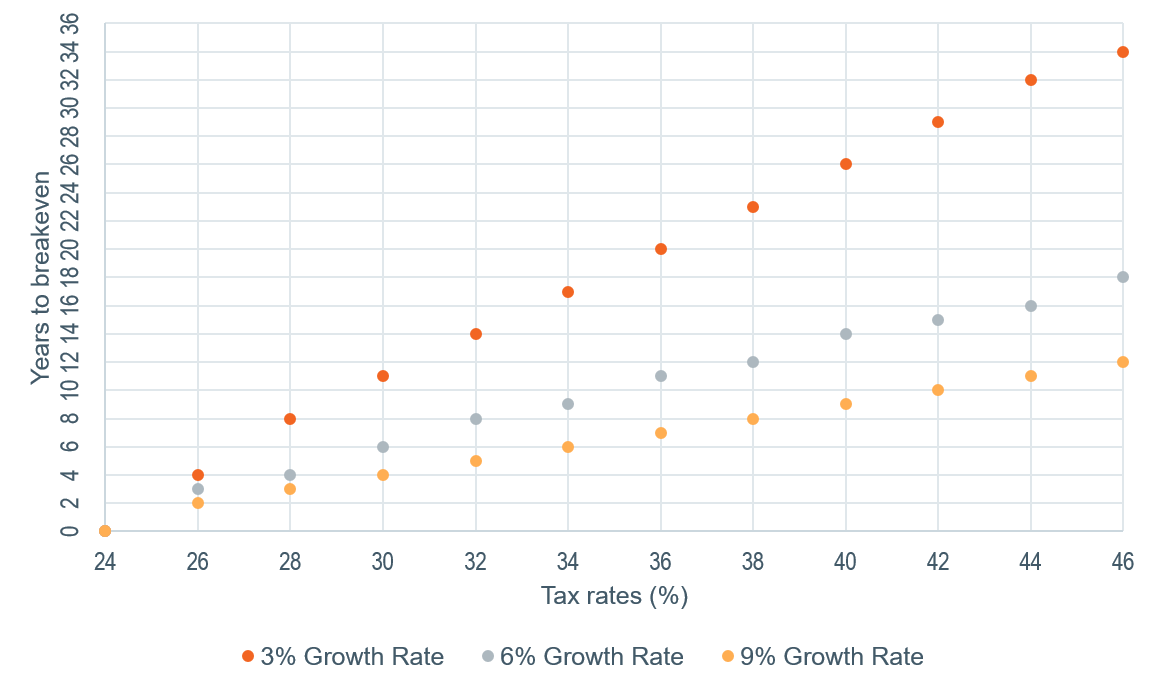 This hypothetical example does not depict any particular investment.
Investment growth potential can be more important than tax policy
The expected return of the security is important even if tax rates increase (or stay the same) and then revert lower in the future when you're ready to sell. Let's assume you own that same stock (XYZ) and it is trading at $150 with a $25 cost basis. You feel it may only grow at 3% per year and that although taxes will likely rise in the future you believe they will revert to the current rate of 23.8% at some point. Figure 2 illustrates your after-tax proceeds in grey (assuming a 24% tax rate for example purposes) of holding your stock, letting it continue to grow at 3%, and then selling and paying taxes to liquidate in any given year. Alternatively, the orange bullet points illustrate selling your stock now, and reinvesting in a diversified portfolio, which you believe will grow at 6%. Despite paying taxes up front and tax rates reverting to their current rate, selling the stock position and diversifying into a portfolio with greater growth opportunity resulted in significantly more after-tax wealth over time. To put dollar figures to this example, assume you had 10,000 shares of XYZ company that was currently trading at $150. You decide to hold onto it despite the slow-growth outlook. After taxes in year 10 you would have $1,595,600. If you had decided to sell, pay taxes today, and diversify into a portfolio with greater growth opportunity the after-tax dollar value would have been $1,927,200. Your after-tax wealth would be greater by $331,600 in year 10. This is an example of how the investment potential and the power of compounding can supersede tax policy.
The potential cost of not taking action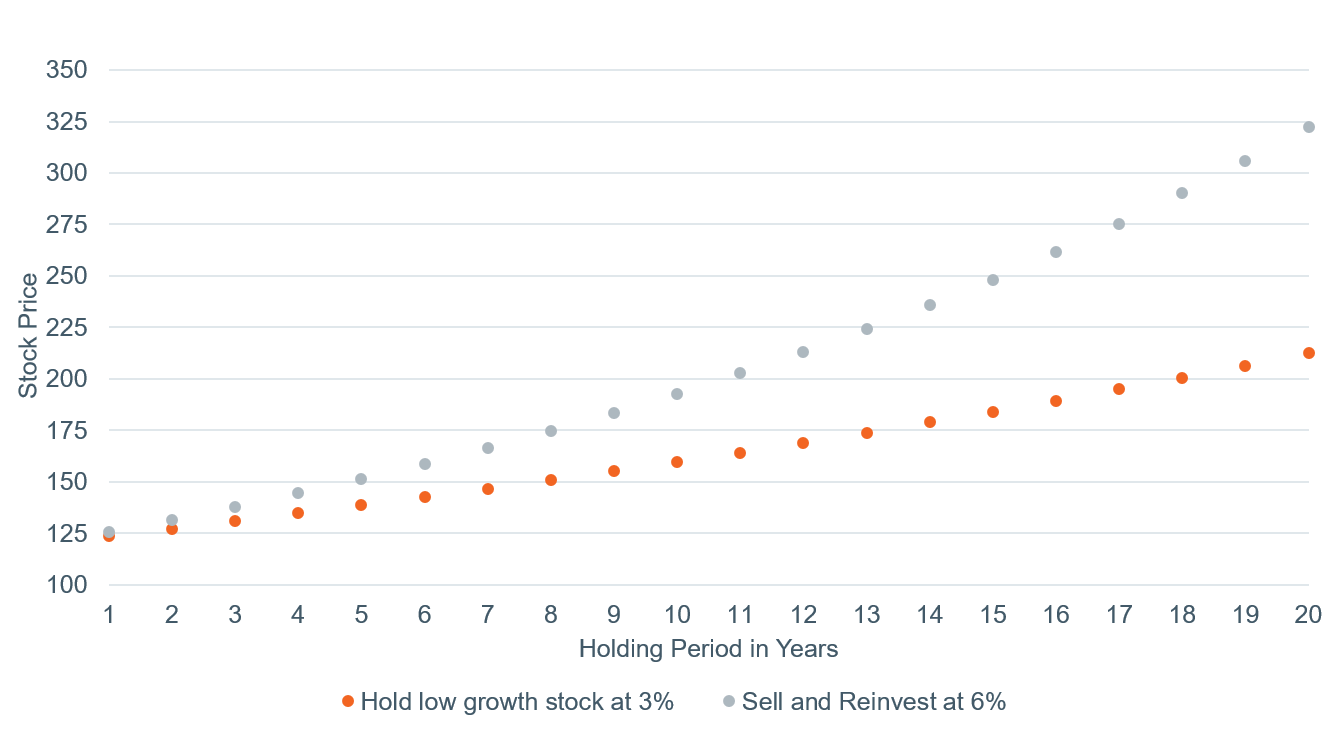 Whether you believe tax rates will increase or stay the same, now is an opportune time to examine your portfolio, reevaluate your objectives, and confirm your investment horizon. If you already have a well-diversified portfolio no action may be needed, but if you have concentrated stock positions with a low-basis in your portfolio ask yourself, "Is what fueled their growth over the last decade going to continue into the future?"
Larger positions in portfolios can be the result of companies that helped reshape and reinvent America. Growth has often slowed with these types of large companies and they are facing difficult decisions in the wake of the COVID-19 crisis. There may be permanent damage to their industry or sector; the equivalent of being the best house in a bad neighborhood. Accelerated digitization of the consumer may have focused opportunities for growth into other areas. Concentrated positions in individual stocks can quickly create or destroy wealth. Investors can sometimes feel trapped into holding onto low-basis securities. The considerations above illustrate that divesting out of a potentially slower-growing stock and paying taxes so those proceeds can be invested in a more diversified strategy may offer greater return potential with less risk.
Before year end, talk with your advisor to establish a diversification plan and tax budget to help reduce risk and increase the probability of achieving your goals.
Disclosures
Wilmington Trust is a registered service mark used in connection with various fiduciary and non-fiduciary services offered by certain subsidiaries of M&T Bank Corporation including, but not limited to, Manufacturers & Traders Trust Company (M&T Bank), Wilmington Trust Company (WTC) operating in Delaware only, Wilmington Trust, N.A. (WTNA), Wilmington Trust Investment Advisors, Inc. (WTIA), Wilmington Funds Management Corporation (WFMC), and Wilmington Trust Investment Management, LLC (WTIM). Such services include trustee, custodial, agency, investment management, and other services. International corporate and institutional services are offered through M&T Bank Corporation's international subsidiaries. Loans, credit cards, retail and business deposits, and other business and personal banking services and products are offered by M&T Bank, member FDIC.
Facts and views presented in this report have not been reviewed by, and may not reflect information known to, professionals in other business areas of Wilmington Trust or M&T Bank who may provide or seek to provide financial services to entities referred to in this report. M&T Bank and Wilmington Trust have established information barriers between their various business groups. As a result, M&T Bank and Wilmington Trust do not disclose certain client relationships with, or compensation received from, such entities in their reports.
The information on Wilmington Wire has been obtained from sources believed to be reliable, but its accuracy and completeness are not guaranteed. The opinions, estimates, and projections constitute the judgment of Wilmington Trust and are subject to change without notice. This commentary is for informational purposes only and is not intended as an offer or solicitation for the sale of any financial product or service or a recommendation or determination that any investment strategy is suitable for a specific investor. Investors should seek financial advice regarding the suitability of any investment strategy based on the investor's objectives, financial situation, and particular needs. Diversification does not ensure a profit or guarantee against a loss. There is no assurance that any investment strategy will succeed.
Past performance cannot guarantee future results. Investing involves risk and you may incur a profit or a loss.
The gold industry can be significantly affected by international monetary and political developments as well as supply and demand for gold and operational costs associated with mining.
Indexes are not available for direct investment.
©2020 M&T Bank Corporation and its subsidiaries. All rights reserved.