September 1, 2017— Under the staid surface of a low interest rate environment and a persistent tightening of credit premiums, much has changed in the composition of the U.S. bond market over the last 10 years. Investors need to take stock of these changes now before the next inevitable period of market turbulence catches them by surprise. Since the onset of the Great Recession, two major themes have taken place in the bond market with little notice or fanfare. First, issuers of all types have been extending their maturity profiles. So whether it is the U.S. Treasury or corporate America, more 10- and 30- year bonds have been brought to market amid strong investor demand. Second, the share of newly issued corporate bonds within the bond market has increased significantly.
During this historically low interest rate environment, the U.S. Treasury has extended its duration profile. As of June 30, 2017, the average maturity of U.S. marketable debt has extended to a record of 71 months, from 49 months in 2008. This represents a 45% increase. Additionally, U.S. Treasury Secretary Steven Mnuchin is advancing the prospect of issuing a 50-year bond, further increasing the duration profile of the overall U.S. Treasury market. The corporate sector has also seen an increase of 10-year and greater bond issuance since the Great Recession. Within the overall Bloomberg/Barclays Investment Grade Corporate Index, the number of bonds with maturities fewer than eight years has declined from 62% in 2006 to 55% in 2017. Over the same time period, bonds with maturities greater than eight years have increased from 38% to 45%.
Figure 1
Market value weighting of investment-grade index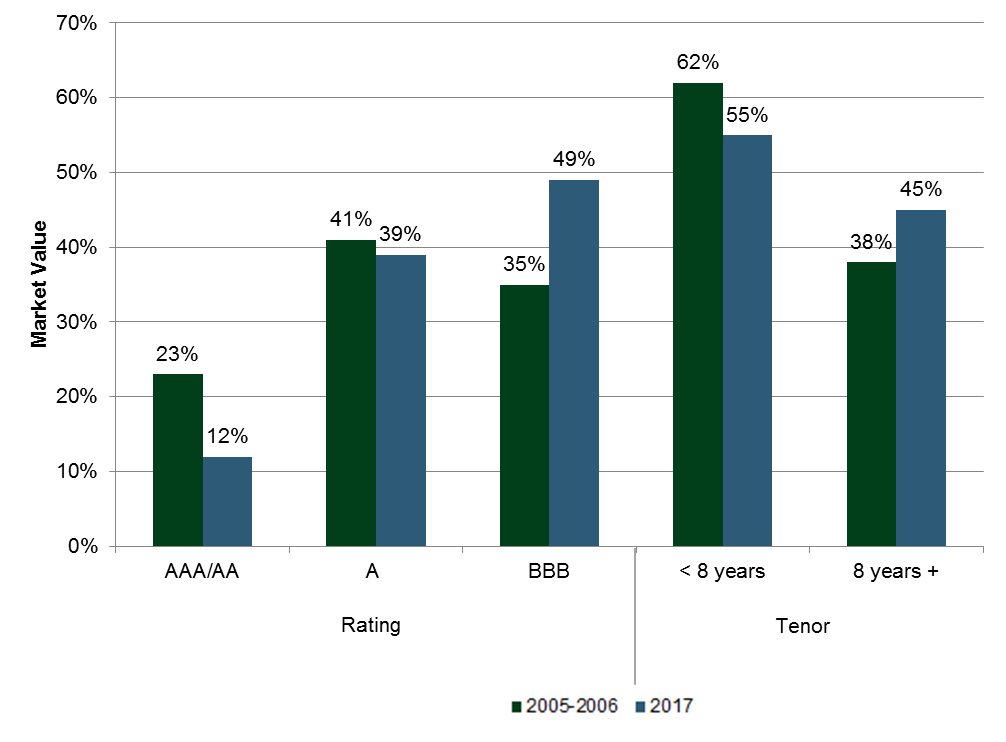 Source: Bloomberg/Barclays
The Bloomberg Barclays Aggregate Bond Index represents, as its name implies, the complete investment-grade bond market universe. Bonds within the index include U.S. Treasuries, corporates, asset-backed securities, and various types of mortgage-backed securities. The maturity spectrum of bonds within the index ranges from one to thirty years.
The overall duration of the Aggregate Index has increased from 4.54 to 5.82, an extension of 30%. Ten years ago, if interest rates rose by 100 basis points (1.00%) instantaneously, investors mirroring the Aggregate Index would have expected a 4.54% loss. Ten years later, that loss would be 5.82%.
The amount of credit within the Aggregate has also grown from 22% in 2006 to 30% today. Meanwhile, higher bank capital standards, put back risk (banks on the hook for poorly originated mortgages), and a much smaller FNMA (Federal National Mortgage Association) and Freddie Mac (Federal Home Loan Mortgage Corporation) presence, have led to a decline in mortgage-backed and U.S. government agency securities. Within the credit universe, the industrial sector has increased the most, moving from 9% of the overall index to 15%. Dissecting the index further reveals that the number of BBB-rated corporates has risen to 14% from 8% of the overall index. Most of the increase in BBB-rated securities came at the expense of the AAA category, as U.S. government agencies have issued less debt.
Today the index has 30% more overall interest rate risk, 35% more corporate risk, and 75% more BBB-rated securities now versus 10 years ago.
Figure 2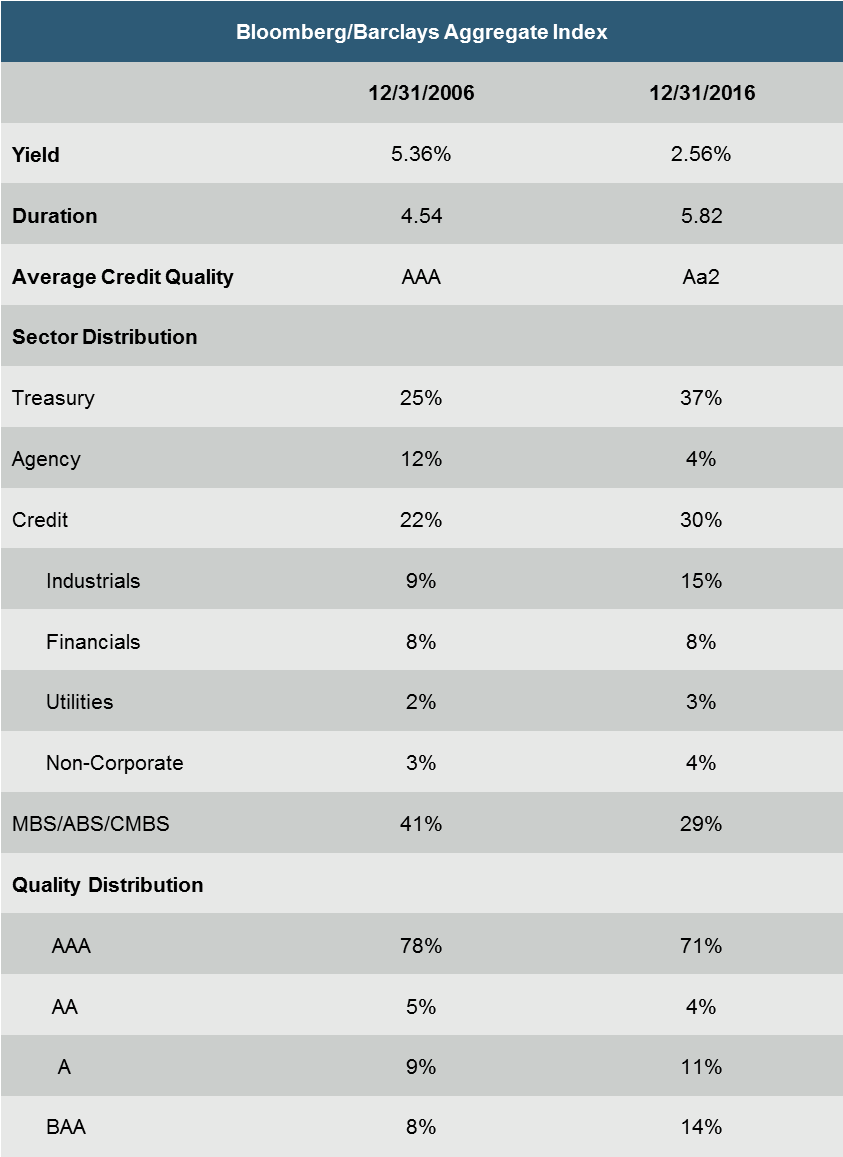 Source: Bloomberg/Barclays
It should be noted that while we have focused on the Aggregate Index because of its universality, almost all of the longer-term Bloomberg/Barclays Indices have changed in a similar fashion. The Bloomberg/Barclays Government Credit and the Intermediate Term Indices have seen similar duration extensions and added corporate risk. In addition, bond indices from other sources, such as Bank of America, have also seen durations and corporate exposures increase.
These changes to the Index have definitely benefited investors over the past 10 years, as interest rates have fallen and credit spreads have compressed. However, investors should take note of the changes in the Index and the inherent added risk that they have taken on since the Great Recession.
Another significant change to the U.S. bond market over the last 10 years has been the composition of investors. As Figure 3 illustrates, in 2007, 71% of U.S. corporate bond ownership was in the hands of domestic institutional investors. Today that percentage has fallen to 50%. Life insurance investors and other segments of the institutional bond market typically hold their bond positions for long periods of time if not until maturity. Over the same time period, the share of non-U.S. investors of corporate bonds has increased from 25% to 40%. It is unclear how stable this investor base will prove to be. However, most of the increase is due to the fact that European and Asian investors facing very low if not actual negative interest rates in their local markets have been forced to look abroad to achieve higher yields. Given the added foreign exchange risk that is inherent to this investor base, common sense suggests that their ongoing sponsorship to U.S. corporate bonds will be more volatile.
Figure 3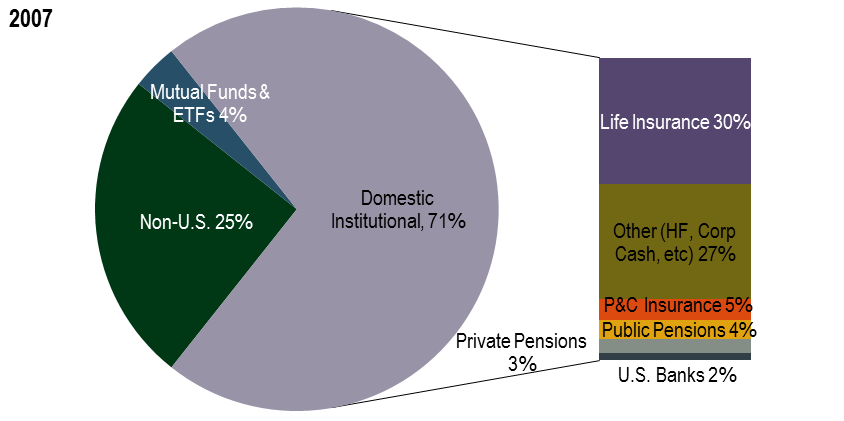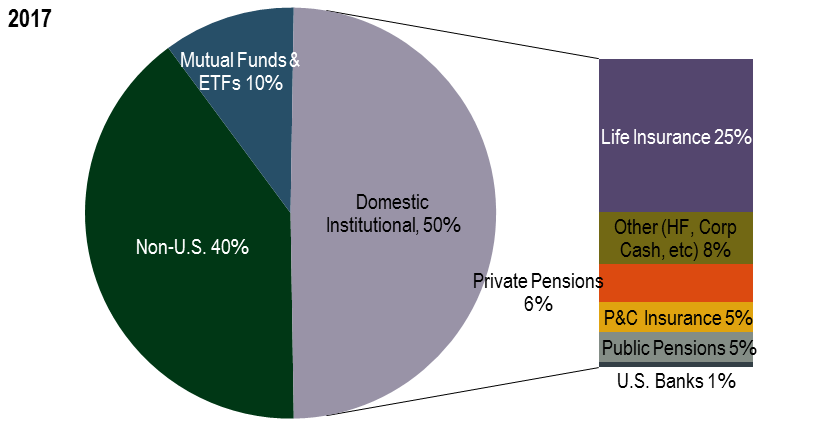 Source: Wells Fargo
Core narrative
As credit premiums have compressed significantly, we continue to expect corporates to offer better risk adjusted returns than U.S. Treasuries. The time to pivot from an overweight allocation to corporates is perhaps close at hand. The current U.S. economic expansion is already the third longest in the country's history. The Federal Reserve is expected to continue to tighten monetary policy. And perhaps most importantly, the political reality of continued congressional gridlock with a Republican- controlled Congress and White House make fiscal and taxation remedies to boost U.S. economic growth seem delayed and watered down at best. Investors with a passive investment approach to bonds should take a discerning look at their portfolios and their appropriate relevant index. Pre-2007 index performance may prove to be significantly different in the future given the changes we have outlined.
Disclosures
Wilmington Trust is a registered service mark. Wilmington Trust Corporation is a wholly owned subsidiary of M&T Bank Corporation. Wilmington Trust Company, operating in Delaware only, Wilmington Trust, N.A., M&T Bank and certain other affiliates, provide various fiduciary and non-fiduciary services, including trustee, custodial, agency, investment management and other services. International corporate and institutional services are offered through Wilmington Trust Corporation's international affiliates. Loans, credit cards, retail and business deposits, and other business and personal banking services and products are offered by M&T Bank, member FDIC.
These materials are based on public information. Facts and views presented in this report have not been reviewed by, and may not reflect information known to, professionals in other business areas of Wilmington Trust or M&T Bank who may provide or seek to provide financial services to entities referred to in this report. M&T Bank and Wilmington Trust have established information barriers between their various business groups. As a result, M&T Bank and Wilmington Trust do not disclose certain client relationships with, or compensation received from, such entities in their reports.
The information on Wilmington Wire has been obtained from sources believed to be reliable, but its accuracy and completeness are not guaranteed. The opinions, estimates, and projections constitute the judgment of Wilmington Trust and are subject to change without notice. This commentary is for information purposes only and is not intended as an offer or solicitation for the sale of any financial product or service or a recommendation or determination that any investment strategy is suitable for a specific investor. Investors should seek financial advice regarding the suitability of any investment strategy based on the investor's objectives, financial situation, and particular needs. Diversification does not ensure a profit or guarantee against a loss. There is no assurance that any investment strategy will succeed.
Any investment products discussed in this commentary are not insured by the FDIC or any other governmental agency, are not deposits of or other obligations of or guaranteed by M&T Bank, Wilmington Trust, or any other bank or entity, and are subject to risks, including a possible loss of the principal amount invested. Some investment products may be available only to certain "qualified investors"—that is, investors who meet certain income and/or investable assets thresholds. Past performance is no guarantee of future results. Investing involves risk and you may incur a profit or a loss.
Any positioning information provided does not include all positions that were taken in client accounts and may not be representative of current positioning. It should not be assumed that the positions described are or will be profitable or that positions taken in the future will be profitable or will equal the performance of those described. Positions described are illustrative and not intended as a recommendation outside of a managed account.
Indices are not available for direct investment. Investment in a security or strategy designed to replicate the performance of an index will incur expenses, such as management fees and transaction costs that would reduce returns.
Third party trademarks and brands are the property of their respective owners.
Contact an Expert