January 22, 2020 — The start of a new year, and particularly the turn of a new decade, tends to be a time of self-reflection, a time for assessing how you have measured up to your goals, and a time for new resolutions. Several key central banks will be doing some soul searching as well in the form of formal monetary policy strategy reviews, as they reassess whether their tools and strategies are as effective as they used to be, given a post-financial-crisis world with persistently lower inflation and interest rates, and more subdued potential growth.
The Federal Reserve (Fed) plans to announce the findings of its review of monetary policy strategy (launched in late 2018) by midyear. Christine Lagarde, in one of her first actions as the new head of the European Central Bank (ECB), announced in December 2019 that the ECB too would initiate a strategy review to be concluded by end of 2020. The Bank of Canada and Sweden's Riksbank are also currently undertaking broad reviews of their frameworks. Though the Bank of England (BOE) has not formally opened a policy review, the upcoming change in leadership as Andrew Bailey takes over for outgoing Governor Mark Carney in March could possibly lead to a reassessment of the bank's approach. And while the Bank of Japan has also not formally taken on a review of its strategy, it has been making a series of ongoing changes to its framework in recent years given its grapples with outright deflation.
The Fed and ECB reviews will be crucial to watch, in our view. The Fed's monetary policy strategy review is unlikely to involve a dramatic overhaul of its formal approach, as it has ruled out changing its 2% inflation target level, and it does not have the authority to make changes to its congressionally assigned dual mandate of maximum employment and price stability.[i] However, there is still room for subtle changes to be made that could have substantial impacts on markets. The scope of ECB's strategy review, on the other hand, is still being defined, leaving room for large-scale changes that could make a material difference in the way it operates. This week's ECB meeting may provide markets with more details on how it plans to proceed with the review.
One crucial point of focus for both central banks will be on whether they view the shortfall of inflation relative to target in recent years (Figure 1) as a structural change that needs to be "made up for" by higher-than-target inflation in the future. This would be a significant departure from the current approach to policy (in which inflation is viewed only from the perspective of where it is expected to be in the future, rather than where it has been in the past) and could potentially suggest a shift toward a more dovish bias to policy in the near term to allow for inflation and inflation expectations to nudge higher. Details of any changes in approach will be very important to determine the specific implications for markets.
Why now?
Why the sudden rising trend in central bank introspection? While specific central bank mandates differ on a country-by-country basis, maintaining a stable inflation environment is typically the foremost objective. On this front, central banks in developed economies have found themselves facing a shifting goal post in recent years. In contrast to decades past, when their main focus was on combating inflation that was too high, central banks now also need to be worried about how to prevent inflation from drifting to the downside of their targets.
Figure 1: Inflation has fallen short of target during much of the post-financial crisis recovery in the U.S. and eurozone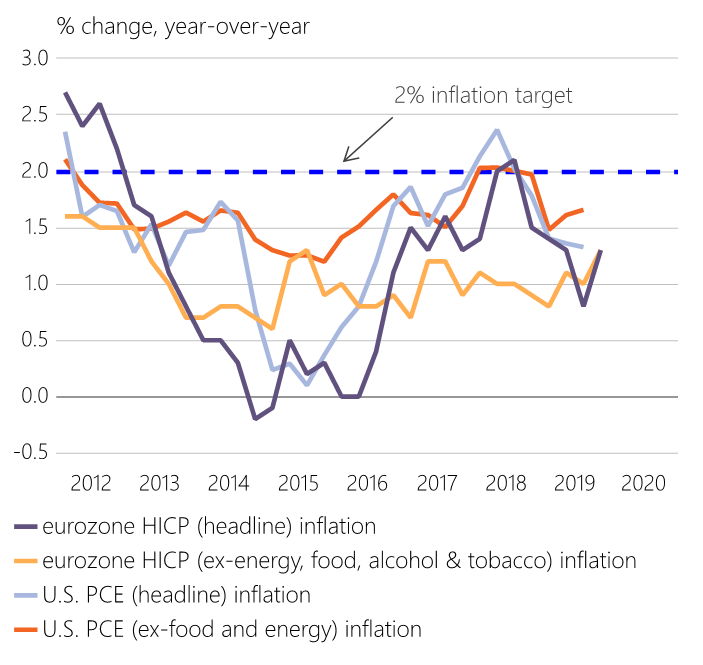 Data as of: September 30, 2019. Sources: Macrobond, Eurozone Harmonized Index of Consumer Prices (HICP) from Eurostat; U.S. Personal Consumption Expenditures Price Index (PCE) inflation from Bureau of Economic Analysis.
For example, since the Fed's formal introduction of the 2% personal consumption expenditure (PCE) index inflation target in 2012, headline and core PCE inflation have been below target for 86% and 89% of months over that period, respectively. This is a significantly higher percentage when compared to just 59% for headline and 75% for core inflation looking back to the mid-1990s, when central banks across the globe first started to view 2% as a standard inflation target.[ii] The Fed noted this heightened concern about the downside risks to inflation in 2016 when it tweaked its monetary policy strategy description to note that its 2% inflation target was symmetric, in that the FOMC would be concerned if inflation "were running persistently above or below its objective."[iii]
Meanwhile, eurozone headline inflation has been below its 2% target for 79% of months during the period since 2012—significantly more time than when compared to just 58% for headline inflation below target going back to 2003, (when the target was formally tweaked to be "below but close to 2.0%," rather than just "below 2%"). Meanwhile, core inflation has remained below target for nearly 100% of the time in the period since 2003.
Longer-term structural forces in the global economic landscape that have been building over the past few decades (including demographics, technological change, and globalization) have weighed on inflation. As a result, the longer-run neutral rate of interest (the theoretical interest rate that would neither stimulate nor restrict the economy) has moved closer to zero, leaving central banks with less room to use policy rates alone as their key (and typically preferred) tool to support employment and inflation during times of future economic downturn or stress. Central banks are viewing the current period, in which economies are still in expansion and labor markets are healthy, as an opportune one for considering and implementing changes to strategy to nudge inflation and inflation expectations higher. In addition, it makes sense to assess the best potential options for alternative monetary policy and communication tools now, while economies are in decent shape, rather than scrambling when the next crisis hits.
What's on the table?
For the Fed, the current review of strategy is the first of its kind. After adopting the official 2% inflation target in 2012 with its "Statement of Longer-Run Goals and Monetary Policy Strategy"—followed by its 2016 tweak to indicate the "symmetric" nature of the target—the Fed has done little in the way of regular formal reviews, outside of reaffirming said strategy every January. However, Chair Powell noted in late 2019 that the Fed is likely to undertake future reviews more regularly going forward. For this first review though, given that changes to the key tenets of current Fed strategy will be left untouched (2% inflation target and dual mandate), the Fed will primarily be recalibrating, rather than reinventing the wheel on the monetary policy strategy front.  It will however, be discussing communication and alternative policy tools to be used in the event of a new crisis (in addition to the balance sheet and forward guidance tools that were used during the previous crisis).
The ECB is still defining the scope of its monetary policy strategy review. It last conducted a review of strategy back in 2003, just four years after the euro's inception. One important outcome of that review was that the ECB clarified its inflation target as "below but close to 2% over the medium term," (rather than just "below 2%," as originally defined in 1998 when the ECB first adopted its inflation target). For the upcoming review, President Lagarde has mentioned that a redefinition of the inflation target is up for consideration for the ECB, in contrast to the Fed. Central issues likely to be discussed include   clarification of the current ambiguity in wording around the inflation target ("close to but below 2%"), and whether the target level itself should be changed. In addition, the data underlying the index used as the key gauge for inflation is likely to be examined. Currently headline inflation is officially considered for policy purposes, but there are questions about whether core inflation should be more formally used as a target, or whether another measure of inflation that includes the rent equivalent cost of housing for homeowners would be a better reflection of living costs (it is currently excluded given difficulties in the past with obtaining housing cost data across euro countries). An assessment of the side effects of current policy tools in use, including negative interest rates, is also likely to be the subject of debate. Finally, President Lagarde has noted that climate change, inequality, and digitalization are all concepts that may be reviewed as part of the ECB's policy strategy review.
Subtle changes to the policy approach could still have substantial market impacts
For both central banks, some possible changes to the policy approach that are up for consideration could have important market implications. Even if the prospect of changing the inflation target is no longer on the table for the Fed, changes in the how the 2% target is achieved could be one avenue for nudging inflation and inflation expectations higher. Tweaks to the concept of symmetry or the creation of a formal band or range around the inflation target could give central bankers more flexibility to tolerate over or undershoots of inflation. Another key idea that is likely to be discussed is the concept of "make-up" strategies for the inflation target. As currently implemented, the Fed and the ECB, like most central banks with a formal inflation target, only consider forward-looking inflation with respect to their targets, disregarding past over or undershoots of inflation. However, the use of make-up strategies would involve allowing for an overshoot of inflation in the future to compensate for past undershoots (and vice versa). For these types of strategies to work, individuals need to believe the central banks will follow through on keeping rates low (allowing inflation to temporarily run high relative to target), in advance of the central bank undertaking these actions. One of the criticisms of such make-up strategies is that individuals could question the credibility of central banks if they do not believe central banks will be able to hold off on raising rates when the economy does eventually run hot, or if they don't believe central banks will be able to effectively reel in inflation once it starts to rise. In addition, on the flip side, if potential future inflation overshoots must be offset with later shortfalls of inflation, interest rates could become stuck at the "lower bound" (close to zero or negative). Questions also remain about how long of a timeframe would need to be considered for the lookback period for inflation. There are a variety of proposals with differing details that would fall under the make-up strategy camp with various pros and cons, but an implication of adopting any of these types of strategies is that they could potentially be supportive for equities in the near term, as interest rates would likely be kept lower for longer given the large time period of inflation undershoot over the past decade.
 Core narrative
While the Fed's monetary policy strategy review is more limited in scope than that of the ECB, we still see potential for more understated changes that could have a material impact on markets. For example, even if explicit inflation targets remain unchanged, modest changes to the way central banks react to inflation (both past and future) around those targets could make a meaningful difference. If markets were to perceive central banks as implicitly having more tolerance for overshoots of inflation relative to target in the future (given the persistence of undershoots in the past), this could suggest an underlying support for equity markets. It will be difficult to assess the exact implications until the results of these reviews and final changes are announced, but we will be keeping a close eye on the situation as it develops.
[i] Though the Fed's congressionally defined objectives are typically referred to as its "dual mandate," it technically has a three-part mandate. As per the Fed's "Statement on Longer-Run Goals and Monetary Policy Strategy," "The Federal Open Market Committee is firmly committed to fulfilling its statutory mandate from Congress of promoting maximum employment, stable prices, and moderate long-term interest rates." The third part of the mandate, "moderate long-term interest rates" tends not to be explicitly referred to, as it is assumed they would result naturally from the achievement of the first two parts of the mandate.
[ii] In some cases formally, and in others informally; the Fed was one of the later banks to formally adopt an inflation target in 2012. Federal Reserve Bank of St. Louis, "The Fed's Inflation Target: Why 2 Percent?" January 2019.
[iii] https://www.federalreserve.gov/monetarypolicy/files/FOMC_LongerRunGoals_20160126.pdf.
Disclosures
Wilmington Trust is a registered service mark. Wilmington Trust Corporation is a wholly owned subsidiary of M&T Bank Corporation. Wilmington Trust Company, operating in Delaware only, Wilmington Trust, N.A., M&T Bank and certain other affiliates, provide various fiduciary and non-fiduciary services, including trustee, custodial, agency, investment management and other services. International corporate and institutional services are offered through Wilmington Trust Corporation's international affiliates. Loans, credit cards, retail and business deposits, and other business and personal banking services and products are offered by M&T Bank, member FDIC.
Facts and views presented in this report have not been reviewed by, and may not reflect information known to, professionals in other business areas of Wilmington Trust or M&T Bank who may provide or seek to provide financial services to entities referred to in this report. M&T Bank and Wilmington Trust have established information barriers between their various business groups. As a result, M&T Bank and Wilmington Trust do not disclose certain client relationships with, or compensation received from, such entities in their reports.
The information on Wilmington Wire has been obtained from sources believed to be reliable, but its accuracy and completeness are not guaranteed. The opinions, estimates, and projections constitute the judgment of Wilmington Trust and are subject to change without notice. This commentary is for information purposes only and is not intended as an offer or solicitation for the sale of any financial product or service or a recommendation or determination that any investment strategy is suitable for a specific investor. Investors should seek financial advice regarding the suitability of any investment strategy based on the investor's objectives, financial situation, and particular needs. Diversification does not ensure a profit or guarantee against a loss. There is no assurance that any investment strategy will succeed.
Past performance cannot guarantee future results. Investing involves risk and you may incur a profit or a loss.
Indices are not available for direct investment. Investment in a security or strategy designed to replicate the performance of an index will incur expenses such as management fees and transaction costs which would reduce returns.