March 6, 2017— A lot can change in two weeks, especially in the financial markets. It was just two weeks ago that we argued that the Fed was likely to take a pass at their March 14-15 meeting and opt to wait until later in the year to hike rates. Although the economic picture has not changed significantly, the market expectations of a rate hike have changed dramatically, moving to near certainty. We expect the Fed to react opportunistically and raise their benchmark interest rate by 25 basis points next week. And given our expectations for continued, solid economic growth, we expect them to raise interest rates two more times in 2017.
The market prices it in
The market for fed funds futures is the key metric referenced by analysts, the financial press, and even the Fed themselves to gauge overall market expectations of interest rate movements by the Fed. In the latter half of February, those expectations had indeed increased, based on improving economic data. The market priced in a low of 24% as late as February 8, then moved up to 50% by the end of the month as solid data continued to come in.
The real stimulus appears to have been President Trump's speech to a joint session of congress on February 28. In the speech he laid out an ambitious policy agenda that we believe would be supportive to short-term economic growth and correspondingly to markets. (More detail on anticipated impacts is available in our Capital Markets Forecast). Trump did not offer significantly more detail about his policies than were already available, but he was widely reviewed as appearing presidential and serious, an encouraging sign for markets that have also witnessed a sometimes erratic and unconventional governing style.
The expectations for a Fed rate hike skyrocketed the following day and have continued to move up since. Indeed, Federal Reserve Chair Janet Yellen delivered public remarks on Friday, March 3 and indicated that a rate hike is likely, provided there are no intervening economic data that surprises to the downside.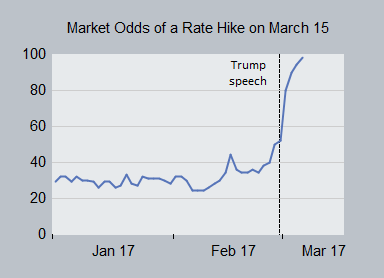 Source: Bloomberg
It's not all about Trump
Although the chart above and the timing of expectations would seem to imply that the Federal Reserve's policy was wholly contingent on political developments, it is important to understand that isn't the case. The short-term expectations of when the Fed will hike have certainly been affected by the new administration's demeanor, but the overall, longer-term argument for the Fed to normalize policy with gradually higher interest rates is supported by economic developments. As we discussed two weeks ago, economic data on the labor market, growth, and inflation alone support a rate hike even if the Fed has felt restrained by fiscal uncertainty in D.C.
Looking at the actual facts, the economic case for rate hikes was bolstered last week with the release of the Institute for Supply Management's indexes for both the manufacturing and the service sectors of the economy. Both indices beat market expectations and continue their upward trends. The manufacturing sector was in decline in early 2016, recovered a bit in the middle of last year, and has roared back to life over the past several months. The bigger, services side of the economy did not decline outright in 2016, but certainly decelerated, giving the Fed some angst. Like the manufacturing sector it is now accelerating.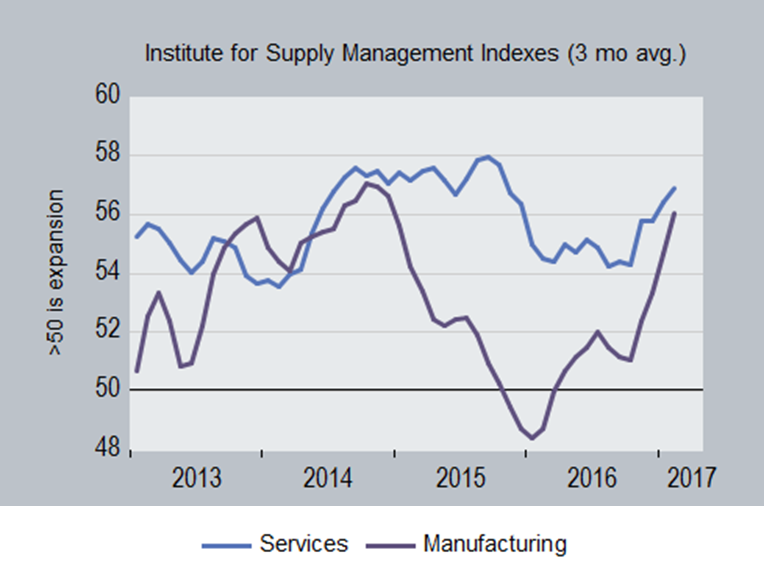 Source: Institute for Supply Management; WTIA
Core narrative
Our core narrative remains unchanged. We believe the domestic economy is strong and we maintain a positive outlook for 2017. What has changed is market expectations for a rate hike next week. We believe the Fed will take advantage of that opportunity and raise the federal funds rate by 25 basis points. With the economy appearing to be on solid footing we believe there will be two more rate hikes in 2017. We think the Trump administration's policy agenda will add to short-term growth this year, but we recognize the risks as well. We are keeping a close eye on the political economy and its real potential to take the market narrative in a different direction. For the time being, all of this continues to support our mild overweight to risk assets and underweight to core fixed income.
Disclosures
Wilmington Trust is a registered service mark. Wilmington Trust Corporation is a wholly owned subsidiary of M&T Bank Corporation. Wilmington Trust Company, operating in Delaware only, Wilmington Trust, N.A., M&T Bank and certain other affiliates, provide various fiduciary and non-fiduciary services, including trustee, custodial, agency, investment management and other services. International corporate and institutional services are offered through Wilmington Trust Corporation's international affiliates. Loans, credit cards, retail and business deposits, and other business and personal banking services and products are offered by M&T Bank, member FDIC.
These materials are based on public information. Facts and views presented in this report have not been reviewed by, and may not reflect information known to, professionals in other business areas of Wilmington Trust or M&T Bank who may provide or seek to provide financial services to entities referred to in this report. M&T Bank and Wilmington Trust have established information barriers between their various business groups. As a result, M&T Bank and Wilmington Trust do not disclose certain client relationships with, or compensation received from, such entities in their reports.
The information on Wilmington Wire has been obtained from sources believed to be reliable, but its accuracy and completeness are not guaranteed. The opinions, estimates, and projections constitute the judgment of Wilmington Trust and are subject to change without notice. This commentary is for information purposes only and is not intended as an offer or solicitation for the sale of any financial product or service or a recommendation or determination that any investment strategy is suitable for a specific investor. Investors should seek financial advice regarding the suitability of any investment strategy based on the investor's objectives, financial situation, and particular needs. Diversification does not ensure a profit or guarantee against a loss. There is no assurance that any investment strategy will succeed.
Any investment products discussed in this commentary are not insured by the FDIC or any other governmental agency, are not deposits of or other obligations of or guaranteed by M&T Bank, Wilmington Trust, or any other bank or entity, and are subject to risks, including a possible loss of the principal amount invested. Some investment products may be available only to certain "qualified investors"—that is, investors who meet certain income and/or investable assets thresholds. Past performance is no guarantee of future results. Investing involves risk and you may incur a profit or a loss.
Any positioning information provided does not include all positions that were taken in client accounts and may not be representative of current positioning. It should not be assumed that the positions described are or will be profitable or that positions taken in the future will be profitable or will equal the performance of those described. Positions described are illustrative and not intended as a recommendation outside of a managed account.
Indices are not available for direct investment. Investment in a security or strategy designed to replicate the performance of an index will incur expenses, such as management fees and transaction costs that would reduce returns.
Third party trademarks and brands are the property of their respective owners.
Contact an Expert