June 29, 2018—During 2Q 2018, it appears that China equity and currency risks have risen against the background of a somewhat softer local economy. A Chinese state think tank caused a stir by briefly posting online a report warning policymakers that they should take actions to preclude a "financial panic." The facts are as follows:
The local Shanghai A-Share Stock Price Index has slid into bear market territory as negative sentiment has grown among the local retail investors that dominate the market. Foreign investors have been withdrawing funds they had invested in A-shares through the Hong Kong Shanghai Connect mechanism. Ironically, this follows a few weeks of considerable inflows, following the inclusion of a sliver of the A-share market into the MSCI China and Emerging Market indexes.
The MSCI China Index, which is dominated by Chinese shares traded in Hong Kong and New York, has likewise declined.
China's currency, the renminbi (RMB), has slumped against the U.S. dollar (USD).
U.S. China trade and investment tensions have had an adverse impact on Chinese equities through wider risk premiums and multiples compression. However, when we look closely at Chinese markets, we conclude that there are other underlying forces at work that are disruptive in the short run, but that will likely be beneficial or benign in the longer run.
Financial deleveraging
The Chinese government's deleveraging policies, particularly in the spheres of "shadow banking" and real estate, are having a much more profound impact on Chinese equities than U.S. China trade and investment tensions. Figure 1 illustrates that the banking, insurance, securities, and real estate development sectors have collectively contributed much of the 2Q 2018 negative return of the investable Chinese equity market (defined in terms of the MSCI China Index).
While implementation of these deleveraging policies has been painful for equity investors, our view is that this pain will be temporary, and that ultimately the Chinese financials sector will emerge in strengthened condition. We take some comfort from the fact that the Chinese government has shown a degree of skill over the years in controlling financial excesses in the property market without undermining the growth of home ownership. We also observe that the Chinese government is taking actions to preserve the flow of capital to small business enterprises outside the real estate sector.
E-commerce retrenchment
E-commerce has been a relatively large detractor from Chinese equity performance in 2Q (Figure 1). However, the industry's negative contribution is actually very modest when compared to their double-digit contribution over 2017 and early in 1Q 2018.
We believe this retrenchment is a normal, healthy, and (most importantly) temporary development. We further believe that Chinese consumer trends and the continued adoption of mobile technologies will underpin future earnings growth in both industries.
Electronics and metals
Contrary to what some might expect, U.S. protectionist policies have made a rather small dent in the net equity contributions to Chinese equities of the two industries most likely to be directly impacted: electronics and metals. While individual companies in these industries have been hit hard, the industries themselves actually have rather small weights in investable Chinese market cap. Consequently, their negative net contributions to Chinese equity returns are modest.
Figure 1: Net contributions to Chinese equity returns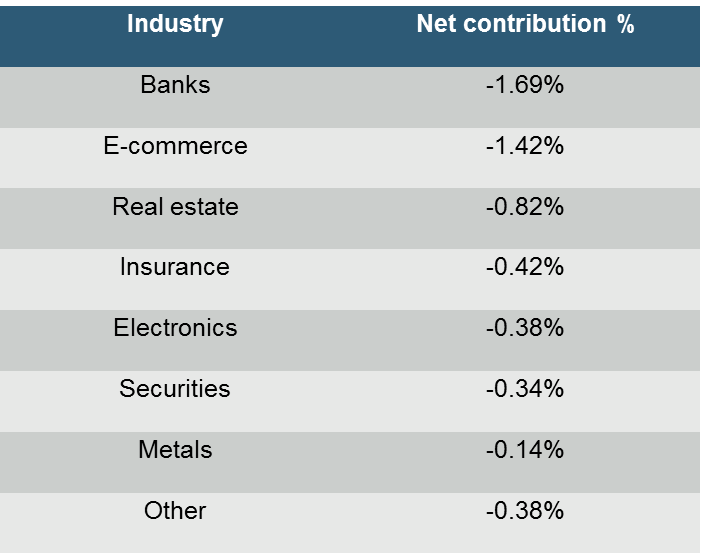 Source: Bloomberg. Data as of 2Q 2018 through June 27, 2018.
Currency weakening
In recent days, the RMB has sharply depreciated against the USD. This raises fears with some investors that China may be intentionally using its currency as a counter to broad U.S. tariffs. It also raises fears with others that it might be making a policy mistake which could precipitate capital outflows and foreign exchange reserve drawdowns.
What may not be obvious to investors and analysts is that the Chinese authorities don't manage the RMB's value exclusively with respect to the USD. Rather, they loosely manage the currency with respect to a trade-weighted basket of currencies. This aims to ensure that the RMB remains competitive against the currencies of its trading partners which can of course lead to either appreciation or depreciation against the U.S.D.
Because the USD has recently strengthened against many of the currencies in the RMB basket, the basket formula would suggest the RMB should depreciate against the USD. For much of early 2018, the authorities allowed the RMB to appreciate slightly against the basket (Figure 2). Only in June have the authorities been allowing the RMB to play "catch up." No doubt, this measure aims to preserve China's general export competitiveness vis-à-vis other Asian exporters in an atmosphere of uncertainty caused by protectionist threats. Unlike some, we don't think this is a warning signal that China is prepared to fight a "trade war" using its currency. Currencies are an overly broad and counterproductive choice of "weapon" because they raise the costs of all imported goods (from all trading partners, not just the U.S.) to Chinese businesses and consumers.
Figure 2: 2018 RMB appreciation (+)/depreciation (-)
*June 1-27, 2018
Source: Bloomberg. Data as of June 27, 2018.
Core narrative
The investable Chinese equities market (represented by the MSCI China Index) now constitutes roughly a third of the MSCI Emerging Markets Index. Consequently, developments with Chinese equities, and with the Chinese currency, have an outsized impact on emerging markets equity returns. Our view is that current investment risks in China are both overstated and a temporary phenomenon. The recent decision to trim our overweight to emerging markets equities largely reflected concerns about prospects in Brazil, South Africa, and a number of other smaller-cap non-Asian markets, whose currencies have been undergoing much larger devaluation. However, our continuing overweight to emerging markets reflects an ongoing confidence in the Chinese equity market, as well as in other mid-sized Asian markets, which together comprise the large bulk of the emerging markets index.
Disclosures
Wilmington Trust is a registered service mark. Wilmington Trust Corporation is a wholly owned subsidiary of M&T Bank Corporation. Wilmington Trust Company, operating in Delaware only, Wilmington Trust, N.A., M&T Bank and certain other affiliates, provide various fiduciary and non-fiduciary services, including trustee, custodial, agency, investment management and other services. International corporate and institutional services are offered through Wilmington Trust Corporation's international affiliates. Loans, credit cards, retail and business deposits, and other business and personal banking services and products are offered by M&T Bank, member FDIC. Wilmington Trust Investment Advisors, Inc. is an SEC-registered investment adviser providing investment management services to Wilmington Trust and M&T Bank affiliates and clients.
These materials are based on public information. Facts and views presented in this report have not been reviewed by, and may not reflect information known to, professionals in other business areas of Wilmington Trust or M&T Bank who may provide or seek to provide financial services to entities referred to in this report. M&T Bank and Wilmington Trust have established information barriers between their various business groups. As a result, M&T Bank and Wilmington Trust do not disclose certain client relationships with, or compensation received from, such entities in their reports.
The information on Wilmington Wire has been obtained from sources believed to be reliable, but its accuracy and completeness are not guaranteed. The opinions, estimates, and projections constitute the judgment of Wilmington Trust and are subject to change without notice. This commentary is for information purposes only and is not intended as an offer or solicitation for the sale of any financial product or service or a recommendation or determination that any investment strategy is suitable for a specific investor. Investors should seek financial advice regarding the suitability of any investment strategy based on the investor's objectives, financial situation, and particular needs. Diversification does not ensure a profit or guarantee against a loss. There is no assurance that any investment strategy will succeed.
Any investment products discussed in this commentary are not insured by the FDIC or any other governmental agency, are not deposits of or other obligations of or guaranteed by M&T Bank, Wilmington Trust, or any other bank or entity, and are subject to risks, including a possible loss of the principal amount invested. Some investment products may be available only to certain "qualified investors"—that is, investors who meet certain income and/or investable assets thresholds. Past performance is no guarantee of future results. Investing involves risk and you may incur a profit or a loss.
Any positioning information provided does not include all positions that were taken in client accounts and may not be representative of current positioning. It should not be assumed that the positions described are or will be profitable or that positions taken in the future will be profitable or will equal the performance of those described. Positions described are illustrative and not intended as a recommendation outside of a managed account.
Indices are not available for direct investment. Investment in a security or strategy designed to replicate the performance of an index will incur expenses, such as management fees and transaction costs that would reduce returns.
Third-party trademarks and brands are the property of their respective owners.