July 27, 2018—Emerging markets (EM) assets have had a rough go of it this year, to say the least. EM equities are down 13%[1] from their January highs, and currencies have been similarly challenged. The combination of a tightening Fed, a stronger dollar, trade tensions, and slowing global growth have compounded with country-specific concerns to weigh on EM assets.
We have held an overweight to EM equities since November 2016, which has been a drag on performance this year. However, despite heightened volatility, we have held our ground and see evidence that the tide may begin to turn. Consider the following:
Valuations—Recent underperformance of EM equities leaves the asset class trading at a significant discount to U.S. equities (Figure 1). It is also cheap relative to its own history. Today's price-to-earnings multiple for EM equities is 11.2x, about 7% less than its 30-year median. (This compares to U.S. large cap, which is trading at an 11% premium to its own 30-year median valuation.) Despite emerging economies, and China in particular, being vulnerable to deteriorating trade relations, we see this risk as being appropriately priced by the market. What this means is that EM equities provide attractive value over the medium term, and a thawing of trade tensions between the U.S. and China could lead to an increase in the multiple investors are willing to pay for EM company earnings. The stabilization in EM equities and currencies over recent weeks suggests we are not the only investors to notice what is beginning to look like a possible bargain.
Figure 1: Relative valuations (P/E of the MSCI Emerging Markets Index/S&P 500 index)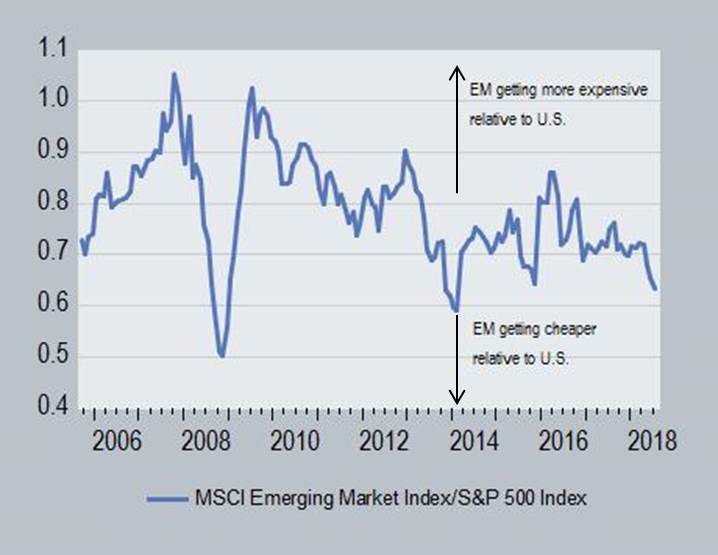 Data as of July 23, 2018.
Source: Bloomberg.
2) Chinese policy—China was among those countries that saw a deceleration in growth momentum and capital investment in the first half of this year, in part as policymakers acted on their commitment to reduce leverage in the economy. (China's property market is one of the areas where debt levels are particularly concerning.) However, Chinese policymakers are now signaling a shifting of priorities away from actively deleveraging toward "containing leverage," which is likely an attempt at stabilizing growth and mitigating potential tariff-related risks. Over the course of the year, the People's Bank of China (PBoC) took multiple steps to ease reserve requirements for banks, inject liquidity into the banking system, and encourage lending to small- and medium-sized firms. This has contributed to a weakening of the Chinese yuan to the lowest level versus the dollar since last year. (The PBoC has done little to halt the slide in the currency, which could be a strategy for softening the impact of President Trump's tariffs, as a weaker currency makes China's exports more attractive to global buyers.) This past week has also seen Chinese policymakers and regulators announce "more proactive fiscal policy" measures ranging from corporate tax deductions to special bonds for infrastructure investment. To be clear, we see no evidence that Chinese policymakers will abandon their goal of bringing down debt excess in various sectors of the economy, but they also seem to be looking for ways of heading off a material slowdown in growth.
China's latest round of measures to support the economy could also be a sign that they are trying to counter the effects of tariffs while they prepare to dig in their heels in the U.S./China trade spat and wait to see which leader will blink first. The current tariffs in place are expected to have minimal impact on growth rates of China or the U.S., but President Trump's threats of tariffs on up to $500 billion of Chinese exports would certainly become apparent in growth figures (see blog post from our Chief Economist, Luke Tilley). 
Core narrative
It has been difficult to stomach the volatility in emerging markets equities this year, but we have been determined to stay focused on the bigger picture: global growth continues to indicate healthy activity though not at last year's levels, and EM equities offer more attractive value than other regions—particularly after the recent sell-off. We do not think this is the beginning of a massive stimulus effort by Chinese policymakers, but we do see the pivot of Chinese priorities from reducing leverage to containing leverage and stabilizing growth as a positive sign at the margin. As we discussed in the June issue of Capital Perspectives' "In Focus," a stronger dollar and tightening Fed pose risks to EM equities. Prolonged trade uncertainty and deterioration in the U.S./China trade relationship are also decidedly negative for EM equities, but it is our base case that trade-related volatility will be resolved over time. After all, a trade war is in no country's economic interest. As a result, we think maintaining our overweight to EM equities at this time will yield attractive returns over the medium term.
Disclosures
Wilmington Trust is a registered service mark. Wilmington Trust Corporation is a wholly owned subsidiary of M&T Bank Corporation. Wilmington Trust Company, operating in Delaware only, Wilmington Trust, N.A.,  M&T Bank and certain other affiliates, provide various fiduciary and non-fiduciary services, including trustee, custodial, agency, investment management and other services. International corporate and institutional services are offered through Wilmington Trust Corporation's international affiliates. Loans, credit cards, retail and business deposits, and other business and personal banking services and products are offered by M&T Bank, member FDIC. Wilmington Trust Investment Advisors, Inc. is an SEC-registered investment adviser providing investment management services to Wilmington Trust and M&T Bank affiliates and clients.
These materials are based on public information. Facts and views presented in this report have not been reviewed by, and may not reflect information known to, professionals in other business areas of Wilmington Trust or M&T Bank who may provide or seek to provide financial services to entities referred to in this report. M&T Bank and Wilmington Trust have established information barriers between their various business groups. As a result, M&T Bank and Wilmington Trust do not disclose certain client relationships with, or compensation received from, such entities in their reports.
The information on Wilmington Wire has been obtained from sources believed to be reliable, but its accuracy and completeness are not guaranteed. The opinions, estimates, and projections constitute the judgment of Wilmington Trust and are subject to change without notice. This commentary is for information purposes only and is not intended as an offer or solicitation for the sale of any financial product or service or a recommendation or determination that any investment strategy is suitable for a specific investor. Investors should seek financial advice regarding the suitability of any investment strategy based on the investor's objectives, financial situation, and particular needs. Diversification does not ensure a profit or guarantee against a loss. There is no assurance that any investment strategy will succeed.
Any investment products discussed in this commentary are not insured by the FDIC or any other governmental agency, are not deposits of or other obligations of or guaranteed by M&T Bank, Wilmington Trust, or any other bank or entity, and are subject to risks, including a possible loss of the principal amount invested. Some investment products may be available only to certain "qualified investors"—that is, investors who meet certain income and/or investable assets thresholds. Past performance is no guarantee of future results. Investing involves risk and you may incur a profit or a loss.
Any positioning information provided does not include all positions that were taken in client accounts and may not be representative of current positioning. It should not be assumed that the positions described are or will be profitable or that positions taken in the future will be profitable or will equal the performance of those described. Positions described are illustrative and not intended as a recommendation outside of a managed account.
Indices are not available for direct investment. Investment in a security or strategy designed to replicate the performance of an index will incur expenses, such as management fees and transaction costs that would reduce returns.
Third-party trademarks and brands are the property of their respective owners.
[1] Total return, USD as of 7/25/2018