October 29, 2018— The days are ticking down to what will likely be one of the most consequential elections in midterm history. Votes cast on November 6 could result in a change in control of Congress and help determine the national agenda for the next two years or even longer. In light of the impending election's importance, Wilmington Trust/M&T Bank co-sponsored an exclusive midterm preview event, hosted by and streamed live from the Washington Post in our nation's capital.
We sponsor events like these because, as our Vice Chairman Kevin J. Pearson said in his introduction, "Much of our role as a trusted financial advisor is to deliver the absolute best and most useful information and analysis to our clients." (To that end, you may also want to hear our quarterly conference call on the midterms as well as the recent market volatility; go to wilmingtontrust.com/call for more details and replay info.) The evening's conversation was lively, featuring a distinguished and bipartisan panel of political notables, policy experts, and journalists. I share with you now just a few of the highlights, along with our insights on the issues raised.
In the first segment, Post columnist Karen Tumulty interviewed former House Speaker Newt Gingrich, who was the architect of the Republican takeover of the House of Representatives in 1994—the year the GOP gained an incredible 54 seats and took control of the House for the first time in 40 years. He gave an expectedly confident assessment of the GOP chances to prevail on November 6 and pointed to some of the differences between 1994 and 2018. The fulcrum of the GOP's triumph back in '94 was the Contract With America, which focused on smaller government, lower taxes, and greater business activity as opposed to some of the more controversial subjects. When asked if there was a way back to that type of political victory, he pointed to President Trump's issue-oriented campaign clarity on economic growth, changing trade policy, appointing Supreme Court judges, etc.
If the Democrats were to take back the House on Election Day—as we and others predict will take place—Gingrich postured that, in looking forward to 2020, they need to decide if they want to be the party of better ideas or the party of investigations (a clear reference to President Trump's tax returns and ties to Russia), but that the system won't allow both.
And then we heard from the Senator…
The following segment featured Libby Casey, the Post's politics and accountability on-air anchor and Democratic Senatorial Campaign Committee Chairman Sen. Chris Van Hollen (D-Md.) He feels that top of mind for those going to the ballot box will be healthcare, in particular, protections for pre-existing health conditions. Further he stated that, although the GOP claims it agrees, Republicans voted against this protection under President Obama when they sought to overturn the Affordable Care Act.
The senator also discussed the $2 trillion that was added to our national debt as a result of the tax cuts and the predicted call from Republicans for cuts to programs like Medicare, Social Security, and Medicaid. He believes voters want legislators who are going to stand up for their states and hold the president accountable if the proposal is not good for their state, such as tariffs' effect on those in farm states which he feels have been very harmful to the economy.
Point/Counterpoint
The final segment of the evening featured a discussion with Neera Tanden of the Center for American Progress and Matt Schlapp of The American Conservative Union, moderated by Dan Baltz, chief correspondent for the Post.
They began by discussing expectations for the way forward in terms of policy if we end up with a divided Congress. Shlapp maintained that there wouldn't be much of an impact on how we fund the government because congressional gridlock would be the likely scenario. Shlapp feels the main difference is it will even further exacerbate the hostilities and contentiousness that already exists—that, plus the Democrats will start announcing candidates for president.
Tanden sees a ray of light in one of the issues on which Trump campaigned: an infrastructure package. She emphasized the potential significance of the fact that any of the Democratic candidates are new to Washington, which could give them a fresh, useful perspective, particularly on issues like political reform. Like Gingrich, Shlapp is optimistic and thinks that a House win will be a nail-biter at best and that Republicans will see a resounding triumph in the Senate.
Potential outcomes, as we see them…
These are some of the issues that will drive voter turnout. As for some of the potential outcomes, the most likely scenario is the Democrats taking control of the House while the Republicans maintain control of the Senate, or the Gridlock scenario. That brings a high likelihood of House committees bringing more investigations and stalling on Republican legislation. Although there would be split control on Capitol Hill, there are some areas where the parties could work together, in particular on an infrastructure package, as well as staying tough on the Chinese trade situation. Most importantly, this is the scenario that is likely priced into markets right now, and would in our view have the lowest chance of moving markets sharply in the short term.
In the lower chance case of Republicans maintaining full control of Congress, the Red Wall, we believe markets would get bullish on the prospects of continued success for President Trump's policies such as deregulation, lower taxes, and healthcare reform. If a Blue Wave sweeps the polling booths next week, we believe there is a higher chance of markets being spooked by higher spending policies or even more investigations of the White House, which likely would lead to higher market volatility going forward.
What midterms could mean for markets
There are numerous macro- and sector-related implications of the elections
Election Outcome
Potential policy implications
Possible market reaction

Red wall
GOP defends majority in House

Little chance of pullback of tax cuts, deregulation
GOP to push for Tax Reform 2.0, indexing capital gains to inflation
Healthcare reform
Infrastructure package featuring public/private market collaboration

Second leg higher for equities market
Steeper yield curve
Rotation into value

Gridlock
Dems take control of House; GOP maintains majority in Senate

Democratic control of key committees could lead to more investigations, stall legislation
Increased risk of government shutdown, debt ceiling debate
Possible areas of bipartisan support: China trade issues, increased regulation on tech, drug pricing, increase in defense spending, infrastructure

Muted market reaction
Higher volatility around key budget, debt deadlines

Blue wave
Dems take control of House and Senate

Administration likely to be mired in investigations, giving little chance of meaningful policy change; elevated impeachment risks
Possibility of large (up to $1 trillion) infrastructure bill, to be paid for in part through partial repeal of corporate tax cut and/or carbon tax
Immigration bill
Increase in minimum wage
Expansion of the Supplemental Nutrition Assistance
Program (SNAP)

Higher volatility, but cycle continues to be driven by economics
Interest rates to move lower, yield curve flatter on expectations for lower growth
Support for growth-style equities
As of October 23, 2018. Represents the views of WTIA, all else equal. Source: WTIA
On one point we certainly agree with Van Hollen: turnout will be both critical and big. Interestingly, he mentioned the fact that Democrats typically have greater drop-off in voting for presidential elections to midterms vs. Republicans. This time, however, Democratic voter enthusiasm seems rampant, possibly reversing the multi-decade trend of registered Republicans turning out in higher numbers.
Midterm elections are all about turnout
A key determinant is the greater enthusiasm from the party that isn't in control
Election turnout rates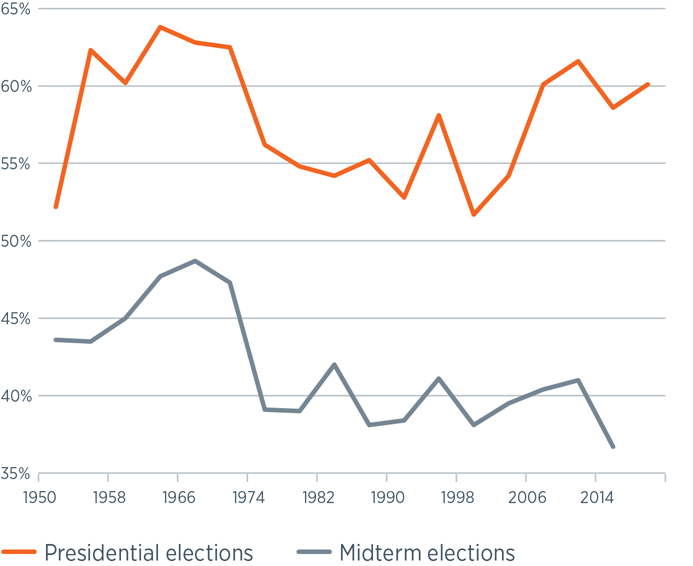 Voting rate among registered voters.
Sources: FiveThirtyEight.com, United States Elections Project, Vital Statistics of American Politics.
Republican midterm turnout advantage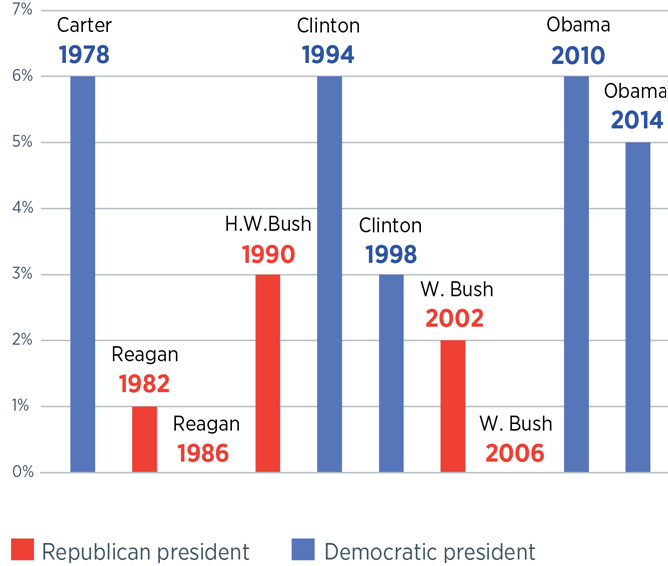 Sources: FiveThirtyEight.com, United States Elections Project, Vital Statistics of American Politics.
For us at Wilmington Trust, I will say this: If there's one thing we learned on Election Day in 2016, it's that it ain't over 'til it's over. Predictions are just that. We plan for what's probable but also prepare for what's possible. Our economics-led investment process keeps us from being overly wed to any single influence and, this above all, we stay vigilant in monitoring markets and all the important forces that weigh on asset classes, standing ready to make adjustments when prudent.
Did you miss our Capital Perspectives conference call on October 29, 2018 at 2:00 PM EST? Members of our investment team's senior leadership addressed the recent market volatility, as well as, the upcoming midterm elections. Listen to the replay.
Disclosures
Wilmington Trust is a registered service mark. Wilmington Trust Corporation is a wholly owned subsidiary of M&T Bank Corporation. Wilmington Trust Company, operating in Delaware only, Wilmington Trust, N.A., M&T Bank and certain other affiliates, provide various fiduciary and non-fiduciary services, including trustee, custodial, agency, investment management and other services. International corporate and institutional services are offered through Wilmington Trust Corporation's international affiliates. Loans, credit cards, retail and business deposits, and other business and personal banking services and products are offered by M&T Bank, member FDIC. Wilmington Trust Investment Advisors, Inc. is an SEC-registered investment adviser providing investment management services to Wilmington Trust and M&T Bank affiliates and clients.
These materials are based on public information. Facts and views presented in this report have not been reviewed by, and may not reflect information known to, professionals in other business areas of Wilmington Trust or M&T Bank who may provide or seek to provide financial services to entities referred to in this report. M&T Bank and Wilmington Trust have established information barriers between their various business groups. As a result, M&T Bank and Wilmington Trust do not disclose certain client relationships with, or compensation received from, such entities in their reports.
The information on Wilmington Wire has been obtained from sources believed to be reliable, but its accuracy and completeness are not guaranteed. The opinions, estimates, and projections constitute the judgment of Wilmington Trust and are subject to change without notice. This commentary is for information purposes only and is not intended as an offer or solicitation for the sale of any financial product or service or a recommendation or determination that any investment strategy is suitable for a specific investor. Investors should seek financial advice regarding the suitability of any investment strategy based on the investor's objectives, financial situation, and particular needs. Diversification does not ensure a profit or guarantee against a loss. There is no assurance that any investment strategy will succeed.
Any investment products discussed in this commentary are not insured by the FDIC or any other governmental agency, are not deposits of or other obligations of or guaranteed by M&T Bank, Wilmington Trust, or any other bank or entity, and are subject to risks, including a possible loss of the principal amount invested. Some investment products may be available only to certain "qualified investors"—that is, investors who meet certain income and/or investable assets thresholds. Past performance cannot guarantee a profit or ensure against a loss. Investing involves risk and you may incur a profit or a loss.
Any positioning information provided does not include all positions that were taken in client accounts and may not be representative of current positioning. It should not be assumed that the positions described are or will be profitable or that positions taken in the future will be profitable or will equal the performance of those described. Positions described are illustrative and not intended as a recommendation outside of a managed account.
Indices are not available for direct investment. Investment in a security or strategy designed to replicate the performance of an index will incur expenses, such as management fees and transaction costs that would reduce returns.
Third-party trademarks and brands are the property of their respective owners.