August 30, 2016—This week's report on personal income and spending indicated healthy consumer activity as well as an inflation picture that is playing out as we had expected. This is supportive of our core narrative.
Nominal personal income expanded at a healthy 0.4% month-over-month (m/m) rate from June to July. Headline inflation was flat over the month so real income gains were also 0.4% m/m. Compensation of employees through wages and salaries—the biggest source of income—was strong at 0.5% m/m, and other sources of income such as proprietors (0.2%), rental income (0.7%) and investment income (0.3%) were strong too.
The stronger income growth translated to a continuation of healthy consumer spending. Adjusting for inflation, real spending grew 0.3% over the month with stronger numbers for goods than for services. We have seen stronger consumer spending over the last several months which fits with our core narrative of a continuation of the consumer-driven recovery. The chart below shows the three-month annualized rate of spending growth as well as the year-over-year change. There was a clear slowdown over most of 2015 and into the start of 2016. Over the course of this summer spending has accelerated.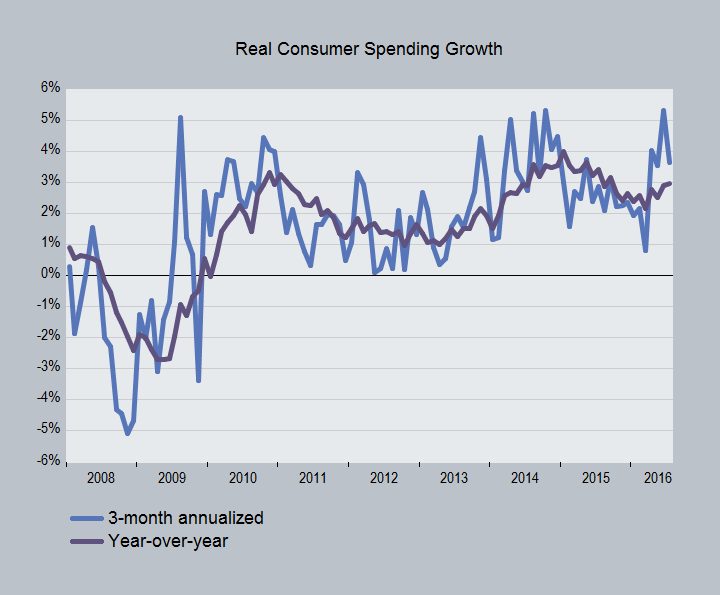 Source: Bureau of Economic Analysis
The acceleration in growth is especially encouraging given all of the events that could have spooked the U.S. consumer over the course of the past year. The Federal Reserve raised rates for the first time in a decade to close out 2015. That was followed by a very worrying correction in equity markets in January and February of 2016 prompting fears of recession. Then came the headline-grabbing Brexit vote, and for good measure throw in a presidential election unlike any we have ever seen. The logical inference, therefore, is that spending decisions are being based less on news flashes and more on the fundamentals of job growth, wage growth, low gas prices, and low debt levels.
Inflation
The personal income report also contains the Personal Consumption Expenditures (PCE) measure of inflation in the U.S. economy—the Fed's preferred yardstick over the Consumer Price Index, or CPI, measure. Year-over-year inflation is shown in the chart below, along with the so-called "core PCE" measure which removes the more volatile food and energy prices. Headline inflation was flat over the month, and the y/y measure drifted down a tick to 0.8%, mostly due to the decline in energy prices over the month of July. The core measure stayed at 1.6% y/y.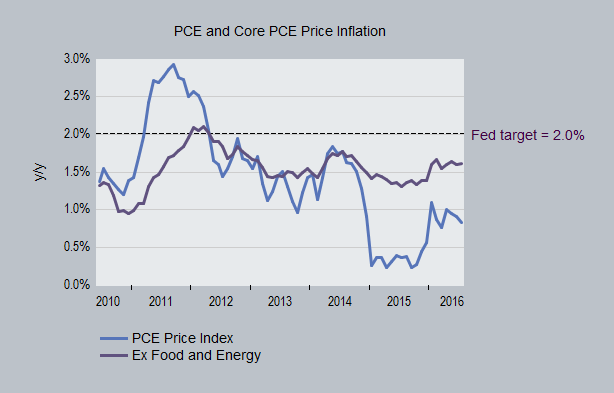 Source: Bureau of Economic Analysis
Our core narrative for quite some time has been to expect the leveling off of headline inflation over the summer before stronger figures are expected to start to emerge this fall. Many of the key contributors to core inflation such as housing and utilities and healthcare continue their accelerations (shown below). The impacts of the stronger dollar movements from 2014–2015 are starting to wane. The dollar appreciation pushed down prices of commonly imported goods such as clothing, footwear, and other manufactured goods. The leveling off of the dollar over the past year has in turn led to the leveling off of the prices of those goods.
And finally, there is the all-important price of energy. The collapse in energy prices has been the key weight on overall inflation for the past two years. As we argued in an earlier blog post (The coming base effects from gasoline) , the fall of 2016 is when we are likely to see significant changes even with a benign outlook for energy prices, thanks entirely to the base effects of the calculation. We believe this will push headline inflation above the Fed's 2% target later this year.
Core narrative
The personal income and spending report was very supportive of our core narrative. Consumers continue to drive growth in the near term and we expect that to continue into the fall. It will be more challenging to get the same gains in 2017 though, as we believe job growth will continue to slow. On inflation, we believe we are reaching the end of the summer plateau of headline inflation. The base effects of energy prices should push overall inflation higher in coming months, and we expect core inflation to continue moving up based on those key components depicted below which will likely be supported by stronger wage gains in a tight labor market. The Fed is likely to recognize the coming acceleration in inflation enough to maintain its rate hike bias for this fall, but at a measured pace over the longer term.
Disclosures
Wilmington Trust is a registered service mark. Wilmington Trust Corporation is a wholly owned subsidiary of M&T Bank Corporation. Investment management and fiduciary services are provided by Wilmington Trust Company, operating in Delaware only, and Wilmington Trust, N.A., a national bank. Loans, retail and business deposits, and other personal and business banking services and products are offered by Manufacturers and Traders Trust Company (M&T Bank), member FDIC. Wilmington Trust Investment Advisors, Inc., a subsidiary of M&T Bank, is a SEC-registered investment adviser providing investment management services to Wilmington Trust and M&T affiliates and clients.
These materials are based on public information. Facts and views presented in this report have not been reviewed by, and may not reflect information known to, professionals in other business areas of Wilmington Trust or M&T Bank who may provide or seek to provide financial services to entities referred to in this report. M&T Bank and Wilmington Trust have established information barriers between their various business groups. As a result, M&T Bank and Wilmington Trust do not disclose certain client relationships with, or compensation received from, such entities in their reports.
The information on Wilmington Wire has been obtained from sources believed to be reliable, but its accuracy and completeness are not guaranteed. The opinions, estimates, and projections constitute the judgment of Wilmington Trust and are subject to change without notice. This commentary is for information purposes only and is not intended as an offer or solicitation for the sale of any financial product or service or a recommendation or determination that any investment strategy is suitable for a specific investor. Investors should seek financial advice regarding the suitability of any investment strategy based on the investor's objectives, financial situation, and particular needs. Diversification does not ensure a profit or guarantee against a loss. There is no assurance that any investment strategy will succeed.
Any investment products discussed in this commentary are not insured by the FDIC or any other governmental agency, are not deposits of or other obligations of or guaranteed by M&T Bank, Wilmington Trust, or any other bank or entity, and are subject to risks, including a possible loss of the principal amount invested. Some investment products may be available only to certain "qualified investors"—that is, investors who meet certain income and/or investable assets thresholds. Past performance is no guarantee of future results. Investing involves risk and you may incur a profit or a loss.
Any positioning information provided does not include all positions that were taken in client accounts and may not be representative of current positioning. It should not be assumed that the positions described are or will be profitable or that positions taken in the future will be profitable or will equal the performance of those described. Positions described are illustrative and not intended as a recommendation outside of a managed account.
Indices are not available for direct investment. Investment in a security or strategy designed to replicate the performance of an index will incur expenses, such as management fees and transaction costs that would reduce returns.
Third party trademarks and brands are the property of their respective owners.
Contact an Expert