January 28, 2020 — The spread of a new coronavirus originating in Wuhan, China, has been raising concerns about its rising human health impact, and sending shivers through financial markets in recent days as investors try to assess its impact on growth and markets. Since the first identified case of coronavirus was made public on December 8, 2019, the pace of infection has picked up rapidly, with just over 4,500 cases now reported (nearly doubling overnight), and 106 reported deaths so far. Globally, equity markets have come under pressure and volatility has spiked, while bond yields have slumped.
One key concern for investors is the potential for the epidemic to disrupt the nascent global growth recovery that has been under way in recent months as U.S.–China trade tensions have eased. Looking at past experiences with outbreaks as a guide would suggest that economies in affected regions and markets can see sharp downside impacts in the short run but tend to recover quickly once the outbreak peaks. The most pronounced direct impact to growth is expected in China, with the potential magnitude of ripple effects on global growth dependent on the severity and spread of the virus over time.
The outbreak is still very much in its early stages, and it is impossible to know for sure whether the current coronavirus's spread and impact will mirror that of past epidemics, as both the medical and economic landscapes have changed the years. Given the information that is currently known (and still unknown) about the virus, as long-term investors, we do not yet believe that a reaction in portfolios is warranted, as we would expect the global growth stabilization underpinning our modest overweight in equities to be delayed, but not derailed. We expect equity markets will be choppy in the near term, particularly given that many indicators of investor positioning in equities are at elevated levels However, we are watching closely for more persistent downside risks, as a deeper-than-expected slowing in China could have a more potent impact in this outbreak given China's rising contribution to global growth over the years, and the increasingly intertwined nature of global supply chains.
How does coronavirus compare to similar prior outbreaks?
The current outbreak most resembles the SARS (severe acute respiratory syndrome) epidemic. The first reported case occurred in late 2002, but SARS only became a full-blown concern in early 2003, due to hesitation on the part of Chinese authorities to publicize its spread at the outset. The outbreak was finally contained in July 2003, but not before it spread to 29 countries, infecting just over 8,000 people, and killing nearly 800, with 349 of those deaths in China.
An epidemic typically affects GDP growth most directly through reduced consumer spending activity, with a particular hit to industries such as transportation, retail, entertainment, and tourism, as individuals refrain from activities outside the home to avoid infection. Though it is difficult to isolate the pure economic impact of SARS from other factors influencing the economy, it is still instructive to look at past GDP growth. During the SARS outbreak, Chinese GDP fell from 11.1% y/y in 1Q 2003 to 9.1% y/y in 2Q 2003, before recovering to 10.0% y/y by 3Q and 4Q 2003 and fully rebounding to 11.6% y/y by 2Q 2004. Hong Kong and Canada, the countries with the next highest death tolls due to SARS (299 and 44 respectively), experienced similar impacts (Figure 1). This suggests a hit to GDP for roughly one– to two quarters based on the SARS experience.
Figure 1: GDP growth during SARS outbreak in China, Hong Kong, and Canada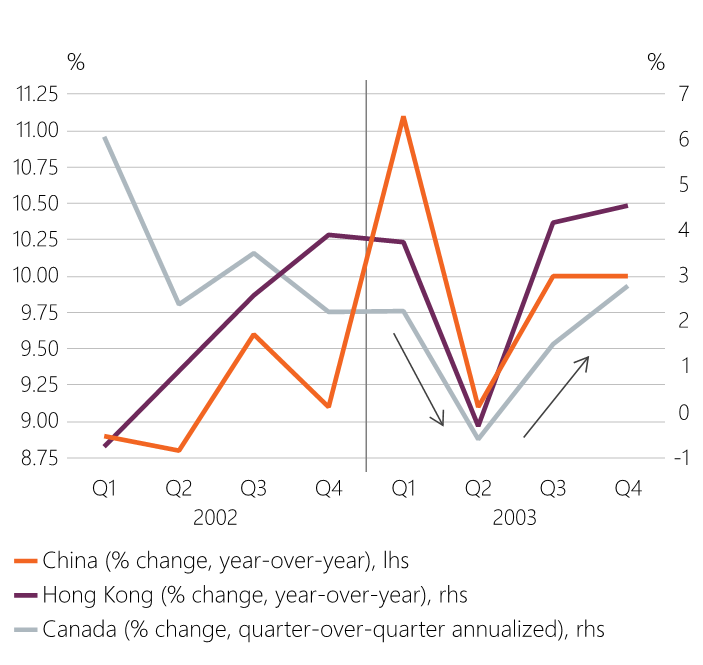 Data as of September 30, 2019 for Canada and Hong Kong; December 31, 2019 for China. Source: Macrobond.
In terms of the market impact, it is similarly difficult to extract that which is due solely to SARS, but both the MSCI China and Hang Seng indices fell by 13% and 17%, respectively from early December 2002 to the peak of the SARS outbreak in April 2003. Both markets bounced back thereafter, in part boosted by policy-easing measures put in place by Chinese authorities, and fully rebounded in the second half of 2003. The U.S. equity market also declined during the period, but the comparisons are less useful given the limited direct spread of the virus to the U.S., as well as the fact that the Iraq War (which began in March 2003) also likely had an impact on markets at the time.
Several factors suggest better prospects for containment and potential for a similar or more limited impact relative to SARS. Reports indicate that coronavirus is more infectious,[1] but with lower rates of mortality. The WHO estimates that SARS had a global mortality rate of close to 10%, compared to current estimates of 3%–5% for coronavirus, though these figures vary and are still changing. In addition, the speedier and more aggressive response of authorities relative to that during the SARS episode, increased public awareness and caution (in part due to the prevalence of social media and the experience of SARS), and the advancement of medical technology to help identify and monitor the virus, are all encouraging.
However, a number of challenges to a speedy resolution to the epidemic remain and the following may hinder the progress of containment efforts put in place by the government so far: the more connected nature of the country, given improvements to Chinese transportation infrastructure since 2003; the timing of the outbreak coinciding with the Chinese New Year holiday (a period of heavy travel); the asymptomatic and particularly long incubation period of the virus (up to 14 days); and the lack of vaccine to treat infections. Chinese authorities shut down travel to and from Wuhan on January 23 to limit the spread of the virus from its city of origination. In addition, the government officially extended the Lunar New Year holiday from January 30 to February 2—and some businesses and regions have reportedly extended the holiday even further, which would allow more time to see if individuals are experiencing symptoms before returning to work (given that symptoms may not materialize for up to 14 days).  These more forceful containment measures may also lead to a deeper hit to GDP growth compared to the SARS experience in the short run.
The global ripple effects of a more significant economic slowdown in China could also potentially be more marked relative to the SARS period, as its share of world GDP is now roughly 20%, up from just under 9% in 2003.[2] GDP is also growing at a softer pace in China now, relative to 2003 (+6.1% y/y in 2019 vs. 9.1% y/y in 2002), suggesting the economy—which has already been slowing due to the trade war and an earlier deleveraging campaign—may have less of a buffer for a coronavirus-induced further hit to growth. The services sector of the economy, which would be expected to be hit disproportionately as a result of the virus, also accounts for a much larger proportion of GDP growth now (roughly 50% of GDP, compared to 40% back in 2003). For the retail sector however, there may be some offset to potential declines, due to the growth of online retail as a proportion of total retail sales (now roughly 20%). This will still be dependent, however, on the ability of retailers to deliver their goods given transportation and other restrictions. Online streaming delivery services may also provide some offset for the entertainment industry.
Core narrative
Given the short-term nature of economic and market impacts during past epidemic episodes, and the difficulty of timing market movements during such events, for now, we do not think the situation merits a change to our modest overweight to international developed and U.S. small-cap equities in portfolios. However, we are monitoring developments closely. In particular, we will be watching the pace of growth in cases and mortality, particularly in the days after February 8, which is just over two weeks from the date that Chinese authorities suspended travel from Wuhan's transportation hub. This date coincides roughly with the incubation period for the virus, so a steadying or moderation in the pace of contraction would suggest that the efforts to limit the virus's spread may be having some effect. In addition, we will be watching for any secondary impacts on growth beyond the hit to consumer spending. Global supply chains could be impacted if the virus spreads in a significant way to other Asian countries, and if fears about the virus's spread begin to impact employees' ability to report to work for a more extended period of time. This could weigh on production and might suggest a more pronounced impact on global growth, and the technology sector in particular, which is heavily exposed to Asian production centers. We recognize the current situation is still fluid, and we stand ready to act if the developments suggest a more severe outcome than we currently expect.
[1] An Imperial College study  found that for each infected person, the virus is passed on to 2.6 people on average.
[2] Share of World GDP based on Purchasing Power Parity, IMF World Economic Outlook, October 2019.
Disclosures
Wilmington Trust is a registered service mark. Wilmington Trust Corporation is a wholly owned subsidiary of M&T Bank Corporation. Wilmington Trust Company, operating in Delaware only, Wilmington Trust, N.A., M&T Bank and certain other affiliates, provide various fiduciary and non-fiduciary services, including trustee, custodial, agency, investment management and other services. International corporate and institutional services are offered through Wilmington Trust Corporation's international affiliates. Loans, credit cards, retail and business deposits, and other business and personal banking services and products are offered by M&T Bank, member FDIC.
Facts and views presented in this report have not been reviewed by, and may not reflect information known to, professionals in other business areas of Wilmington Trust or M&T Bank who may provide or seek to provide financial services to entities referred to in this report. M&T Bank and Wilmington Trust have established information barriers between their various business groups. As a result, M&T Bank and Wilmington Trust do not disclose certain client relationships with, or compensation received from, such entities in their reports.
The information on Wilmington Wire has been obtained from sources believed to be reliable, but its accuracy and completeness are not guaranteed. The opinions, estimates, and projections constitute the judgment of Wilmington Trust and are subject to change without notice. This commentary is for information purposes only and is not intended as an offer or solicitation for the sale of any financial product or service or a recommendation or determination that any investment strategy is suitable for a specific investor. Investors should seek financial advice regarding the suitability of any investment strategy based on the investor's objectives, financial situation, and particular needs. Diversification does not ensure a profit or guarantee against a loss. There is no assurance that any investment strategy will succeed.
Past performance cannot guarantee future results. Investing involves risk and you may incur a profit or a loss.
Indexes are not available for direct investment. Investment in a security or strategy designed to replicate the performance of an index will incur expenses such as management fees and transaction costs which would reduce returns.