February 5, 2020 — This Wilmington Wire blog post is the third in a continuing series of updates on the coronavirus outbreak and its market and economic implications. The first, Coronavirus Concerns: Monitoring the Risks Closely, but not Reacting to Portfolios Yet; and the second, Cononavirus update: Hold the line. We also held a conference call on Monday, February 5, where we discussed the market sell-off and potential economic implications of the epidemic. Call recording.
Here, we identify global industries whose listed stocks have been most severely impacted by the quarantines and travel restrictions arising from efforts to control the global spread of the coronavirus. The global MSCI All-Country World Index (ACWI) has returned -0.8%, for the year through February 4. The most severely impacted global industries have experienced negative returns in the high single digits or double digits:
Airlines (-9.1% YTD). To restrict international transmission of the virus, many airlines with China routes have cancelled their flights indefinitely. To date, the most adversely impacted stocks have been Air China, United Airlines, Cathay Pacific, Deutsche Lufthansa, Air France/KLM, Singapore Airlines, and Delta Airlines.
Apparel, accessories, luxury (-5.3% YTD). Chinese demand for luxury products has plummeted, hurting stocks such as Salvatore Ferragamo, Burberry, Swatch, LVMH Louis Vuitton Moet Hennessey, and Richemont. Additionally, apparel outsourcer VF industries is suffering.
Automakers ex-Tesla (-8.8% YTD). Chinese auto demand has fallen sharply. In addition, transport shutdowns have hindered the flow of both fully assembled automobiles and components for Chinese joint-venture automakers. These disruptions have hurt all large automakers, but have especially impacted Renault, Daimler, Fiat Chrysler, BMW, and Peugeot. (We have excluded Tesla as its recent 86% share price increase distorts the industry return).
Casinos (-6.9% YTD). Given the large volumes of mainland Chinese who pass through the Macau casinos, the Macau gaming authorities have shut down the entire gaming industry indefinitely. This has hurt Hong Kong-listed casino stocks MGM China Holdings, Wynn Macau, and Sands China, as well as their U.S. parents.
Cruise lines and hotel chains (-9.9% YTD). Because of some coronavirus cruise ship scares, investors have penalized the major cruise line stocks—Carnival, Royal Caribbean, and Norwegian Cruise Lines. Likewise, hotels have experienced the brunt of travel restrictions.
Freight carriers, including marine freight (–1% YTD) and air freight (-7.8% YTD). Manufacturing and supply chain disruptions have hurt marine freight stocks, including AP Moller Maersk, Mitsui OSK, and Nippon Yosen, as well as air freight stocks, such as International Consolidated Air, UPS, and FedEx.
Integrated oil (-11.0% YTD). A sharp drop in Chinese fuel consumption has led to a sharp drop in crude oil prices, hitting global energy stocks, especially Exxon, Chevron, Royal Dutch Shell, and Gazprom.
Metals/miners (-7.3% YTD). Chinese demand for metals has sharply dropped as construction projects have stopped or slowed. Declines in metal prices have injured copper, steel, and aluminum producers.
Real estate developers (-13.7% YTD). Travel restrictions have damaged the prospects of Chinese real estate developers, whose business depends to a large degree on rural-to-urban migrations. These developers include China Evergrande, China Vanke, Guangzhou R&F Properties, and Yuexiu Properties, among others.
Core narrative
Coronavirus containment measures have disproportionately impacted stocks in the industries cited. Of course, the global equity market (in fact, even the Chinese equity market) is much broader than just the stocks in these industries. The broader market has recently recovered some of its late January losses. When the coronavirus threat recedes, the quarantines and travel restrictions have been lifted, and the Chinese economy recovers, we would expect to see stocks in negatively impacted industries likewise recover.
While the industrial equity impacts are global in scope affecting not just China regional stocks, but also U.S. and developed non-U.S. stocks. Nevertheless, we continue to have conviction in our mild "risk-on" tilt toward U.S. small-cap and international developed equities, which we believe are poised to benefit from receding trade tensions, a slight reacceleration in global growth, a weaker U.S. dollar, and more attractive valuations.
Global industries adversely impacted by coronavirus disruptions
(% return, year through February 4)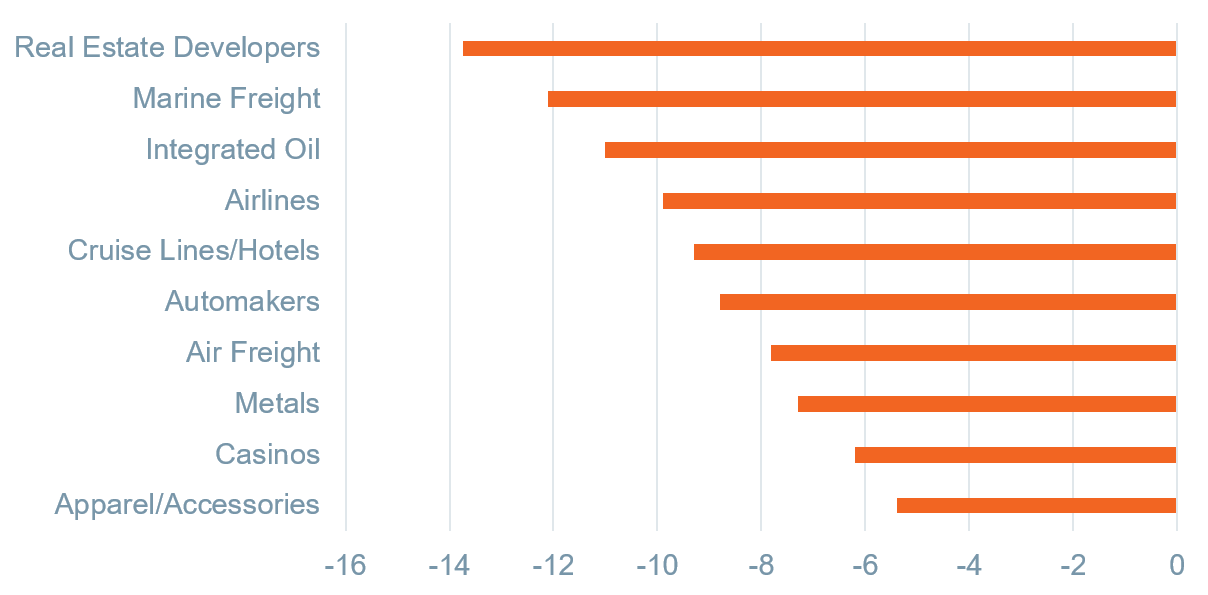 Source: Bloomberg. Data as of February 4, 2020.
Disclosures
Wilmington Trust is a registered service mark. Wilmington Trust Corporation is a wholly owned subsidiary of M&T Bank Corporation. Wilmington Trust Company, operating in Delaware only, Wilmington Trust, N.A., M&T Bank and certain other affiliates, provide various fiduciary and non-fiduciary services, including trustee, custodial, agency, investment management and other services. International corporate and institutional services are offered through Wilmington Trust Corporation's international affiliates. Loans, credit cards, retail and business deposits, and other business and personal banking services and products are offered by M&T Bank, member FDIC.
Facts and views presented in this report have not been reviewed by, and may not reflect information known to, professionals in other business areas of Wilmington Trust or M&T Bank who may provide or seek to provide financial services to entities referred to in this report. M&T Bank and Wilmington Trust have established information barriers between their various business groups. As a result, M&T Bank and Wilmington Trust do not disclose certain client relationships with, or compensation received from, such entities in their reports.
The information on Wilmington Wire has been obtained from sources believed to be reliable, but its accuracy and completeness are not guaranteed. The opinions, estimates, and projections constitute the judgment of Wilmington Trust and are subject to change without notice. This commentary is for information purposes only and is not intended as an offer or solicitation for the sale of any financial product or service or a recommendation or determination that any investment strategy is suitable for a specific investor. Investors should seek financial advice regarding the suitability of any investment strategy based on the investor's objectives, financial situation, and particular needs. Diversification does not ensure a profit or guarantee against a loss. There is no assurance that any investment strategy will succeed.
Past performance cannot guarantee future results. Investing involves risk and you may incur a profit or a loss.
Indexes are not available for direct investment. Investment in a security or strategy designed to replicate the performance of an index will incur expenses such as management fees and transaction costs which would reduce returns.