March 20, 2020—The COVID-19 pandemic is going to hit the U.S. and world economies hard, that much is clear. But the clarity stops there. As we witness the rapid spread of the disease and the ensuing mitigation efforts, we face immense uncertainty about the ultimate economic impact, and, hence, the impact on financial markets. Economists are always dealing with uncertainty, but there are some things we can generally count on: when the unemployment rate falls wages tend to rise; give someone a dollar and they spend a certain percentage of it and save the rest; when oil prices go up so will gasoline prices and inflation; and in a recession, businesses see reduced revenue and are forced to cut jobs and spending.
But recessions are typically slow moving and generated by internal imbalances that have built up in the economy, like internet tech stocks in the late 1990s or a housing bubble in the mid-2000s. The current hit to the economy did not come from internal imbalances. It came completely out of the blue and has stopped the economy on a dime. It is also coming from a virus that is completely unpredictable.
Developing a framework
We acknowledge we are not epidemiologists, so we don't know how rapidly and how widely the virus will spread. It is spreading quickly in the U.S. this week. As of this morning, the Center for Systems Science and Engineering (CSSE) at Johns Hopkins University is reporting 14,250 cases, with fully one-third of those cases being reported in the past 24 hours. We also don't know the extent of the mitigation measures that will ultimately be implemented. The news overnight that California, the most populous state with 40 million people, has now issued a "stay at home" order of indefinite length crystallizes the extent of this wild card.
To deal with the uncertainty and gauge the possible economic impact, we have established a framework to analyze different scenarios. We consider three possible levels of mitigation across three time frames (Table 1). The first level of mitigation assumes the status quo, where some areas are under extensive closures while other areas of the country experience milder efforts. Level 2 assumes the entire nation experiences extensive closures of schools, businesses, and social gathering places. Level 3 reflects a nationwide enactment of lockdown measures such as California is now attempting state-wide.
Table 1: Scenario analysis of possible economic impact

Level 1 – The current level of mitigation strategies varying across regions
Level 2 – The mitigation efforts in some of the most affected areas (school, restaurant, bar and venue closures) are enacted nationwide
Level 3 – The strongest containment measures are enacted nationwide
All scenarios assume a $1 trillion federal stimulus package
Data as of March 20, 2020. Source: WTIA.
Consumer spending
The first obvious economic impact is the sharp curtailment of consumer spending in the obvious places, such as hotels, cruise ships, restaurants, and movie theaters. We examine possible spending impacts on all consumer sectors, drilling down into 36 line items, for all three levels of mitigation. We start with a baseline forecast of nominal consumer spending for 2020. Then we implement adjustment factors for each sector. Table 2 shows the adjustment factors for Level 1 (Levels 2 and 3 omitted for space constraints). At Level 1 some sectors get hit hard. For example, we assign an adjustment factor of 0.9, indicating that spending falls 10% below the baseline. Some sectors are decimated, like restaurants (food services) seeing a 35% decline. And some line items, like household utilities and groceries, are not affected. As the mitigation becomes more severe in Levels 2 and 3 (not shown), many sectors are hit harder, while others such as health care, groceries, and video streaming, are projected to increase.
Job impacts
Another obvious impact is the lost jobs and wages that are already being felt. Many large U.S. retailers have announced temporary closures, with many saying they'll continue to pay their employees, at least for now. Manufacturers, most visibly auto manufacturers, have temporarily closed too. What is less clear is how small businesses, which provide roughly 50% of U.S. employment, will be able to cope. Hotels and restaurants will almost certainly cut their hourly staff, which will have an additional impact on spending. We estimate job impacts (not shown) on the 14 major employment subsectors under each level of mitigation and time frame, with larger impacts for the sectors hit the hardest (leisure and hospitality, retail trade, etc.) and less impacts for others (professional and business services, utilities). As the time frame extends, the degree of job loss is higher. We then use the aggregate of the wage and salary losses for each subsector to gauge the impact on the economy.
Business capital expenditures
Even before considering the evolving impact from COVID-19, we expected capex to be weak because of the collapse in oil prices, which is being hit by the decline in demand, as well as a decision by Saudi Arabia to abandon OPEC's efforts to cut back on supply. The weakening demand from the virus impact is expected to keep oil prices low and hit aggregate U.S. capex. Looking back to the global financial crisis of 2008-2009, business capex fell by 17.5% at its weakest point in mid-2009. Using that as a benchmark, we use mild, moderate, and deep capex scenarios for the levels of containment and time frames. Capex in the U.S. could decline by as little as 1.2% for the 2020 calendar year in the mildest scenario and by 11% in the deepest.
Government stimulus
The last important consideration is government stimulus. The Federal Reserve has pulled out all of the stops to keep financial markets functioning and prevent another financial crisis. Their efforts do not directly support the businesses and individuals that are seeing lost revenue and income. Congress and the administration are debating measures that will more directly provide support. At the time of our analysis we assume $1 trillion, and acknowledge that legislative outcomes are subject to substantial revision until they are completed. We will update our analysis as legislation proceeds.
Results
Table 1 above shows the results for the varying levels of mitigation and for different periods. These are annual figures for 2020. To help scale the results, the decline in GDP in 2009 was 2.8%. That is deeper than most of the cases we lay out except for the Level 2 and Level 3, 180-day. The best-case scenarios near the top left of the table are ultimately quite positive. This is to be expected as the mildest scenario is just 30 days at the status quo level of mitigation. In quarterly terms (discussed in more detail below), there is a sharp decline in 2Q 2020 growth, but a strong bounce in 3Q 2020. Add a trillion dollars' worth of stimulus to that and a strong year of growth is to be expected. But to achieve this, we think the spread of the virus must be curtailed significantly in the next week. If the virus continues to spread and the entire country is on lockdown like California for an extended period, then we are clearly moving to the right and down on the table.
The nightmare scenario of a nationwide lockdown for 180 days leads to a recession two-percent deeper than in 2009. We must emphasize that we are not expecting that outcome as a baseline scenario. As indicated above, the science of the virus is uncertain. There are many positive stories about treatments and possible vaccines. Additionally, an effective full lockdown would likely curtail the spread, and it would not need to last for 180 days. Additionally, in a scenario such as that, the federal stimulus would almost certainly be higher than we have modeled here.
Another important consideration is the quarterly pattern of growth, which is not shown in Table 1. An obvious implication of Table 2, if the adjustment factors are credible, is a degree of quarterly economic volatility that we have not seen before. That shows a decline in consumer spending of 7.1%, which is an annualized rate of -25.4%. For context, the first readings out of China for its months of lockdown are showing year-over-year declines in retail sales of 20.5% and auto sales of 37%. To highlight the quarterly pattern of one individual scenario, the Level 2, 90-day middle scenario shows a 12.6% annualized decline in GDP in 2Q 2020 followed by a 21% quarter/quarter annualized recovery in 3Q 2020, a wild ride to get to a tame looking figure of 0.7% for the full year. These figures highlight just how challenging the environment will be for businesses of all kinds if that kind of decline is felt for even one quarter.
Core narrative
We are facing a challenge to the economy that has no precedent, and mitigation measures that will have serious short-term detrimental impacts. The ultimate impact on the U.S. economy depends entirely on the unknowable factors of the spread of the disease and the ultimate extent of mitigation measures. Our framework lays bare the wide range of possible results. As investors we then must judge the current state of markets and which of the scenarios has been priced in. The 30% decline already experienced in equity markets is comparable to the average bear market witnessed in previous recessions and is likely associated with some of the relatively mild economic outcomes on the left side of Table 1. If the economic experience this time around is more like that experienced in 2008-2009, then the associated 57% decline in equity markets between 2007 and 2009 could be more likely. We decided to reduce risk in portfolios on February 25, recommending an underweight to equities, and currently believe that underweight to be appropriate. We are monitoring the evolving economic impacts and will continue to make portfolios adjustments accordingly.
Table 2: Consumer spending component of the scenario analysis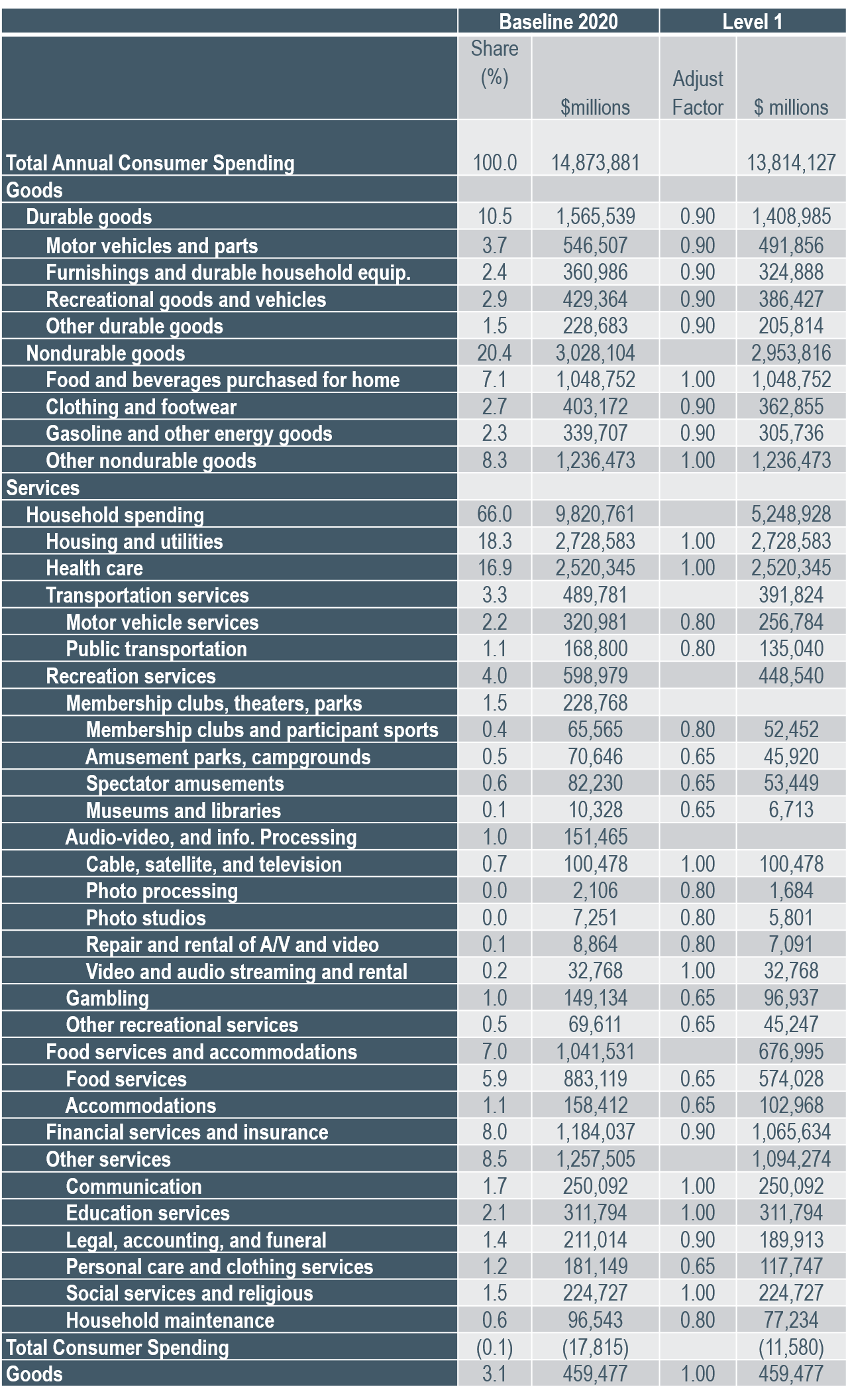 As of March 20, 2020. Source: WTIA
Disclosures
Wilmington Trust is a registered service mark used in connection with various fiduciary and non-fiduciary services offered by certain subsidiaries of M&T Bank Corporation including, but not limited to, Manufacturers & Traders Trust Company (M&T Bank), Wilmington Trust Company (WTC) operating in Delaware only, Wilmington Trust, N.A. (WTNA), Wilmington Trust Investment Advisors, Inc. (WTIA), Wilmington Funds Management Corporation (WFMC), and Wilmington Trust Investment Management, LLC (WTIM). Such services include trustee, custodial, agency, investment management, and other services. International corporate and institutional services are offered through M&T Bank Corporation's international subsidiaries. Loans, credit cards, retail and business deposits, and other business and
personal banking services and products are offered by M&T Bank, member FDIC.
Facts and views presented in this report have not been reviewed by, and may not reflect information known to, professionals in other business areas of Wilmington Trust or M&T Bank who may provide or seek to provide financial services to entities referred to in this report. M&T Bank and Wilmington Trust have established information barriers between their various business groups. As a result, M&T Bank and Wilmington Trust do not disclose certain client relationships with, or compensation received from, such entities in their reports.
The information on Wilmington Wire has been obtained from sources believed to be reliable, but its accuracy and completeness are not guaranteed. The opinions, estimates, and projections constitute the judgment of Wilmington Trust and are subject to change without notice. This commentary is for information purposes only and is not intended as an offer or solicitation for the sale of any financial product or service or a recommendation or determination that any investment strategy is suitable for a specific investor. Investors should seek financial advice regarding the suitability of any investment strategy based on the investor's objectives, financial situation, and particular needs. Diversification does not ensure a profit or guarantee against a loss. There is no assurance that any investment strategy will succeed.
Past performance cannot guarantee future results. Investing involves risk and you may incur a profit or a loss.
© 2020 M&T Bank Corporation and its subsidiaries. All rights reserved.