August 29, 2017— The topic of immigration is frequently in the news though typically with a focus on illegal immigration and the politically charged issues of a wall on the southern border, deportations, and the Deferred Action for Childhood Arrivals (DACA) policy, to name a few. We took note recently when two senators, Tom Cotton (R-AR) and David Perdue (R-GA), proposed legislation to affect legal immigration, a plan that was endorsed by President Trump. The legislation would significantly reduce the amount of immigration that is based on family connections and introduce a "skills-based immigration points" system with points awarded for education, English proficiency, job skills, age, and entrepreneurial investment. Importantly, the bills' sponsors are seeking a 50% reduction in overall immigration levels. Although the chances of the bill's passage in its current form seems remote, it is important to consider the importance of immigration for long-term economic growth, which is intimately tied to long-term performance of related asset classes.
The proposed policy reminds us of the importance of labor force growth for long-term economic growth, which we highlighted in our 2016 Capital Markets Forecast (CMF). Specifically, an economy's long-term growth rate is the simple sum of two things: the growth rate in the labor force (the number of workers) and the growth rate in the productivity of those workers. Demographics in the United States don't bode well for the first component because the net natural increase of the population (i.e. births minus deaths) is projected to slow considerably, which would weigh on labor force growth.
As we pointed out in 2016, Europe and Japan have very low population growth compared to the U.S., as birth rates are lower and immigration is lower too. This is part of the reason behind corresponding lower GDP growth rates for Europe and Japan relative to the United States. Although population growth has been stronger in the U.S., the Census projects a slowdown in the decades ahead, partly because of the aging baby boomer generation. Whereas 12.4% of the population was in the 65+ age range in 2010, that age group will comprise 20.6% of the population by 2030. As shown in the figure below, projections of future population growth are for an overall slowdown and heavier reliance on immigration.
Census projections for the U.S. show the rate of population increase falling from 0.8% in 2017 to 0.5% by 2060. If the U.S. population were to grow only by net natural increase, population growth would fall to just 0.1% by 2060. This means that immigration is expected to play a key part in driving population growth and by extension in propping up labor force growth. By the year 2023, the share of growth coming from immigration is projected to surpass net natural increase.
Reducing immigration by half would push down average annual population growth between 2017 and 2027 to approximately 0.6% from 0.8%. Assuming a steady rate of labor force participation, this points to an average annual loss of 0.2% of GDP, which may seem small but looms large when compounded over a decade. In our 2016 CMF, we estimated current steady state economic growth at 2.25%, but highlighted that slowing labor force growth due to demographics alone would weigh on long-term GDP, pushing the forecast down to 2.0% over time. Any cutbacks to immigration would further exacerbate the impact of an already declining labor force. Our calculation indicated cutting immigration in half would lower long-term economic growth to 1.8%.
Trailing 10-year Annual Population Growth Rates (%)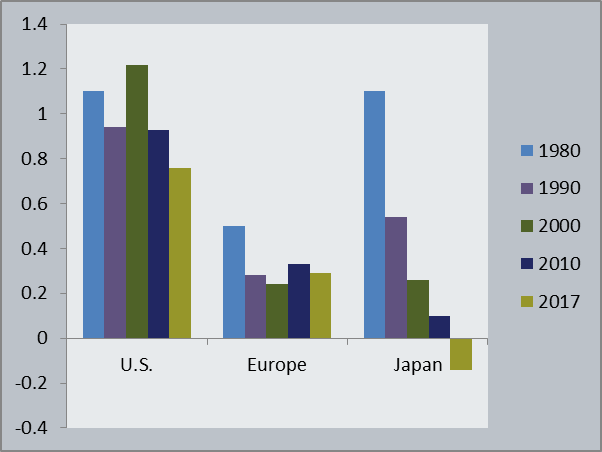 Sources: US Census Bureau, Eurostat, Japan Statistics Bureau
Projected U.S. Population Growth by Source (%)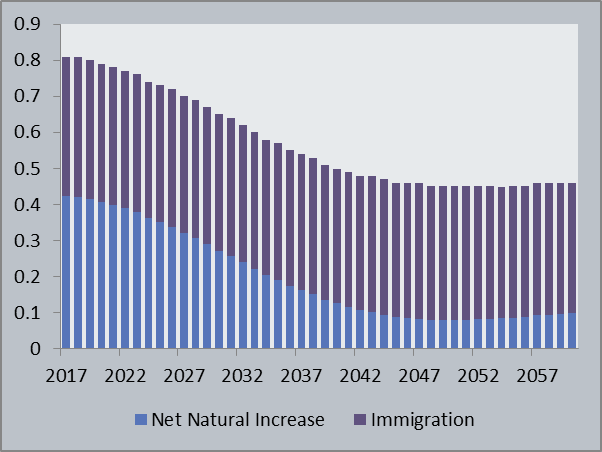 Source: U.S. Census Bureau
Of course, that is all assuming no change to the other component of growth: productivity. The authors and supporters of the legislation believe the lower immigration levels and the introduction of the points system will lead to higher wages for "all working Americans" and presumably for the incoming immigrants who have been screened for education and work skills. Although not stated so specifically, this is an argument that worker productivity would be increased as a result of the legislation. We are relatively optimistic about productivity as we stated in the 2016 CMF. Our analysis indicates the U.S. is set to bounce back from the multiyear lack of productivity gains which we believe was tied to a dearth of capex from companies thus far during the recovery. This has already started to turn around. We expect productivity to rise modestly in the next decade, but don't think it will be enough to boost long-term economic growth to the 3%-4% range we have seen in some decades past. The legislation would likely push up average productivity of new incoming immigrants on the margin, though this is extremely challenging to quantify and we doubt would push overall productivity growth high enough to make up for the loss in labor force growth.
Core narrative
In our 2016 CMF we projected a slowing growth rate for the U.S. economy over the long term as the growth rate of population and labor force slowed. In our long-term strategic asset allocation this led to relative optimism for emerging markets economies that are set to have stronger long-term growth. If legislation significantly reduced the projected path for U.S. immigration and by extension reduced the anticipated growth rate of the population, we would likely reassess the long-term outlook, and reduce the outlook for U.S. economic growth.
Disclosures
Wilmington Trust is a registered service mark. Wilmington Trust Corporation is a wholly owned subsidiary of M&T Bank Corporation. Wilmington Trust Company, operating in Delaware only, Wilmington Trust, N.A., M&T Bank and certain other affiliates, provide various fiduciary and non-fiduciary services, including trustee, custodial, agency, investment management and other services. International corporate and institutional services are offered through Wilmington Trust Corporation's international affiliates. Loans, credit cards, retail and business deposits, and other business and personal banking services and products are offered by M&T Bank, member FDIC.
These materials are based on public information. Facts and views presented in this report have not been reviewed by, and may not reflect information known to, professionals in other business areas of Wilmington Trust or M&T Bank who may provide or seek to provide financial services to entities referred to in this report. M&T Bank and Wilmington Trust have established information barriers between their various business groups. As a result, M&T Bank and Wilmington Trust do not disclose certain client relationships with, or compensation received from, such entities in their reports.
The information on Wilmington Wire has been obtained from sources believed to be reliable, but its accuracy and completeness are not guaranteed. The opinions, estimates, and projections constitute the judgment of Wilmington Trust and are subject to change without notice. This commentary is for information purposes only and is not intended as an offer or solicitation for the sale of any financial product or service or a recommendation or determination that any investment strategy is suitable for a specific investor. Investors should seek financial advice regarding the suitability of any investment strategy based on the investor's objectives, financial situation, and particular needs. Diversification does not ensure a profit or guarantee against a loss. There is no assurance that any investment strategy will succeed.
Any investment products discussed in this commentary are not insured by the FDIC or any other governmental agency, are not deposits of or other obligations of or guaranteed by M&T Bank, Wilmington Trust, or any other bank or entity, and are subject to risks, including a possible loss of the principal amount invested. Some investment products may be available only to certain "qualified investors"—that is, investors who meet certain income and/or investable assets thresholds. Past performance is no guarantee of future results. Investing involves risk and you may incur a profit or a loss.
Any positioning information provided does not include all positions that were taken in client accounts and may not be representative of current positioning. It should not be assumed that the positions described are or will be profitable or that positions taken in the future will be profitable or will equal the performance of those described. Positions described are illustrative and not intended as a recommendation outside of a managed account.
Indices are not available for direct investment. Investment in a security or strategy designed to replicate the performance of an index will incur expenses, such as management fees and transaction costs that would reduce returns.
Third party trademarks and brands are the property of their respective owners.
Contact an Expert