May 1, 2020—The damage to the U.S. economy resulting from the outbreak and social-distancing restrictions has started being revealed over the past few weeks. Businesses have temporarily shuttered, which has forced a drastic hit to consumer spending. The damage to labor markets was immediately seen in weekly unemployment claims figures. Now we have monthly and quarterly data trickling in confirming the dire forecasts.
The most timely and striking indicator has come from the labor market. With the surge in individuals filing for unemployment insurance benefits reaching roughly 30 million in the span of just six weeks, it has more than offset the 23 million jobs created in the ten years since the post-recession trough in employment. The manufacturing and housing sectors of the economy have not been immune either, with measures of factory activity, housing sales, and construction plunging. This week's GDP report for the first quarter showed the largest quarterly contraction in U.S. GDP growth since the Great Recession, and we expect that this is only the tip of the iceberg for what is to come in the second quarter.
The fiscal and monetary policy response has been swift and massive in magnitude. Congress and the administration have passed a $2.9 trillion fiscal package to support individuals, unemployment, and businesses of all sizes. Here we focus on the Federal Reserve's response so far, taking stock after its April 30 meeting. Liquidity measures taken so far by the Fed have been successful in staving off a financial crisis, in our view. Efforts to provide credit to small- and medium-sized businesses have not yet become fully operational so their effectiveness is yet to be seen. We believe these recent data are just the start, that 2Q GDP data will show a 40% annualized rate of decline, and for the full year the economy will decline by 3%–5%. (That is between Level 2 and Level 3 mitigation for 90 days, in our framework. That does not necessarily mean markets will again collapse. The trough in the market has led the trough in the economy by an average of five months. We continue to recommend an underweight to equities and are prepared to move in either direction as the virus progresses.
GDP starting its slide
The first estimate of U.S. GDP in 1Q 2020 came in at an annualized rate of -4.8% quarter-over-quarter (q/q), the worst since the fourth quarter of 2008. Consumer spending, which makes up two-thirds of GDP, saw its sharpest decline since 1980, as purchases of goods, such as autos, furniture, and clothing, plummeted. Spending on groceries was the outlier, surging as households stockpiled in anticipation of lockdown measures.
The period between January and March saw the worst consumer spending on services ever in the history of the data back to 1947. This is a category that typically provides a cushion during recessions, highlighting the unique nature of this downturn. Social distancing measures led to an abrupt halt to activities that have high levels of personal contact in health care such as non-hospital regular visits to the doctor and dentist. That compounded the expected declines in restaurants, bars and hotels, recreation, and transportation.
Business capital expenditures also suffered, as firms cut back aggressively given the uncertain outlook for economic activity going forward. Homebuilding was the only category to show strength, rising by an annualized 21% from last quarter, as housing market activity had been boosted at the start of the year by seasonable weather and low interest rates. However, this strength is expected to fade, as recent data suggest that both housing sales and construction activity have wilted.
The global economic slump drove a sharp drop in U.S. exports. Most trading partners were under some form of lockdown, and China was only at the beginning stages of relaxing its restrictions on social distancing. U.S. consumer imports collapsed too.
This is only the first taste of what is to come, as the impacts of the outbreak on economic activity only began to materialize during the last two weeks of the first quarter. We expect the second quarter to be shockingly weak, in excess of -40% q/q annualized, well below the current record decline in growth of -10.0% q/q annualized in 1Q 1958.
Figure 1: GDP growth at its lowest since 2008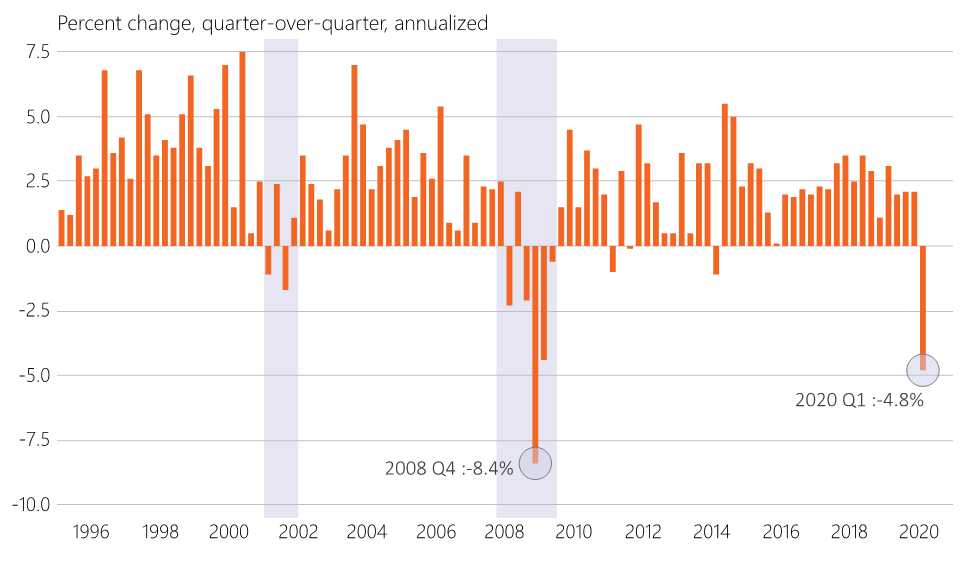 Data as of March 30, 2020.
Source: Macrobond.
Fed remains ready to act forcefully, proactively, and aggressively
"We won't run out of money," said Fed Chair Jay Powell during his April 29 press conference. That was answering a narrow question about the Fed's Main Street Lending Program with comparison to the Small Business Administration's (SBA's) Paycheck Protection Program (PPP). Although the statement was about that specific program, it can be applied to the overall Fed response to the COVID-19 crisis. The April 30 meeting was the Fed's first regularly scheduled meeting since January 29, weeks before the crisis took hold. Since that time, the FOMC held five off-cycle, emergency meetings to announce rate changes and purchases, and in the middle canceled the originally-scheduled March 18 meeting.
The FOMC did not make any changes to interest rates or to the pace of asset purchases. It did not give any indication of anticipated changes either, explicitly saying the committee expected to "maintain this target range" for the federal funds rate of 0% to 0.25% "until it is confident that the economy has weathered recent events and is on track to achieve its maximum employment and price stability goals." That could be read as a rather anodyne statement that it doesn't expect to increase rates any time soon. It could also be interpreted as a signal that they are not entertaining the idea of negative rates, a question on many minds these days. We do not expect them to use negative rates or to make any significant monetary policy changes in the near future.
Chair Powell also noted during the press conference that while the outbreak may hit growth in the "near term," the risks to the outlook may persist into the "medium term," which he noted referred to as "the next year or so." This suggests that the recovery may occur over a longer period, and the Fed appears to be ready to keep policy supportive (and take additional action if necessary). For now, they are working on the various programs to support the economy they have announced over the past few weeks, described in more detail below.
In coming years, the Fed will likely move to a post-crisis effort to support growth through monetary policy tools, much as it did in the post-crisis period ten years ago. The first round of QE back in 2008 was very much like the efforts the Fed has engaged in over the past month, essentially getting out the fire hose in a crisis. The subsequent rounds of QE2 and QE3 (and the oft-forgotten "Operation Twist") came well after the crisis and were attempts to stoke growth by keeping longer-term interest rates low. We believe this will occur again later this year or in coming years. That would include efforts to drive long-term interest rates lower such as more QE and forward guidance of communicating to markets that rates will stay low for a long time.
How to think about Fed programs
At the highest level we put everything the Fed has done into two buckets (Figure 2). The first bucket contains efforts to provide liquidity to markets and prevent a financial crisis, including: massive purchases of Treasuries to address liquidity problems that were surfacing; purchases of mortgage-backed securities; and multiple lending facilities to fulfill the Fed's role as lender of last resort and to prevent a financial crisis. Those facilities support commercial paper, money market mutual funds, corporate bonds, asset-backed securities, and more. In our view, these efforts have thus far been successful in heading off a financial crisis.
The second bucket are the efforts to mitigate the depth and length of the recession. The Fed is doing whatever it can to promote lending in the economy through multiple channels. It created a Main Street Lending Program to support new loans and the expansion of existing loans by banks to businesses. These are intended, in our view, to fill a possible void between the small businesses (that can take advantage of the Small Business Administration's programs) and the largest firms that have access to traditional capital markets and can make use of the lending facilities described above. The Fed is encouraging banks to make loans to small businesses under the SBA program by taking PPP loans as collateral in providing funding to those banks, and it has also adjusted myriad regulatory rules that translate to less scrutiny on banks that are providing loans to the economy. Here, the effectiveness of Fed programs remains to be seen. The Main Street Lending Facility has not yet been operational, with details just released on April 30.
Figure 2: Key Fed policy measures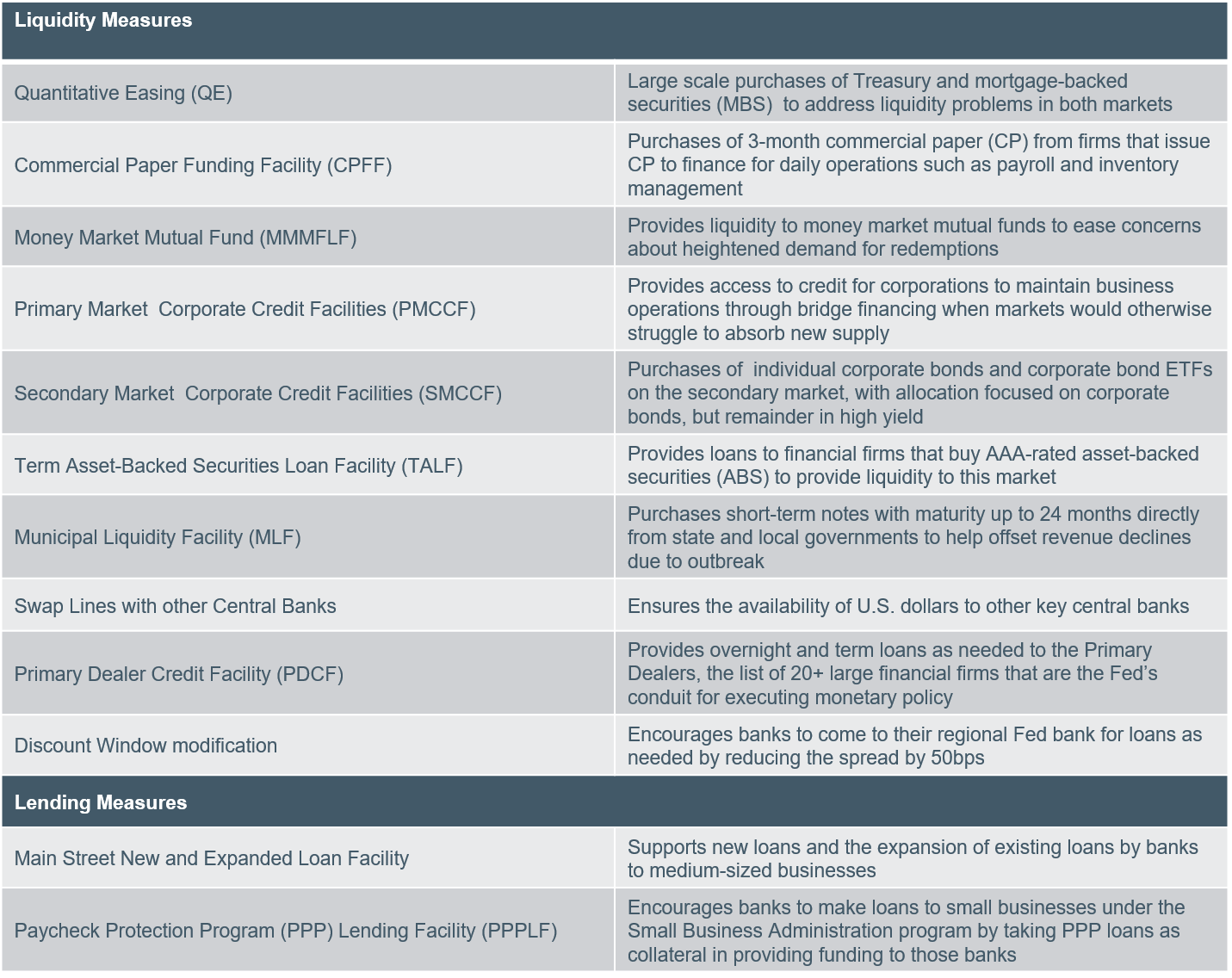 Source: Federal Reserve, WTIA
Core narrative
The surge in the stock market since the bottom on March 23 suggests a rather optimistic view about potential for a swift economic recovery. We remain more cautious for now. We do not see a return to normalcy without adequate testing and therapeutics in place to instill the confidence necessary for individuals to resume normal activities. Monetary policies put in place by the Fed so far to provide liquidity to the market and forestall a financial crisis have been effective, but programs to bolster lending to small- and medium-sized firms have not been operational for long, and the impact of these programs is yet to be seen. Given the severity of the disruption to growth and massive dislocations in labor markets, we expect a longer road to recovery than current market pricing suggests.
Disclosures
Wilmington Trust is a registered service mark used in connection with various fiduciary and non-fiduciary services offered by certain subsidiaries of M&T Bank Corporation including, but not limited to, Manufacturers & Traders Trust Company (M&T Bank), Wilmington Trust Company (WTC) operating in Delaware only, Wilmington Trust, N.A. (WTNA), Wilmington Trust Investment Advisors, Inc. (WTIA), Wilmington Funds Management Corporation (WFMC), and Wilmington Trust Investment Management, LLC (WTIM). Such services include trustee, custodial, agency, investment management, and other services. International corporate and institutional services are offered through M&T Bank Corporation's international subsidiaries. Loans, credit cards, retail and business deposits, and other business and personal banking services and products are offered by M&T Bank, member FDIC.
Facts and views presented in this report have not been reviewed by, and may not reflect information known to, professionals in other business areas of Wilmington Trust or M&T Bank who may provide or seek to provide financial services to entities referred to in this report. M&T Bank and Wilmington Trust have established information barriers between their various business groups. As a result, M&T Bank and Wilmington Trust do not disclose certain client relationships with, or compensation received from, such entities in their reports.
The information on Wilmington Wire has been obtained from sources believed to be reliable, but its accuracy and completeness are not guaranteed. The opinions, estimates, and projections constitute the judgment of Wilmington Trust and are subject to change without notice. This commentary is for information purposes only and is not intended as an offer or solicitation for the sale of any financial product or service or a recommendation or determination that any investment strategy is suitable for a specific investor. Investors should seek financial advice regarding the suitability of any investment strategy based on the investor's objectives, financial situation, and particular needs. Diversification does not ensure a profit or guarantee against a loss. There is no assurance that any investment strategy will succeed.
Past performance cannot guarantee future results. Investing involves risk and you may incur a profit or a loss.
Indexes are not available for direct investment. Investment in a security or strategy designed to replicate the performance of an index will incur expenses such as management fees and transaction costs which would reduce returns.
©2020 M&T Bank Corporation and its subsidiaries. All Rights Reserved.