October 5, 2018— On March 29, 2019, the UK officially leaves the EU, 33 months after the June 23, 2016 referendum. Fortunately, the referendum triggered a depreciation of pound sterling that has boosted the international competitiveness of UK goods exporters (Figure 1). Moreover, since the referendum, UK firms have been assiduously preparing for post-Brexit challenges, even while lobbying the government of Prime Minister Theresa May for a new UK-EU "withdrawal agreement" that would preserve many of the EU Single Market's benefits. If a withdrawal agreement is reached, it would unlock a transition period lasting through December 31, 2020, allowing UK firms even more time to prepare for EU departure.
Conclusion of a withdrawal agreement remains our base-case scenario—because we expect that German Chancellor Angela Merkel and French President Emmanuel Macron will ultimately avoid risking the consequences of a disorderly UK exit. Nevertheless, as March 29, 2019 looms, a "no deal" Brexit cannot be discounted. If a disorderly UK exit occurs, this could have significant negative impacts on UK and European equities. Likewise, a mutually satisfactory withdrawal agreement could have significant positive impacts. In this Wilmington Wire, we evaluate the political obstacles the PM must overcome to achieve such a deal. We also explore industry preparations for a "no-deal" Brexit, which could help soften the impact on equity returns of such an outcome.
Figure 1
Weaker sterling since the 2016 Brexit referendum has improved UK competitiveness within Europe
(euro per 1 pound sterling)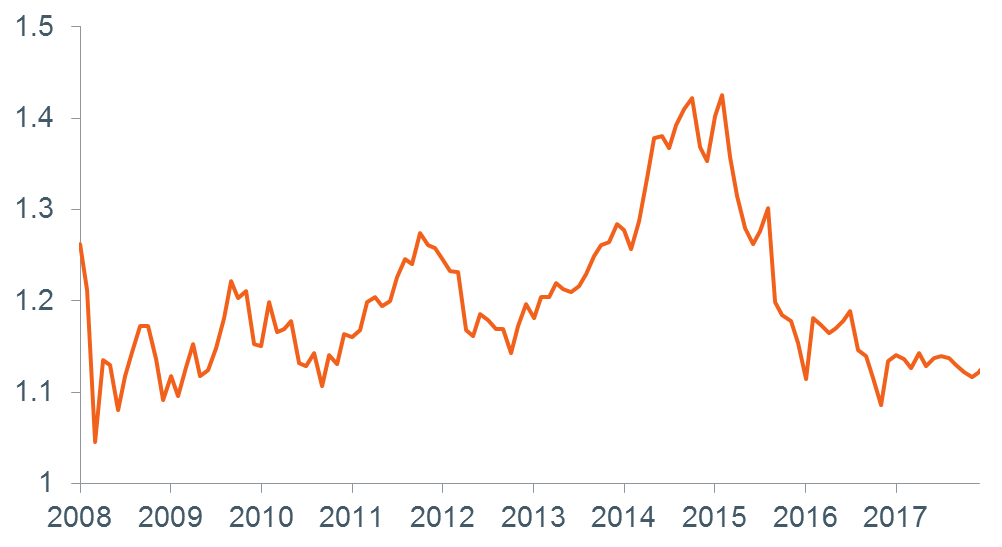 Data as of October 2, 2018
Source: Bloomberg
The EU and a slim majority of Conservative MPs would favor a full customs union …
The withdrawal agreement negotiations have centered on the idea of a UK-EU customs union: whether to have a customs union, and if so, what kind? Under a full customs union, the UK and EU would continue to maintain completely free trade in merchandise goods, including between Northern Ireland and the Republic of Ireland. In return, the UK would be required to retain EU common external tariffs and EU quality and safety regulations. A customs union would not cover trade in services, so UK banks and insurers would lose their automatic "passporting" rights to do business in the EU, and vice-versa. Likewise, it would not automatically enable EU citizens to work in the UK, and vice-versa, which could negatively affect some industries reliant on foreign labor.
… however, a large minority of Conservative MPs, led by Boris Johnson, oppose any customs union
Boris Johnson's faction wants the UK to be able to set its own tariffs, negotiate its own free trade agreements (including with the EU), and establish its own quality and safety regulation. Johnson believes there are technical solutions that could facilitate customs checks along the intra-Irish border. While he has long been a committed "Leave" advocate, he also views himself as a potential challenger to Theresa May for party leadership. However, he does not have sufficient support within the party to do so. Notably, at this week's Conservative Party Conference, he refrained from calling for May to resign.
The PM seeks a partial "half-in, half-out" customs union
Theresa May is acting as an "honest broker" between those who favor and oppose a customs union. She proposed her partial customs union concepts in her "Chequers plan," named after the PM's country estate, where she held a cabinet retreat to discuss her proposals. She wants the UK to retain completely free trade in goods with the EU. In particular, she wants to avoid establishing customs posts along the intra-Irish border. To appease those opposed to a customs union, she is proposing a creative compromise. The UK would continue to charge EU tariffs only for those goods whose onward destination is the EU, but would have the freedom to set tariffs on goods whose final destination is the UK. That would allow the UK to negotiate free trade agreements with third countries. Further, while she wants the UK to have the right to establish its own regulatory standards, she is willing to coordinate regulation on a bilateral basis with the EU. The prime minister has promised that any final deal would be submitted to parliament for approval. Boris Johnson has already indicated his opposition to the PM's plan, with the rallying cry "Chuck Chequers," but he does not have enough support from among his fellow Conservatives to stop the PM.
So far, the EU has rejected the prime minister's approach as unworkable
The EU not yet offered a truly feasible alternative to the Chequers plan. Instead, it has floated a fallback it calls the "Irish backstop." Northern Ireland would remain in the EU customs/regulatory area. Customs/regulatory checks would take place, instead on seaborne trade between Northern Ireland and the rest of the UK, creating an economic border within the UK itself. However, Northern Ireland unionists, whose support is necessary for May to remain PM, vigorously oppose this idea.
The opposition Labor Party views disapproval of the PM's deal as its path to electoral victory
Labor lags the Conservatives by only a few percentage points in opinion polling. Labor Leader Jeremy Corbyn has already indicated that his party would vote against any deal submitted by the PM. He is calling instead for a "People's Vote" on any deal. Some in his party want the "People's Vote" to include the option of retaining EU membership, which aims to attract the support of those who feel that the pro-Leave campaign had misled them in 2016 about the benefits of Brexit. The next-scheduled UK general election is in 2022. However, Labor is keenly aware that an early election is possible if Northern Ireland's unionists withdraw their support from the PM over the terms of UK-EU deal.
In aggregate, UK-listed stocks appear generally prepared for the disruptions of "no-deal Brexit"
UK-listed companies (Figure 2) have had 33 months to prepare for Brexit contingencies, including a "no-deal Brexit." While hoping for the best, they have been preparing for the worst. Further, some UK-listed stocks, by virtue of their global operations or their non-UK ownership, are unlikely to experience any significant negative impacts.
The large UK-listed energy and metals/mining stocks (Royal Dutch Shell, BP, BHP Billiton, Rio Tinto, and Glencore) are unlikely to be significantly affected by a "no-deal" Brexit. Apart from North Sea oil production, these firms' operations are located outside Europe. Moreover, these firms sell globally.
It has been clear since 2017 that UK-listed banks (such as HCBC, Barclays, Lloyds, and Standard Chartered) and insurers (Prudential) would no longer enjoy automatic rights to conduct business in the EU. To secure EU regulatory approval, they have been consolidating their EU operations under independently capitalized, fully staffed, operating subsidiaries based in Frankfurt, Paris, Dublin, Luxembourg, Brussels, and/or Amsterdam. Moreover, Euronext has bought the Irish Stock Exchange to compete with the London Stock Exchange, as many European stocks are dual-listed on both exchanges.
Global personal and household products company Unilever, which has had dual headquarters (and dual listings) in London and Amsterdam, is closing its London headquarters and shifting its head office staff entirely to Amsterdam, characterizing this move as unrelated to Brexit. Global beverages company Diageo will suffer some adverse impacts from a customs checks on the inter-Irish border as it has a supply chain running across the border for Guinness and Bailey's.
UK-listed pharmaceutical companies (AstraZeneca, Glaxo, and Shire) have been building duplicate labs on the continent in order to facilitate dual EU-UK drug safety and effectiveness licensing. Additionally, they have been boosting their existing distributed drug stockpiles to prepare for potential customs delays.
UK-based car and truck manufacturing would be hit hard by a "no-deal" Brexit, as high automotive tariffs would adversely impact cross-border supply chains. However, the stock market impacts of supply chain disruptions will be broadly distributed across equity markets. The largest UK car and truck makers are Honda, Nissan, Toyota, and Ford. Further, most iconic UK brands are actually owned by non-UK companies. India's Tata owns Jaguar and Land Rover; Germany's BMW owns Mini and Rolls-Royce, and Volkswagen owns Bentley; U.S.-based Paccar owns Leyland Trucks; the French Groupe PCA owns Luton; and in China, Geely owns Lotus and London Taxis International, and SAIC owns MG.
Within the British aerospace industry, BAe Systems is unlikely to experience significant adverse impacts, as it specializes in defense sales to the UK, U.S., and Saudi governments. Airbus produces commercial aircraft wings in the UK; however, it can shift production to a Chinese plant. Notably, Airbus is headquartered in the Netherlands, and is listed on continental European exchanges, but not on the UK exchange. On the other hand, Rolls- Royce Holdings (not to be confused with the automobile brand) could see its aircraft engine exports impacted.
Figure 2
Top 20 UK stocks
(by market cap %)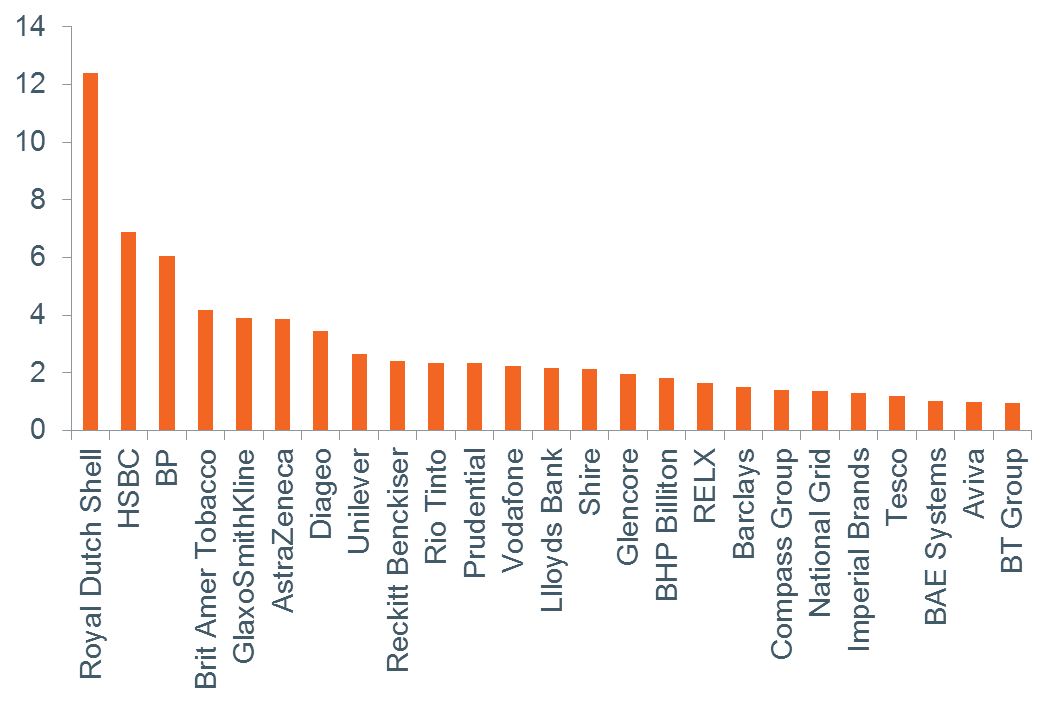 Data as of October 2, 2018
Source: Bloomberg
Core narrative
UK stocks comprise 23% of the European equity index and 14% of the EAFE (international developed country) index. Therefore, whether a withdrawal agreement is reached, or the UK leaves the EU without a deal, is critical to our expectations regarding developed country equity markets. Our view is that there is a high probability that a UK-EU deal on a partial customs union will be reached prior to March 29. Given that political rhetoric on all sides is depressing UK equity valuations, the result of such a deal would be to boost the UK stock market and pound sterling, supporting UK equity returns in dollar terms, especially in the days/weeks after the deal is executed. Further, even in the unlikely event of a "no deal" scenario, we believe 33 months of preparations means the adverse impacts on UK-listed firms will generally be less than the market may expect. Therefore, we do not view likely Brexit developments as running contrary to our modest overweight to international developed equities.
Disclosures
Wilmington Trust is a registered service mark. Wilmington Trust Corporation is a wholly owned subsidiary of M&T Bank Corporation. Wilmington Trust Company, operating in Delaware only, Wilmington Trust, N.A., M&T Bank and certain other affiliates, provide various fiduciary and non-fiduciary services, including trustee, custodial, agency, investment management and other services. International corporate and institutional services are offered through Wilmington Trust Corporation's international affiliates. Loans, credit cards, retail and business deposits, and other business and personal banking services and products are offered by M&T Bank, member FDIC. Wilmington Trust Investment Advisors, Inc. is an SEC-registered investment adviser providing investment management services to Wilmington Trust and M&T Bank affiliates and clients.
These materials are based on public information. Facts and views presented in this report have not been reviewed by, and may not reflect information known to, professionals in other business areas of Wilmington Trust or M&T Bank who may provide or seek to provide financial services to entities referred to in this report. M&T Bank and Wilmington Trust have established information barriers between their various business groups. As a result, M&T Bank and Wilmington Trust do not disclose certain client relationships with, or compensation received from, such entities in their reports.
The information on Wilmington Wire has been obtained from sources believed to be reliable, but its accuracy and completeness are not guaranteed. The opinions, estimates, and projections constitute the judgment of Wilmington Trust and are subject to change without notice. This commentary is for information purposes only and is not intended as an offer or solicitation for the sale of any financial product or service or a recommendation or determination that any investment strategy is suitable for a specific investor. Investors should seek financial advice regarding the suitability of any investment strategy based on the investor's objectives, financial situation, and particular needs. Diversification does not ensure a profit or guarantee against a loss. There is no assurance that any investment strategy will succeed.
Any investment products discussed in this commentary are not insured by the FDIC or any other governmental agency, are not deposits of or other obligations of or guaranteed by M&T Bank, Wilmington Trust, or any other bank or entity, and are subject to risks, including a possible loss of the principal amount invested. Some investment products may be available only to certain "qualified investors"—that is, investors who meet certain income and/or investable assets thresholds. Past performance cannot guarantee a profit or ensure against a loss. Investing involves risk and you may incur a profit or a loss.
Any positioning information provided does not include all positions that were taken in client accounts and may not be representative of current positioning. It should not be assumed that the positions described are or will be profitable or that positions taken in the future will be profitable or will equal the performance of those described. Positions described are illustrative and not intended as a recommendation outside of a managed account.
Indices are not available for direct investment. Investment in a security or strategy designed to replicate the performance of an index will incur expenses, such as management fees and transaction costs that would reduce returns.
Third-party trademarks and brands are the property of their respective owners.