October 11, 2018— Hurricane Michael is not the only thing leaving a wake of destruction in its path. The stock market has also experienced a swift correction that has spared few stocks, sectors, or regions—with weakness extending into European and Asian markets. The S&P 500 had its worst day since March, and the Dow Jones Industrial Average (DJIA) fell over 800 points on Wednesday.
The market seems to be a jumble of nerves over a number of concerns that, while not new, seem to have escalated to a temporary breaking point.
1) Interest rates. A string of very positive data—along with some pointed words from Federal Reserve Chair Powell last week regarding the Fed having a ways to go before it may pause its rate-hike cycle—have pushed interest rates higher across the board. With cash yielding a respectable 2% and the 10-year Treasury yield testing 3.25%, stocks are no longer the only viable investment option.
2) Fed independence. Related to rates, President Trump has taken the opportunity to break with convention (again) and comment on Fed policy. Referring to the Fed's rate hikes as "crazy" has called into question the Fed's independence under the president.
3) Tech security issues. Technology stocks have been the darling of the stock market this year, but a string of reports about security breaches have left investors questioning how much investment will be needed to rectify the issues. Tech stocks have been hit particularly hard, experiencing their worst day in seven years.
4) Trade war. After Secretary of State Pompeo's very brief visit in China, more analysts are pricing in a protracted trade war with China, including an escalation of tariffs to 25% as scheduled on January 1. We are also getting more anecdotal evidence of higher input costs and supply disruptions for businesses. It does not help that there were reports this week of a crackdown on luxury items at China's border.
We do not dismiss any of the above, but we think the current market activity is a necessary consolidation before markets move higher. It is also likely exacerbated by algorithmic traders, who rely on rules of when to sell and buy based on, among other things, markets breaching particular levels. We do not expect interest rates to climb in a straight-up trajectory, and we do not believe there is any real threat to Fed independence. Tech stocks arguably needed to take a breather, but security innovation is core to their businesses and we think they will manage through the challenges. A protracted trade war is probably the most concerning issue, namely because a compromise seems elusive at this point and slowing global growth is already evident.
S&P 500 Daily Price Level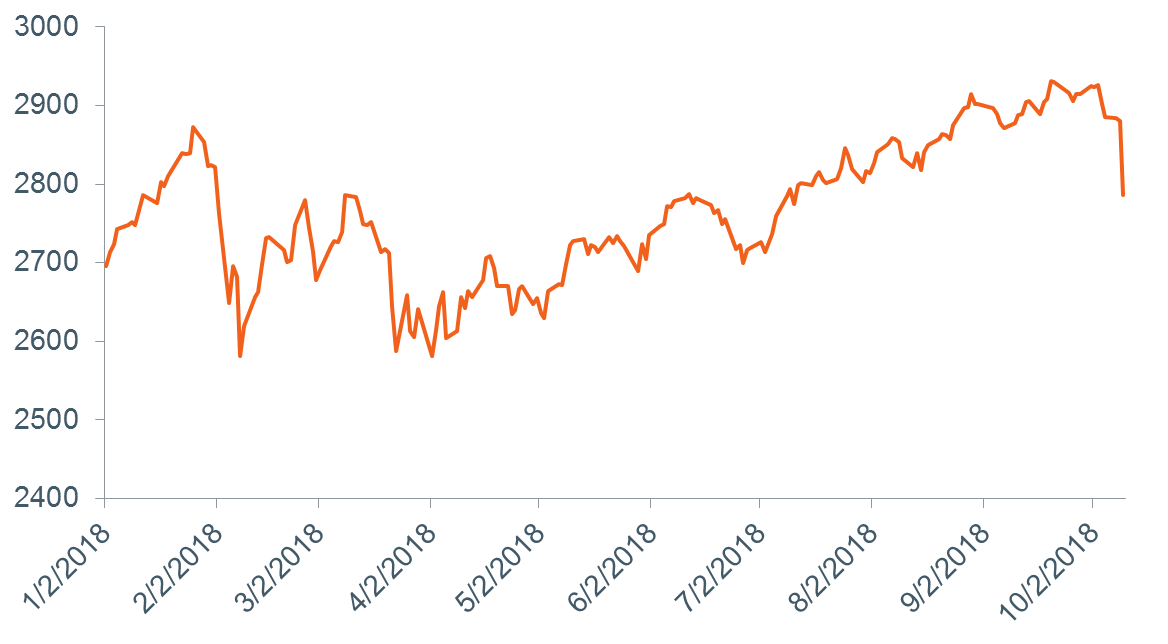 Data as of October 10, 2018
Source: Moody's Analytics
Core narrative
We have taken steps this year to reduce risk modestly and raise cash levels slightly. Robust economic data and reasonable valuations (particularly outside of the U.S.) give us conviction that the current selloff in equity markets, though uncomfortable, is normal. Higher volatility is painful but should be expected and does not prevent markets from climbing higher over the next 6–12 months. Even so, keep an eye out in the days ahead for further communications from us, depending on how events unfold. To read more about the risks we believe are currently at play, along with a discussion of deploying new cash into markets at this time, see the latest issue of Capital Perspectives.
Disclosures
Wilmington Trust is a registered service mark. Wilmington Trust Corporation is a wholly owned subsidiary of M&T Bank Corporation. Wilmington Trust Company, operating in Delaware only, Wilmington Trust, N.A., M&T Bank and certain other affiliates, provide various fiduciary and non-fiduciary services, including trustee, custodial, agency, investment management and other services. International corporate and institutional services are offered through Wilmington Trust Corporation's international affiliates. Loans, credit cards, retail and business deposits, and other business and personal banking services and products are offered by M&T Bank, member FDIC. Wilmington Trust Investment Advisors, Inc. is an SEC-registered investment adviser providing investment management services to Wilmington Trust and M&T Bank affiliates and clients.
These materials are based on public information. Facts and views presented in this report have not been reviewed by, and may not reflect information known to, professionals in other business areas of Wilmington Trust or M&T Bank who may provide or seek to provide financial services to entities referred to in this report. M&T Bank and Wilmington Trust have established information barriers between their various business groups. As a result, M&T Bank and Wilmington Trust do not disclose certain client relationships with, or compensation received from, such entities in their reports.
The information on Wilmington Wire has been obtained from sources believed to be reliable, but its accuracy and completeness are not guaranteed. The opinions, estimates, and projections constitute the judgment of Wilmington Trust and are subject to change without notice. This commentary is for information purposes only and is not intended as an offer or solicitation for the sale of any financial product or service or a recommendation or determination that any investment strategy is suitable for a specific investor. Investors should seek financial advice regarding the suitability of any investment strategy based on the investor's objectives, financial situation, and particular needs. Diversification does not ensure a profit or guarantee against a loss. There is no assurance that any investment strategy will succeed.
Any investment products discussed in this commentary are not insured by the FDIC or any other governmental agency, are not deposits of or other obligations of or guaranteed by M&T Bank, Wilmington Trust, or any other bank or entity, and are subject to risks, including a possible loss of the principal amount invested. Some investment products may be available only to certain "qualified investors"—that is, investors who meet certain income and/or investable assets thresholds. Past performance cannot guarantee a profit or ensure against a loss. Investing involves risk and you may incur a profit or a loss.
Any positioning information provided does not include all positions that were taken in client accounts and may not be representative of current positioning. It should not be assumed that the positions described are or will be profitable or that positions taken in the future will be profitable or will equal the performance of those described. Positions described are illustrative and not intended as a recommendation outside of a managed account.
Indices are not available for direct investment. Investment in a security or strategy designed to replicate the performance of an index will incur expenses, such as management fees and transaction costs that would reduce returns.
Third-party trademarks and brands are the property of their respective owners.