April 22, 2020—Highlights:
We have reduced our exposure to real estate investment trusts (REITs) from an overweight to a neutral allocation.
Risk assets like REITs and equities have staged a strong rally since March 23, but we expect a slow economic recovery, the risks around which do not appear to be properly appreciated by investors.
We took the opportunity to sell REITs into relative strength to reduce overall risk in client portfolios.
Financial markets have been moving rapidly, requiring a nimble approach to asset management and portfolio construction. Our Investment Committee has been meeting more frequently than usual to make changes to the portfolio as necessary. One such change was our Committee's decision on April 13, 2020, to trim exposure to real estate investment trusts (REITs) after a strong 27% rally in just three weeks (though the S&P Developed Property index was still down 23% year to date, with all figures referring to total return). This change reduced our tactical asset allocation position from overweight to neutral versus our long-term strategic benchmark. We still view REITs as an important component of a diversified portfolio, but considering our expectations for a slow economic recovery, we took the opportunity to sell into relative strength and reduce overall risk in client portfolios.
As discussed in a recent Wilmington Wire , REITs are an important component of a diversified portfolio for several reasons:
Income generation—REITs generate income from the rental and lease payments of their underlying properties, and they must distribute 90% of that taxable income to shareholders, making REITs an attractive income investment in a yield-starved environment.
Diversification—REITs are included in the S&P 500 index within the financial sector, but we incorporate them into our strategic asset allocation (within real assets) as a distinct asset class due to diversification benefits versus the broader equity market. Over the last five years, daily returns for the S&P Developed Property index have exhibited a correlation of 0.7 (on a scale of 0 to 1) to the S&P 500 index.
Inflation hedge—The underlying asset value and adjustable income streams of REITs offer protection against the risks of inflation, which we do not see as particularly acute at the moment, but still bear monitoring over a longer time horizon.
While REITs remain an important strategic investment, they are particularly vulnerable—and volatile—assets in today's challenging environment. The economic shutdown caused by mitigation measures associated with the COVID-19 pandemic poses risk across the REIT landscape, particularly in sectors such as retail, hotels and health care. These risks were swiftly priced in by the market, with the S&P Developed Property index falling 41% in the one month between February 19, 2020, market peak, and March 23, 2020, compared to 34% decline for the S&P 500 index and the MSCI World index. We entered the year with 0.5% less exposure to REITs than in 2019, given the decision to reduce global REIT exposure in our revised strategic asset allocation (SAA). However, versus the newly reduced SAA benchmark weight, our tactical allocation was overweight until our April 13 decision to reduce global REITs to neutral. We resisted the urge to sell REITs in February or March, during the most severe market stress, but by April 13 REITs had bounced 27% off the March 23 lows and retraced approximately 45% of the losses. We took that opportunity to reduce risk in client portfolios by selling REITs to a neutral allocation and holding the proceeds in cash.
Core narrative
Based on our assessment for the economy over the next 12 months (*link*) and our estimates for corporate earnings in 2020 and 2021, we view the recent equity market rally as somewhat disconnected from reality and too optimistic. We are currently positioned with an underweight to equities and neutral allocation to REITs (Figure 1). It remains to be seen whether we will re-test the lows set on March 23. Regardless, our expectation for a gradual and bumpy re-opening of the economy warrants a slightly elevated level of cash. Fortunately, we were able to take advantage of relative strength in the market to further bolster defense in client portfolios in this time of unprecedented uncertainty.
Figure 1: Current Asset Class Positioning
Underweight to equities given mounting virus-related uncertainty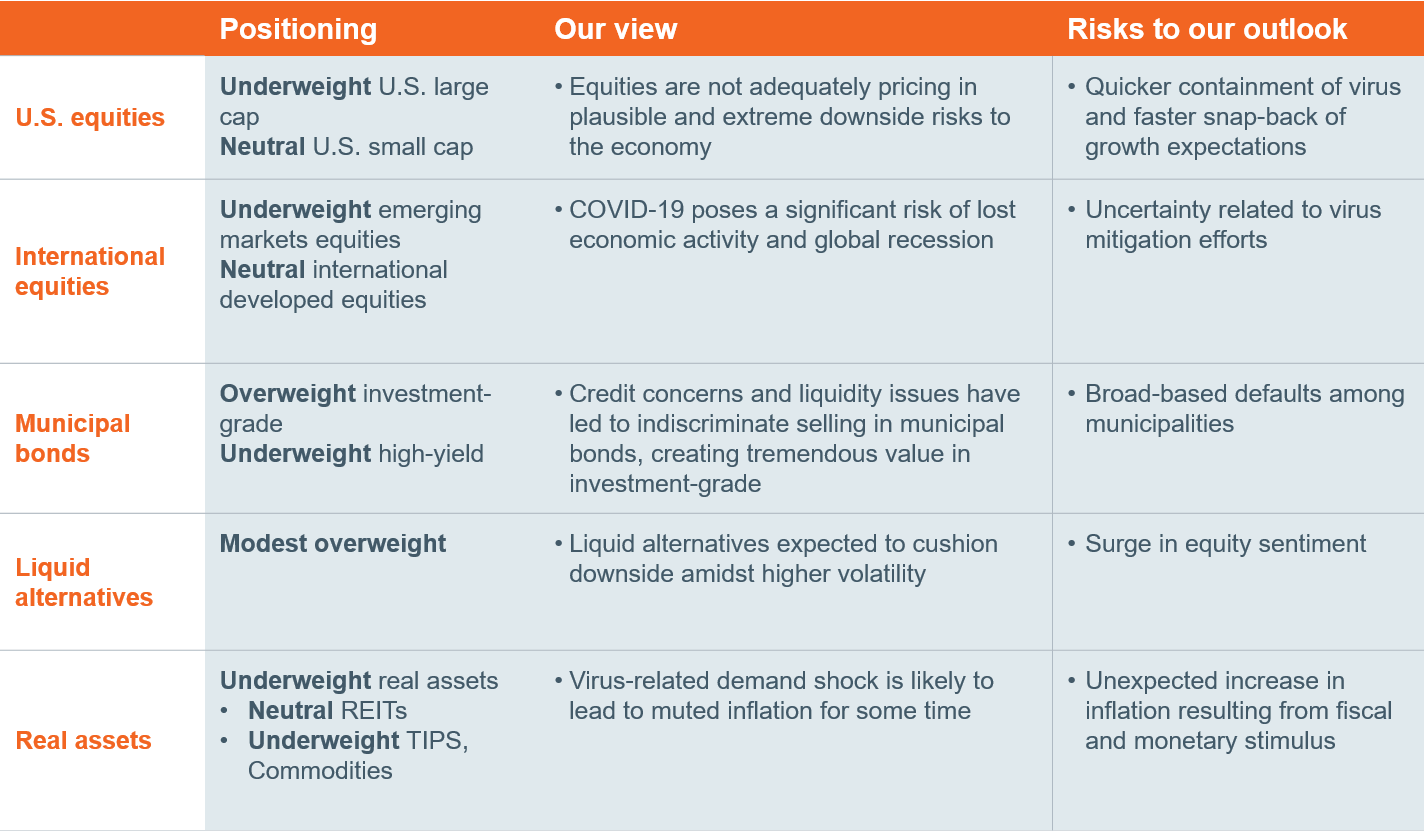 Data as of April 14, 2020. Positioning reflects our monthly tactical asset allocation (TAA) versus the long-term strategic asset allocation (SAA) benchmark. For an overview of our asset allocation strategies, please see the disclosures.
Disclosures
Wilmington Trust is a registered service mark used in connection with various fiduciary and non-fiduciary services offered by certain subsidiaries of M&T Bank Corporation including, but not limited to, Manufacturers & Traders Trust Company (M&T Bank), Wilmington Trust Company (WTC) operating in Delaware only, Wilmington Trust, N.A. (WTNA), Wilmington Trust Investment Advisors, Inc. (WTIA), Wilmington Funds Management Corporation (WFMC), and Wilmington Trust Investment Management, LLC (WTIM). Such services include trustee, custodial, agency, investment management, and other services. International corporate and institutional services are offered through M&T Bank Corporation's international subsidiaries. Loans, credit cards, retail and business deposits, and other business and
personal banking services and products are offered by M&T Bank, member FDIC.
Facts and views presented in this report have not been reviewed by, and may not reflect information known to, professionals in other business areas of Wilmington Trust or M&T Bank who may provide or seek to provide financial services to entities referred to in this report. M&T Bank and Wilmington Trust have established information barriers between their various business groups. As a result, M&T Bank and Wilmington Trust do not disclose certain client relationships with, or compensation received from, such entities in their reports.
The information on Wilmington Wire has been obtained from sources believed to be reliable, but its accuracy and completeness are not guaranteed. The opinions, estimates, and projections constitute the judgment of Wilmington Trust and are subject to change without notice. This commentary is for information purposes only and is not intended as an offer or solicitation for the sale of any financial product or service or a recommendation or determination that any investment strategy is suitable for a specific investor. Investors should seek financial advice regarding the suitability of any investment strategy based on the investor's objectives, financial situation, and particular needs. Diversification does not ensure a profit or guarantee against a loss. There is no assurance that any investment strategy will succeed.
An Overview of Our Asset Allocation Strategies
Wilmington Trust offers seven asset allocation models for taxable (high-net-worth) and tax-exempt (institutional) investors across five strategies reflecting a range of investment objectives and risk tolerances: Aggressive, Growth, Growth & Income, Income & Growth, and Conservative. The seven models are High Net Worth (HNW), HNW with Liquid Alternatives, HNW with Private Markets, HNW Tax Advantaged, Institutional, Institutional with Hedge LP, and Institutional with Private Markets. As the names imply, the strategies vary with the type and degree of exposure to hedge strategies and private market exposure, as well as with the focus on taxable or tax-exempt income. On a quarterly basis we publish the results of all of these strategy models versus benchmarks representing strategic implementation without tactical tilts.
Model Strategies may include exposure to the following asset classes: U.S. large-capitalization stocks, U.S. small-cap stocks, developed international stocks, emerging market stocks, U.S. and international real asset securities (including inflation-linked bonds and commodity-related and real estate-related securities), U.S. and international investment-grade bonds (corporate for Institutional or Tax Advantaged, municipal for other HNW), U.S. and international speculative grade (high-yield) corporate bonds and floating-rate notes, emerging markets debt, and cash equivalents. Model Strategies employing nontraditional hedge and private market investments will, naturally, carry those exposures as well. Each asset class carries a distinct set of risks, which should be reviewed and understood prior to investing.
Past performance cannot guarantee future results. Investing involves risk and you may incur a profit or a loss.
© 2020 M&T Bank Corporation and its subsidiaries. All rights reserved.