July 29, 2016—Our Investment Committee (IC) decided this week to close the underweight to emerging markets (EM) equities we had initially adopted in 2013. Our clients have benefited from this underweight, as EM equities had generally underperformed broad international and global stock market indices. The IC has been monitoring the evolving EM improvement and focusing on two primary prerequisites that would need to be met before considering any trades:
A Federal Reserve that is not likely to raise rates aggressively
Indications that Chinese growth is stabilizing
Both of these conditions have been met, in our view. While concerns about China, the largest EM by equity market capitalization (number of shares multiplied by price per share) are still likely to flare up occasionally, the government appears to be successful in limiting downside risk, keeping any problems manageable. (For more on this, see June 2016's Capital Perspectives "In Focus" article entitled, Tipping points for emerging markets)
Growing evidence on a number of other fronts supports the view that the tide has turned on EM and it no longer warrants a defensive posture. Year to date through July 27, the EM equity index (MSCI Emerging Markets) has outperformed the broader international equity index (MSCI All-Country World ex-U.S.) by 899 basis points, or bps (8.99%). EM equities are benefiting from favorable structural tailwinds, and diminished headwinds, which we expect will persist over our 9-12 month investment horizon.
Future Fed tightening is no longer a major headwind to EM equities
We believe that the headwind to EM equities from potential future rounds of Fed tightening has diminished.  Our initial decision to underweight EM currencies came in the wake of the 2013 "taper tantrum," which sparked capital flight from many EM countries, EM currency devaluations, and consequently, large EM equity losses in U.S. dollar terms. At the time of the taper tantrum, the Fed suggested that the potential adverse international impacts of Fed actions were of little to no importance in its decision making. However, the Fed's view has evolved since its rate hike in December 2015. Today, we can take some comfort from the fact that the Fed has become more mindful of the international ramifications of its policy decisions, and is unlikely to take precipitous actions that can potentially be disruptive, particularly to EM stocks.
Chinese economic policy still faces challenges, but they are manageable
Chinese equities traded through H-shares in Hong Kong and through ADRs in the U.S. comprise about one-quarter of the MSCI EM index.  We do not subscribe to ultra-bearish predictions of a catastrophic Chinese "Lehman moment" or "hard landing." Nevertheless, we believe that economic policymaking in Beijing remains a headwind for Chinese stocks. Recent on-shore stock market interventions and managed currency depreciation suggest that economic policymaking suffers from intra-leadership quarrels, process opacity, inadequate communication, and poor execution. As a result, it is not unreasonable to expect additional negative surprises of an inadvertent nature. However, we believe the Chinese authorities ultimately have the resources and determination to manage challenges before they become full-fledged crises.
Global smart phone revolution is a structural tailwind for EM tech and telecom stocks
Technology and telecom stocks have been strong year-to-date contributors to EM equity index outperformance (Chart 1). Our 2016 Capital Markets Forecast (CMF) projects an intensifying long-term structural tailwind from such equities.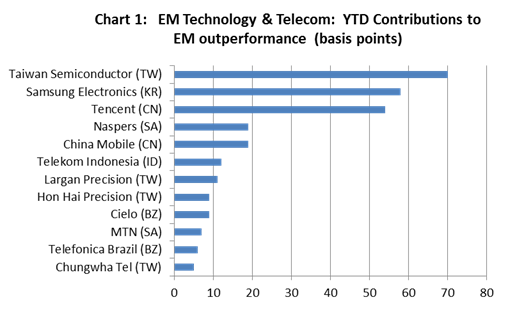 Source: Bloomberg
Expanding consumer demand for financial services is structural tailwind for EM stocks
The same can be said for consumer-oriented financial equities. It is notable that many of the equities making the largest contributions YTD are domiciled in Brazil. A solidly middle-income EM country, Brazil is a large market for consumer financial services. However, Brazil's banks and other financial service providers have for several years faced strong headwinds from the country's adverse political and economic situation. As these headwinds abate, the valuations of these stocks are likely to continue to abate.
Source: Bloomberg
Weak commodity prices are no longer a strong headwind for EM equities
The previously strong headwind from lower oil and metals prices is subsiding. Chart 3 shows the year-to-date contributions of energy and metals equities to EM outperformance. Our view is that crude oil prices are likely to further recover somewhat during the course of the next year, due to a combination of sustained Chinese energy demand and constricted U.S. supply.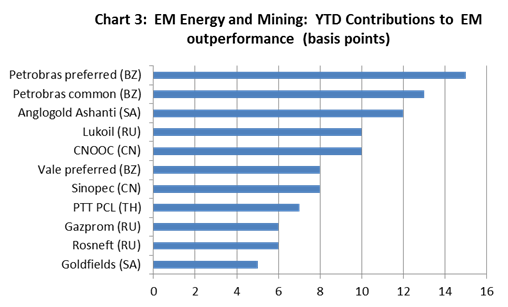 Source: Bloomberg
Attraction of developed country bonds is a diminishing headwind
Investors who reside in EM typically allocate a portion of their portfolios to "safe" developed-country bonds denominated in non-EM currencies, even though these bonds have lower yields than local EM bonds. However, with developed-country bond yields falling into ultra-low or negative territory, the widening yield gap between EM bonds and developed-country bonds in 2015 and 2016 reduces the relative attractiveness of the latter. We are already seeing sizable net capital inflows into EM securities. Such inflows should help mitigate the general risk of major EM currency devaluations. Nevertheless, cross-border capital flows are fickle, and capital flight can occur very quickly. We believe even at ultra-low or negative yields, developed-country bonds will still provide a safe haven in the event a political or financial crisis impacts a particular EM country.
Disclosures
Wilmington Trust is a registered service mark. Wilmington Trust Corporation is a wholly owned subsidiary of M&T Bank Corporation. Investment management and fiduciary services are provided by Wilmington Trust Company, operating in Delaware only, and Wilmington Trust, N.A., a national bank. Loans, retail and business deposits, and other personal and business banking services and products are offered by Manufacturers and Traders Trust Company (M&T Bank), member FDIC. Wilmington Trust Investment Advisors, Inc., a subsidiary of M&T Bank, is a SEC-registered investment adviser providing investment management services to Wilmington Trust and M&T affiliates and clients.
These materials are based on public information. Facts and views presented in this report have not been reviewed by, and may not reflect information known to, professionals in other business areas of Wilmington Trust or M&T Bank who may provide or seek to provide financial services to entities referred to in this report. M&T Bank and Wilmington Trust have established information barriers between their various business groups. As a result, M&T Bank and Wilmington Trust do not disclose certain client relationships with, or compensation received from, such entities in their reports.
The information on Wilmington Wire has been obtained from sources believed to be reliable, but its accuracy and completeness are not guaranteed. The opinions, estimates, and projections constitute the judgment of Wilmington Trust and are subject to change without notice. This commentary is for information purposes only and is not intended as an offer or solicitation for the sale of any financial product or service or a recommendation or determination that any investment strategy is suitable for a specific investor. Investors should seek financial advice regarding the suitability of any investment strategy based on the investor's objectives, financial situation, and particular needs. Diversification does not ensure a profit or guarantee against a loss. There is no assurance that any investment strategy will succeed.
Any investment products discussed in this commentary are not insured by the FDIC or any other governmental agency, are not deposits of or other obligations of or guaranteed by M&T Bank, Wilmington Trust, or any other bank or entity, and are subject to risks, including a possible loss of the principal amount invested. Some investment products may be available only to certain "qualified investors"—that is, investors who meet certain income and/or investable assets thresholds. Past performance is no guarantee of future results. Investing involves risk and you may incur a profit or a loss.
Any positioning information provided does not include all positions that were taken in client accounts and may not be representative of current positioning. It should not be assumed that the positions described are or will be profitable or that positions taken in the future will be profitable or will equal the performance of those described. Positions described are illustrative and not intended as a recommendation outside of a managed account.
Indices are not available for direct investment. Investment in a security or strategy designed to replicate the performance of an index will incur expenses, such as management fees and transaction costs that would reduce returns.
Third party trademarks and brands are the property of their respective owners.
Contact an Expert