June 15, 2018—On Thursday, June 14, the European Central Bank (ECB) made the equivalent of a bar's 'last call' before it stops serving alcohol. It announced at its policy meeting that the asset purchase program known as quantitative easing (QE) would be winding down in the fourth quarter of 2018 and ending by the end of December. In doing so, the ECB is joining our Federal Reserve (Fed) in stepping away from a period of unconventional and extremely accommodative monetary policy. However, unlike the Fed, which is winding down its balance sheet and is well into a rate-hike campaign (it raised the target policy rate another 0.25% on Wednesday to a range of 1.75–2.0%; see our recent blog post), the ECB is not yet ushering the party guests out the door.
While the ECB's announcement to end QE may have come about a month earlier than expected, this was countered by a firm commitment to hold off raising rates until at least through the summer of 2019. Calendar-based guidance is always deemed as more "dovish" than data-dependence, which resulted in the euro depreciating against the dollar in Thursday's trading session.
We do not disagree with the ECB's decision to postpone raising rates until well after the end of asset purchases. After all, there is a materially higher growth hurdle for the ECB to raise rates than to end QE. Despite a slowing of economic data in the first quarter, the eurozone economies do not warrant such unconventional and easy monetary policy. Confidence is elevated, businesses are expanding, and lending growth is healthy for both corporates and households (Figure 1).
Figure 1: Annual growth rates of eurozone loans (%)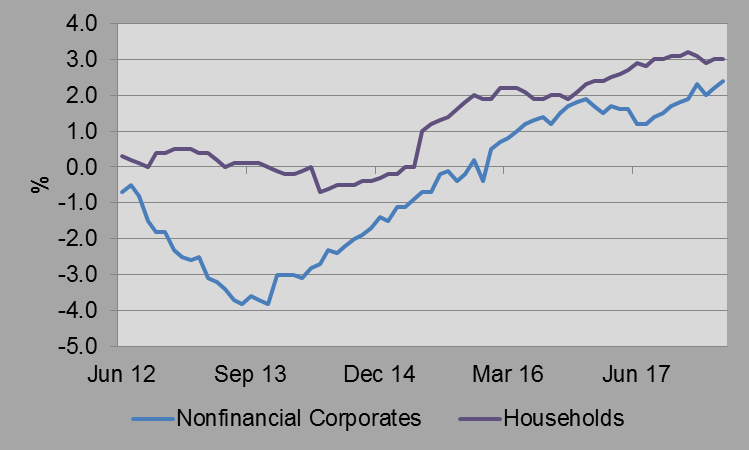 As of April 30, 2018.
Source: Bloomberg, ECB.
However, the ECB has a singular focus: inflation. (This is in contrast to the Fed, which targets both full employment and stable prices.) On the inflation front, the ECB is far from claiming victory, as eurozone inflation is still running meaningfully below the ECB's 2% target (Figure 2). As such, it makes sense that the ECB would hold off on raising interest rates.
Figure 2: Eurozone inflation, year-over-year smoothed (%)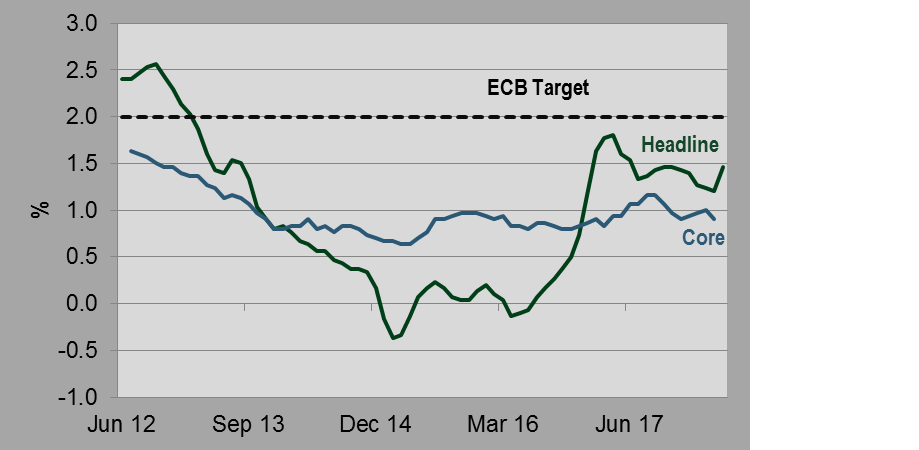 As of May 31, 2018. Represents a 3-month moving average.
Source: Bloomberg, ECB.
Core narrative
The ECB is very slowly pivoting toward normalizing monetary policy, but remains well behind the Fed, particularly after committing to maintaining a negative policy rate for another full year. This supports our core narrative, as it shifts the balance of risks further toward a strengthening dollar. An expectation that the dollar will trade range-bound to slightly higher was one factor contributing to our decision to reduce our non-U.S. equity overweight and add to U.S. small cap equities. We maintain an overweight to non-U.S. equities versus our strategic benchmark, as we still expect above-average growth from emerging and non-U.S. developed economies, in addition to accommodative monetary policy from the ECB and Bank of Japan. However, weaker foreign currencies eat into a dollar-based equity investor's total return, even if the weaker currency may help the country's exports by making their goods cheaper for foreign buyers. Overall, we are positioning portfolios for a continuation of the global economic expansion with an overweight position to equities, and we continue to monitor the dynamics at play when it comes to central bank activity, currencies, and economic growth.
Disclosures
Wilmington Trust is a registered service mark. Wilmington Trust Corporation is a wholly owned subsidiary of M&T Bank Corporation. Wilmington Trust Company, operating in Delaware only, Wilmington Trust, N.A., M&T Bank and certain other affiliates, provide various fiduciary and non-fiduciary services, including trustee, custodial, agency, investment management and other services. International corporate and institutional services are offered through Wilmington Trust Corporation's international affiliates. Loans, credit cards, retail and business deposits, and other business and personal banking services and products are offered by M&T Bank, member FDIC. Wilmington Trust Investment Advisors, Inc. is an SEC-registered investment adviser providing investment management services to Wilmington Trust and M&T Bank affiliates and clients.
These materials are based on public information. Facts and views presented in this report have not been reviewed by, and may not reflect information known to, professionals in other business areas of Wilmington Trust or M&T Bank who may provide or seek to provide financial services to entities referred to in this report. M&T Bank and Wilmington Trust have established information barriers between their various business groups. As a result, M&T Bank and Wilmington Trust do not disclose certain client relationships with, or compensation received from, such entities in their reports.
The information on Wilmington Wire has been obtained from sources believed to be reliable, but its accuracy and completeness are not guaranteed. The opinions, estimates, and projections constitute the judgment of Wilmington Trust and are subject to change without notice. This commentary is for information purposes only and is not intended as an offer or solicitation for the sale of any financial product or service or a recommendation or determination that any investment strategy is suitable for a specific investor. Investors should seek financial advice regarding the suitability of any investment strategy based on the investor's objectives, financial situation, and particular needs. Diversification does not ensure a profit or guarantee against a loss. There is no assurance that any investment strategy will succeed.
Any investment products discussed in this commentary are not insured by the FDIC or any other governmental agency, are not deposits of or other obligations of or guaranteed by M&T Bank, Wilmington Trust, or any other bank or entity, and are subject to risks, including a possible loss of the principal amount invested. Some investment products may be available only to certain "qualified investors"—that is, investors who meet certain income and/or investable assets thresholds. Past performance is no guarantee of future results. Investing involves risk and you may incur a profit or a loss.
Any positioning information provided does not include all positions that were taken in client accounts and may not be representative of current positioning. It should not be assumed that the positions described are or will be profitable or that positions taken in the future will be profitable or will equal the performance of those described. Positions described are illustrative and not intended as a recommendation outside of a managed account.
Indices are not available for direct investment. Investment in a security or strategy designed to replicate the performance of an index will incur expenses, such as management fees and transaction costs that would reduce returns.
Third-party trademarks and brands are the property of their respective owners.