February 15, 2017—During 2017, elections will be held in the Netherlands, France, Germany, and probably Italy. Popular support for alternative parties in these countries is rising. Most espouse nationalist and anti-immigrant sentiment. These parties also favor withdrawal from the European Union (EU). In the wake of Brexit, the departure of any one of these "core EU" countries could spell doom for both the euro as a currency and the EU itself. Consequently, it would be an adverse market development if any of these alternative parties were to come to power.
Judging from recent stock market returns, European investors do not as yet appear overly concerned (Table 1). However, the surprise outcomes of the U.K.'s Brexit vote and the U.S. presidential election underscore that "de-globalization politics" are complex and unpredictable. This post provides our current views regarding the potential outcomes of these elections.
Table 1

Source: Bloomberg
Dutch lower house March 15 election
Polling suggests that Prime Minister Geert Wilders' Freedom Party will place first, with about one-fifth of the seats in the Dutch parliament. Freedom is nationalist, anti-immigrant, and anti-EU. A Wilders first-place finish will no doubt garner considerable media attention. However, the current two-party governing coalition of the Labour Party, led by Mark Rutte, and the People's Party, is also expected to win about one-fifth of the seats. Additionally, leftist parties in combination will likely control a larger number of seats than either Wilders or Rutte. They could conceivably form a minority government, if they can overcome policy and personality differences. In either case, large majorities in parliament are likely to block a Freedom-led government. (An interesting aside: The Dutch government is moving back to paper ballots because of a fear that its electronic voting systems will be hacked.)
Table 2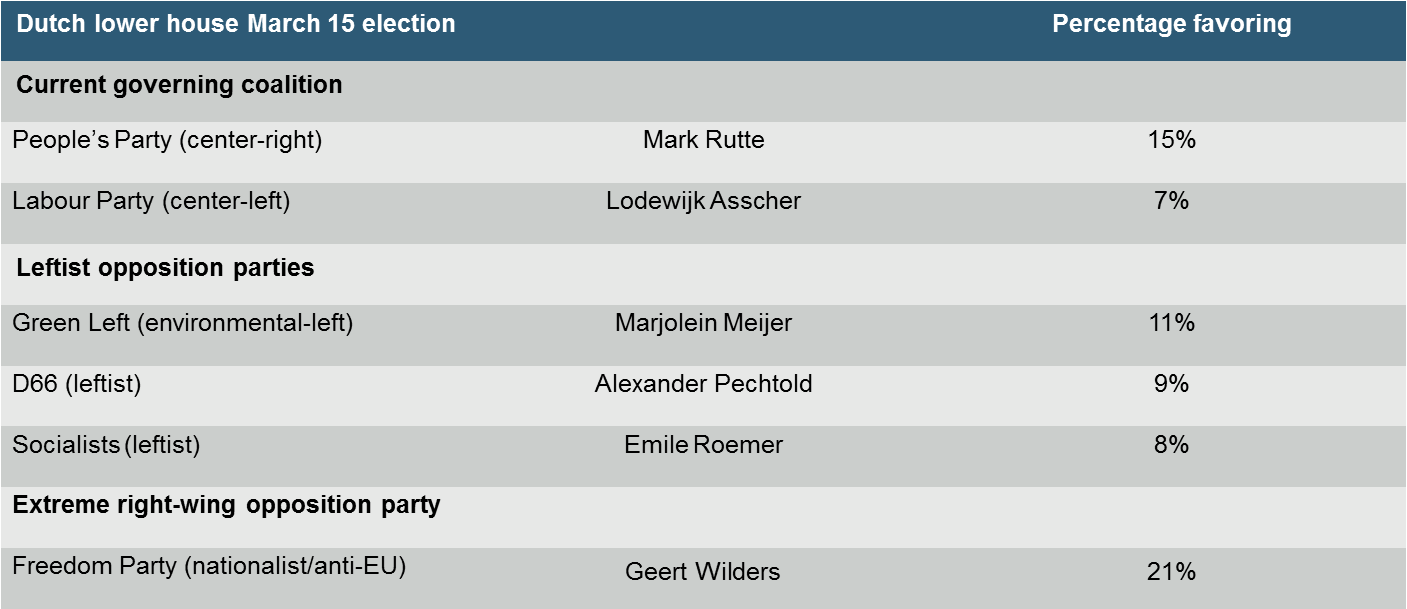 Source: i & o research; WTIA

French presidential election—initial round on April 23 with runoff on May 7
In the French political system, the president wields considerable power, much as the U.S. president does. Polling suggests that Marine Le Pen, leader of the National Front, will cop the top spot in the initial round, with 25% support. The National Front is nationalist, anti-immigrant, and pro-Putin. Le Pen has also promised to conduct a referendum on French EU withdrawal. Three moderate pro-EU candidates are each polling at between 15% and 21% in the initial round. Initially, it was thought that Francois Fillon, the Republican candidate, would likely place second in the initial round. However, revelations that Fillon had placed his wife and children on the government payroll have weakened his support. It now seems likely that independent candidate Emmanuel Macron will take second place in the initial round. For the runoff, the conventional wisdom is that opponents of National Front policies will support Le Pen's challenger, leading to her loss by a considerable margin.
Table 3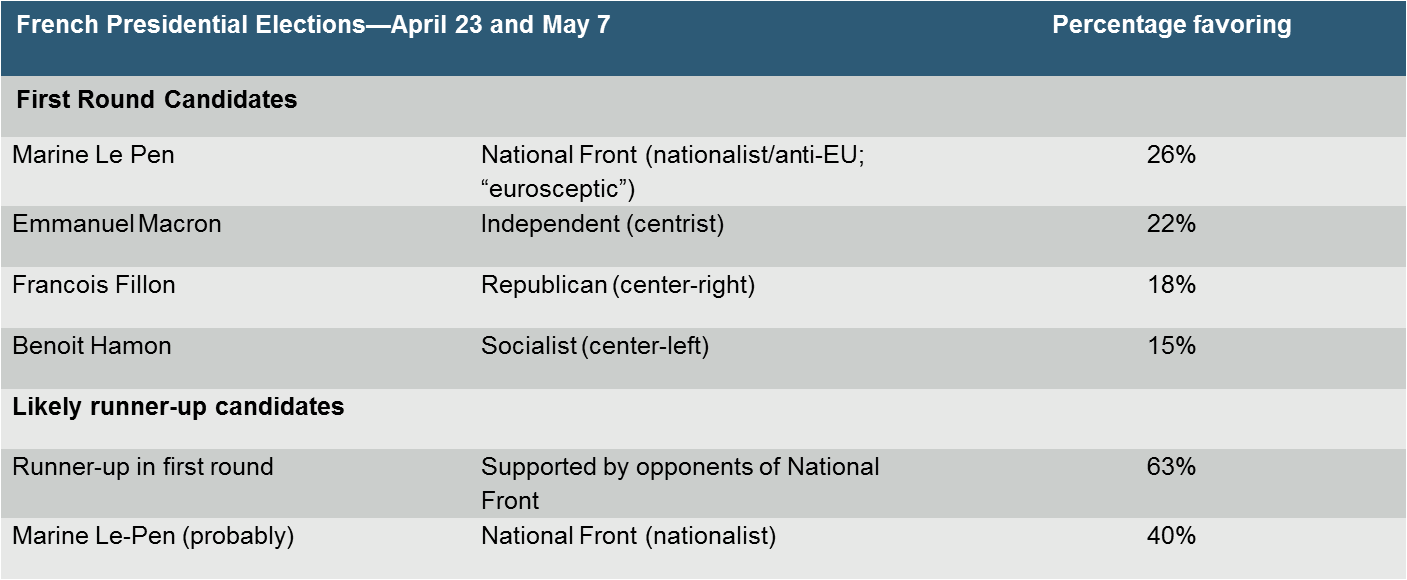 Source: Opinionway; WTIA
German lower-house election—September 24
Germany has two major pro-EU mainstream parties, the right-leaning Christian Democrats led by Chancellor Angela Merkel and the left-leaning Social Democrats led by Martin Schultz. These parties currently form a coalition government, with Angela Merkel as chancellor. Current polling for the September election suggests that each party will win at least 30% of the vote. Consequently, we expect these parties to remain in coalition. Were the Social Democrats to gain more seats than the Christian Democrats, Schultz would become chancellor. In that case, we will likely see German policies slightly more favorable toward Europe. More important, it seems almost impossible for any of the fringe parties to enter government, much less form one. This would include the Alternative for Germany, which is nationalist, anti-immigrant, and anti-EU.
Table 4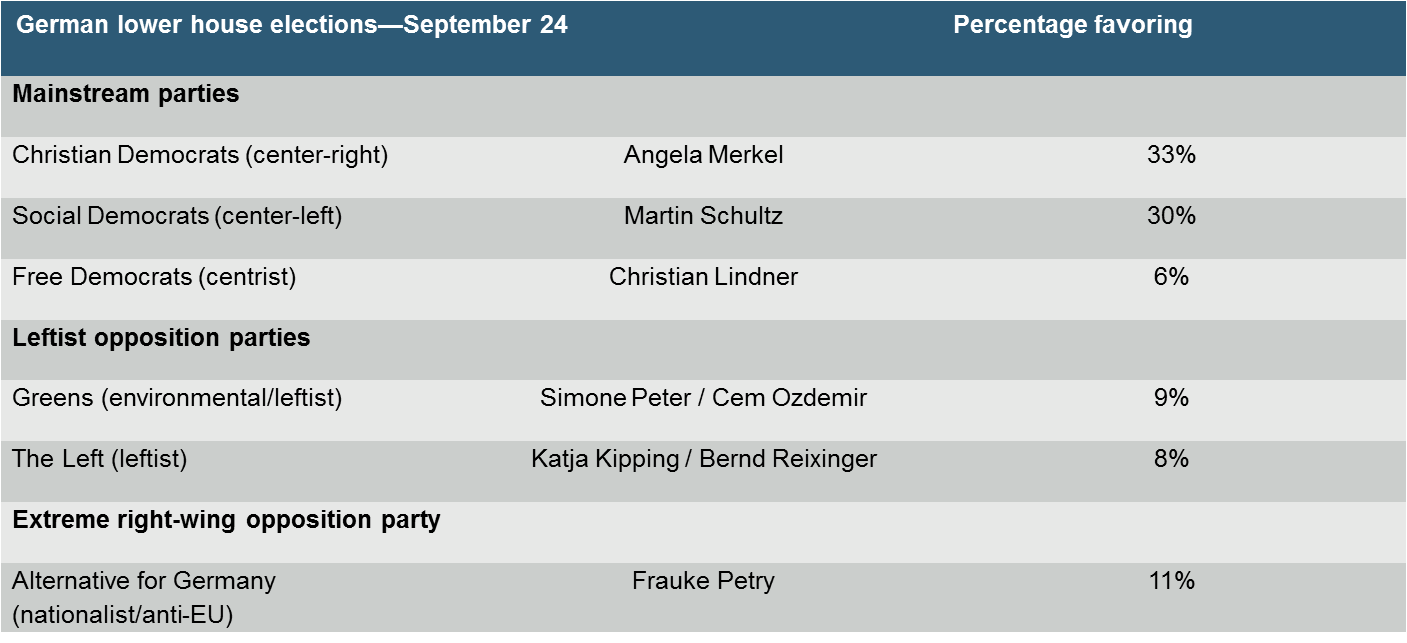 Source: pollytix strategic research; WTIA
Italian lower-house election—sometime before May 2018 (probably in 2017)
Currently, Italy is governed by a pro-EU coalition led by the centrist Democrats. Over the last few years, Italy has been grappling with various constitutional reform issues, which now seem to be resolved. In the meantime, the anti-establishment Five Star Movement has been gaining ground against the Democrats. While Five Star has recently hopped on the anti-EU bandwagon, the movement is not as nationalist or as anti-immigrant as alternative parties elsewhere in Europe. Even if Five Star were to gain more seats than the Democrats, it would be unlikely to be able to form a government. It is ideologically opposed to forming coalitions with other political parties, which it believes are inherently corrupt. On the other hand, the Democrats are likely to sustain their coalition, which includes two minor parties, New Centre Right and Civic Choice.
Table 5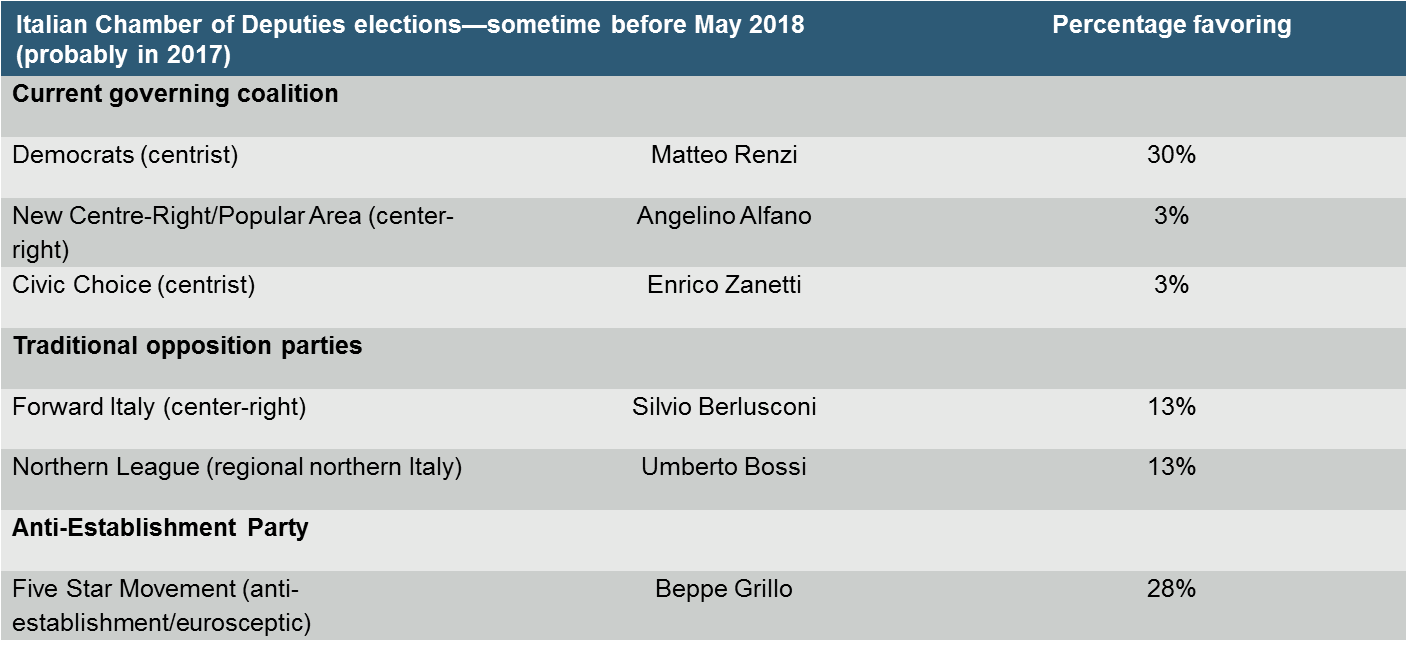 Source: Sondaggi Politico Elettorali- Italian Government; WTIA
Core narrative
We currently have a slight overweight to international developed market equities, of which Europe (including the U.K.) represents about 60%. Our view toward developed markets is informed by an improving economic environment and rising earnings expectations, in both Europe and Japan. Also, we find valuations and dividend yields compelling. The upcoming elections in the Netherlands, France, Germany, and Italy, however, present "wildcard" political risks, especially regarding potential future exits from the EU, which could adversely impact the economic environment and earnings expectations. Based on present information, we do not expect that any of the anti-EU alternative parties will be able to take effective power and do not expect further near-term departures from the EU.
Disclosures
Wilmington Trust is a registered service mark. Wilmington Trust Corporation is a wholly owned subsidiary of M&T Bank Corporation. Investment management and fiduciary services are provided by Wilmington Trust Company, operating in Delaware only, and Wilmington Trust, N.A., a national bank. Loans, retail and business deposits, and other personal and business banking services and products are offered by Manufacturers and Traders Trust Company (M&T Bank), member FDIC. Wilmington Trust Investment Advisors, Inc., a subsidiary of M&T Bank, is a SEC-registered investment adviser providing investment management services to Wilmington Trust and M&T affiliates and clients.
These materials are based on public information. Facts and views presented in this report have not been reviewed by, and may not reflect information known to, professionals in other business areas of Wilmington Trust or M&T Bank who may provide or seek to provide financial services to entities referred to in this report. M&T Bank and Wilmington Trust have established information barriers between their various business groups. As a result, M&T Bank and Wilmington Trust do not disclose certain client relationships with, or compensation received from, such entities in their reports.
The information on Wilmington Wire has been obtained from sources believed to be reliable, but its accuracy and completeness are not guaranteed. The opinions, estimates, and projections constitute the judgment of Wilmington Trust and are subject to change without notice. This commentary is for information purposes only and is not intended as an offer or solicitation for the sale of any financial product or service or a recommendation or determination that any investment strategy is suitable for a specific investor. Investors should seek financial advice regarding the suitability of any investment strategy based on the investor's objectives, financial situation, and particular needs. Diversification does not ensure a profit or guarantee against a loss. There is no assurance that any investment strategy will succeed.
Any investment products discussed in this commentary are not insured by the FDIC or any other governmental agency, are not deposits of or other obligations of or guaranteed by M&T Bank, Wilmington Trust, or any other bank or entity, and are subject to risks, including a possible loss of the principal amount invested. Some investment products may be available only to certain "qualified investors"—that is, investors who meet certain income and/or investable assets thresholds. Past performance is no guarantee of future results. Investing involves risk and you may incur a profit or a loss.
Any positioning information provided does not include all positions that were taken in client accounts and may not be representative of current positioning. It should not be assumed that the positions described are or will be profitable or that positions taken in the future will be profitable or will equal the performance of those described. Positions described are illustrative and not intended as a recommendation outside of a managed account.
Indices are not available for direct investment. Investment in a security or strategy designed to replicate the performance of an index will incur expenses, such as management fees and transaction costs that would reduce returns.
Third party trademarks and brands are the property of their respective owners.
Contact an Expert