May 29, 2020—Of all the asset classes available in which to invest, the nuances of investing in gold may be least appreciated. Gold is attractive as a long-term store of value or portfolio hedge, but it can also be extremely volatile, generates no income or organic growth, and involves storage costs. As a result, the case for gold in a portfolio is much more gray than black or white.
At Wilmington Trust we own a small amount of gold in our long-term strategic asset allocation (within the "commodity/other" asset class of real assets). We also periodically consider adding a more sizable tactical position in gold. Today we hold only very modest exposure to gold and precious metals in portfolios (approximately 10% of our real asset exposure, or 0.25% of the total portfolio). In light of the worst economic contraction since the Great Depression and unprecedented stimulus (both monetary and fiscal), we are receiving many questions about whether now is the time to add to gold. Here we discuss why the near-term outlook for gold is mixed, warranting no change to our asset allocation, and what conditions would need to materialize for us to become more constructive on the metal.
Drivers of gold
The investment rationale for owning gold is complex. To help demystify this asset, we identify below five distinct but related fundamental drivers of gold returns. We categorize each as being positive, negative, or mixed for gold over the next 6–12 months:
(POSITIVE) Nominal yields – Unlike stocks or bonds, gold does not offer an income component. This represents an "opportunity cost" of owning gold, particularly when yields for other assets are high. In today's ultra-low yield environment, there is almost no opportunity cost to owning gold.
(MIXED) U.S. dollar – Gold has historically moved in the opposite direction as changes in the U.S. dollar. The Bloomberg Dollar Index is trading near multi-decade highs, but an abatement of investor fear (the U.S. dollar is a safe haven asset) and the ability of the Federal Reserve to "out do" most other central banks with stimulus, suggest the U.S. dollar could enter a period of weakness. If that were the case, it would provide support for the price of gold, all else equal. Relative strength of the U.S. economy, however, could continue to buoy the U.S. dollar and limit further price gains for gold.
(MIXED) Volatility – The relationship between gold and equity market volatility is mixed. Gold often shines during periods of higher volatility but liquid markets, and for this reason we think of gold as a portfolio "tail risk hedge." As we experienced in February and March of this year, lack of liquidity and dysfunctional markets can lead to adverse price movements in gold. Volatility has come down considerably since March but remains above average for the prior cycle. Risks remain related to COVID-19, U.S./China relations, and the U.S. election, and a more volatile but well-functioning market could make gold a useful portfolio hedge going forward. However, there have been plenty of periods in recent history when poor performance for equities has coincided with equally poor performance of gold. This unpredictable behavior of gold necessitates caution about the position size for gold taken in a portfolio (Figure 1).
(NEGATIVE) Real yields – A real yield is an interest rate adjusted for inflation and represents the true yield or cost of borrowing after accounting for the inflationary environment. The level and change in real yields are negatively correlated to gold, meaning when real yields are low and falling, the price of gold tends to rise. Real yields fell into negative territory this year, as the nominal interest rate on a 10-year Treasury declined from 1.9% to approximately 0.6% in a matter of months yet headline Consumer Price Inflation held steady around 2%. Today, real yields are still quite low but are positive and rising. We expect them to continue to increase as economic uncertainty and low-growth expectations keep a lid on Treasury yields but inflation falls. Such a backdrop historically has not been favorable for gold.
(NEGATIVE) Inflation – The supply of gold is much more static than the supply of currency in circulation during inflationary periods; therefore, gold protects its value more than fiat currency when prices are rising. In the near term, we expect the global recession to be disinflationary rather than inflationary. (Disinflation means the rate of inflation is decreasing; deflation is a negative price change.) Some COVID-19-induced supply chain disruptions are causing temporary spikes in prices of certain goods, but the overall collapse in demand is so significant that we expect the lack of inflation to be a headwind for gold in coming months.
Figure 1: Gold can be effective but often unpredictable as a portfolio hedge
9-month return of gold by decile of S&P 500 performance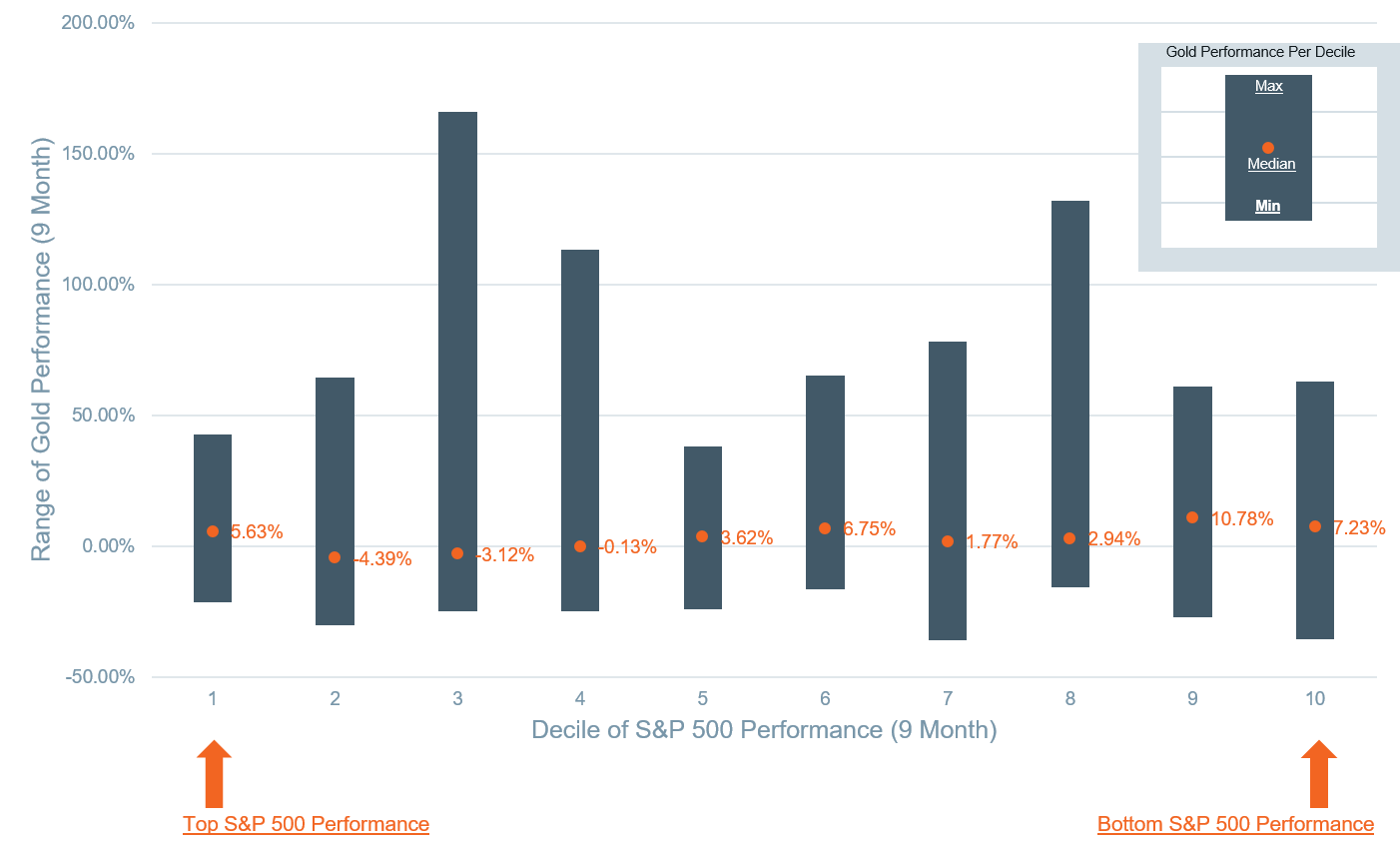 Date range: 1973–2019. Source: Macrobond.
Core narrative
The considerations above focus on a tactical allocation to gold over a 6–12-month horizon. The mixed outlook, coupled with recent price strength for the metal (+3% in a year and +13% year-to-date through May 28, 2020), has us holding off on adding to gold at these levels.
Longer term, the prospects for gold as an investment look interesting and could be reason to add a larger portfolio allocation should we experience a price pullback. Unprecedented levels of monetary and fiscal stimulus have placed central banks in uncharted territory and federal budgets in peril. Government spending and deficits will be structurally higher for years to come. This suggests that as growth and demand eventually recover, trillions of dollars of liquidity could eventually lead to higher inflation, higher real and nominal yields, and a weaker U.S. dollar. In this environment, gold could shine as an alternative store of value to the U.S. dollar and fiat currency more generally. For now, we believe the risk versus reward over a 9- to 12-month investment horizon is more attractive in other assets.
Disclosures
Wilmington Trust is a registered service mark used in connection with various fiduciary and non-fiduciary services offered by certain subsidiaries of M&T Bank Corporation including, but not limited to, Manufacturers & Traders Trust Company (M&T Bank), Wilmington Trust Company (WTC) operating in Delaware only, Wilmington Trust, N.A. (WTNA), Wilmington Trust Investment Advisors, Inc. (WTIA), Wilmington Funds Management Corporation (WFMC), and Wilmington Trust Investment Management, LLC (WTIM). Such services include trustee, custodial, agency, investment management, and other services. International corporate and institutional services are offered through M&T Bank Corporation's international subsidiaries. Loans, credit cards, retail and business deposits, and other business and personal banking services and products are offered by M&T Bank, member FDIC.
Facts and views presented in this report have not been reviewed by, and may not reflect information known to, professionals in other business areas of Wilmington Trust or M&T Bank who may provide or seek to provide financial services to entities referred to in this report. M&T Bank and Wilmington Trust have established information barriers between their various business groups. As a result, M&T Bank and Wilmington Trust do not disclose certain client relationships with, or compensation received from, such entities in their reports.
The information on Wilmington Wire has been obtained from sources believed to be reliable, but its accuracy and completeness are not guaranteed. The opinions, estimates, and projections constitute the judgment of Wilmington Trust and are subject to change without notice. This commentary is for information purposes only and is not intended as an offer or solicitation for the sale of any financial product or service or a recommendation or determination that any investment strategy is suitable for a specific investor. Investors should seek financial advice regarding the suitability of any investment strategy based on the investor's objectives, financial situation, and particular needs. Diversification does not ensure a profit or guarantee against a loss. There is no assurance that any investment strategy will succeed.
Past performance cannot guarantee future results. Investing involves risk and you may incur a profit or a loss.
Indexes are not available for direct investment. Investment in a security or strategy designed to replicate the performance of an index will incur expenses such as management fees and transaction costs which would reduce returns.
An Overview of Our Asset Allocation Strategies
Wilmington Trust offers seven asset allocation models for taxable (high-net-worth) and tax-exempt (institutional) investors across five strategies reflecting a range of investment objectives and risk tolerances: Aggressive, Growth, Growth & Income, Income & Growth, and Conservative. The seven models are High Net Worth (HNW), HNW with Liquid Alternatives, HNW with Private Markets, HNW Tax Advantaged, Institutional, Institutional with Hedge LP, and Institutional with Private Markets. As the names imply, the strategies vary with the type and degree of exposure to hedge strategies and private market exposure, as well as with the focus on taxable or tax-exempt income. On a quarterly basis we publish the results of all of these strategy models versus benchmarks representing strategic implementation without tactical tilts.
Model Strategies may include exposure to the following asset classes: U.S. large-capitalization stocks, U.S. small-cap stocks, developed international stocks, emerging market stocks, U.S. and international real asset securities (including inflation-linked bonds and commodity-related and real estate-related securities), U.S. and international investment-grade bonds (corporate for Institutional or Tax Advantaged, municipal for other HNW), U.S. and international speculative grade (high-yield) corporate bonds and floating-rate notes, emerging markets debt, and cash equivalents. Model Strategies employing nontraditional hedge and private market investments will, naturally, carry those exposures as well. Each asset class carries a distinct set of risks, which should be reviewed and understood prior to investing.
Allocations
Each strategy is constructed with target weights for each asset class. Wilmington Trust periodically adjusts the target allocations and may shift away from the target allocations within certain ranges. Such tactical adjustments to allocations typically are considered on a monthly basis in response to market conditions. The asset classes and their current proxies are: large–cap U.S. stocks: Russell 1000® Index; small–cap U.S. stocks: Russell 2000® Index; developed international stocks: MSCI EAFE® (Net) Index; emerging market stocks: MSCI Emerging Markets Index; U.S. inflation-linked bonds: Bloomberg/Barclays US Government ILB Index; international inflation-linked bonds: Bloomberg/Barclays World exUS ILB (Hedged) Index; commodity-related securities: Bloomberg Commodity Index; U.S. REITs: S&P US REIT Index; international REITs: Dow Jones Global exUS Select RESI Index; private markets: S&P Listed Private Equity Index; hedge funds: HFRI Fund of Funds Composite Index; U.S. taxable, investment-grade bonds: Bloomberg/Barclays U.S. Aggregate Index; U.S. high-yield corporate bonds: Bloomberg/Barclays U.S. Corporate High Yield Index; U.S. municipal, investment-grade bonds: S&P Municipal Bond Index; U.S. municipal high-yield bonds: Bloomberg/Barclays 60% High Yield Municipal Bond Index / 40% Municipal Bond Index; international taxable, investment-grade bonds: Bloomberg/Barclays Global Aggregate exUS; emerging bond markets: Bloomberg/Barclays EM USD Aggregate; and cash equivalents: 30-day U.S. Treasury bill rate.
©2020 M&T Bank Corporation and its subsidiaries. All rights reserved.