February 8, 2019— This week, China enters the Year of the Pig, which in the Chinese calendar is supposed to bring prosperity and wealth. Therefore, it's worth contemplating the prospect for share price increases for the stocks comprising the MSCI China Index.
One key measure of the attractiveness of Chinese stocks is the current discount of MSCI China Index to the aggregated analyst's price target for the index. Each stock's price target is an aggregation of analysts' views regarding the stock's fair value. The index is cap-weighted by stock. On Friday, February 1, 2019, the overall MSCI China Index was trading at a 14.5% discount to analysts' target prices. The MSCI China Index includes Chinese stocks traded through Hong Kong Listed H-Shares, U.S.-listed ADRs, and a small sliver of A-shares traded in onshore exchanges. The chart below shows the current price discounts for the 20 largest Chinese market cap stocks, which comprise about 60% of the MSCI China Index. They range from a 23% discount for Alibaba, the Chinese equivalent of Amazon, to a 4% discount for CTrip.com, an on-line travel booking agency. The level of variation among stocks is due to variable exposures to macro factors as well as to stock-specific issues.
Price Discounts to Bottom-Up Analysts' Target Prices
20 Largest Market Cap Stocks Comprising 60% of MSCI China Index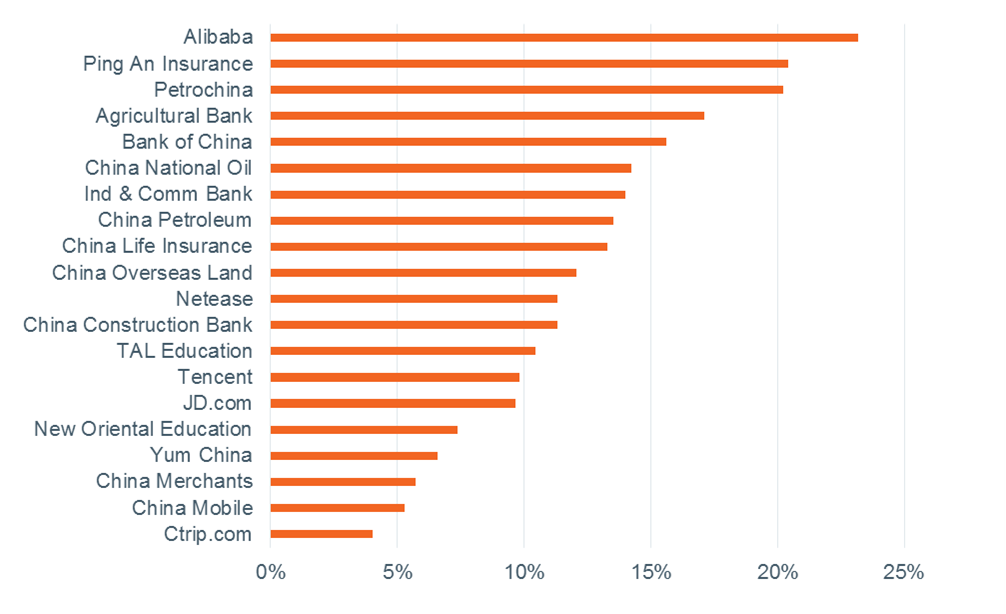 Data as of February 4, 2019
Source: Bloomberg
The overall 14.5% China price discount appears to be realistic, if not conservative. Consider the fact that at February 1, 2019, the MSCI China Index is 22.6% below its peak at January 26, 2018, at which time many China macro risks had begun to adversely impact stocks. The Year of the Rat was unkind to many Chinese stocks—due to many Chinese macro risks, including financial deleveraging, U.S.-China trade conflicts, a sluggish manufacturing sector, and disruptive regulatory interventions in certain sectors.
It would now take a 26.1% increase in the index to recover its peak level. Yet, the current price discount suggests only 14.5% upside. This price discount implies that analysts believe Chinese stocks can recover only slightly more than half of the gain that would be required to reach the prior peak. And yet, a 14.5% upside price return from current levels is still quite attractive.
If some of these macro risks were to dissipate during the Year of the Pig, investor confidence would improve, driving up current price levels. Additionally, analysts would likely update target prices for many stocks under their coverage. The combination would drive even greater upside price potential. We expect a tentative and/or partial resolution to the U.S.-China trade dispute. Additionally, Beijing is ramping up some fiscal and monetary measures which may be helpful in stabilizing the economy. It's also planning to allow majority foreign-controlled firms to operate in additional industries beyond those few in which they are currently permitted to operate. One of these industries is capital markets. The entry of foreign brokerages will likely help introduce greater market discipline and dampen the volatility of this historically volatile retail equity market. Furthermore, the entry of more investment banks may bring greater order to the Chinese IPO market. All of this would likely boost the rate at which index provider MSCI would include "A" Shares in its MSCI China Index.
Core narrative
We take a fundamentally constructive view toward emerging markets. China (as represented by the MSCI China Index) represents approximately 30% of the market capitalization of the MSCI Emerging Markets Index. This could grow to 40% or greater in coming years, as larger volumes of "A" shares are included. We believe the large price correction during the Year of the Rat has produced an attractive price discount for Chinese stocks. We further believe that this 14.5% price discount, plus a probable dissipation of macro risks and introduction of market-opening measures, could bring prosperity to investors during the Year of the Pig. China's 14.5% discount compares favorably to the12.6% discount for the S&P 500. MSCI EAFE (developed countries) have a slightly larger current price discount, at 15.1%, but seem more likely to sustain macro headwinds in coming months, and so, may be "cheaper for a reason."
Disclosures
Wilmington Trust is a registered service mark. Wilmington Trust Corporation is a wholly owned subsidiary of M&T Bank Corporation. Wilmington Trust Company, operating in Delaware only, Wilmington Trust, N.A., M&T Bank and certain other affiliates, provide various fiduciary and non-fiduciary services, including trustee, custodial, agency, investment management and other services. International corporate and institutional services are offered through Wilmington Trust Corporation's international affiliates. Loans, credit cards, retail and business deposits, and other business and personal banking services and products are offered by M&T Bank, member FDIC. Wilmington Trust Investment Advisors, Inc. is an SEC-registered investment adviser providing investment management services to Wilmington Trust and M&T Bank affiliates and clients.
These materials are based on public information. Facts and views presented in this report have not been reviewed by, and may not reflect information known to, professionals in other business areas of Wilmington Trust or M&T Bank who may provide or seek to provide financial services to entities referred to in this report. M&T Bank and Wilmington Trust have established information barriers between their various business groups. As a result, M&T Bank and Wilmington Trust do not disclose certain client relationships with, or compensation received from, such entities in their reports.
The information on Wilmington Wire has been obtained from sources believed to be reliable, but its accuracy and completeness are not guaranteed. The opinions, estimates, and projections constitute the judgment of Wilmington Trust and are subject to change without notice. This commentary is for information purposes only and is not intended as an offer or solicitation for the sale of any financial product or service or a recommendation or determination that any investment strategy is suitable for a specific investor. Investors should seek financial advice regarding the suitability of any investment strategy based on the investor's objectives, financial situation, and particular needs. Diversification does not ensure a profit or guarantee against a loss. There is no assurance that any investment strategy will succeed.
Any investment products discussed in this commentary are not insured by the FDIC or any other governmental agency, are not deposits of or other obligations of or guaranteed by M&T Bank, Wilmington Trust, or any other bank or entity, and are subject to risks, including a possible loss of the principal amount invested. Some investment products may be available only to certain "qualified investors"—that is, investors who meet certain income and/or investable assets thresholds. Past performance is no guarantee of future results. Investing involves risk and you may incur a profit or a loss.
Any positioning information provided does not include all positions that were taken in client accounts and may not be representative of current positioning. It should not be assumed that the positions described are or will be profitable or that positions taken in the future will be profitable or will equal the performance of those described. Positions described are illustrative and not intended as a recommendation outside of a managed account.
Indices are not available for direct investment. Investment in a security or strategy designed to replicate the performance of an index will incur expenses, such as management fees and transaction costs that would reduce returns.
Third-party trademarks and brands are the property of their respective owners.