March 22, 2018 — In his first meeting as Chairman of the Federal Open Market Committee (FOMC) of the Federal Reserve (Fed), Jay Powell found himself presiding over a group of officials who are becoming increasingly confident in the outlook for growth and inflation, and by extension are increasingly confident of their plans to raise interest rates over the next three years. The move and their forecasts are supportive of our positioning of a slight overweight to equities and an underweight to core fixed income, as we also expect continued growth and more rate hikes.
A rate hike and upward revisions to growth
The voting members of the FOMC voted unanimously to raise the target range for their benchmark, short-term rate by 25 basis points to 1.5-1.75%. That was no surprise as markets had priced in a 100% probability of them doing so, and it was certainly justified by the economic data. That marked the 6th increase in this cycle, which started with one hike each at the ends of 2015 and 2016, then proceeded in earnest with three more over the course of 2017.
While the rate hike was expected, the real news was found in the new economic and rate hike projections that were updated to incorporate developments since the last set of projections were communicated in December 2017. Since then, the tax legislation was officially passed and signed into law (but was near certain at the time of the December meeting), Congress passed a budget with sharply higher discretionary spending, job growth has surprised to the upside, and the equity market has gone through a correction. The updated forecasts reflected those developments with a higher expectation for GDP growth in 2018 of 2.7%, up more than half a percent since September 2017 (2.1%) when tax cuts were far from guaranteed. The Fed has boosted their GDP forecast by 0.6% almost entirely on the legislation, which is consistent with our estimate of the range of 0.5-0.75% for the legislation's potential impact. They are calling for a tighter labor market, with a prediction for the unemployment rate to fall to 3.6% next year, which would be the lowest since the late 1960s.
Impact on markets
One might expect this to be a positive for markets, as stronger growth should mean better sales and earnings for firms, and should push equity prices higher. Investors appeared to have this reaction initially; the S&P 500 index was already up 0.5% on the day, and after the 2:00 pm announcement, the gains nearly doubled to 0.8%. But as always (and especially this late in the cycle) there is the question of how the Fed will react to better growth.
With their upgraded forecasts, the FOMC participants increased their outlook for rate hikes over the next three years. As is shown below, there was a meaningful increase in the number of committee members who now think four hikes in 2018 would be appropriate (right panel) compared with their views back in December. While the median estimate of three hikes in 2018 (translating to a rate of 2.0-2.25% at yearend) did not change, it came very close to doing so. If only one member below the 2.25% line raises their expectation from here, the median will move up.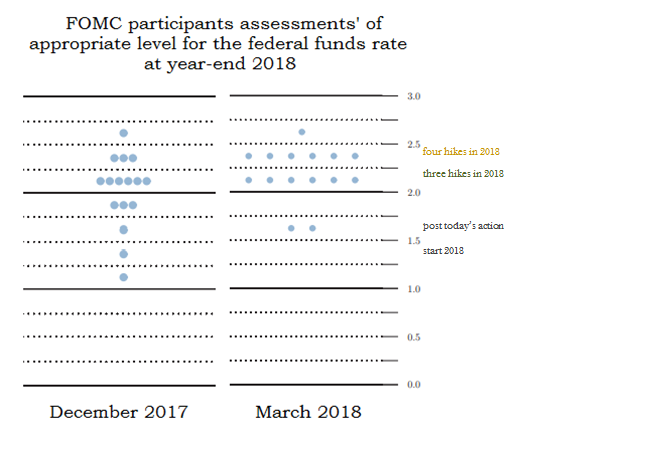 Source: Federal Reserve
Once investors digested this additional information, the slight move toward the hawkish end of the spectrum appeared to bite into markets for the remainder of the day. Following the initial positive reaction in the first 15 minutes following the policy announcement, markets moved into negative territory, finally finishing the day down 0.18%. Investor skittishness could be coming from the expected hikes in 2018 described above, but also the longer term outlook for policy.
In the longer run (not shown), there were important upward revisions to the path for rates, with an additional hike added in 2019 and another hike added in 2020. The punch line for the longer term outlook is more restrictive policy than previously anticipated. At the end of 2020, the expectation is for a federal funds rate of 3.4%, which is 50 basis points higher than the estimate of the longer run neutral rate of 2.9%. This is the most restrictive stance of policy projected by the FOMC in the time these projections have been published, and likely reflects their concerns about an overheating of the economy, evidenced by the unemployment rate forecast.
In the press conference, Chairman Powell's initial remarks and answers to questions were very similar to former Chair Janet Yellen, as well as her predecessor Ben Bernanke. He was measured in his response to questions about the upward revisions, indicating they were reasonable adjustments given the new tax policy and the evolution of the data. There was little indication of any changes afoot at the Fed related to their process for setting policy, except for a non-committal answer to a query about expanding the number of press conferences from four to eight. He gave credence to the fact it is being considered, but said it was still under review. But the even keel press conference could not affect the conclusion that this week's meeting pushed the Fed to a slightly more hawkish position.
Core Narrative
We still expect three rate hikes in 2018, with risk to the upside of four hikes as FOMC members have been revising higher over the past several meetings. Several factors could contribute to a movement up to four hikes in 2018, with the most prominent being higher inflation readings through the middle of the year. The next CPI inflation report due out April 11, 2018, will show a significant increase in year-over-year inflation for both CPI and core CPI. This should not be a surprise in markets as it is a matter of base effects from events in 2017, but it does have the potential to push expectations of rate hikes higher. Perhaps more importantly, we expect higher inflation numbers through the summer and early fall as core CPI trends a bit higher and headline CPI gets a boost from energy prices. There will likely be some downside risks too, including a disappointing GDP growth figure in 2018Q1. We also expect the Fed's continual acceleration in the normalization of the balance sheet to push longer term interest rates higher in the second half of the year, which will exert downward pressure on growth. Ultimately, we expect the balance of events to lead to three rate hikes this year, but acknowledge the possibility of this actually materializing into either two or four hikes.
In terms of markets, we remain optimistic about economic growth this year, supporting our existing overweight to equities. We do not view U.S. monetary policy as restrictive, even considering the likelihood of two additional rate hikes from the Fed this year; monetary policy globally is even more accommodative and is also moving in the direction of tightening but at a very gradual pace. Equity multiples have come down slightly this year alongside robust corporate earnings and we believe the path of interest rates will not jeopardize multiples in the near term. Corporate profit margins remain quite elevated, meaning companies have some wiggle room to absorb higher inflation, while consumers are also in a healthy position to be able to take on some price increases.
With the expected rate hikes and somewhat higher inflation, we expect the yield curve to rise across the maturity spectrum, supportive of our underweight to core fixed income. Given market levels and the duration of this economic cycle, if the economic data comes in stronger than we expect and the Fed is forced to move in a more hawkish direction, a rethink to our equity overweight may be in order.
Disclosures
Wilmington Trust is a registered service mark. Wilmington Trust Corporation is a wholly owned subsidiary of M&T Bank Corporation. Wilmington Trust Company, operating in Delaware only, Wilmington Trust, N.A., M&T Bank and certain other affiliates, provide various fiduciary and non-fiduciary services, including trustee, custodial, agency, investment management and other services. International corporate and institutional services are offered through Wilmington Trust Corporation's international affiliates. Loans, credit cards, retail and business deposits, and other business and personal banking services and products are offered by M&T Bank, member FDIC. Wilmington Trust Investment Advisors, Inc. is an SEC-registered investment adviser providing investment management services to Wilmington Trust and M&T Bank affiliates and clients.
These materials are based on public information. Facts and views presented in this report have not been reviewed by, and may not reflect information known to, professionals in other business areas of Wilmington Trust or M&T Bank who may provide or seek to provide financial services to entities referred to in this report. M&T Bank and Wilmington Trust have established information barriers between their various business groups. As a result, M&T Bank and Wilmington Trust do not disclose certain client relationships with, or compensation received from, such entities in their reports.
The information on Wilmington Wire has been obtained from sources believed to be reliable, but its accuracy and completeness are not guaranteed. The opinions, estimates, and projections constitute the judgment of Wilmington Trust and are subject to change without notice. This commentary is for information purposes only and is not intended as an offer or solicitation for the sale of any financial product or service or a recommendation or determination that any investment strategy is suitable for a specific investor. Investors should seek financial advice regarding the suitability of any investment strategy based on the investor's objectives, financial situation, and particular needs. Diversification does not ensure a profit or guarantee against a loss. There is no assurance that any investment strategy will succeed.
Any investment products discussed in this commentary are not insured by the FDIC or any other governmental agency, are not deposits of or other obligations of or guaranteed by M&T Bank, Wilmington Trust, or any other bank or entity, and are subject to risks, including a possible loss of the principal amount invested. Some investment products may be available only to certain "qualified investors"—that is, investors who meet certain income and/or investable assets thresholds. Past performance is no guarantee of future results. Investing involves risk and you may incur a profit or a loss.
Any positioning information provided does not include all positions that were taken in client accounts and may not be representative of current positioning. It should not be assumed that the positions described are or will be profitable or that positions taken in the future will be profitable or will equal the performance of those described. Positions described are illustrative and not intended as a recommendation outside of a managed account.
Indices are not available for direct investment. Investment in a security or strategy designed to replicate the performance of an index will incur expenses, such as management fees and transaction costs that would reduce returns.
Third-party trademarks and brands are the property of their respective owners.