December 20, 2018 – The Federal Open Market Committee (FOMC) hiked the target Fed Funds rate as expected yesterday by 25 basis points from 2.25% to 2.50%.  The statement and press conference suggested that the outlook for the U.S. economy was one of decelerating but still solid growth, underscored by labor market tightness. However, it also highlighted, as we expected, that the Fed will likely have to slow its pace of hikes in 2019 and is more uncertain about the path of hikes going forward. While we expect this more dovish stance from the Fed should be supportive for the economy and equity markets going forward, the initial market reaction suggested investors had a different interpretation of the meeting.
The Fed acknowledges a softer outlook in its revised forecasts and statement language
Markets have been looking for a more dovish stance from the Fed in recent weeks for a number of reasons. Equity markets have pulled back sharply; credit spreads have widened; core inflation and longer term inflation expectations have moderated; commodity prices, particularly for oil are significantly lower; the yield curve has flattened; and global growth indicators have decelerated.
The FOMC has acknowledged many of these developments in a number of ways: lower expectations for future rate hikes, lower near-term GDP forecasts, and trimmed inflation projections.  Most importantly, it lowered its median longer run "neutral" estimate of the Fed Funds rate (the theoretical interest rate that would neither stimulate nor restrict the economy), by 25bp, to 2.8%, reiterating recent comments from FOMC officials that rates are "at the bottom end of the neutral range." This suggests that the Fed could be closer to the end of its hiking cycle.
The Fed is as data dependent as it always has been—this should be supportive for equity markets
Given the fact that the futures market was pricing in roughly a 70% chance that the Fed would hike on Wednesday, along with our interpretation of the Fed's statement as the committee being more cautious going forward, the downward pressure on equity markets is perhaps a bit puzzling (especially to Fed officials, who are frequently bewildered by market reactions to their policy changes and statements). The S&P 500 fell -2.5% on the day but finished roughly -3.25% off its intra-session high. The 10-year Treasury yield is back below 2.8%, and the yield curve is the flattest it has been in the expansion, with the difference between the 10-year Treasury yield and the 2-year yield less than 0.10%. We know the Fed will not (and, we would argue, should not) be deterred by what is by and large normal equity market volatility. However, their omission of a more pointed discussion about the indicators that have softened in the last few months may have fueled investors' perception that the Fed is a bit tone deaf. In addition, the FOMC's December "dot plot," another term for its members' projections, suggests that the Fed funds rate at the end of 2020 will be above its longer run estimate of the neutral rate, albeit by less than suggested by its September forecasts. Markets have taken this as a sign that the Fed still intends for policy to be restrictive going forward.
We would caution against a literal reading of the dot plot, as the median projection is just the midpoint of the range of forecasts given by each of the FOMC members based on their individual views and models, not a single consensus forecast that is voted on. Importantly, these forecasts are subject to change with new incoming data, so should not be interpreted as a direct signal of current or near term policy, as Chair Powell highlighted in the press conference. As an example, he pointed out that at the start of 2018, the median projection had originally only forecasted 3 rate hikes in 2018; however, that changed as incoming data showed the economy was stronger than originally expected, and we have in fact seen 4 rate hikes during the course of 2018.
In our view, the data dependence of the Fed should be supportive for markets, because recent data has taken a slightly softer tone and would justify a slower pace of hikes from the Fed (as our Chief Economist Luke Tilley outlined in a recent Wilmington Wire post).  We would note that the Fed is as data dependent as it always has been; what has changed is the data, not the way the Fed operates. In our view, the FOMC is mindful of these risks and willing to adjust their forecasts if and when the data reflects these headwinds.
Core Narrative
Though the market reaction to Wednesday's FOMC announcement suggested disappointment and worries about a path of Fed hikes that will restrict growth, we believe that the FOMC's communications  reflect a Fed that will be more reactive to any indications of a meaningful economic slowdown going forward.  Though tight labor markets indicate some continued tightening from the Fed is warranted, slowing inflation momentum will give the Fed increased flexibility to be more patient with their hikes, which we expect will extend the current cycle.
In terms of the real economy, the data continues to be solid, and we see the market as pricing in slower growth than we expect to see in 2019 and even 2020. Fed policy at this time should not yet be restricting U.S. economic activity; the inflation-adjusted fed funds rate is still right around 0%, meaning current policy should not inhibit businesses from growing their operations. We view the equity market as oversold and believe fragile sentiment, lower liquidity, and technical factors may be exacerbating volatility. At this time, we retain our conviction that the market will recover and head higher into 2019, spurred by a healthy consumer and solid economic activity. From an asset allocation perspective, we are slightly overweight to U.S. and emerging market equities versus our long-term strategic allocation, given attractive valuations and expectations for solid growth to materialize in 2019.
September FOMC participants' assessments of appropriate monetary policy: Midpoint of target range or target level for the federal funds rate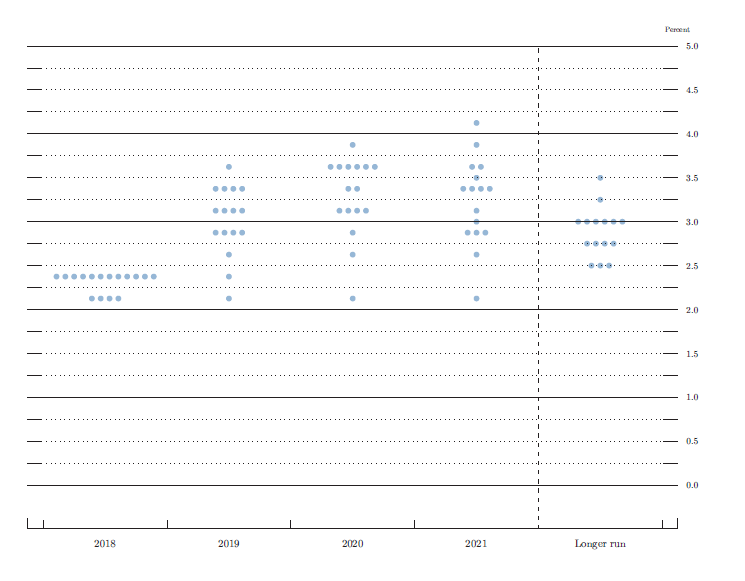 December FOMC participants' assessments of appropriate monetary policy: Midpoint of target range or target level for the federal funds rate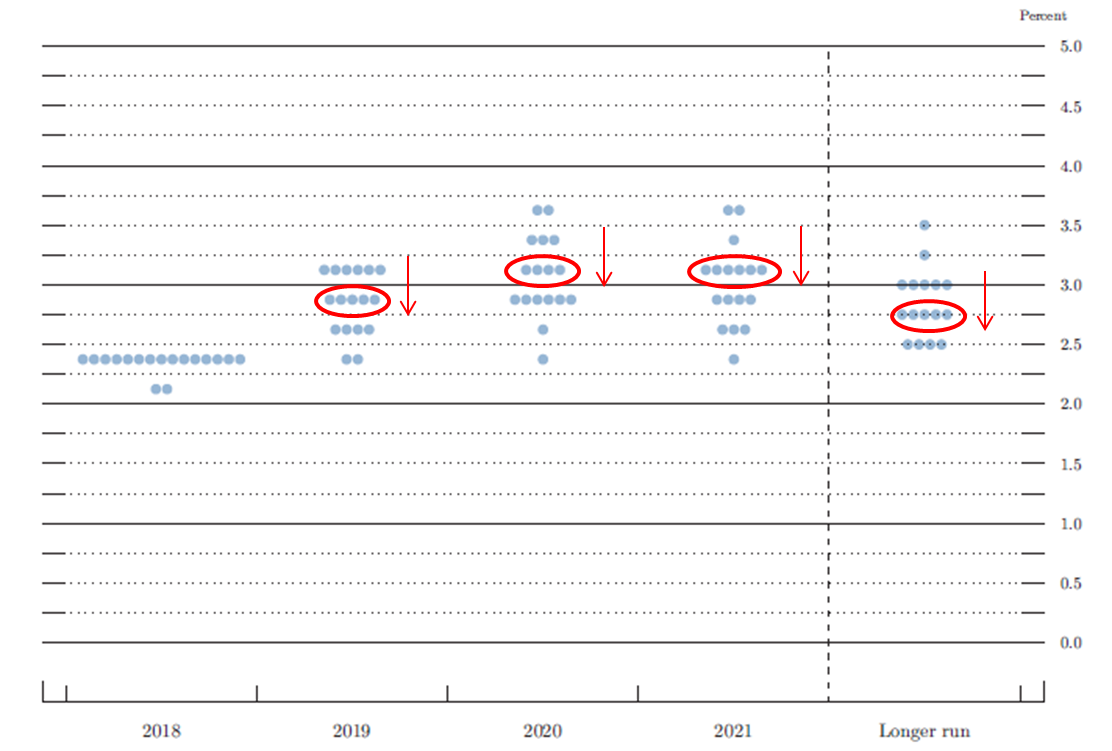 This chart is based on policymakers' assessments of appropriate monetary policy, which, by definition, is the future path of policy that each participant deems most likely to foster outcomes for economic activity and inflation that best satisfy his or her interpretation of the Federal Reserve's dual objectives of maximum employment and stable prices.
Each shaded circle indicates the value (rounded to the nearest 1/8 percentage point) of an individual participant's judgment of the midpoint of the appropriate target range for the federal funds rate or the appropriate target level for the federal funds rate at the end of the specified calendar year or over the longer run. One participant did not submit longer-run projections for the federal funds rate.
Source: Federal Reserve
Data as of December 19, 2018
Disclosures
Wilmington Trust is a registered service mark. Wilmington Trust Corporation is a wholly owned subsidiary of M&T Bank Corporation. Wilmington Trust Company, operating in Delaware only, Wilmington Trust, N.A.,  M&T Bank and certain other affiliates, provide various fiduciary and non-fiduciary services, including trustee, custodial, agency, investment management and other services. International corporate and institutional services are offered through Wilmington Trust Corporation's international affiliates. Loans, credit cards, retail and business deposits, and other business and personal banking services and products are offered by M&T Bank, member FDIC. Wilmington Trust Investment Advisors, Inc. is an SEC-registered investment adviser providing investment management services to Wilmington Trust and M&T Bank affiliates and clients.
These materials are based on public information. Facts and views presented in this report have not been reviewed by, and may not reflect information known to, professionals in other business areas of Wilmington Trust or M&T Bank who may provide or seek to provide financial services to entities referred to in this report. M&T Bank and Wilmington Trust have established information barriers between their various business groups. As a result, M&T Bank and Wilmington Trust do not disclose certain client relationships with, or compensation received from, such entities in their reports.
The information on Wilmington Wire has been obtained from sources believed to be reliable, but its accuracy and completeness are not guaranteed. The opinions, estimates, and projections constitute the judgment of Wilmington Trust and are subject to change without notice. This commentary is for information purposes only and is not intended as an offer or solicitation for the sale of any financial product or service or a recommendation or determination that any investment strategy is suitable for a specific investor. Investors should seek financial advice regarding the suitability of any investment strategy based on the investor's objectives, financial situation, and particular needs. Diversification does not ensure a profit or guarantee against a loss. There is no assurance that any investment strategy will succeed.
Any investment products discussed in this commentary are not insured by the FDIC or any other governmental agency, are not deposits of or other obligations of or guaranteed by M&T Bank, Wilmington Trust, or any other bank or entity, and are subject to risks, including a possible loss of the principal amount invested. Some investment products may be available only to certain "qualified investors"—that is, investors who meet certain income and/or investable assets thresholds. Past performance cannot guarantee future results. Investing involves risk and you may incur a profit or a loss.
Any positioning information provided does not include all positions that were taken in client accounts and may not be representative of current positioning. It should not be assumed that the positions described are or will be profitable or that positions taken in the future will be profitable or will equal the performance of those described. Positions described are illustrative and not intended as a recommendation outside of a managed account. Indices are not available for direct investment. Investment in a security or strategy designed to replicate the performance of an index will incur expenses, such as management fees and transaction costs that would reduce returns.
Third-party trademarks and brands are the property of their respective owners.