December 15, 2016— The Federal Open Market Committee (FOMC) of the Federal Reserve unanimously voted to raise its target for the federal funds rate on December 14 from a range of 0.25%–0.5% to a range of 0.5%–0.75%. The decision was not a surprise to markets, as the market for fed funds futures had priced in a 100% chance of a hike, up from just a 50% chance in September.
More of a surprise was the upward revision to the so-called "dot plot" indicating the Fed's expectation of three rate hikes in 2017, compared with two hikes the last time the dots were released in September. The dot plot is a part of the Summary of Economic Projections (SEP), the compendium of forecasts from the FOMC meeting's 17 participants. Each participant supplies a forecast of gross domestic product, inflation, core inflation, and the federal funds rate. Media frequently focuses on the median of the 17 forecasts in the SEP, and it was this measure that moved from two to three hikes in 2017.
The median dot is often mischaracterized as some kind of consensus number of hikes that the group agreed to during the meeting. The SEP forecasts are sent in by the individual participants a week or so ahead of time to be included in the briefing books for the meeting. They are not altered during the meeting, even though it is conceivable that participants might change their view of the appropriate number of hikes over the course of the meeting.
Fed rate hike expectations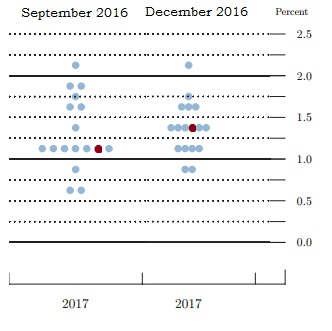 Source: Federal Reserve, WTIA
The dot plots from the September and December meetings are shown in the chart above, with the median dot shown in red. It illustrates the level of the federal funds rate expected by each participant at the end of 2017. Markets have clearly reacted to the upward move in the median dot, with Treasury yields moving higher, along with the exchange rate of the dollar. Another interesting change, though one that has attracted less attention, is the downward movement in some of the higher projections from September. Along with some of the lower projections moving up, there is now less dispersion in the projections, which reflects more agreement on the committee on the expected path for 2017.
Looking ahead in 2017
As stated above, the median expectation is for three rate hikes over the course of 2017, as opposed to the expectation for two. We have not yet changed our expectation of the two rate hikes but we do believe there is more upside risk to that expectation whereas a few months ago there was greater downside risk.
One reason for upside risk is that market expectations have changed dramatically over the past six weeks. Before the election, the market was expecting a hike this week, but had priced in zero hikes in 2017. Post-election the market had moved swiftly into alignment with the Fed projections of two hikes in 2017. That is a dramatic move in a short time frame and also the first time the Fed and markets have held the same 12-month projection for several years. For several years the Fed has been projecting higher rates while the market expectation has been much lower. With today's upward revision to three hikes in 2017, there is again a gap between the Fed and the market, but a smaller gap than has persisted in recent years.
Another reason for upside risk is the inflation outlook. We have maintained a higher-than-market forecast for inflation for more than a year. Similarly, we also have been projecting a greater number of rate hikes than the market over that timeframe. In our view, the realization of that higher inflation has become increasingly likely. In the early months of 2017, gasoline prices are expected to run as high as 30% in year-over-year terms, driving the year-over-year measures of inflation above 2% for the first time since 2014. The deflationary impacts, particularly on import prices, of strong dollar appreciation in 2014–2015 are now waning and we expect will cease being a major weight on inflation. We also expect the tight labor market to continue to exert upward pressure on wages which will in turn put upward pressure on inflation.
In the post-election period, markets are also pricing in higher inflation and higher long-term interest rates as a result of the growth policies expected from the incoming Trump administration. Details are not concrete, but we, and the market, have conviction that the policies will ultimately be stimulative to short-term economic growth. As proposed, they would likely add to federal deficits and debt. Both of those impacts tend to be inflationary.
Fed behind the curve?
If higher inflation figures materialize in early 2017, we expect increasing questions whether the Fed is "behind the curve" and may need to raise rates more quickly than markets currently anticipate. Nonetheless, we expect the Fed to remain cautious in its communications for several reasons:
No surprises – Chair Yellen and the rest of the committee recognize the negative reactions that could transpire if they surprise markets by communicating a higher path in a sudden manner. Her caution was on display in her press conference when she referred to the upward move in the dot plot as a "very tiny" change.
2% is a long-term target – Although the Fed has a target of 2% inflation, they have also stated that they are comfortable with short-term overshoots of the target, much like they have been below target for quite some time. The higher inflation figures in early 2017 will be driven mostly by energy prices, which they will likely dismiss as "transitory," just as they did when energy prices brought inflation down to zero in 2015.
Long-term expectations are stable – The Fed is comfortable with short-term deviations from its 2% target provided long-term expectations for inflation are stable in the 2%–2.5% range. Indeed much of the recent dovishness in 2015-16 has been tied to its concerns about the declines in long-term inflation expectations, represented by consumer survey, surveys of economists, and most notably in TIPS breakevens. A key reason for the Fed's willingness to proceed with hikes now and in 2017 is the return of those TIPS breakevens to more normal levels (see the chart below). Yellen spoke about TIPS breakevens at length in a March 2016 speech when they were much lower, indicating in her press conference this week that the upward movement has given her and other committee members some encouragement.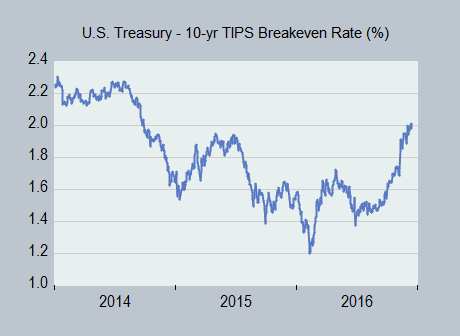 Source: Bloomberg
Core narrative
The increase in interest rates was expected and is reflective of the progress toward the Fed's goals of maximum employment and 2% inflation. The reaction in fixed income markets was for interest rates to move up across the curve, and is supportive of our underweight to core fixed income. We expect continued progress toward the Fed's goal of 2% inflation, particularly in early 2017 when energy prices swing into very positive territory in year-over-year terms, driving overall inflation above 2%. But we believe core inflation will be moving upward more slowly. That will be supportive of more rate hikes, but the Fed is expected to proceed cautiously so as not to upend markets.
Disclosures
Wilmington Trust is a registered service mark. Wilmington Trust Corporation is a wholly owned subsidiary of M&T Bank Corporation. Investment management and fiduciary services are provided by Wilmington Trust Company, operating in Delaware only, and Wilmington Trust, N.A., a national bank. Loans, retail and business deposits, and other personal and business banking services and products are offered by Manufacturers and Traders Trust Company (M&T Bank), member FDIC. Wilmington Trust Investment Advisors, Inc., a subsidiary of M&T Bank, is a SEC-registered investment adviser providing investment management services to Wilmington Trust and M&T affiliates and clients.
These materials are based on public information. Facts and views presented in this report have not been reviewed by, and may not reflect information known to, professionals in other business areas of Wilmington Trust or M&T Bank who may provide or seek to provide financial services to entities referred to in this report. M&T Bank and Wilmington Trust have established information barriers between their various business groups. As a result, M&T Bank and Wilmington Trust do not disclose certain client relationships with, or compensation received from, such entities in their reports.
The information on Wilmington Wire has been obtained from sources believed to be reliable, but its accuracy and completeness are not guaranteed. The opinions, estimates, and projections constitute the judgment of Wilmington Trust and are subject to change without notice. This commentary is for information purposes only and is not intended as an offer or solicitation for the sale of any financial product or service or a recommendation or determination that any investment strategy is suitable for a specific investor. Investors should seek financial advice regarding the suitability of any investment strategy based on the investor's objectives, financial situation, and particular needs. Diversification does not ensure a profit or guarantee against a loss. There is no assurance that any investment strategy will succeed.
Any investment products discussed in this commentary are not insured by the FDIC or any other governmental agency, are not deposits of or other obligations of or guaranteed by M&T Bank, Wilmington Trust, or any other bank or entity, and are subject to risks, including a possible loss of the principal amount invested. Some investment products may be available only to certain "qualified investors"—that is, investors who meet certain income and/or investable assets thresholds. Past performance is no guarantee of future results. Investing involves risk and you may incur a profit or a loss.
Any positioning information provided does not include all positions that were taken in client accounts and may not be representative of current positioning. It should not be assumed that the positions described are or will be profitable or that positions taken in the future will be profitable or will equal the performance of those described. Positions described are illustrative and not intended as a recommendation outside of a managed account.
Indices are not available for direct investment. Investment in a security or strategy designed to replicate the performance of an index will incur expenses, such as management fees and transaction costs that would reduce returns.
Third party trademarks and brands are the property of their respective owners.
Contact an Expert