June 14, 2018—The much-awaited June meeting of the Federal Open Market Committee, or FOMC, (which votes on monetary policy actions for the Federal Reserve, or Fed), saw the federal funds target rate raised just as markets expected, by 25 basis points (bps), to 1.75%–2.00%. A few elements of the committee's statement and press conference are worth noting. First, its assessment of recent data was quite positive, reflecting the recent rebound data after a softer patch in 1Q. In particular, readings on employment, retail sales, and PMIs have been quite robust. Chairman Powell made little mention of concern about downside risks, and when questioned about trade tensions, emphasized that while the issue had been discussed, economic data to date have shown no signs of impact.
Regarding inflation, Chairman Powell stressed the symmetric nature of the FOMC's inflation target. He signaled that the Fed would likely be willing to tolerate a near-term overshoot of the inflation target—given both how long inflation had remained below target during the recovery, plus the transitory nature of base effects and energy price impacts that are expected to nudge inflation above target in the coming months. This reinforces our expectation that the pace of rate hikes will remain gradual, as the Fed does not appear concerned about the recent pickup in inflation.
The development that received most market attention was the move-up of the median forecast for the federal funds rate for 2018 to an expectation of four total rate hikes as of the June projections (compared to three projected as of March). In our view however, this is not a major change, as it reflects the movement of just one participant's forecast (which was all that was needed for the median forecast to move up). The "dot plot" of projections for the federal funds rate target (Figure 1) shows the FOMC is very close to evenly split between three and four rate hikes in total for 2018.
We look for solid U.S. GDP growth in 2018 (2.75%–3.0%), in line with the rosy near-term outlook of the Fed. Tax reform and fiscal spending measures implemented earlier this year, along with a strong labor market, should continue to boost consumer spending and business investment. The recent rebound in economic data since 1Q suggests that the U.S. economy remains resilient, despite some recent growth moderation for countries in other international developed and emerging markets. We do acknowledge though, that there are potential downside risks (market volatility, weaker global growth, political uncertainty, escalation of trade wars), which we think in turn could keep the chance of three rate hikes equally as likely as that of four in 2018.
Additional highlights from the FOMC statement and press conference
Statement used more upbeat language in its description of economic activity (rising at a "solid" rather than "moderate" rate) and household spending ("picked up" rather than "moderated") relative to the May statement, reflecting recent data developments.
Statement also removed forward guidance language around the federal funds rate being "likely to remain, for some time, below levels that are expected to prevail in the longer run," acknowledging the fact that the rate is moving closer to the longer-run neutral rate.
As signaled in the May meeting minutes, the FOMC raised the interest on excess reserves rate to "5 basis points below the top of the target range for the federal funds rate." This does not signal any change in policy, but is merely a technical adjustment to help keep the effective federal funds rate closer to the midpoint of the Fed's target range.
During the press conference, Chairman Powell indicated that the FOMC will be holding press conferences after every meeting starting in January 2019 (eight times a year), though projections will still be released on a quarterly basis. This does not signal any policy change, but is intended to increase transparency and allow the Fed to be flexible in whether it takes action during its meetings over the course of the year; before this, market expectations for Fed action tended to be clustered around meeting dates that included press conferences.
Key changes to economic projections
Four hikes expected in 2018 now, compared to three in the March projections:

The median expectation moved up to four total hikes in 25bps increments in 2018, including the actions taken today and in March 2018.
The total number of rate hikes projected in 2018, 2019, and 2020 remains the same (eight).
The expected rate hike distribution has shifted to four, three, and one, in 2018, 2019, and 2020, respectively, compared to three, three, and two in the March projection.

While near-term GDP and inflation projections were revised up slightly, and unemployment rate projections revised lower compared to March, longer-run projections remained unchanged:

The median forecast for 2018 GDP growth was revised up to 2.8% (from 2.7% in the March projection).
The median forecast for 2018 core PCE inflation was revised up a tenth to 2.0% (from 1.9% in the March projection).
The median forecast for the unemployment rate was revised down two tenths for 2018 (to 3.6%), and down one tenth for 2019 and 2020 (to 3.5%).
Core narrative
The FOMC statement maintained a hawkish tone in its more upbeat assessment of growth and consumer spending relative to the May statement, along with modest positive revisions to near-term forecasts for GDP growth, inflation, and the unemployment rate. The FOMC's overall outlook has not changed substantially though, compared to the May statement and March projections. Longer-term projections remain unchanged. In addition, the normalization of the balance sheet is expected to continue as originally announced. In our view, the movement of the median dot from three to four hikes for 2018 is less significant than it appears, as this reflects the upward revision of just one FOMC member's forecast.
We expect the combination of a robust outlook for growth in the U.S., a moderate rise in inflation, and a gradual pace of Fed rate hikes to be supportive of our overweight to U.S. small-cap equities. We remain overweight international developed and emerging markets equities as well, but have recently reduced our positions, given signs of a deceleration in global growth from peak levels and our expectation of a modest appreciation of the U. S. dollar. We continue to expect global growth to remain solid despite the recent moderation, and maintain an overall overweight to equities relative to our benchmark, while remaining underweight fixed income.
Figure 1: FOMC participants' assessments of the appropriate federal funds rate level, as of June 13, 2018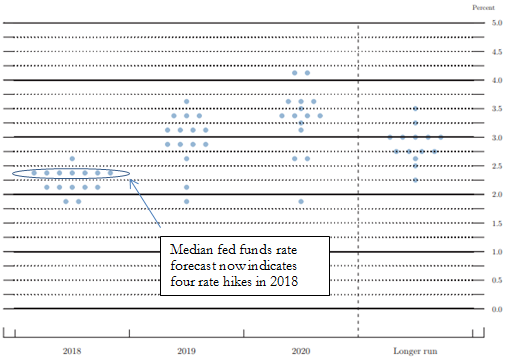 Source: Federal Reserve Open Market Committee (FOMC)
Disclosures
Wilmington Trust is a registered service mark. Wilmington Trust Corporation is a wholly owned subsidiary of M&T Bank Corporation. Wilmington Trust Company, operating in Delaware only, Wilmington Trust, N.A., M&T Bank and certain other affiliates, provide various fiduciary and non-fiduciary services, including trustee, custodial, agency, investment management and other services. International corporate and institutional services are offered through Wilmington Trust Corporation's international affiliates. Loans, credit cards, retail and business deposits, and other business and personal banking services and products are offered by M&T Bank, member FDIC. Wilmington Trust Investment Advisors, Inc. is an SEC-registered investment adviser providing investment management services to Wilmington Trust and M&T Bank affiliates and clients.
These materials are based on public information. Facts and views presented in this report have not been reviewed by, and may not reflect information known to, professionals in other business areas of Wilmington Trust or M&T Bank who may provide or seek to provide financial services to entities referred to in this report. M&T Bank and Wilmington Trust have established information barriers between their various business groups. As a result, M&T Bank and Wilmington Trust do not disclose certain client relationships with, or compensation received from, such entities in their reports.
The information on Wilmington Wire has been obtained from sources believed to be reliable, but its accuracy and completeness are not guaranteed. The opinions, estimates, and projections constitute the judgment of Wilmington Trust and are subject to change without notice. This commentary is for information purposes only and is not intended as an offer or solicitation for the sale of any financial product or service or a recommendation or determination that any investment strategy is suitable for a specific investor. Investors should seek financial advice regarding the suitability of any investment strategy based on the investor's objectives, financial situation, and particular needs. Diversification does not ensure a profit or guarantee against a loss. There is no assurance that any investment strategy will succeed.
Any investment products discussed in this commentary are not insured by the FDIC or any other governmental agency, are not deposits of or other obligations of or guaranteed by M&T Bank, Wilmington Trust, or any other bank or entity, and are subject to risks, including a possible loss of the principal amount invested. Some investment products may be available only to certain "qualified investors"—that is, investors who meet certain income and/or investable assets thresholds. Past performance is no guarantee of future results. Investing involves risk and you may incur a profit or a loss.
Any positioning information provided does not include all positions that were taken in client accounts and may not be representative of current positioning. It should not be assumed that the positions described are or will be profitable or that positions taken in the future will be profitable or will equal the performance of those described. Positions described are illustrative and not intended as a recommendation outside of a managed account.
Indices are not available for direct investment. Investment in a security or strategy designed to replicate the performance of an index will incur expenses, such as management fees and transaction costs that would reduce returns.
Third-party trademarks and brands are the property of their respective owners.