April 20, 2017—When the first estimate of 1Q2017 gross domestic product (GDP) growth is released next week, it is widely expected to be low, we think somewhere in the 0.5%–1.5% range. If so, the weak figure will likely once again stoke fears of an economic slowdown and, at the extreme, the possibility of the U.S. slipping toward recession. It does not help that the low figure will be coming amid additional worrying signs from financial markets, where the S&P 500 has declined around 2% since peaking on March 1. Safe-haven Treasuries have been bid up in price, pushing the 10-year yield down to as low as 2.2% from a peak of 2.65% in December. Some of the risk-off behavior in financial markets is likely attributable to geopolitical events, including U.S. military action in Syria and increasing brinksmanship with North Korea. We believe at least some of the moves are also due to investors revising downward their expectations of any successful legislation from the Trump administration. We tend to agree with the assessment of a delay in policy, and have pushed our expectations of any fiscal boost to late-2017 and into 2018. Nonetheless, the organic growth picture remains solid in our estimation, despite the anticipated weak figure for 1Q.
The Atlanta Fed's GDPNow tracker has caught the eye of market participants over the past several years as a helpful indicator of how each GDP release will turn out. It is currently projecting growth of just 0.5% in 1Q, well below the higher expectations just a couple months ago, and also below the 2.1% posted in the previous quarter. It is important to note that the New York Fed similarly tries to predict the GDP release, and is much higher at 2.6% for 1Q2017. Although neither has an exemplary record of prediction accuracy, the Atlanta measure has done a good job in 1Q for the past several years as shown in the table.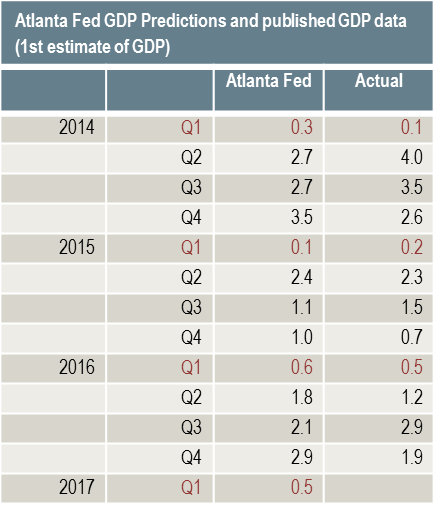 Source: Federal Reserve Bank of Atlanta
The main reason for the Atlanta Fed's current prediction of weakness is the consumer spending component of GDP. Their model shows an anemic 0.3% annualized growth rate for consumer spending following a robust 3.5% in 4Q2016.[1] A truly weak consumer should raise alarm bells as it makes up about two-thirds of GDP. But in this case much of the weakness is coming from an unusually warm winter for many parts of the country. The mild temperatures decimated consumer spending on utility bills in January and February and are a key reason that consumer spending is tracking as weakly as it is. Weak spending on utilities is hardly a harbinger of consumer retrenchment, but the simple math is that it weighs on the totals.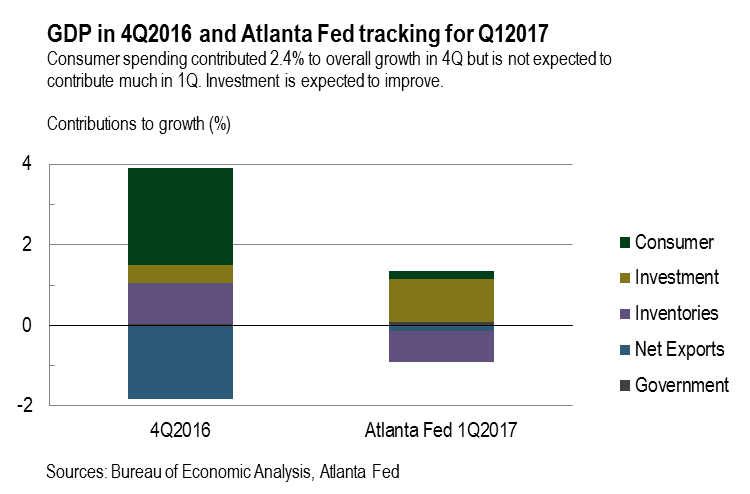 Auto sales look to be very weak for the first quarter of 2017. This causes concerns for some, but not for us unless it is a new trend. Auto sales are inherently volatile and exhibit double-digit quarterly swings in the best of times, including in 2004–2006 when the economy was expanding. Sales in 1Q2017 look to be weak in terms of growth, but the sales level of annualized 17.2 million units for the quarter are high.
The next weak component in the Atlanta Fed model is the always-volatile component of inventory buildup or drawdown. The model is currently showing enough weakness to detract 0.8% from total GDP growth in the quarter. This line item is inherently volatile and also hard to predict, but our assessment of the available data on retailers, wholesalers, and manufacturers' inventories lead us to think the Atlanta model is a bit too pessimistic on this score.
We believe the main reason to be optimistic about 1Q GDP and about growth in general is the strength in capital expenditures (capex). As our CIO Tony Roth pointed out in a recent letter to clients, we've noted a very encouraging continuing acceleration in production of capital goods, which should translate to strength in the broader "investment" component of GDP.[2] We expect this strong capex to combine with a healthy advance in residential construction to add meaningfully to GDP growth in 1Q. The Atlanta Fed is tracking growth across all investment categories that would contribute 1.1% to the overall growth figure, which would be the highest since mid-2014.
Stepping back, we also think it is important to consider the context of GDP and the challenges in its measurement. It is, by definition, an attempt to calculate the sum of all production (by tracking every single dollar transaction) in an extremely large and complex economy, and to report the figure less than a month after the end of the quarter. It is a monumental task attempted by a government agency with limited resources. This is why GDP is revised sequentially in following months and then subject to more significant revisions a year later. And those revisions can be significant. It is for these reasons that we should always take initial estimates of GDP with a grain of salt. Our assessments of other macroeconomic indicators contribute to our positive outlook. Those indicators include business surveys, corporate earnings, manufacturing orders, consumer confidence, and the labor market.
Core narrative
We are expecting a weak figure for GDP growth in 1Q when it is released next week. However, due to the weather impacts that we expect to weigh on consumer spending and the anticipated improvement in capex, we maintain our positive outlook for the economy in 2017. We certainly do not want to be accused of whistling past the graveyard (while wearing rose-colored glasses) and are very aware that some financial market indicators have been flashing warning signs for several weeks. We remain vigilant in examining those signals and stand ready to adjust as is appropriate.
---
[1] These data are seasonally adjusted so the holidays should not be driving the slowdown.
---
[2] In this context, "investment" refers to business investment in capital goods, research & development, and also to residential homebuilding.
Disclosures
Wilmington Trust is a registered service mark. Wilmington Trust Corporation is a wholly owned subsidiary of M&T Bank Corporation. Wilmington Trust Company, operating in Delaware only, Wilmington Trust, N.A., M&T Bank and certain other affiliates, provide various fiduciary and non-fiduciary services, including trustee, custodial, agency, investment management and other services. International corporate and institutional services are offered through Wilmington Trust Corporation's international affiliates. Loans, credit cards, retail and business deposits, and other business and personal banking services and products are offered by M&T Bank, member FDIC.
These materials are based on public information. Facts and views presented in this report have not been reviewed by, and may not reflect information known to, professionals in other business areas of Wilmington Trust or M&T Bank who may provide or seek to provide financial services to entities referred to in this report. M&T Bank and Wilmington Trust have established information barriers between their various business groups. As a result, M&T Bank and Wilmington Trust do not disclose certain client relationships with, or compensation received from, such entities in their reports.
The information on Wilmington Wire has been obtained from sources believed to be reliable, but its accuracy and completeness are not guaranteed. The opinions, estimates, and projections constitute the judgment of Wilmington Trust and are subject to change without notice. This commentary is for information purposes only and is not intended as an offer or solicitation for the sale of any financial product or service or a recommendation or determination that any investment strategy is suitable for a specific investor. Investors should seek financial advice regarding the suitability of any investment strategy based on the investor's objectives, financial situation, and particular needs. Diversification does not ensure a profit or guarantee against a loss. There is no assurance that any investment strategy will succeed.
Any investment products discussed in this commentary are not insured by the FDIC or any other governmental agency, are not deposits of or other obligations of or guaranteed by M&T Bank, Wilmington Trust, or any other bank or entity, and are subject to risks, including a possible loss of the principal amount invested. Some investment products may be available only to certain "qualified investors"—that is, investors who meet certain income and/or investable assets thresholds. Past performance is no guarantee of future results. Investing involves risk and you may incur a profit or a loss.
Any positioning information provided does not include all positions that were taken in client accounts and may not be representative of current positioning. It should not be assumed that the positions described are or will be profitable or that positions taken in the future will be profitable or will equal the performance of those described. Positions described are illustrative and not intended as a recommendation outside of a managed account.
Indices are not available for direct investment. Investment in a security or strategy designed to replicate the performance of an index will incur expenses, such as management fees and transaction costs that would reduce returns.
Third party trademarks and brands are the property of their respective owners.
Contact an Expert