July 26, 2016—As a follow-up to Friday's blog post, Oil and the Dollar and the Chicken and the Egg, we wanted to provide an update regarding the underlying supply/demand fundamentals within the oil market that shape our bullish view on the prospects for the commodity.
Despite the recent decline in oil prices, we think the groundwork has been laid for a multi-year recovery. The year 2016 has been another volatile one for oil with the price declining an additional 30% out of the gate as global growth concerns crept into the market. At the lowest point in February, the commodity was down 75% from its 2014 peak, marking the worst percentage decline of any prior oil cycle. This was subsequently followed by the oil price nearly doubling to over $50/barrel as growth fears subsided and global oil production started to decline after two years of significant capital expenditures (CAPEX) cuts. Although the rally in the commodity price has faded over the past month, we remain confident that the outlook for oil is positive with higher prices in the future.
Domestic production will continue to decline
The lag effect of the massive industry CAPEX cuts cannot be understated. At this time last year, domestic supply was near peak levels with production still increasing 10% year over year (y/y). Today, as indicated in Figure 1, U.S. Crude Production is declining 11% y/y and should maintain its downward trajectory through the end of 2016. Although a handful of oil rigs have been added over the past several weeks, they will likely have a negligible impact on total production as most domestic producers require a realized price in excess of their respective break-even oil price, which is close to $55/barrel today.
Figure 1: U.S. crude production (MBbld)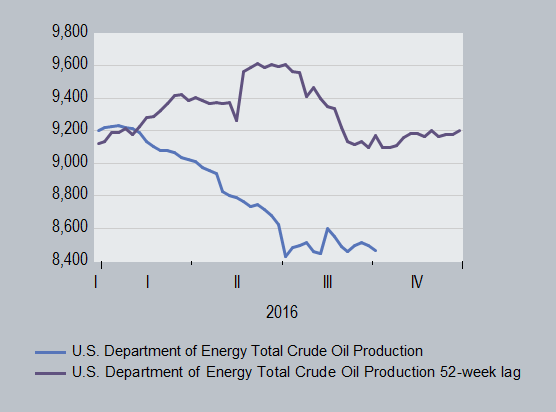 Source: U.S. Energy Information Administration (EIA)
OPEC is running full out
According to the latest International Energy Agency report, OPEC production rose 400,000 barrels/day (bbl/d) to an eight-year high of 33.21 million bbl/d, as Iran works toward returning to its pre-sanctioned production level. Opportunities for incremental supply growth from OPEC are muted as the big four (Saudi Arabia, Iraq, Kuwait, and Iran) are operating close to achievable peak capacity. In aggregate, OPEC production failed to grow in 2012–2014 when the average realized oil price was in excess of $100/bbl. This in turn signifies that the U.S is now the marginal global producer, which requires a higher realized oil price in order to increase production to meet growing global demand.
U.S. inventories should begin to normalize
Much of the recent weakness in the commodity has been related to concerns that domestic oil inventories remain elevated and have not declined at the pace some had anticipated. We think the inflection point within the U.S. crude oil stocks (Figure 2) should occur at the end of the summer driving season as the current trajectory of inventory draws continues into the fall and winter months. This should result in y/y declines in commercial stocks as production cuts reduce supply requiring refiners draw down existing inventories instead of adding to them as they did in 2015.
Figure 2: Total U.S. crude oil supply (MBbld)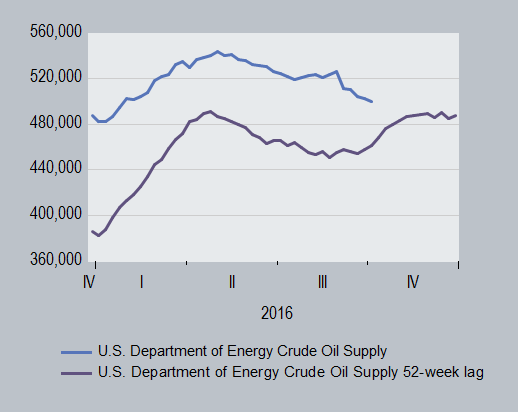 Source: U.S. Energy Information Administration (EIA)
Core narrative
Oil price weakness coupled with sustained global economic growth has resulted in demand for the commodity far outpacing supply, moving the oil market back into equilibrium. We expect oil demand to remain strong as global macroeconomic conditions remain favorable. However, future supply growth will likely only occur via higher oil prices to incentivize new production with economic returns.
Disclosures
Wilmington Trust is a registered service mark. Wilmington Trust Corporation is a wholly owned subsidiary of M&T Bank Corporation. Investment management and fiduciary services are provided by Wilmington Trust Company, operating in Delaware only, and Wilmington Trust, N.A., a national bank. Loans, retail and business deposits, and other personal and business banking services and products are offered by Manufacturers and Traders Trust Company (M&T Bank), member FDIC. Wilmington Trust Investment Advisors, Inc., a subsidiary of M&T Bank, is a SEC-registered investment adviser providing investment management services to Wilmington Trust and M&T affiliates and clients.
These materials are based on public information. Facts and views presented in this report have not been reviewed by, and may not reflect information known to, professionals in other business areas of Wilmington Trust or M&T Bank who may provide or seek to provide financial services to entities referred to in this report. M&T Bank and Wilmington Trust have established information barriers between their various business groups. As a result, M&T Bank and Wilmington Trust do not disclose certain client relationships with, or compensation received from, such entities in their reports.
The information on Wilmington Wire has been obtained from sources believed to be reliable, but its accuracy and completeness are not guaranteed. The opinions, estimates, and projections constitute the judgment of Wilmington Trust and are subject to change without notice. This commentary is for information purposes only and is not intended as an offer or solicitation for the sale of any financial product or service or a recommendation or determination that any investment strategy is suitable for a specific investor. Investors should seek financial advice regarding the suitability of any investment strategy based on the investor's objectives, financial situation, and particular needs. Diversification does not ensure a profit or guarantee against a loss. There is no assurance that any investment strategy will succeed.
Any investment products discussed in this commentary are not insured by the FDIC or any other governmental agency, are not deposits of or other obligations of or guaranteed by M&T Bank, Wilmington Trust, or any other bank or entity, and are subject to risks, including a possible loss of the principal amount invested. Some investment products may be available only to certain "qualified investors"—that is, investors who meet certain income and/or investable assets thresholds. Past performance is no guarantee of future results. Investing involves risk and you may incur a profit or a loss.
Any positioning information provided does not include all positions that were taken in client accounts and may not be representative of current positioning. It should not be assumed that the positions described are or will be profitable or that positions taken in the future will be profitable or will equal the performance of those described. Positions described are illustrative and not intended as a recommendation outside of a managed account.
Indices are not available for direct investment. Investment in a security or strategy designed to replicate the performance of an index will incur expenses, such as management fees and transaction costs that would reduce returns.
Third party trademarks and brands are the property of their respective owners.
Contact an Expert