September 25, 2020—As the election approaches, the question surfacing more and more in our discussions with clients and other investors is what the outcome will mean for markets. The very nature of this question suggests a somewhat straightforward answer. The reality is anything but. As we discussed in the September issue of Capital Perspectives, the unprecedented environment in which we find ourselves today makes the already- daunting task of investing around a presidential election even more challenging. There is a tendency to assume one outcome—a second term from President Trump or a victory from Vice President Biden—is better or worse for markets. However, the current state of play and importance of tax, spending, and trade policies make the landscape much more complex.
Here we lay out our thinking around the key issues for investors and the risks—both upside and downside—for various outcomes (Figure 1).
Figure 1: Market Implications for the U.S. election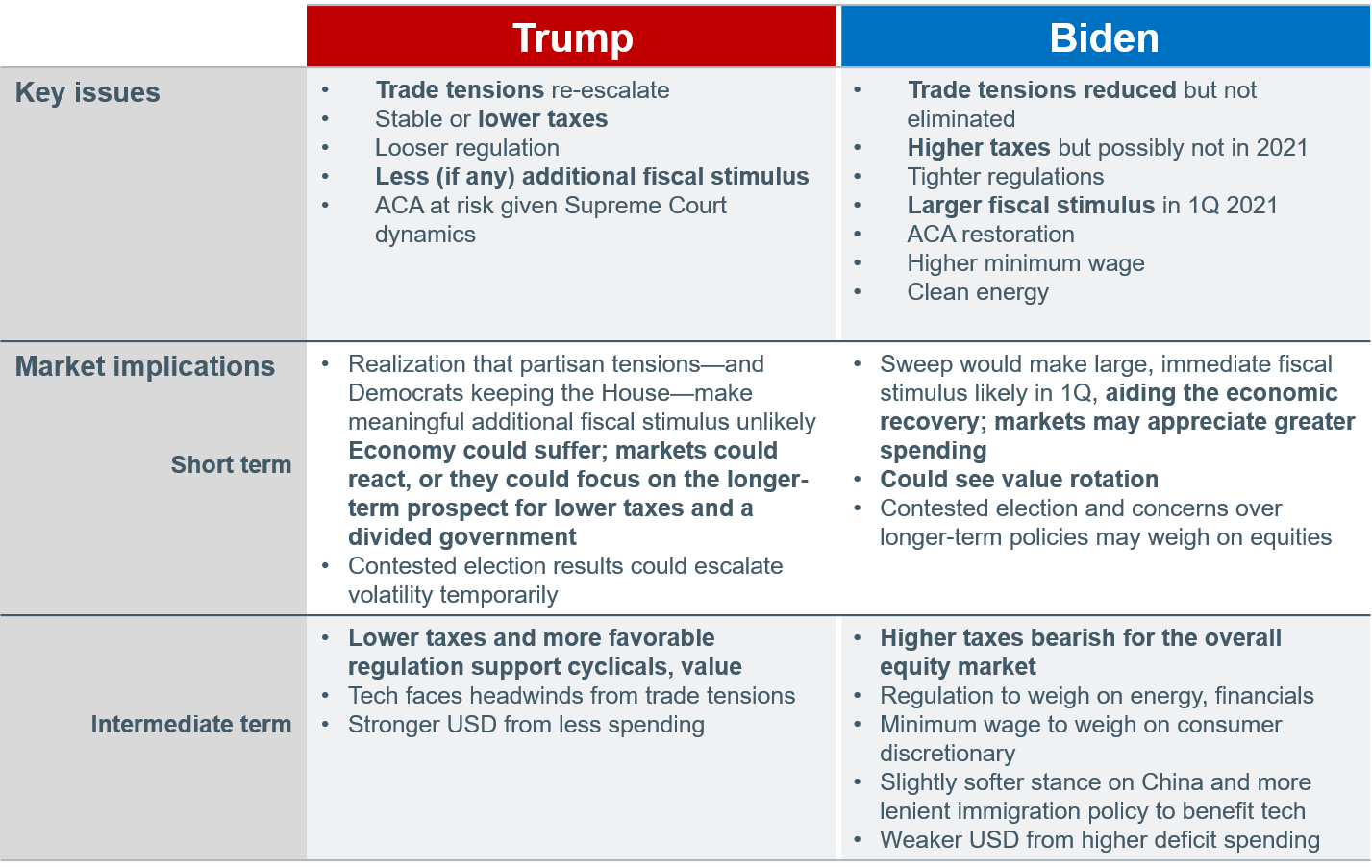 Represents the nonpartisan views and expectations of WTIA as of September 24, 2020.
The short term
In the very near term, we would expect a greater chance of elevated volatility. The close margins in current polls and complexities around changes to voting methods due to COVID increase the possibility that a definitive outcome will not be known on election night. A contentious, protracted, possibly legal process to determine the election outcome would almost certainly be ill-received by investors, who dislike uncertainty more than anything. It is one of the reasons we maintain a slight underweight to equities in client portfolios. However, some of this uncertainty is already being priced into markets ahead of the election, with options traders commanding a higher-than-normal premium for volatility futures contracts maturing in November. (CBOE VIX futures contracts capture the market's expectation of volatility in the S&P 500 over a 30-day period.) A spike in equity volatility in November is not a given and, should it occur, would likely be incredibly difficult to time properly. We are advising our clients to stay invested and diversified.
The intermediate term
Looking beyond election night, there are policy issues related to Trump and Biden that could be perceived both positively and negatively by the markets. It is unclear which would win out for investors. In the shorter term, fiscal stimulus could garner the immediate attention of investors given the fragile state of the U.S. consumer and weakness in the labor market. Let's assume for a moment that Congress is unable to come to an agreement on additional fiscal spending before the election. A Trump victory would almost certainly still result in a divided government, with the Democrats retaining control of the House. Under this scenario, partisan tensions, further inflamed by the death of Justice Ginsberg and the Supreme Court dynamics, put further fiscal stimulus in question even after the election. A Democratic sweep (assuming down-ballot voting flips the Senate in a Biden victory) would more likely result in quick passage of a sizable fiscal spending bill in the first quarter of 2021.
Over the longer term, tax, trade, and regulatory policies could shift into focus for investors. The tax and regulatory policies of the Trump administration are more favorable to businesses and investors and could support cyclical, value-oriented, and small-cap areas of the equity market. Assuming a Biden administration raises taxes on corporations, capital gains, and high-income earners at some point in the first two years of his term, this would be a headwind to the overall market. Green energy policies and additional regulation could further burden companies in the energy and financials sectors.
Trade policy also continues to be important to watch. We would expect a Biden administration to ratchet down international tensions, though we note there is a unique amount of bipartisan support for maintaining a tough stance on China. Even a slightly more conciliatory approach to China, along with more expansive immigration policy, would provide some relief to the technology sector, which alone comprises 29% of the S&P 500 index and relies heavily on H-1B visas for hiring.
Lastly, the prospects for the balance of the Supreme Court to shift to the right puts the Affordable Care Act back in flux. Should President Trump win a second term, the ACA could be further rolled back; if Biden prevailed, he would be expected to restore and expand the ACA. The future of insurance and managed care companies hangs in the balance of the election. Pharmaceutical companies face drug price pressure from both sides so are less wedded to the election outcome but bear risks nonetheless.
Core narrative
With an incredible amount of uncertainty regarding the election, pandemic, and global economic recovery, we feel it is important to stay invested and diversified with a slightly defensive stance. We would encourage investors to be patient in adding risk in the current equity market correction, as elevated valuations and an incredibly questionable economic recovery are still creating a bit of a disconnect. By the same token, we would advise against sitting with excessive amounts of cash on the sidelines. Maintaining a long-term investment horizon and a diversified portfolio is more critical than ever.
Disclosures
Wilmington Trust is a registered service mark used in connection with various fiduciary and non-fiduciary services offered by certain subsidiaries of M&T Bank Corporation including, but not limited to, Manufacturers & Traders Trust Company (M&T Bank), Wilmington Trust Company (WTC) operating in Delaware only, Wilmington Trust, N.A. (WTNA), Wilmington Trust Investment Advisors, Inc. (WTIA), Wilmington Funds Management Corporation (WFMC), and Wilmington Trust Investment Management, LLC (WTIM). Such services include trustee, custodial, agency, investment management, and other services. International corporate and institutional services are offered through M&T Bank Corporation's international subsidiaries. Loans, credit cards, retail and business deposits, and other business and personal banking services and products are offered by M&T Bank, member FDIC.
Facts and views presented in this report have not been reviewed by, and may not reflect information known to, professionals in other business areas of Wilmington Trust or M&T Bank who may provide or seek to provide financial services to entities referred to in this report. M&T Bank and Wilmington Trust have established information barriers between their various business groups. As a result, M&T Bank and Wilmington Trust do not disclose certain client relationships with, or compensation received from, such entities in their reports.
The information on Wilmington Wire has been obtained from sources believed to be reliable, but its accuracy and completeness are not guaranteed. The opinions, estimates, and projections constitute the judgment of Wilmington Trust and are subject to change without notice. This commentary is for informational purposes only and is not intended as an offer or solicitation for the sale of any financial product or service or a recommendation or determination that any investment strategy is suitable for a specific investor. Investors should seek financial advice regarding the suitability of any investment strategy based on the investor's objectives, financial situation, and particular needs. Diversification does not ensure a profit or guarantee against a loss. There is no assurance that any investment strategy will succeed.
Past performance cannot guarantee future results. Investing involves risk and you may incur a profit or a loss.
The gold industry can be significantly affected by international monetary and political developments as well as supply and demand for gold and operational costs associated with mining.
Indexes are not available for direct investment.
©2020 M&T Bank Corporation and its subsidiaries. All rights reserved.