October 18, 2016–As expected, the Consumer Price Index (CPI) jumped in September in y/y terms. It reached 1.5%, the highest in nearly two years since the 1.7% posted in October 2014 as gasoline prices were plummeting that year. Today's report just barely eclipses the January 2016 figure of 1.4%, but we expect it to keep moving higher. Core CPI remained steady at 2.2%.
Source: Bureau of Labor Statistics
The reason for the upward move in headline CPI was gasoline prices as we have discussed in earlier posts. Although gasoline prices have not moved up significantly, the base effects of y/y calculations are coming into play. In the August CPI report, gas prices were down 18% y/y and dragged the overall CPI down by about -0.6%. Today's report showed -6.5% for gasoline for the month of September, which brought the drag to about -0.2% in this morning's report. We are midway through October and know that the rollover in the y/y calculation continues as shown in the graph below. As of October 17 the y/y change was nearly gone. By the end of this week we are likely to see y/y daily gas prices in positive terms for the first time since July 2014. Accordingly, one month from now we would expect to see gasoline prices with zero drag on CPI or perhaps a small positive.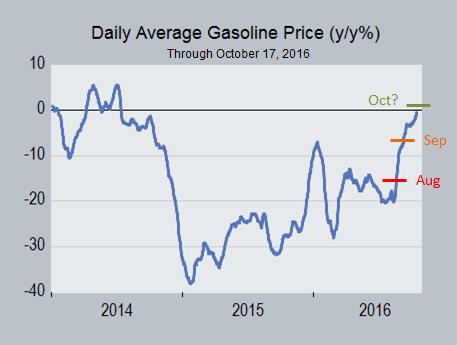 Source: U.S. Energy Information Administration (EIA)
But gasoline prices are only part of the story. Elsewhere the biggest drags on inflation continued to be food and autos. New vehicles appear to have flattened out in y/y terms after aggressive pricing from dealerships for most of this year. Used cars were down 4.1% y/y in this report. The items keeping Core CPI above the 2% level were continued upward movements in shelter, transportation services, and medical care services. All told, service inflation was 3.2% y/y, and does not show any sign of slowing.
Core Narrative
Today's report is supportive of our core narrative of inflation returning back above 2% as energy prices roll over in y/y terms. If gasoline prices simply remain where they are today, they would add to headline CPI in November, December, January 2017, and especially in February 2017 because of the base effects. More important than the volatile energy prices is that core inflation remains steady above 2%. This is supportive of our view that the Fed is likely to hike interest rates more quickly than the market is pricing in, but still at a gradual pace. We currently expect a hike in December and then 2 more in 2017.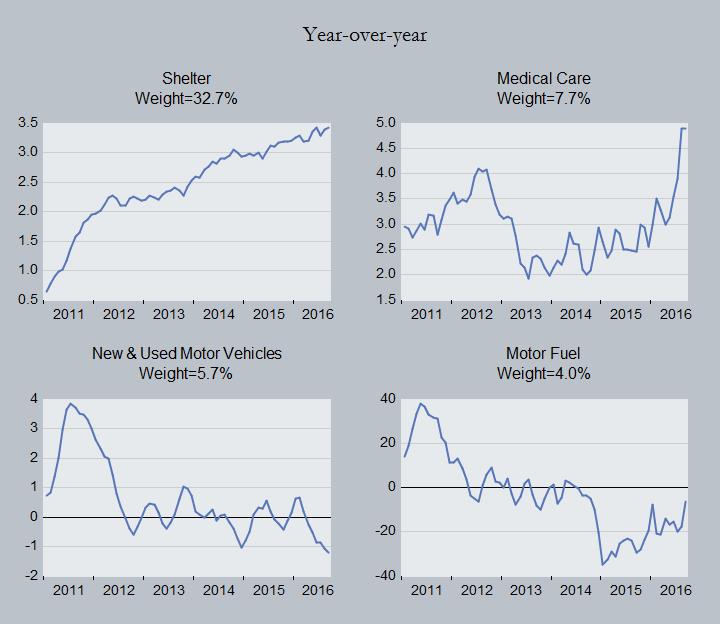 Source: Bureau of Labor Statistics
Disclosures
Wilmington Trust is a registered service mark. Wilmington Trust Corporation is a wholly owned subsidiary of M&T Bank Corporation. Investment management and fiduciary services are provided by Wilmington Trust Company, operating in Delaware only, and Wilmington Trust, N.A., a national bank. Loans, retail and business deposits, and other personal and business banking services and products are offered by Manufacturers and Traders Trust Company (M&T Bank), member FDIC. Wilmington Trust Investment Advisors, Inc., a subsidiary of M&T Bank, is a SEC-registered investment adviser providing investment management services to Wilmington Trust and M&T affiliates and clients.
These materials are based on public information. Facts and views presented in this report have not been reviewed by, and may not reflect information known to, professionals in other business areas of Wilmington Trust or M&T Bank who may provide or seek to provide financial services to entities referred to in this report. M&T Bank and Wilmington Trust have established information barriers between their various business groups. As a result, M&T Bank and Wilmington Trust do not disclose certain client relationships with, or compensation received from, such entities in their reports.
The information on Wilmington Wire has been obtained from sources believed to be reliable, but its accuracy and completeness are not guaranteed. The opinions, estimates, and projections constitute the judgment of Wilmington Trust and are subject to change without notice. This commentary is for information purposes only and is not intended as an offer or solicitation for the sale of any financial product or service or a recommendation or determination that any investment strategy is suitable for a specific investor. Investors should seek financial advice regarding the suitability of any investment strategy based on the investor's objectives, financial situation, and particular needs. Diversification does not ensure a profit or guarantee against a loss. There is no assurance that any investment strategy will succeed.
Any investment products discussed in this commentary are not insured by the FDIC or any other governmental agency, are not deposits of or other obligations of or guaranteed by M&T Bank, Wilmington Trust, or any other bank or entity, and are subject to risks, including a possible loss of the principal amount invested. Some investment products may be available only to certain "qualified investors"—that is, investors who meet certain income and/or investable assets thresholds. Past performance is no guarantee of future results. Investing involves risk and you may incur a profit or a loss.
Any positioning information provided does not include all positions that were taken in client accounts and may not be representative of current positioning. It should not be assumed that the positions described are or will be profitable or that positions taken in the future will be profitable or will equal the performance of those described. Positions described are illustrative and not intended as a recommendation outside of a managed account.
Indices are not available for direct investment. Investment in a security or strategy designed to replicate the performance of an index will incur expenses, such as management fees and transaction costs that would reduce returns.
Third party trademarks and brands are the property of their respective owners.
Contact an Expert