June 11, 2020—Often times the best defense is a good offense. As we endure this period of heightened volatility and continue to monitor and evaluate emerging data that can provide clarity into the full impact of the COVID-19 crisis, it is essential for investors to understand how important it can be to stay invested. That is to say, how important it can be that investors continue to play offense, even if they do so through a more defensive approach. Hedged equity strategies may be an appropriate fit for many investors who are considering ways of taking a more defensive posture in equities, but who are also having trouble gaining enough comfort in this environment to stay invested or even lean in to equity allocations as portfolios are rebalanced or cash is put to work.
Hedged equity strategies may provide investors with the defensive approach they are looking for by allowing them to capture gains associated with market upswings, while still reducing volatility and maintaining less exposure to market drawdowns. This approach may be particularly compelling in the current market environment as some other strategies traditionally thought of as defensive, have surprised investors thus far by failing to protect in the current market. Within real estate, for example, certain property sectors typically considered defensive, have experienced meaningful pullbacks in the short term as properties that typically bring people together, like offices and student housing, are under pressure in a world of social distancing, despite long lease durations and less economically sensitive demand drivers. Longer term, we think REITs should fare well as a modest impact to earnings combined with low interest rates and valuations well below long-term averages, should be supportive. However, when considering the magnitude of events and the speed at which they are occurring, we are currently experiencing a bear market unlike any we have seen in modern history and hedged equity strategies may be best positioned to offer investors the defensive equity exposure they are looking for.
Hedged equity strategies generally invest long (buy) in equity markets, while deploying an overlay strategy, using options—or futures—contracts, to bring down net exposure. In short, these strategies typically maintain exposure to equity markets and seek to outperform them on a risk-adjusted basis, while offering the following characteristics:
Reduced volatility
Lower beta
Downside mitigation
Lower interest rate exposure than other low-volatility equity strategies
Diversified portfolio of equity securities
Through these attributes, hedged equity strategies can help investors achieve more successful portfolio outcomes because they provide a lower risk way for investors to stay invested, which can be meaningful to long-term performance when considering the power of compounding returns through capital preservation in down markets. Figure 1 below shows the amount of alpha required for an investor to get back to even when the market declines 40%, such as it did during the Global Financial Crisis. If an investor's portfolio underperformed by 2% in a down 40% market, 6% of outperformance would be required to get back to even. If it lagged by 6%, it would require 18% of outperformance. Preserving capital in down markets creates a powerful compounding effect that can greatly impact an investor's ability to meet their long-term objectives.
Figure 1: The value of outperforming in down markets
Alpha required to make up for lost ground in a down 40% market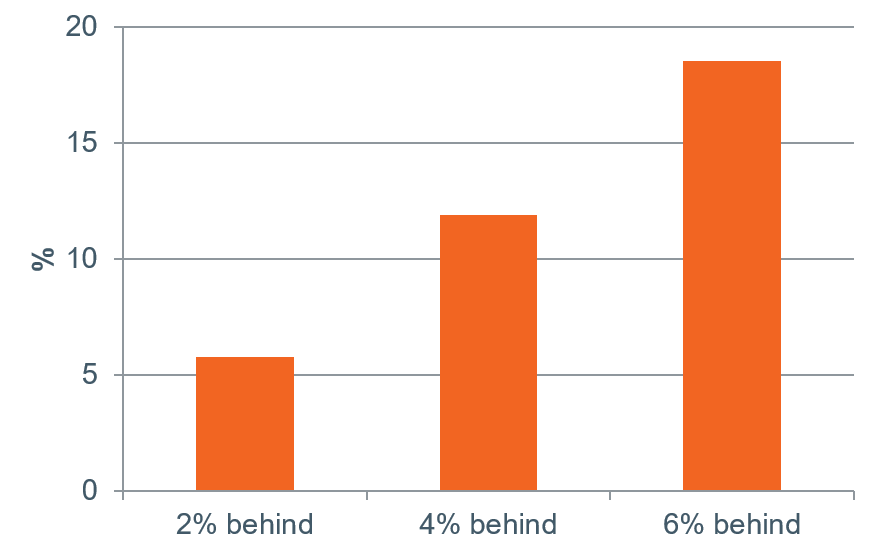 For illustrative purposes only. Not representative of an actual account.
Source: Wellington Management.
For investors holding cash, hedged equity strategies may represent an attractive opportunity to get invested, without necessarily having to attempt the unreasonable task of timing the market's bottom, which can often lead to missing large market upswings should investors wait too long, thereby missing the bottom. In fact, market timing, or trying to time trading activities to occur at the market's peaks and troughs, is very difficult and can put one at risk of missing a market rally. Figure 2 below shows how big the impact would have been had an investor not been invested in the S&P 500 on its 25 best days since 1970. It is easy to see how penalizing it can be to long-term returns if these upswings are missed.
Figure 2: Hypothetical growth of $100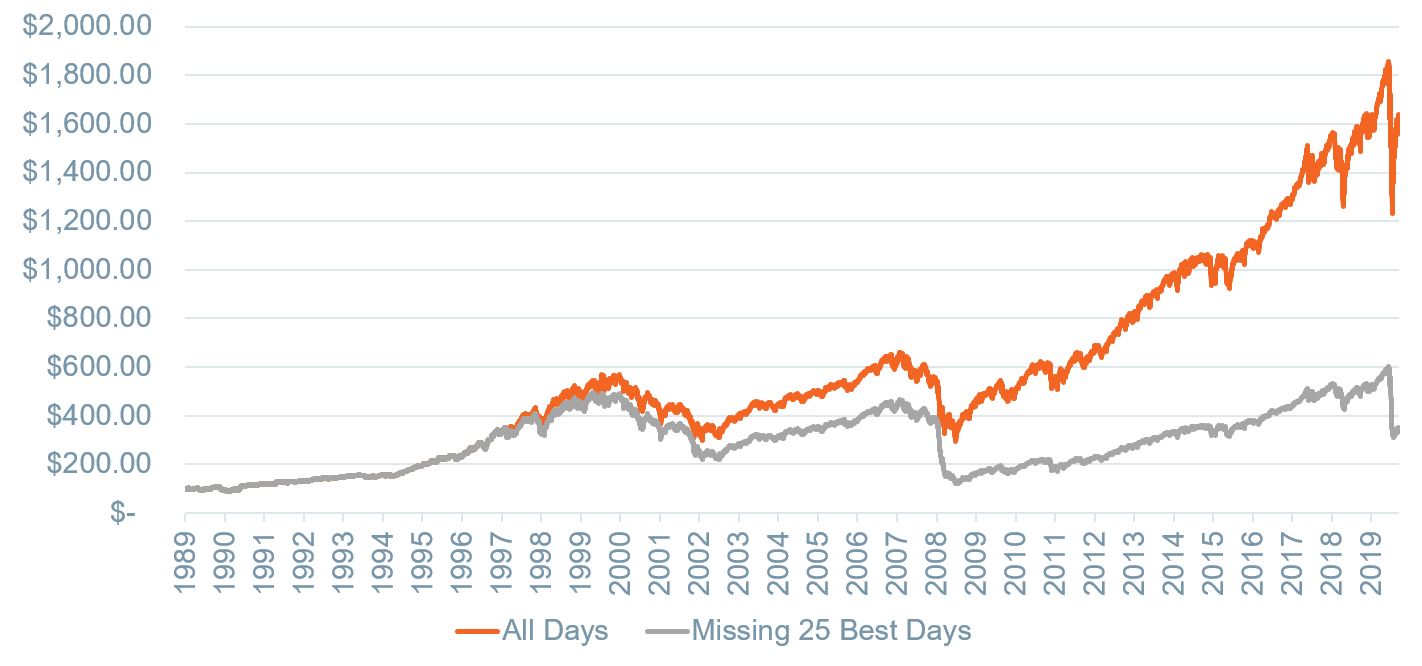 Data as of May 22, 2020. Source: Morningstar, WTIA.
For illustration purposes only. Indices are not available for direct investment. Investment in a security or strategy designed to replicate the performance of an index will incur expenses, such as management fees, taxes and transaction costs that would reduce returns. Past performance does not guarantee future results. Performance includes reinvestment of dividends and capital gains.
To put this in perspective with more recent returns data, using daily closing prices, the S&P 500 fell nearly 34% during its most recent peak-to-trough drawdown from February 19, 2020 to March 23, 2020. Investors who decided to pull out of equities at that time would have missed an upswing of more than 9% the following day, as well as a gain of more than 6% two trading days after that. Missing just these two days would have been hugely detrimental to long-term returns. This is not to say that it will be smooth sailing from here and that all large drawdown days are behind us. In fact, we may even retest the market trough on March 23. Conversely, we may start to see the beginning of a more sustained market rally over the next several weeks. The path of the market may, in large part, depend on how long the U.S. economy, and economies of other major countries impacted, remain on lockdown.
When juxtaposing the need for a defensive stance given near-term uncertainty with the importance of staying invested, investors may consider hedged equity strategies to be a prudent approach. The ability of hedged equity strategies to participate in up markets, preventing the possibility of investors missing the market's largest up days while also lowering risk and mitigating drawdown potential could make them particularly attractive to investors looking to proceed cautiously while we wait for signs or a more sustained market rally.
Core narrative
While volatility remains elevated and uncertainty looms around the length of a U.S. economic lockdown, it is certainly a challenging time for investors. However, it is important for investors to consider that in times like these the best defense may be a good offense; one that allows investors to continue to participate prudently. We advise clients with cash to accelerate the deployment process. Even if some further weakness may lie ahead we believe, a systematic, accelerated strategy of investing cash, as described further in Silver Linings Playbook, by Meghan Shue, should serve investors well over the next three to five years. Hedged equity strategies may be a good approach for investors looking to deploy cash and participate in equity markets, while maintaining a defensive posture through lower volatility and minimized drawdown risk. This approach may also be an attractive option for investors who are rebalancing their portfolios and looking to take a defensive approach with their equity allocations.
Disclosures and definitions
Alpha is a measure of the difference between a portfolio's actual returns and its expected performance, given its level of risk as measured by Beta. Simply stated, it is the portfolio return minus the benchmark return multiplied by Beta. A positive Alpha figure indicates the portfolio has performed better than its Beta would predict. A negative Alpha indicates the portfolio performed worse than expected based on its level of sensitivity to market movements. Thus it is possible for a portfolio to outperform an index and still have a negative Alpha.
Beta is a measure of a portfolio's sensitivity to market movements, or systematic risk. The larger the Beta, the more volatile the historical performance. Beta compares the portfolio's excess return over the risk free rate, typically represented by the return of 3-month Treasury Bills, to the benchmark's excess return over the risk free rate. A Beta of 0.85 indicates that the portfolio performed 15% worse than the market's excess return during up markets and 15% better during down markets.
Wilmington Trust is a registered service mark used in connection with various fiduciary and non-fiduciary services offered by certain subsidiaries of M&T Bank Corporation including, but not limited to, Manufacturers & Traders Trust Company (M&T Bank), Wilmington Trust Company (WTC) operating in Delaware only, Wilmington Trust, N.A. (WTNA), Wilmington Trust Investment Advisors, Inc. (WTIA), Wilmington Funds Management Corporation (WFMC), and Wilmington Trust Investment Management, LLC (WTIM). Such services include trustee, custodial, agency, investment management, and other services. International corporate and institutional services are offered through M&T Bank Corporation's international subsidiaries. Loans, credit cards, retail and business deposits, and other business and
personal banking services and products are offered by M&T Bank, member FDIC.
Facts and views presented in this report have not been reviewed by, and may not reflect information known to, professionals in other business areas of Wilmington Trust or M&T Bank who may provide or seek to provide financial services to entities referred to in this report. M&T Bank and Wilmington Trust have established information barriers between their various business groups. As a result, M&T Bank and Wilmington Trust do not disclose certain client relationships with, or compensation received from, such entities in their reports.
The information on Wilmington Wire has been obtained from sources believed to be reliable, but its accuracy and completeness are not guaranteed. The opinions, estimates, and projections constitute the judgment of Wilmington Trust and are subject to change without notice. This commentary is for information purposes only and is not intended as an offer or solicitation for the sale of any financial product or service or a recommendation or determination that any investment strategy is suitable for a specific investor. Investors should seek financial advice regarding the suitability of any investment strategy based on the investor's objectives, financial situation, and particular needs. Diversification does not ensure a profit or guarantee against a loss. There is no assurance that any investment strategy will succeed.
Past performance cannot guarantee future results. Investing involves risk and you may incur a profit or a loss.
© 2020 M&T Bank Corporation and its subsidiaries. All rights reserved.