March 23, 2020—It's been a bruising few weeks in financial markets, with virtually no asset class left unscathed. Investment-grade municipal bonds—typically thought of as a safe haven that should help weather volatility in riskier asset classes like equities—have seen a significant amount of volatility. We have taken note of a historic buying opportunity within the municipal bond market, and we have adjusted our portfolio allocations to take advantage of any price dislocations.
The current market volatility is creating a historic buying opportunity within the municipal bond market. Many investors are rattled by the recent volatility in fixed income markets, but we see this as an exceptional opportunity for buyers of municipal bonds. In our assessment, investment-grade municipal bonds have been indiscriminately sold, with spreads widening and prices falling, for a variety of reasons:
Mutual funds and other investors have been forced to sell their highest-quality and most-liquid assets to meet redemptions and margin calls. In many cases, that means high-quality, general obligation municipal bonds or those backed by Treasuries have been sold in large quantities and are seeing historic bid/ask spreads.
The coronavirus mitigation efforts have raised concerns about the credit quality of states, local governments, and the most affected areas of the economy (e.g., mass transit authorities, hospitals, airports). While credit deterioration is likely for the most affected areas of the economy depending on the scope and duration of mitigation efforts, municipalities more broadly are stronger, with better cash balances than they have been in decades. For reference, the average long-term default rate for municipalities is less than 0.25%.
The anticipated spending needs from local governments to address the economic fallout from the coronavirus at the government level is driving up yields for longer-dated maturities as the market braces for additional supply likely to come to market.
According to data from Lipper, municipal bond mutual fund outflows amounted to $12 billion in the week ending Wednesday, March 18.
The opportunities we are seeing in investment-grade municipal bonds are not limited to taxable investors, but also to tax-exempt investors. Typically, municipal bonds yield a discount to Treasuries because of their preferential tax status. For example, during the fourth quarter of 2019 the municipal-bond-to-Treasury yield ratio for a 10-year maturity averaged about 80% (meaning municipal bonds yielded 80% compared to a Treasury note of similar maturity). As of March 20, 2020, the municipal-bond-to-Treasury yield ratio for that same 10-year maturity was over 200% (Figure 1). This creates an opportunity for tax-exempt investors to invest in municipal bonds even though they do not receive the tax benefits. (These investors are known as "crossover buyers".)
Among the Federal Reserve's flurry of accommodative measures announced recently, on March 20, the Fed announced it would expand its Money Market Mutual Fund Liquidity Facility (set up on March 18) to accept highly rated municipal bonds maturing in less than a year. This move is meant to help money market funds facing redemptions that might otherwise need to sell assets for a loss. Expanding the facility should provide support for the asset class.
The relative value we see in investment-grade municipal bonds is particularly attractive relative to two other asset classes:
Treasury Inflation Protected Securities (TIPS)—Despite the recent collapse in TIPS breakevens (implied rates of inflation embedded in TIPS), we do not expect inflation to pick up in a meaningful way over the next 12 months. We also note that, while the 10-year TIPS breakeven is just 0.8% as of March 23, it went as low as -0.02% during the financial crisis. TIPS are also a long-duration asset compared to Treasuries. (The TIPS duration for a basket of maturities 2–30 years is approximately 7.4 years compared to 6.7 years for a similarly composed Treasury index.) That means if the economic fallout from the virus is relatively short-lived and interest rates move higher over the coming year from either better growth expectations or the effect of more government spending, the duration risk of TIPS could lead to underperformance versus nominal bonds.
High-Yield Municipal Bonds—While we see value in high-quality municipal bonds, we note that lower-quality municipal issuers are likely to feel serious pain over the coming months and more severe underperformance versus investment-grade municipals is likely. For reference, investment-grade municipal bonds have returned approximately -7% from, February 19—March 19, compared to high-yield municipal bonds at -12%. All things considered, this degree of underperformance is relatively mild and could worsen.  
Core narrative
We have decided to add to investment-grade municipal bonds across taxable and tax-exempt portfolios, funded from TIPS and, where applicable, high-yield municipal bonds. This action takes our investment-grade municipal bond exposure to an overweight, versus our strategic asset allocation, and our TIPS and high-yield municipal bond allocations to underweight. There is a great deal of uncertainty regarding the path forward for the pandemic and markets. One thing we do know is that periods of volatility and panic often can create tremendous opportunities to find long-term value in areas of the market, and we believe one such area is investment-grade municipal bonds.
Figure 1: Municipal bonds yielding a historic premium to Treasuries
Investment-grade municipal bond yield-to-maturity ratio (%)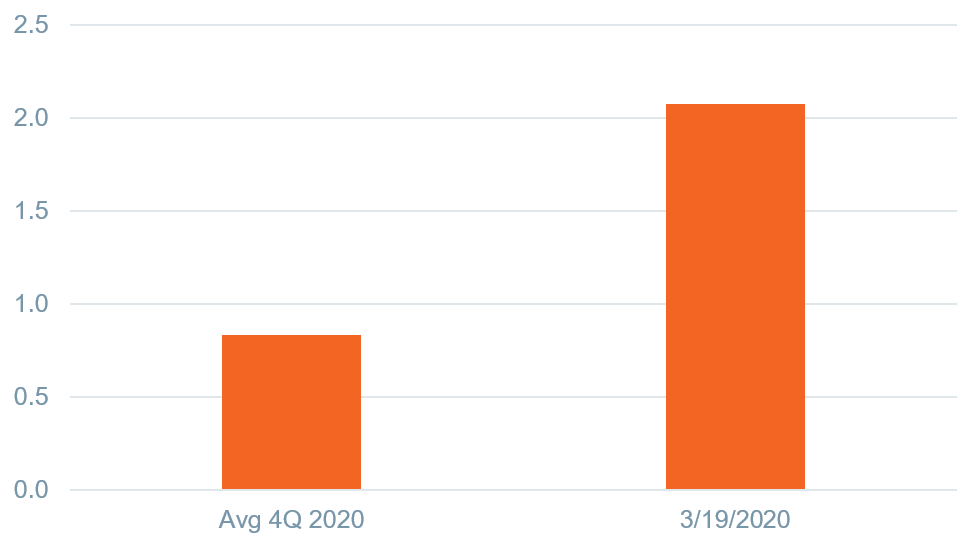 Source: Bloomberg. Data as of March 19, 2020.
Disclosures
Wilmington Trust is a registered service mark used in connection with various fiduciary and non-fiduciary services offered by certain subsidiaries of M&T Bank Corporation including, but not limited to, Manufacturers & Traders Trust Company (M&T Bank), Wilmington Trust Company (WTC) operating in Delaware only, Wilmington Trust, N.A. (WTNA), Wilmington Trust Investment Advisors, Inc. (WTIA), Wilmington Funds Management Corporation (WFMC), and Wilmington Trust Investment Management, LLC (WTIM). Such services include trustee, custodial, agency, investment management, and other services. International corporate and institutional services are offered through M&T Bank Corporation's international subsidiaries. Loans, credit cards, retail and business deposits, and other business and
personal banking services and products are offered by M&T Bank, member FDIC. 
Facts and views presented in this report have not been reviewed by, and may not reflect information known to, professionals in other business areas of Wilmington Trust or M&T Bank who may provide or seek to provide financial services to entities referred to in this report. M&T Bank and Wilmington Trust have established information barriers between their various business groups. As a result, M&T Bank and Wilmington Trust do not disclose certain client relationships with, or compensation received from, such entities in their reports.
The information on Wilmington Wire has been obtained from sources believed to be reliable, but its accuracy and completeness are not guaranteed. The opinions, estimates, and projections constitute the judgment of Wilmington Trust and are subject to change without notice. This commentary is for information purposes only and is not intended as an offer or solicitation for the sale of any financial product or service or a recommendation or determination that any investment strategy is suitable for a specific investor. Investors should seek financial advice regarding the suitability of any investment strategy based on the investor's objectives, financial situation, and particular needs. Diversification does not ensure a profit or guarantee against a loss. There is no assurance that any investment strategy will succeed.
Past performance cannot guarantee future results. Investing involves risk and you may incur a profit or a loss.
© 2020 M&T Bank Corporation and its subsidiaries. All rights reserved.