August 7, 2019—For over two months, residents of Hong Kong, a chief global financial hub, have been engaged in disruptive strikes and protests, including violent clashes with police. The latest disruptions occurred on Monday, August 6. Here, we explain the nature of the protests and discuss investment implications.
What initially triggered the protests?  
The protests began when Hong Kong Chief Executive Carrie Lam sought local Legislative Council approval for a bill that would allow the territory's authorities to extradite accused criminals from Hong Kong territory, namely to mainland Chinese territory, even in the absence of an extradition treaty.
It should be noted that while Hong Kong enjoys some autonomy under the principle of "one country, two systems," it is still fundamentally a part of China. The council includes many members who are pro-Beijing, and Ms. Lam's appointment was blessed by Beijing.
The extradition issue initially arose because Taiwan had requested Hong Kong to extradite a man accused of a murder on Taiwanese territory. However, Hong Kong was legally unable to honor that request. Per the "Basic Law" that serves as the framework for the territory's autonomy, Hong Kong has no extradition treaty with China (and by extension, with China's Taiwan province). The Basic Law had envisioned that an extradition requirement would weaken Hong Kong's political and legal autonomy.
Even though Taiwan dropped its request for extradition of the accused murderer, Ms. Lam continued to advance the bill, on request from Beijing. For many years, mainland Chinese businessmen and politicians fearing prosecution for graft and corruption have fled to Hong Kong. These individuals view the territory as a safe harbor, not just personally, but for their assets. Beijing wants Hong Kong authorities to be able to legally surrender them.
Many Hong Kong residents saw the extradition bill as allowing for a potential erosion of Hong Kong's formal legal autonomy. This prospect initially triggered sporadic weekend protests.  Eventually Ms. Lam was persuaded to provisionally shelve the bill, but without formally withdrawing it.
How have the protests evolved? 
In spite of the shelving of the extradition bill, the protests have continued and expanded.  Activists seeking free elections and political independence soon assumed leadership of the movement and expanded their scope of their operations. Such activism is not new. It drove the 2013–2014 Occupy and Umbrella Protests. In fact, Hong Kong has a rich history of disruptive protest, dating back to when the territory was under British colonial rule.
Many lower-income Hong Kong residents have also joined the protests out of frustration related to the high cost of living in one of the world's most expensive cities. Their participation strikingly resembles that seen with the Yellow Vest movement in France, where many protested the high cost of fuel and other public services. The French and Hong Kong protests could be seen as part of a broader global trend where individuals "left behind" by globalization, automation, and unequal wealth distribution, seek higher wages, labor and health protections, and a greater voice in the political process. This kind of frustration is also evident in less wealthy parts of the UK that favor leaving the EU, as well as in some parts of the United States.
How has Beijing been responding? 
Based on their experience with the 2013–2014 protest movements, the Chinese authorities have come to believe that they can rely on local authorities, particularly the Hong Kong police, to enforce order in a professional and disciplined manner. This was again made clear in a press conference held in Beijing on August 6. The Chinese authorities encouraged the local population to respect the role and directives of the Hong Kong police. This way, the Chinese authorities believe they can just wait out the demonstrators and allow the protests to fade of their own accord. At the same time, Beijing has implied that it could choose to intervene more forcefully to restore order, should events spiral out of control. China maintains a small garrison in Hong Kong and could, if necessary, bring in paramilitary forces from the mainland to establish positions at key points in the territory.
What are the investment implications of the current situation?
Protests, strikes, and blockades are having an adverse impact on Hong Kong stocks—particularly those operating in the domestic real estate sector, some of whose commercial properties, such as shopping complexes in downtown Hong Kong—have been directly exposed to disruptions. Of course, retail stocks have also been impacted. The Hong Kong disruptions are likely having less of an effect on stocks whose earnings derive from the China or broader Asian region.
The negative impact on Hong Kong stocks can be observed in Figure 1, which shows the Hang Seng Index year to date through August 6, 2019. However, it may be of some modest comfort to know that the Hong Kong Stock Exchange has remained open. Trading of Hong Kong stocks, Chinese stocks' H-Shares, and through the Hong Kong–Shanghai Stock Connect has not been disrupted. Additionally, it should be noted that the Hong Kong dollar is fully backed by U.S. dollar reserves maintained by the Hong Kong Monetary Authority, a currency board.
How likely is the worst-case scenario?
The worst-case scenario is that Beijing may panic and send in the People's Liberation Army. However, the Chinese authorities realize that it is not in their best interests to intervene in such a direct, open, and aggressive "made for TV" manner.
Doing so would adversely impact Hong Kong's role as a global financial center—particularly at a time when Hong Kong is competing with Singapore and other cities for business now conducted in the London. Forceful intervention would harm China's efforts to foster an integrated "Greater Bay Region" linking Hong Kong, Macau, Shenzen, and other nearby cities. It would adversely impact investors' willingness to work with China, do considerable damage to China's high priority Belt-and-Road Initiative, and invite international political and economic sanctions.
More likely, Beijing will realize it has much to lose from forceful intervention and continue to exercise prudence and patience. Beijing, through its local surrogates, may well offer some form of creative compromise aimed at restoring civil order and quieting the restive population to get the activists and other protestors to "climb down" from the immediate conflict. It has not yet done so, however, for fear of being seen as weak.
Core narrative
Currently, events in Hong Kong may seem like a side show to the titanic trade conflict between the U.S. and China. However, from a global standpoint, developments in Hong Kong—which, along with other great financial centers such as New York, London, and Tokyo—must be recognized as adding another significant, unique source of global political risk. The world is facing not just the U.S.–China trade dispute, but a simmering U.S.–Iran conflict, the higher probability of a no-deal Brexit at the end of October, and uncertainties surrounding the 2020 U.S. presidential election. On top of that, there is a global economic slowdown that could potentially produce recessions in multiple countries. It is for all these reasons that we have adopted a risk-neutral stance in our portfolios.
Figure 1
Hang Seng vs. S&P 500 from Publication of Extradition Bill through August 6, 2019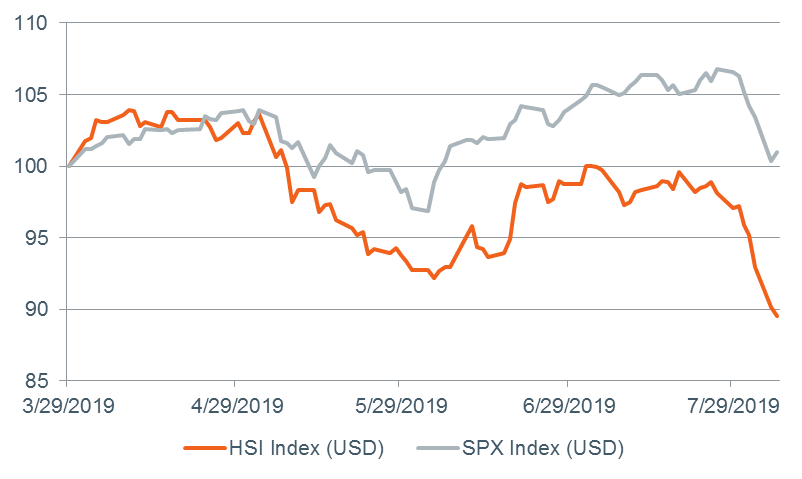 Source: Bloomberg
Disclosures
Wilmington Trust is a registered service mark. Wilmington Trust Corporation is a wholly owned subsidiary of M&T Bank Corporation. Wilmington Trust Company, operating in Delaware only, Wilmington Trust, N.A.,  M&T Bank and certain other affiliates, provide various fiduciary and non-fiduciary services, including trustee, custodial, agency, investment management and other services. International corporate and institutional services are offered through Wilmington Trust Corporation's international affiliates. Loans, credit cards, retail and business deposits, and other business and personal banking services and products are offered by M&T Bank, member FDIC. Wilmington Trust Investment Advisors, Inc. is an SEC-registered investment adviser providing investment management services to Wilmington Trust and M&T Bank affiliates and clients.
These materials are based on public information. Facts and views presented in this report have not been reviewed by, and may not reflect information known to, professionals in other business areas of Wilmington Trust or M&T Bank who may provide or seek to provide financial services to entities referred to in this report. M&T Bank and Wilmington Trust have established information barriers between their various business groups. As a result, M&T Bank and Wilmington Trust do not disclose certain client relationships with, or compensation received from, such entities in their reports.
The information on Wilmington Wire has been obtained from sources believed to be reliable, but its accuracy and completeness are not guaranteed. The opinions, estimates, and projections constitute the judgment of Wilmington Trust and are subject to change without notice. This commentary is for information purposes only and is not intended as an offer or solicitation for the sale of any financial product or service or a recommendation or determination that any investment strategy is suitable for a specific investor. Investors should seek financial advice regarding the suitability of any investment strategy based on the investor's objectives, financial situation, and particular needs. Diversification does not ensure a profit or guarantee against a loss. There is no assurance that any investment strategy will succeed.
Past performance cannot guarantee future results. Investing involves risk and you may incur a profit or a loss.
Third-party trademarks and brands are the property of their respective owners.